The best shoe shine kits are designed to help you maintain those high-quality leather dress shoes. Shoes are a mainstay of any wardrobe. Premium dress shoes require a high level of personal care as they are subjected to a lot of wear and tear. In order to maintain them properly, you will need some professional quality products. Getting your shoes shining to perfection is easy when you have a great shoe shine kit and a maintenance regime. You may also be interested in securing reliable shoe glue to help maintain your premium dress shoes.
We have done some research and have created a list of the top ten shoe shine kits on the market. We looked at what is included in the kit. The materials used to make the brushes and the types of shoe polish included. We know that your exquisite leather dress shoes need the best TLC they can get, by keeping the shoes clean and odorless. This list includes the best shoe shining kits available. See our review for separate shoe cleaning kits.
| Picture | Shoe Shine Kits | Number of Items | Color |
| --- | --- | --- | --- |
| | KIWI Deluxe Shine Kit | 2 Tins Shoe Polish, 1 Dauber, 1 Shine Brush, 1 Shine Cloth | Black |
| | Kiwi Select Shoe Care Valet | 2 Premium Paste Tins, 2 Soft Shine Cloths, 2 Sponge Daubers, 2 Shoe Shine Brushes, 1 Shoe Horn | Black, Brown |
| | Kiwi Select Shoe Care Kit | 2 Premium Paste Tins, 1 Horsehair Brush, 2 Daubers, 1 Shine Cloth | Black, Brown |
| | Sethjcsy Shoe Care Kit | 4 Shoe Polish Tins, 2 Sponge Daubers, 1 Shoe Brush, 1 Handle Brush, 1 Metal Shoe Horn, 1 Durable Shine Cloth, 1 Nail Scissors | Black, Transparent |
| | Make it funwan 7-Piece Travel kit | 2 Shoe Polish Tins, 1 Shine Cloth, 1 Metal Shoe Horn, 3 Shoe Brushes | Black, Transparent |
| | Tarrago Self Shine Cream Kit | 1 Shine Cream, 1 Applicator | Black |
| | FootFitter Shoe Valet Refill Set | 3 Shoe Polish Tins, 4 Brushes, 1 Shoehorn, 2 Shine Cloths | Black, Brown, Neutral |
| | Verscoo Shoe Shine Kit | 1 Horsehair Brush, 1 Applicator Sponge, 2 Tins of Polish, 1 Shoe Horn, 1 Shining Cloth | Black, Neutral |
| | Bickmore Leather Care Kit | 1 Leather Cleaner, 1 Leather Conditioner, 1 Cleaning Cloth | Various Colors |
| | Chuanyuekeji Shoe Brush Kit | 1 Dauber Brush, 1 Horsehair Shine Brush, 1 Crepe Suede Brush, 1 Shoe Horn, 1 Microfiber Cloth, 1 Foldable Lint Brush | Brush Kit Only |
Let's have a look at the top women's and men's shoe shine kits that are going to keep your prized shoes looking good and you feeling great.
View the Best Shoe Shine kit, Below.
Buyer's Guide
Shining your shoes is not as common a skill as you would think. Apart from military personnel, most men know nothing about shining their shoes. Shining your shoes with a shoe shine kit is easy and will not only allow you to look good but will also extend the life of your shoes.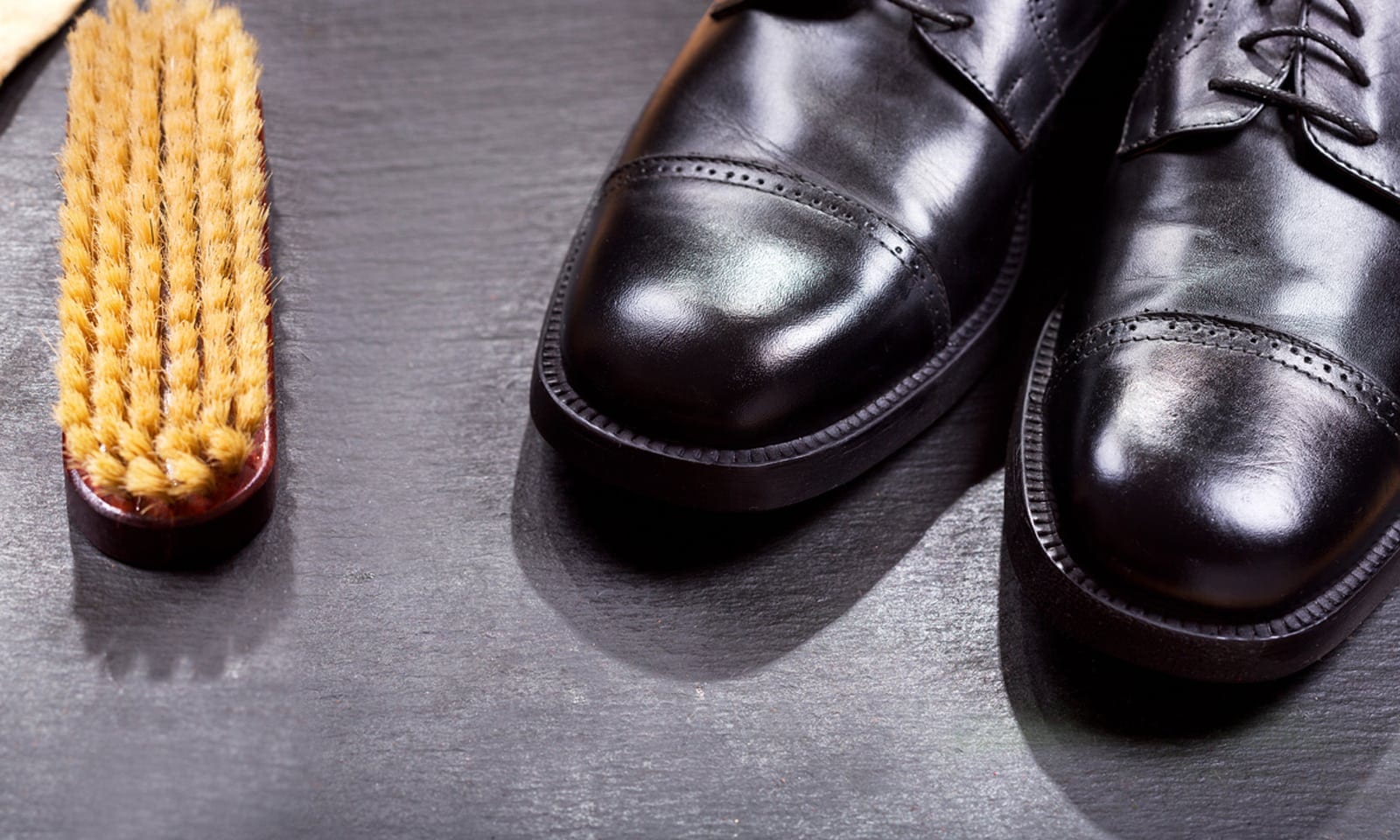 Having a top shoe shining kit with the best shoe care products, including shoe polish, shoe cream, brushes and the like is vital. There are a number of different things that should go into a great shoe shine kit and we will have a look at some of them here for you.
The Container
You might think that this is an irrelevant aspect of a professional shoe shine kit for polishing your shoes but in fact, it is quite important. The reason for this is to keep your kit together and to make it easy to take with you when you travel. Professional businessmen and women travel a lot and having your shoe shine kit with you will ensure that you will always look great and stand out in a crowd. There are two types of containers you can use for your kit.
The Brush
There are two kinds of brushes needed. A shining brush and a shoe polish brush. The best shoe shine brushes are those made from 100% horsehair. This is because it is soft and pliable and will not damage or scratch your pair of leather shoes.
The Polish Cloths
You will need a polish cloth to get the shine you want on your shoes, boots and other leather products. Once you have used the polishing cloth to make sure you rinse it and dry it out. This is important because if you do not the polish will dry and harden on the cloth. Most of the best shoe shining kits will include a polishing cloth for polishing your shoes.
The Polish
This is the most important aspect of a shoe shine kit for polishing your shoes. You must have the right polish. There are a number of different types of polish you can use on your boots. The first step, of course, is to match your colors. Never try to change the color of your boot or shoe by using a different color polish. The professional shoe wax polishing treatment will give you the best shine. It also seals your shoe.
When you use this type of polish it is difficult for your shoe to breathe and it may curtail the lifespan of your shoe. It will soak into the leather. It allows your shoe to breath. Cream shoe polish is one of the best to give your shoe the nourishment and shine you are looking for. Can extend the life of your shoe.

Buyers Guide Questions
How to use a Shoe Shine Kit?
Polishing those dress shoes, leather boots or even your handbag is easy if you have a top shoe shine kit. They are simple and easy to use and contain everything you need to get the job done right. Follow these simple steps to polish and shine your shoes so they look as good as new. First lay a piece of newspaper down so that you don't damage your floor or carpet.
Use the buffing brush to get rid of any excess dirt on your shoe. Remove the laces of your shoes or boots. Using a soft cloth apply your leather conditioner. Let the conditioner sink into the leather for about 20 minutes after application before applying the polish.  Apply the premium shoe polish by using your applicator brush.
Allow the polish to sink in for another 10 to 20 minutes. Finally, use your 100% horsehair buffing brush to create the shine you want. You can also use the dauber to apply the polish and the shine cloth to get the final touch of shine on your shoe.
Conclusion
A premium shoe shine kit ensures that you look at your best at all times. It will also care for, nourish and revitalize your pair of leather shoes, boots, and other products. Ultimate shoeshine kits contain all the essentials you will need to prolong the life of your shoes and give them a great shine. The top shoe shine polish kits will include all the highest quality accessories.
These include brushes, polish, dauber, and shine cloth. Having a top rated premium shoe shine kit and leather conditioning kit will ensure that your shoes and boots not only look good but extend their lifespan too.

Expert Tip
It is best to wax, polish and condition your leathers once a month using your premium shoe shine kit. This will ensure your shoe remains shiny and keeps your shoe color intact.
Did you know?
The first modern type of shoe polish was the Kiwi Brand from Australia. It was created by two Scotsmen and was launched on the market in 1906.