What Are Anti-Slip Shoes?
Anti-slip shoes are shoes that help you prevent yourself from falling, tripping or slipping when walking, standing or running on wet surfaces. They are made out of softer material, usually rubber, and their soles provide great grip on any surface.
What Brand of Shoes?
There are a number of great brands on the market that offer zero-slip type shoes. Due to the way these shoes are designed they are often some of the most comfortable shoes for those working on their feet most of the day as well as being no slip. These include people like chefs, waiters, nurses and more, and they need not only safe shoes but comfortable ones too. When working in areas that are not secure underfoot, you need the best non-slip shoe you can get and there are a few brands that are recognizable as makers of great anti-slip shoes that are perfect for the working environment. Then you get those that are  non-skid that are made for athletes such as basketball players, this is the area that Nike, Adidas, and Fila excel in.
Some of the brands favored by these people are Vans, Crocs, Birkenstock and Mozo. The clog style anti-slip shoe such as Crocs is favored by people that will be standing still for a long period while sneaker type non-skid such as Vans and Sketchers are the favorite for those that clock up the miles. Vans have recently introduced a Kitchen Shoe Program to create anti-slip sneakers specifically designed for professionals working in the catering industry.
Then you get the anti-slip shoes made specifically for workers such as the Shoes For Crews range of boots and shoes for both male and female workers who are constantly exposed to hazardous areas where the underfoot conditions are not favorable, and where a slip can cause serious injury or damage.
Another brand that is well knowing for their anti-slip shoes are Merrell, these shoes are not only favored by workers but also for casual wear. Then you also get Keen's and Crocs which are very well known to the catering industry as great comfortable anti-slip footwear and clogs. Then, of course, you get Fila, Adidas, and Nike that all produce some anti-slip running shoes.
Many of the athletic shoe manufacturers such as Nike, Adidas, and others make grippier shoes for basketball and running as well as trail racing and hiking. These are perfect for zero-skid purposes however, they will not work, and are not specifically designed to ensure safe footing in wet or greasy environments such as the kitchen.
Are Nike Shoes Grippy?
Nike does have a great range of no slip shoes, specifically running and training shoes that are available to purchase. However most of the Nike shoes are suited to slippery surfaces such as basketball courts and are designed as anti-slip for those types, but if you are looking for a shoe that is suitable to wear when working in conditions where your underfoot is either wet or greasy, then Nike would not be the best option for non-skid shoes.
So the answer is yes and no when it comes to Nike. They do produce great anti-slip soled shoes which are perfect for the baseball court, however, they are not the right ones to use when working in a kitchen or as a server in a restaurant.
Are Vans Good Too?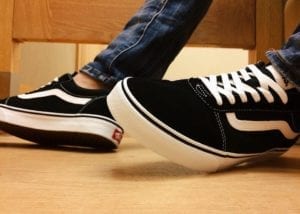 Yes. These shoes were originally designed to be skateboard shoes and that would mean they need to have great traction, not only to keep you on the board but for push off and stopping. The pro skate versions have a much more comfortable insole but other than that, they are all perfect to use as anti-slip footwear.
Vans are a favorite shoe for those working in the service industry such as waiters or waitresses, as they are not only zero-slip but also have a great sneaker style look. They will ensure that you will not find yourself and your plates and food all over the floor when serving in a restaurant where stepping in a wet spot is likely.
Not only are Vans perfect for workers in the service industry and people who spend all day on their feet, these no slip footwear items look great and are extremely comfortable to wear so also make great leisure wearing shoes.
What About Crocs?
Most all crocs are anti-slip shoes. They were designed and developed as a boating shoe, so specifically to be used on wet surfaces where protecting yourself from slipping is a daily occurrence. Nowadays they are used in all kinds of work environments as anti-slip, comfortable work shoes, as well as being used by the general public as comfortable day to day shoes.
What makes Croc slip resistant? The Crocs Lock tread that they feature, which also meets all industry standards for slip resistance. They are used extensively in kitchens, restaurants and in hospitals. Not only are they slip resistant they are also lightweight.
If you like spending time outdoors and near or in water, then Crocs will also work for you as they are slip resistant as well as water resistant. So walking or swimming in rivers, or lakes no longer has to be hard on your feet, and they are perfect for poolside too.
Conclusion
Picking the right anti-slip shoe is imperative if you work in hazardous conditions, are on your feet all day, or have a specific need. Regardless of the intended use, there are a number of non-slip options from reliable brands on the market.
Expert Tip by Alexis DeSalva Kahler
If you've had success with one brand in the past, even for a different need, look for available non-slip options with that brand first. It's likely they fit you well and starting with a familiar brand can help save you time in the long run.