Cowboy boots have all of a sudden become very popular and are actually used as a fashion statement by many people. They can be made out of a whole range of animal skins; they tend to be mainly made from cow skin. However, you can purchase cowboy boots that are made out of more exotic animals, like snakeskin, alligator skin, lizard, buffalo, and many others.
Related; Snake Boots Review.
Traditionally they were used for horse riding, and it was mainly people in the Wild West that wore them because they were very suitable for the weather conditions. However, more recently they have definitely become a fashion statement. Therefore we've put a list together of some of the best cowboy boots that are currently being sold online, so you don't have to hunt around for ages to try and find the best ones.
View the Best Cowboy Boots, Below.
Buyer's Guide To Cowboy Boots
As you can see in the list above, there is a whole range of different cowboy and cowgirl boots so it can make it pretty impossible to come to a decision about what ones you may like the best. A lot of them have different features, and some of them are more suitable for fashion purposes than riding horses, so you need to look out for what ones are for which. Plus, it's important to know what you want to use them for before you buy any. Therefore we've put together a list of all the things you need to look out for before you do go ahead and purchase any cowboy boots.
Heel Height
The heel height of the cowboy boot is a very important aspect that you will need to look at. If you want to purchase a pair of cowboy boots for horse riding then it's important that they do have a heel; this is because the heel will sit very nicely in the stirrup without slipping out at all. Whereas, if you buy a cowboy boot that has more of a flat heel, then this won't be able to grip to the stirrup as easily.
Therefore if you're planning on purchasing flat heeled cowboy boots, then it may be best to just use these for walking and as a fashion statement. You can still use them for horse riding, but you may find them a little bit annoying at times.

Outer Material
What the cowboy boot is made out of on the outside is very important; this is because traditionally they are made from leather. Some of them are just made from cow leather, while others can be made from more exotic animals. Therefore some leathers may need to be treated a little bit different compared to others so you will need to research this. It's best that a cowboy boot is made from leather because it means that they will be able to last you a lot longer and they will be a lot more durable.
Not only this, but they will also be completely waterproof, so if you do get stuck in the rain then it won't matter. There are some cowboy boots that are actually made from synthetic materials rather than leather, and these can actually be just as good, but you will need to realize that they might not last you as long compared to some that are made from leather.
Flexibility
This is one very important feature about cowboy boots, as you're going to want to be able to easily move in them, and if they're not very flexible, then that can be difficult, which means that it may make it slightly uncomfortable to walk in. You may notice that on some of the cowboy boots they have additional features to make them a bit more flexible, so it's easier on your feet. If you do happen to purchase ones that are quite stiff, then you can always break them in to make them more flexible.
How to wear Cowboy Boots?
There's actually a different way that men and women should wear cowboy boots. If you're a man it's best that you wear your trousers over the top of the boots unless you're planning to ride horseback then you can tuck the jeans into the boots. However, if you're a woman, it's better if you actually tuck your clothing into the boots because it will look better if you show them off more.
There are also certain types of clothes that you should wear them with. Otherwise, they might not look so great when you're wearing them. It's important to stick with classic washes, for instance, if you wear light blue jeans with cowboy boots they may actually look quite outdated, and this is exactly the same if you decide to wear bright colors with them. Therefore it's better to pick darker colors to wear with them.
How to Stretch Cowboy Boots?
Because cowboy boots are quite high up, there can be quite a few places that they might feel a little tight, for instance, this could be on your leg or on your feet. There are several ways that you can stretch them while you're at home. Firstly, you can use a product called the boot stretch, all you need to do with this is spray it on the inside of the boot, and then you need to put the boot on and keep walking around until it dries.
This should relax the leather and stop it feeling as tight, plus, it will also stretch to your foot shape and size. It's important that you condition the leather once you have done this. Another method you can try is by using steam and applying this inside the cowboy boot, you can simply do this with a pot of boiling water.
All you need to do is place the boot on top of the steam and let the steam go up the inside of the boot; this will make the leather relax more so it can fit your feet more accurately.
How Should Cowboy Boots Fit?
One thing that a cowboy boot shouldn't be is painful. If they are then this will mean that they are too tight on your feet and you will need another size. However, it is important that you do have a snug fit and when you're walking in them you must be able to feel your feet rising up, so they're going away from the sole just a little bit.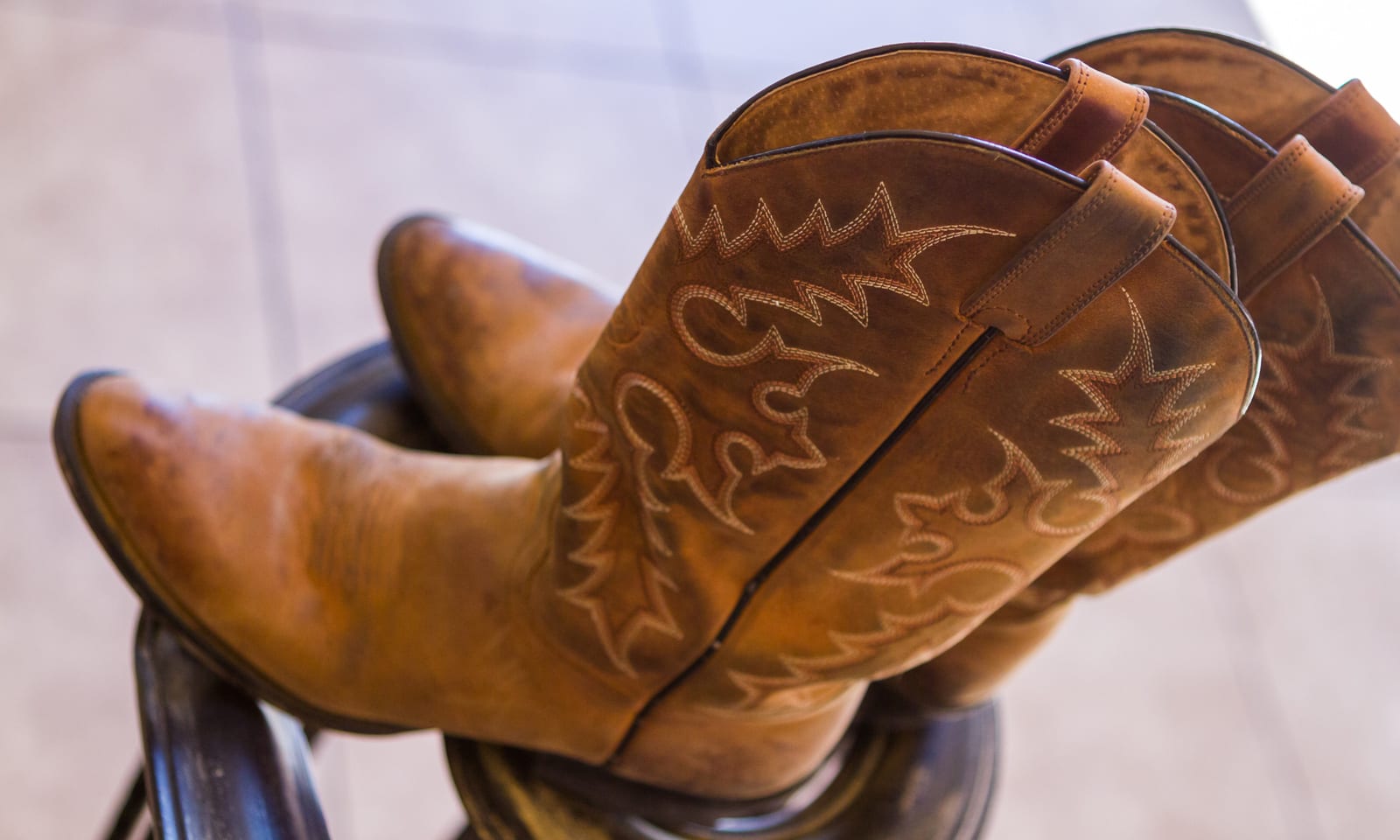 One way to know if the cowboy boot fits you is that it should feel as if your foot is having a firm handshake while it's inside the boot, which means that ideally, the cowboy boot should hold onto your foot when you're walking, but it shouldn't be too tight that it actually causes pain.
Conclusion
There are many different cowboy boots all over the internet, and you will also be able to find them in speciality stores across the United States as well. It can be quite difficult when it comes down to deciding what cowboy boots you would like to purchase. This is because there are so many varieties of them; you can purchase them with completely different designs. It's important to know what ones you will be more comfortable to wear. This is because if you don't really like wearing ones that have a higher heel, then it's best to purchase ones that have a flatter heel.
It's also important that you do make sure that they fit you correctly because you don't want them to cause you any pain when you're wearing them; otherwise, this could cause you to have problems with your feet if you wear them when they don't fit you properly. You should definitely take note of everything we've said in our buyer's guide because there are factors that you need to consider before you do purchase any cowboy boots.
Expert Tip
Your foot should not slip into a new cowboy boot very easily, and a proper pair of boots should actually require some effort to pull them on, and the break of the boot must line up with the arch of your foot.
Did you know?
Cowboy boots have been specifically designed to be tall, this is because the tall tops are actually there to protect your legs and the underslung heels are to keep your feet in the stirrups when you're riding a horse.