How to Clean Canvas Shoes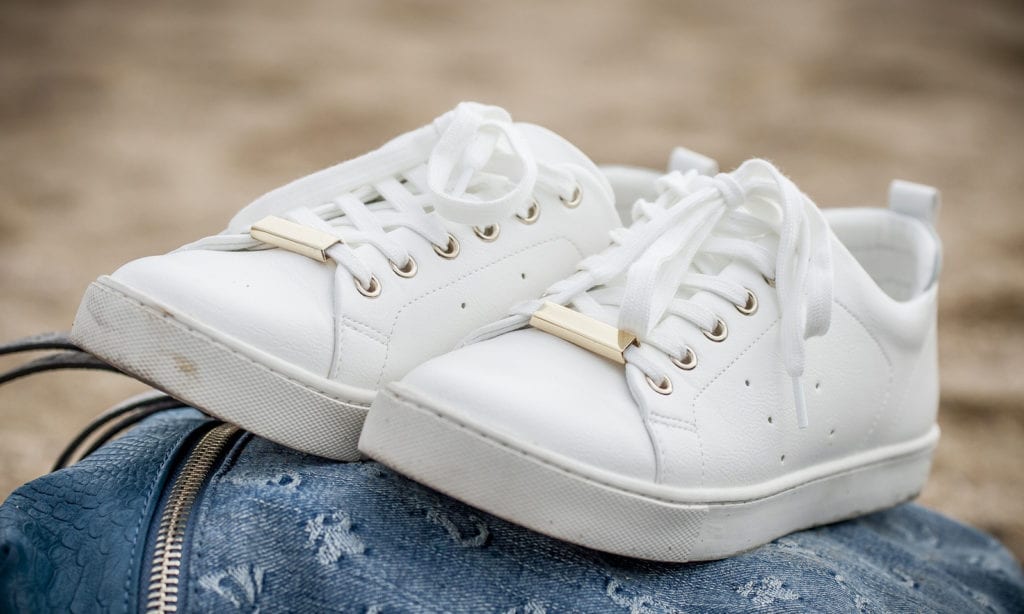 Canvas shoes can be a great wardrobe staple, especially during the summer. This comfortable, lightweight shoe can be worn with a range of outfits which is why almost everyone owns a pair of canvas shoes. White canvas shoes are a very popular choice, but anyone who has ever owned a pair knows that they attract dirt incredibly quickly.
White shoes can look dirty very quickly because there is nothing to hide the marks. But luckily, it is not too difficult to clean canvas shoes, and you can keep your white canvas sneakers looking fresh all summer long.
With just a little bit of effort and care, you can get your white shoes looking brand new.
How To Clean Canvas Shoes
It can be quite easy to clean your canvas shoes, even if they are white shoes, using items you may already have at home. There are several good ways of cleaning canvas which can also work on your leather or suede leather shoes too because they are gentle yet effective.
What You Need
Laundry detergent
An old toothbrush or soft scrub brush
Paper towels or a cloth
Mesh laundry bag
Stain remover, if necessary
Chlorine or oxygen bleach, if necessary
The choice of whether to use bleach will determine how stained your white shoes are and if you want them to be bright white once more. Cleaning canvas with these materials can be easy because it is a durable material.
Canvas Shoes Cleaning Guide
There are a couple of different ways you can go about cleaning canvas shoes, and the easiest is throwing them in the washing machine. While it is possible to throw canvas shoes in the washing machine, you must let them air dry instead of putting them in the dryer because of the rubber soles.
The best cleaning method will differ based on how much washing you need to do!
You can clean canvas sneakers in the washing machine on a cold water spin, as long as they do not have a suede or leather trim.
How To Clean
Step 1) Remove Laces
Before you put your canvas sneakers in the wash, you need to remove the laces and wash them separately, which is where the mesh laundry bag comes in.
Put the laces from your sneakers into the mesh laundry bag so they won't get tangled in the machine as they clean.
Step 2) Remove Stains
Canvas can become stained easily, and this need to be tackled before the sneakers can be thrown in the wash. You can use regular liquid detergent, stain remover, or vinegar on targeted areas of the shoes to remove stains. A stain remover can also be used on this kind of shoe and apply it to the stains directly.
If you are working with tough stains, let the soap or vinegar sit on the canvas for a couple of minutes before you start scrubbing. It can take even up to 15 minutes dirt to break down on canvas.
This part will need to be done by hand, using either a toothbrush or cloth. With a mixture of liquid soap and warm water, wipe at the fabric using the toothbrush or towel to get rid of excess stains, dirt, and debris.
Step 3) Put The Wash On
You should never put muddy shoes directly into the machine, as this can cause clogs and damage. So, once you have removed the excess dirt from the shoes, it is time to put them in the machine.
White canvas shoes can be put into a regular white wash load using the standard laundry detergent you would normally use. If you want them to come out looking bright white, some laundry bleach can be added to the machine along with a disinfectant or vinegar to get rid of fungus or bacteria.
Choose a lower spin cycle when washing canvas shoes and make sure they are being cleaned with cold water, not hot, as this can cause damage.
Step 4) Let The Shoes Dry
After the wash cycle has finished, you need to let canvas shoes air dry. You should not put canvas sneakers into a dryer as this can cause them to fall apart.
To help the shoe maintain its shape, you can stuff the sneakers with paper towels as they air dry.
Allow the shoes to dry for as long as possible before wearing them next, ensuring to avoid direct sunlight when doing so.
How To Hand Wash White Shoes
If you want to clean white canvas shoes without using additional power, then you can hand wash them just as easily.
This is a good option when your white shoes have lots of stains or for shoes that have suede or leather trims, in order to protect them. The following tips can make it easier to clean shoes by hand using simple tools like water, a brush, and soap.
What You Need
A cloth or gentle scrub brush
Baking soda or laundry detergent
Stain remover, if necessary
Bowl or sink
How To Clean White Shoes By Hand
Step 1) Make A Cleaning Solution
The first step to clean white shoes is to create a cleaning solution. This can be done using laundry detergent, baking soda, or vinegar mixed with warm water.
Baking soda can be a great treatment to clean stains and is gentle enough to use on canvas, suede, and other kinds of shoes.
Step 2) Remove Laces
As with the first cleaning method, laces need to be removed from the shoes before you can clean them. It is easier to clean the shoes separately when doing so by hand.
The laces can be placed in a bowl of warm water and soap to soak while you clean the rest of the shoes.
Step 3) Remove Stains
If you are working with harsh stains on your canvas shoes, you can pre-treat them using baking soda or soap. A stain remover might be necessary if you are dealing with a lot of dirt.
Simply dab some of the soap directly onto the stains and work it into the fabric with your fingers. Leave this on the shoes for at least 15 minutes so it can start to break down the dirt, which will make it easier to clean after.
Once the dirt has been soaked and starting to break down, using a toothbrush or gentle cleaning brush, you can brush or scrub the canvas with your cleaning solution. After soaking, it should be easy to just wipe away any stains with a damp cloth, but some elbow grease might be needed when using a scrubbing brush.
Step 4) Rinse And Dry
Once you have managed to scrub away all stains and discoloration, it is time to rinse the shoes.
Rinsing the shoes under a warm tap will make sure all of the dirt and debris is gone, as well as removing the leftover detergent. Rinse the shoes using a damp cloth that has been soaked in warm water, making sure to cover all areas of the shoe, including the sole and sides.
Once you have taken the time to rinse away anything left on the shoe, you now need to leave them and allow them to air dry. Again, canvas shoes should not be put in the dryer as this can damage them.
You can speed up the drying process by wiping down the shoes, after the rinse, with a towel to get rid of the excess water. Using an absorbent towel is a great way to speed up the drying time.
If you are working with leather shoes, this towel can be used to polish the upper to leave the shoes shining. Again, you can stuff the toe of the shoe with a paper towel to help it keep its shape as its air dries.
Allow the shoes to completely dry before wearing them again, and keep them out of direct sunlight. After their soak, laces can also be left to dry naturally.
Final Notes
Over time, your canvas shoes can become dirty, which can ruin an entire outfit. Instead of your first reaction being to go out to buy a new pair, you can easily clean your canvas sneakers at home.
It is just as easy to clean canvas shoes by hand as it is throw them in the washer, using items you already have at home. As long as you allow the shoes to dry naturally, they will come out of the wash looking brand new.
Expert Tip by Alexis DeSalva Kahler
Bleach can make your white shoes look brighter.