When you work in an area where you may encounter difficult conditions underfoot, you need the best nonslip shoes available to ensure your safety. This type of shoe is a prerequisite when you work in many different industries including kitchens (click here for the right shoes), restaurants as servers, the docks, factories and others. In fact these types of shoes are required by your employer to adhere to safety regulations.
We look at some of the greatest on the market, we consider their construction, type of sole, how slip proof they are when walking on wet, oily, greasy or any other slippery surfaces. Nonslip shoes are also great for nurses due to the added practicality and safety aspects. For those in need of comfort for issues such as neuropathy – click here.
We consider what materials they are made from, what kind of tread and sole they have and how well they will protect your feet from hazards. No slip footwear items are those that have soft, pliable soles with intricate tread that help you to prevent yourself from slipping when walking on slippery surfaces.
There are many different types and styles on the market, some for work and some for leisure. We review the top 12 nonslip shoe products on the market and let you decide which one is best for you.
View the Best Non Slip Shoes, Below.
Buyers Guide Questions
Material – Leather vs Cloth
Chefs, nurses, servers and other service industry, or factory workers will tell you that the most important part of their work attire is the footwear they wear. Having strong, comfortable and slip-resistant shoes are a non-negotiable in these and other professions, and are often mandatory footwear according to health and safety regulations. In the past slipping resistant work shoes took the form of heavy, ugly boots and they did not fit well with people who worked on site and in the office.
Often they would have to change shoes constantly in the day as they moved from one job to another, however, all of that has changed. Now you can get lightweight, smart casual work shoe products that are slip-resistant, with safety toe caps and more. You can now also get casual footwear to use in everyday life that is nonslip. You also get the finest slip-resistant shoes that are cute and pretty for women to wear when out and about.
Even if you cannot find slip-resistant footwear in a style that you like, such as high heels for women, then you can always add a slip-resistant sole to your footwear. This is especially practical for women who work in professions such as journalism where they need to have a corporate look, but sometimes have to traverse areas that are hazardous underfoot.
You should always make sure when purchasing your slip resistant footwear that they actually do perform as they say. Often manufacturers will state that their shoe is slip-resistant or slip-resistant but in fact, they have rubber soles with no traction at all. This can be very dangerous, especially if you bought them to work in areas where you encounter wet, oily or greasy floors.
To check if the shoe is actually slip-proof, you can have a look at the sole of the shoe, the greatest grip provided is due to a pliable rubber sole with unique tread, the smaller the tread, the better the grip. Test the shoe before buying. In this buyers guide, we will look at some of the most frequently asked questions when it comes to this specific style and type of shoe.
To give you an insight as to what they are made of, how they function and why you should consider buying one.
What is slip-Resistant?
Nonslip shoes are footwear items that are worn to prevent slipping, tripping or falling when walking in hazardous environments. They are rated by a dry static coefficient. This is the ratio of the force of friction between two objects. In the case of slip-resistant shoe products, those two objects would be the sole of your foot and the ground and the force that presses them together.
The material used to make these shoes non slip is usually soft rubber on the sole that grabs the surface you are standing or walking on. The tread patterns on these soles are what determines if they are slip-resistant or nonslip soles and if they are suitable to walk on wet, oily surfaces with.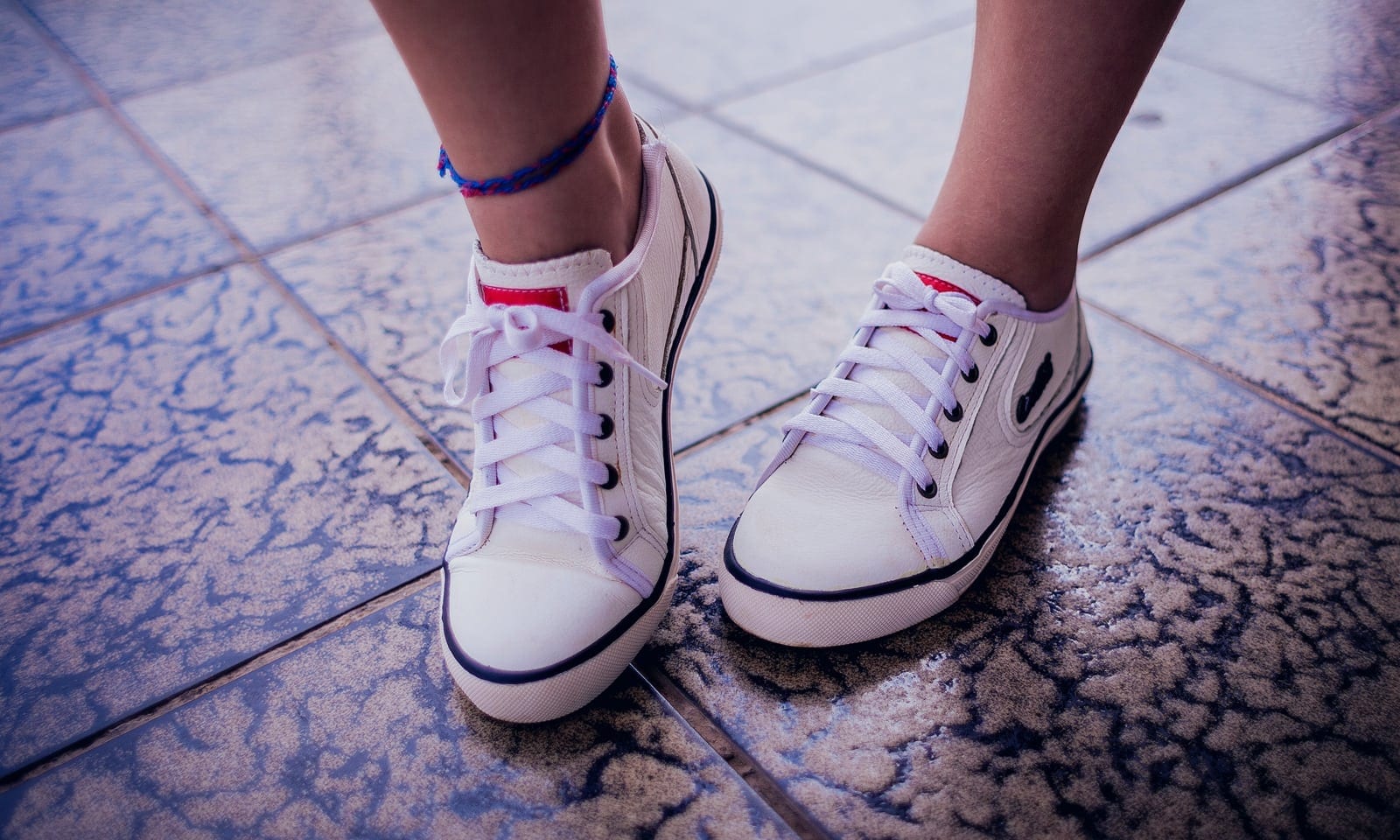 Nonslip products enable you to walk with confidence under very tricky conditions. They help you to avoid nasty trips, falls and slips that often occur when using normal footwear and walking on water, oil or greasy surfaces. Slip-resistant shoes are a requirement when working in kitchens, hospitals or working as a server in a restaurant amongst other places.
If you often go out, consider applying slip-resistant options to your high heels as encountering water or oil on roads and pavements in today's world is not uncommon, they are also one of the best assets to estate agents and engineers who spend time both on-site and in the office.
How do slip Resistant Shoes Work?
Slip-resistant shoes work on the premise that the softer and more flexible the rubber sole you have, with a fine tread pattern, the more grip or traction you will get on the surfaces you are walking on. The soles of these shoes are designed to push liquid away from the bottom of your feet, which prevents you from slipping in water, oil or grease.
What are the Best Shoes for Servers?
People working in the service industry, particularly servers or waiters in a restaurant need shoe items that are not only super comfortable but also allow them to walk easily when faced with water, soap or oil on the floors. Accidents are commonplace in restaurants and kitchens. Servers often have to deal with soapy, wet or floors with all sorts of other debris such as spilled juice and the like. They need to be able to traverse these hazardous floors with ease as they serve their customers.
Should they not have these slip-resistant shoes, they might trip, slip or fall, be carrying plates, glasses or knives and forks, this could create a very dangerous situation. The most appropriate shoe for servers to use are those that do not only slip resistant but also offer protection for their feet, so a toe cap and solid overlays will go a long way to ensuring their safety at work.
Comfort is also very important as they spend a large percentage of their day on their feet, so this could be one of the deciding factors when choosing the most applicable slip resistant footwear for themselves.
What kind of Shoes are Considered Non-Slip?
Any shoe that offers you exceptional traction will be considered slip-resistant. Shoes that have a better traction than your standard footwear usually will have characteristics such as fine tread grooves which provide your sole with better friction between it and the surface, this causes it to grip the surface as you walk and prevent you from slipping or skidding when encountering water, oil or grease on the floor.
The tread on these types of soles is designed to move water away from the foot. This helps the sole to gain more traction on the actual surface you are walking on. Soles of nonslip shoe products are usually made out of high-grade rubber, which is not only solid but offers exceptionally strong traction and is proven in its use as a slip-resistant sole.
The tread on these soles is the determining factor when considering what constitutes non slipping shoe and what does not, having a rubber sole does not automatically mean nonslip. The grip you can expect will be determined by the size of the tread, very small, fine tread offers fantastic traction, the rubber should also me soft, pliable and flexible.
Most of your work boots offer these non-slip qualities. Slip-resistant footwear is a vital part of your working attire when working in areas where hazardous underfoot conditions exist such as in restaurants, kitchens, factories and the like.
What Brand of Shoes is Non-Slip?
There are quite a few manufacturers that make skid-resistant shoes. Skechers, in particular, specialize in these types of shoes and are very well known for it. Other brands include Vans, Crocs, Birkenstock and Mozo. Shoes for Crews make a wide range of work footwear along with Merrel, Keens. You should be wary when buying a sports shoe that is nonslip.
These shoes are meant to keep you from skidding on wooden floors such as basketball courts but are not meant to be used in areas where there is water, oil or grease on the floor. There are a lot of brands out there that claim to make slip-resistant footwear for both leisure and work environments.
However, you should be wary when purchasing these shoes as a lot of manufacturers simply stamp their shoes as no slip and they are not at all no slip in nature. Before you purchase your non-slip shoe, especially if it is for work, it would be optimal to test the shoe to ensure that it does offer the traction it claims to, if you do not you might end up in a tricky situation when facing surfaces that are hazardous to walk on.
Conclusion
A great pair of non-slip shoes will save you from not only from an embarrassing and potentially dangerous fall or slip at work, or when out with friends and family. They are an essential part of your work attire, especially if you work in a restaurant or factory environment. In fact, any person working for long hours on their feet all day would benefit from wearing the greatest & most comfortable non slipping footwear items they can get.
In today's world, you often encounter water, grease, oil and other substances on the roads, pavements and other areas you are walking in. It is best to have footwear that will prevent you from having a trip, slip or fall in any situation, even if you work in an office environment. Seniors, in particular, will benefit from these types of shoes to prevent those accidental falls that cause serious injury to them.
Top Pick
It should be no surprise that we have chosen another one of Skechers footwear ranges as our top choice of non-slip shoes on our list. Skechers have been well-known for making the best slip-resistant work shoes for a long time and specialize in these types of shoes. The Men's Rockland Systemic Shoes are lace-up shoes that have a nice casual design which is suitable for both office and work site.
It features slip-resistant outsoles that have exceptionally good traction on them and can master even the trickiest of surfaces. Tested to Mark II standards, and conforming to EH standards for safety these are exceptional work shoes that will keep your feet safe and secure no matter what working environment you are in.
Not only safe but stylish too, with a leather upper and a leather overlay with an inner sole is ultra-comfortable. These are high-quality work shoes for the discerning man and one of the best for people who spend a large portion of their day on their feet.
Premium Choice
Skechers does it again for our premium choice non-slip shoes. The Men's Flex Advantage Sneaker are shoes that has the appearance of an athletic sneaker but the slip resistance of a work boot. Durable leather uppers combine with a mesh and synthetic fabric to offer both flexibility and breathability so your feet will not feel smothered during the long day.
The insole is gel infused memory foam, this gives your foot a cushion to rest on as you stand or walk, ensuring that at the end of a long day working your feet will not have any ill effects. The insole is also removable. People with specific orthopedic needs can substitute their own personal insole into the shoes to help them get through the day at work with no pain or discomfort.
The rubber outsole of the shoes have a fine tread pattern which means you get fantastic grip on any surface you need to traverse. These are exceptionally good shoes for restaurant workers such as chefs or servers and work well for hospital and hospitality workers in general.
Great Value
Being a nurse or waitress is a difficult job and you don't want to add sore feet to your list of worries when coming home from work. Women who work in these environments need footwear that will not only offer them comfort and be safe to walk in, they also want something with a touch of style too, as well as shoes that will not cost them a fortune to purchase. The AVIA Women's Avi Union Service Shoes are just such shoes. It is incredibly well priced, looks great and serves its purpose very well.
That makes it our great value choice for non-slip shoes on our list of the 12 best. The sole of the AVIA is designed to push away the liquid from the sole of your shoe, this is what a great non-slip option does as it enables your footwear to maintain their grip on the surface you are walking on preventing slips and skids and potentially dangerous falls. Elderly people tend to be at risk of more slips and falls – read the study here.
The outsole is oil & slip resistant (read the study). Lightweight, breathable and most of all comfortable the Avi features an EVA soft gel heel which is shock absorbing and the sock-liner which is also molded EVA is removable. Padded tongue and collar and the AVIA's Cantilever System make this one of the greatest, most comfortable non-slip footwear in this price range.