Slip on shoes can be very useful if you're in a rush, as all that you need to do is quickly slip them on and you won't have to worry about tying up any laces. Not only this, but some of them can also be used as a very handy pair of shoes around your house. For instance, if you need to do some gardening outside, then some pairs of slip-on shoes will be very ideal for this type of situation.
Slip-on shoes are normally used for more casual scenarios rather than formal, so even if you need to quickly pop down to the shops, then these can definitely be used for this. We've put a list together of all of the best slip on shoes across the internet so it can help you decide which ones are best for you.
View the Best Slip-on Shoes, Below.
Slip-on Shoes Buyer's Guide
There is a whole variety of different slip-on shoes in the list above, and some of them are more suitable for men while others are more suitable for women, you can also purchase a unisex slip-on shoes as well. There can be quite a big dilemma over which shoes you should purchase because there are so many different styles.
One thing that you will need to know though is what type of weather condition you would like to wear them in, because some may not be suitable for wet weather conditions. Therefore we've discussed some of the things that you need to look out for before you purchase a slip on shoe.
Types of Slip-on Shoes
You would have noticed that there are completely different styles and designs of slip-on shoes in the list above. Some of the slip-on shoes you can simply just place your feet in, whereas others might have elastic on either side of the shoe, and some may even have some very short laces.
All of these shoes will slip on the same, but if you're looking for a pair of slip-on shoes that you can get on without having to bend down, then the elastic ones might not be ideal for you, as they can take a little bit more effort to put on. However, the other types of shoes will be just fine even the lace up ones shouldn't require that much effort because the laces will be so low down.

Outside Material
This is another very important factor that you need to look out for, as the outside material will indicate what type of weather scenarios the shoe is suitable for. For instance, if they are made out of fabric or suede, it's unlikely that they will be waterproof and you don't want to get caught in the rain with your brand new slip on shoes and get your feet wet.
Another thing you should see is if the material is breathable, as this will prevent any moisture from forming in your shoes, meaning that your feet or shoes won't have any odors. Plus, it is also able to prevent athlete's feet from forming.
Inside Material
The material that the slip-on shoe is made from on the inside will instantly tell you exactly how comfortable they are. The type of material that you ideally want your slip-on shoe to have will be memory foam or a kind of EVA insole. This is because these are so comfortable on your feet when you're walking.
Not only this, but it also means that it will allow the shoes to mold to the exact shape of your feet. Therefore you're feet won't be able to rub like it may on an ordinary shoe and cause blisters because they will be an exact personal fit.
Sole
Ideally, you will want the sole to be made from rubber or gum rubber. This is because this type of material will be able to provide you with the best grip and it will stop your shoes from ever slipping on the ground. Some of the shoes in the list above may also have a slip resistance feature, and this is a really great feature to have, as it means that you won't be able to slip over in them when you walk on any type of surface.
How do you lace Shoes so they can Slip-On?
Some slip on shoes do actually come with laces, and there are certain ways that you should tie them in order for you to be able to slip them onto your feet easily. One thing that you must make sure that you do though is to tie them very loosely, because if you tie them too tight when they are not on your feet, then you will definitely struggle to put them on.
There is also a certain technique that you can use in order for your laced shoes to become slip-on shoes. First of all, you will need some lace anchors to be able to keep the laces in place. To start with you will need to simply put one of the laces in the very first hole at the bottom and then thread it through to the hole that is diagonal from it.
Then repeat the process with the other lace too and keep on threading the laces through the holes diagonally until they reach the top of the shoe. Make sure you've attached the lace anchors in place to make sure that they stay there and then you will have a pair of slip on shoes.
How do you keep slip-on Shoes from Slipping Off?
This is a very important question about slip on shoes. Because there are no laces on the shoes, it means that they are more likely to be able to slip off more easily, but there are ways that you can prevent this from happening to you. First of all, you will need to make sure that the slip-on shoe fits you correctly, because even if they are a little bit big, then they will more than likely start to slip off.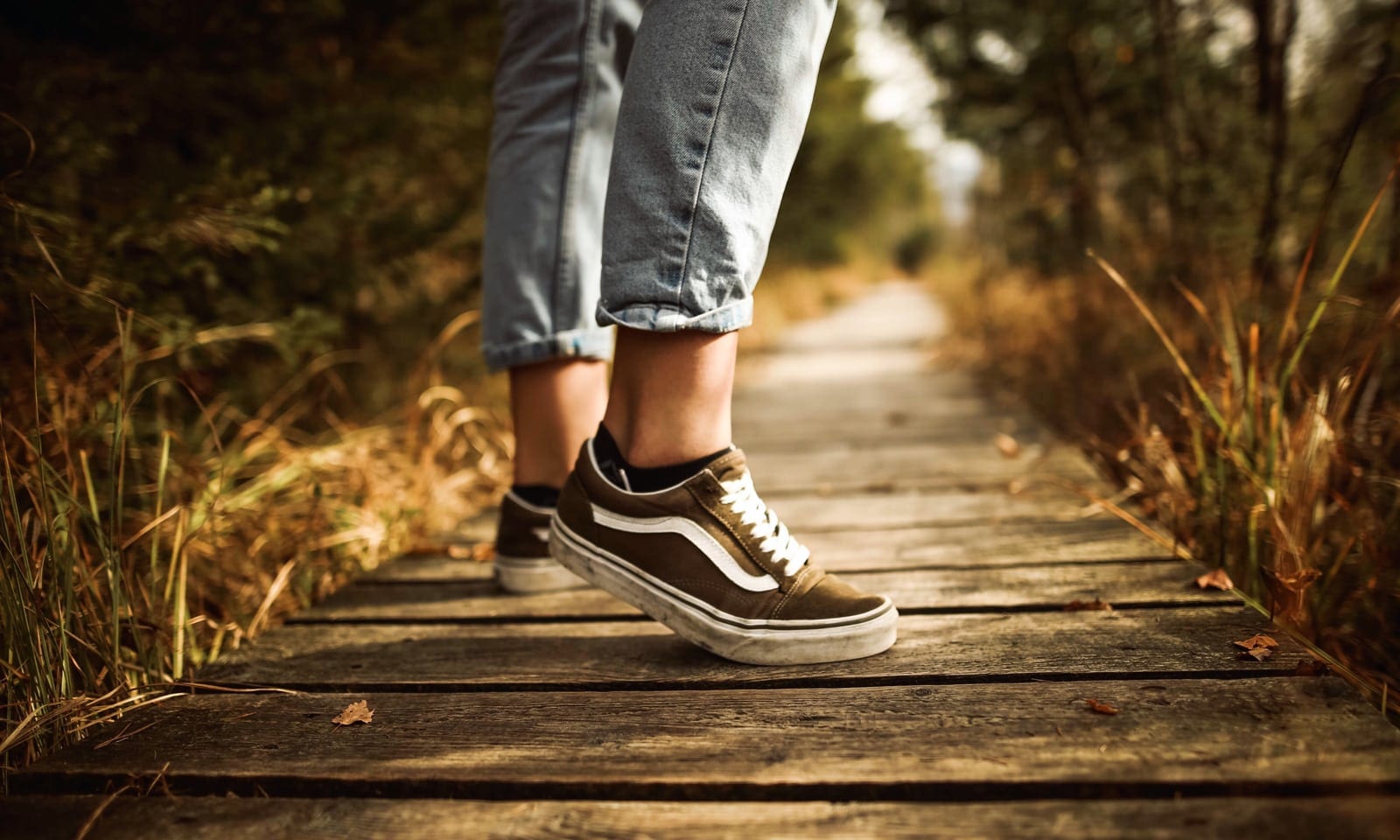 Even if they are still doing this there are several things that you can try, for instance, you can try putting non-slip insoles into the shoe, spray your feet with hairspray, put deodorant on your feet or use double-sided sticky tape. Some of these may sound a little bit bizarre but trust us they really do work like a treat.
How do you wear slip-on Shoes?
Slip on shoes can be worn to a whole range of different occasions, but it does all depend on what type of style the shoe is and what they look like. Because this factor will determine what type of events they are more suitable for. If they are slip on shoes that are sneakers, then these shoes will be for very casual situations like hanging out with your mates or going to the shops.a
You would usually wear jeans and a top with these styles of shoes. However, if they are slip on ballerina flats, then these could be worn to more formal places, and if you wear them in the summertime, then they may even suit some of your summer dresses.
Expert Tip
If you're planning on converting your lace-up shoes to slip on shoes, then it's important that you re-do the laces a couple of times in the year. This is because the laces may adjust a bit after you've worn the shoes several times.
Did you know?
Slip on shoes first originated from Turkey, and they were called Yemeni shoes. They were also handmade, and there were also a variety of colors to pick from.