10 Best Fabric Glues in 2021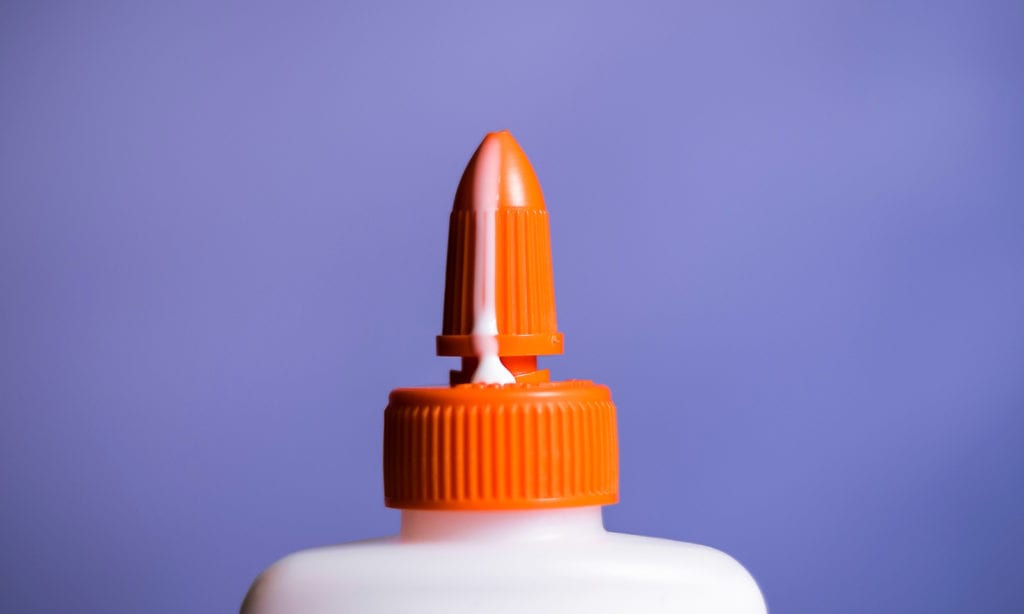 Fabric glue is fantastic and has so many uses, whether this is as a professional dressmaker, for personal use when taking up hems or being creative, and even as a way of fixing damaged furniture or upholstery. If you are using a good fabric glue, you will get excellent results, without the need for a needle and thread, meaning it is a great way to fix minor things such as little bit too much length on your clothes.
Fabric glue is also a really useful way of fixing tears in a fabric that would be too noticeable if stitched, such as your couch or a cushion. As there are no sharp needles, using fabric glue is an excellent way of creating materials with children, sock puppets are much more fun with all the extra details added with fabric glue.
With so many uses, it is only natural that you may need a little advice to ensure you pick the best option for your needs. So we have brought together a list of 10 of the best products available on the market to help you to make your decision.
View the Best Fabric Glue, Below.
1. Beacon Adhesives Fabri-Tac Glue
Fabri-Tac is a crystal adhesive, it is designed for quick and easy use with an applicator lid to allow you to use it straight from the bottle. This adhesive has been used by professional designers for many years and due to their being no heat needed to get those invisible joins, this option is much safer than a glue gun – especially for projects involving children. This is a great and quick way to mend clothes or take up hem and is handy to have in your sewing box for quick fixes.
As this adhesive doesn't soak into the fabric it is being used on, it can be used effectively on multiple materials, including; leather, wood, fabrics of all types and home decorations. Due to being fast drying, you don't need to worry about keeping this away from small hands for too long when they are looking forward to using their new creations.
This adhesive is very quick drying and makes small repairs and rehemming an easy thing to do on the go.
Check Price on Amazon ➞
2. Odif USA 505 Spray and Fix Temporary Fabric Adhesive
This spray-on adhesive is temporary to allow you to position your applique or sewing to complete the permanent work without having to sew around pins holding the fabric in place. This adhesive being temporary means you can easily move the fabric, after applying the adhesive; you don't always get the best idea of what applique will look like until it is in place and you can hold it away from you. With this adhesive, you can provisionally place your designs and change them if you are not completely satisfied.
This adhesive has no odor and dries clear, so even if you do have to move the fabric you are using, you won't have a residue showing that something has been moved. This product also does not leave a residue or gum that will cover your sewing needles, making them difficult to use. This adhesive works brilliantly to hold your fabric in place to allow you to effectively machine stitch and hem your fabrics into their permanent place. Please note this will not keep the fabric in place long-term.
The great thing about this product is that you can move and reposition the fabric after spraying to check you like the positioning and if not, you can move it until you are happy.
Check Price on Amazon ➞
3. Aleene's 33143 Original Tacky Glue
Aleene's tacky glue is an all-purpose adhesive that has been used in craft and household projects for over 50 years; and is a trusted product within the industry. This product is extremely versatile and can be used on various types of fabric, in addition to wood, felt and foam to assist you in making a wide variety of products for your home.
This adhesive is non-toxic therefore making it an excellent product to use with children for home crafts and hobbies, and due to it being extra tacky, this is a great way to help your children make the slime that is currently so popular. Aleene's tacky glue bottle has an applicator lid, which can be customized to three different thicknesses of application, the easy-to-use tip can be cut in three different places down the lid which will deposit a varied thickness to your fabric.
The applicator lid of this bottle is a brilliant addition, as depending on the amount of glue you need, you can apply a thinner or thicker line of glue.
Check Price on Amazon ➞
4. Tear Mender Instant Fabric and Leather Adhesive
have to worry about washing, as once dry, the adhesive is completely washable without any degrading. This adhesive takes no longer than 3 minutes to dry, giving you a wearable or useable product almost instantly, and 15 minutes after application, you could wash your mended product without worry of having to use the tear mender again. Once applied, Tear Mender creates a flexible bond that can be hand-washed, machine washed or dry cleaned without any concern. Due to being made of natural latex, you can count on this adhesive to give a long-lasting and durable bond to your fabrics.
Tear Mender will bond a wide variety of different fabrics types but does not adhere to hard surfaces, making it very easy to clean if it is spilled, and will not harm surfaces and skin. This adhesive can be rolled into a ball as it dries and discarded with your household waste. Tear Mender is also economically friendly, made of renewable sources with a water-based formula and made of other natural raw materials and is also UV resistant. The one negative to be aware of when purchasing this product is, according to reviewers, it has a short shelf life – so it is not something to keep in your cupboard in case it is needed as by the time you come to use it, the adhesive may well have dried out.
Tear Mender can be used on all types of fabrics and dries quickly for immediate use of the damaged item, once repaired this item can be washed and re-worn time and time again.
Check Price on Amazon ➞
5. Aleene's Fabric Fusion Permanent Fabric Adhesive
This Aleene's product is a permanent, strong, and long-lasting adhesive that will enable you to add details and decorations to your fabrics. This adhesive is clear when applying and doesn't leave marks once dried, so means you can use for any detailing. As with the Aleene's tacky glue above, the applicator nib on this product can be cut at three different levels, giving you a varied thickness of application.
This Fabric Fusion adhesive has been designed not to apply in a non-stringing manner and can be used on various fabrics, including cotton, leather, beads, and sequins. Be wary not to apply too much of the adhesive as over-saturation can slow the drying process. Once dry, this adhesive is washable and flexible so you can wear your clothes time and again.
We liked the versatility of this adhesive, it can be used with so many fabrics and decorations to adorn your fabrics.
Check Price on Amazon ➞
6. MastaPlasta Self-Adhesive Patch for Leather and Vinyl Repair
This fabric glue is a self-adhesive patch, which at 8 x 11 inches can be used for moderate-sized holes and blemishes on both leather and vinyl. Once applied, this patch immediately repairs your torn fabric, with a straightforward peel and stick application. This is one of the easiest glues we have reviewed.
Specialized for use on multiple fabrics, you can use this patch on leather, suede, vinyl and other upholstery fabrics. This glue patch can be cut to fit the area you need to repair, so you do not need to worry about buying multiple patches for several small fixes.
This patch is economically friendly, being water-based and free of solvents. With all the suppleness of leather, this patch is an alternative to a leather product, with most of the solvents used in the creation of this patch being recycled.
This product can be cut to fit the area you need to patch, enabling you to get more use out of a single patch.
Check Price on Amazon ➞
7. E6000 565004 Fabri-Fuse Adhesive
This fabric glue is the most versatile that we have looked at; it can be used on fabrics, rubber, glass, wood, metal and more, giving a permanent and stronghold on all fabrics. This glue applies and dries clear and is also acid-free, so it can be used on small spaces without showing that it has been used. This glue has a low odor, so it can be used for longer periods of time and remains flexible even after it has been washed.
 It is best to use only a small amount of this glue on thinner fabrics as it has a tendency to soak through, however, on thicker fabrics or when working with wood metal and glass, this is one of the best glues on the market for heavy-duty work.
We liked the sheer versatility of this glue – it can be used on so many fabrics and surfaces so easily that it makes our home and craft projects much easier.
Check Price on Amazon ➞
8. Aleene's No-Sew Fabric Glue
This temporary fabric glue is an easy to use product to help you to hold in place items you wish to permanently sew onto your garments or fabrics. It is an excellent glue to use when hemming your items but is not intended to be used as a permanent adhesive and is not suitable for multiple washes.
This fabric glue is great as it will not gum your needles and as it will stick until washed, you can rely on this adhesive until you have time to permanently sew your project into place. The best way to use this glue is; apply a thin layer and allow it to set.
You will know this has set once skin begins to settle on the top. Once this has occurred, apply a second layer of the glue before pressing the two fabrics together. This method of use allows for a strong bond to form to let you sew the fabrics in place.
This glue forms a strong bond which is especially helpful when working with applique, once applied to the two pieces of fabric this glue, although temporary, will be permanent until the fabric is washed. So, no hurry if you get distracted from your craft project, you can go back to this at a later date without finding the fabrics to have fallen apart.
Check Price on Amazon ➞
9. Permatex 25247 Fabric Repair Kit
Permatex' s fabric repair kit is an adhesive patch that can be used to repair car upholstery, carpets, and other fabrics. You should be aware that unlike the other adhesive patch we have reviewed this product is not self-adhesive, however, everything you need to apply the patches is included in the box with excellent, easy to follow instructions.
The box also includes patches in a range of colors, so this will help you to fix a variety of items of different colors and fabric types. The full repair process with this kit takes around 20 minutes and as the patch dries to the color of the fabric that you are repairing, you will not be able to see the repair.
Do not be put off when you open the box by the number of items included; if you follow the instructions, you will not have a problem with this excellent repair kit.
We liked that this glue patch repair kit can be used on various fabrics, colors and textures to complete a repair that is not visible and still very flexible.
Check Price on Amazon ➞
10. Dritz Home 44153 Liquid Adhesive Unique Stitch
Unique Stitch fabric glue is an excellent adhesive that can be used to attach trim and borders to your craft projects. As this fabric glue is water-based, it cleans easily with water before it is dry, making this another excellent product to use in your home and with children. The glue comes in a toothpaste shaped tube, which makes it easier to apply to smaller pieces of fabric.
This is a non-toxic glue but can cause irritation if left on your skin for too long, so ensure you wash your hands immediately after use. Once you have used this glue, it will be fully washable after 24 hours, but do make sure that you do not dry clean any products with this glue on.
There are no stitches required to hold the fabric in place as the bond of the glue is strong enough. There is no heat needed to activate the glue, heat will, in fact, weaken the bond and cause the glued fabric to separate.
We liked the bottle shape and size of this fabric glue and it is easy to apply to any size of fabric with a clear finish so it can't be seen on even the most delicate fabrics.
Check Price on Amazon ➞
Fabric Glue Buyer's Guide
When considering which fabric glue to purchase, there are a few things to consider; what type of project you are completing, the type of fabric you will be using the glue on, the amount of time that you have available to spend on the project and whether or not this is a hobby, arts and crafts projects, or a repair project.
If you are completing a quick repair, then one of the instant repair kits are the best option available for you, with an easy to apply patch such as MastaPlasta you can have an instant repair to various types of fabric. For a little longer preparation time, an instant repair kit such as Permatex's fabric repair kit gives a better color and texture match, although it takes more time to apply and dry than the MastaPlasta option.
 There are alternatives to the fabric glues and patches we have reviewed above. Unfortunately, this would mean in a lot of cases using a number of types of sewing, many of which would leave visible signs of repairs or would ruin craft projects by showing the stitching through delicate lace. If you are making repairs in obvious places or are using delicate fabrics, glues could be the best option available.
If you are at all unsure of whether or not glue or stitches would work best, a temporary adhesive could be what you are looking for as it will allow you to see what the fabrics will look like with the project finished. Once you have the temporary placement, you can then review and decide what you want to do to finish the project.
If completing a 'for fun' project, or an art project, you may wish to consider the size of the project and the size of the piece that you are working on. Using an alterable nib such as on the Aleene's products can be beneficial if you plan ahead – completing the thin glue lines before cutting the nib further down to be able to create the thicker glue lines.
With this planning completed, you can work through your project in stages, getting the most out of the glue for shoes you have purchased.
Expert Tip
We recommend you review carefully how much fabric glue you are going to need as you can often underestimate the amount needed and have to re-purchase halfway through a project.
Did You Know?
Fabric glues have different strengths; some such as 'super' glues have better strength than others. The best thing to do is to consider your project needs before deciding the strength of the glue you purchase.