10 Best Shoe Polishes in 2021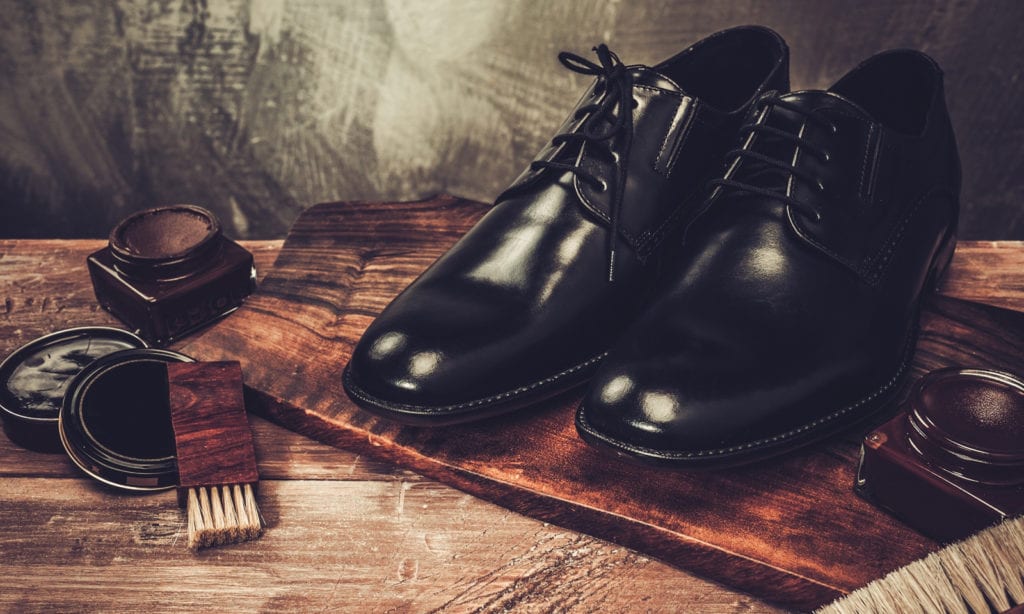 Everyone has a favorite pair of shoes and that means that, unfortunately, over time they get dull and worn out, especially with repeated use. Luckily, shoe polish helps breathe new life into old shoes, making them shinier and helping to cover up scratches. Rather than throw out an otherwise good pair of shoes, pick up some polish and extend the life of your favorite pair of shoes!
There are a whole variety of shoe polishes, and some of them will work better for certain types of shoes compared to others. Therefore we've put together a list of the best shoe polishes out there.
View the Best Shoe Polish, Below.
1. Moneysworth & Best Shoe Cream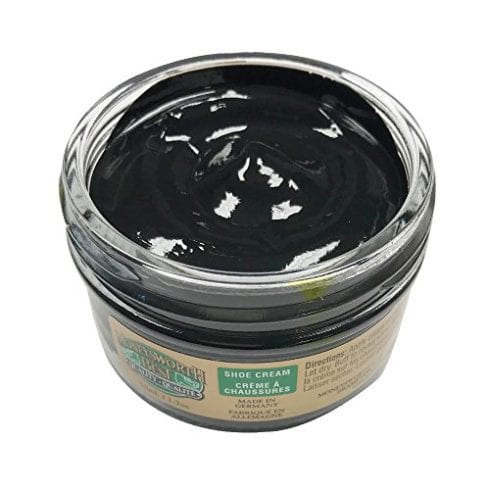 This shoe cream is ideal if you want to bring moisture back into your leather shoes and it works especially well on soft leather. It has a combination of natural oils and waxes that will finish your shoes off with a natural shine, so they don't look too over polished. This cream is actually really good if you want to restore your shoes and it will help you bring them back to life, so they can last longer but still look like you've only just purchased them the day before. Not only this, but the cream is also very good for the price that you pay for it.
We loved this product because of how the shoe looks once the cream has been applied. It gives your shoes a very natural looking glow.
Check Price on Amazon ➞
2. Saphir Pommadier Cream Polish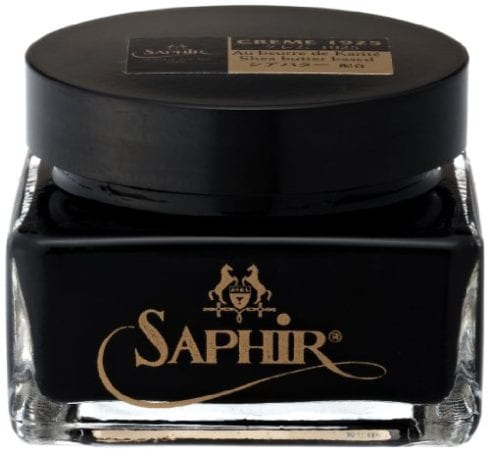 This cream is great if you want to treat your shoes with a completely natural product, as it is not made with any harmful resins or silicones, meaning it won't damage your leather shoes even if you use this cream time and time again on them. It also has a total of seven different waxes in the cream, and it has shea butter, which will bring a nice scent to your shoe as well as a polish. The cream actually contains twice the pigment compared to other polishes; this enables them to bring out the color of your shoes like you would have never seen before.
We loved this product because when we used it really does make your shoes look as if you've just brought them off of a shelf.
Check Price on Amazon ➞
3. Angelus Shoe Wax Polish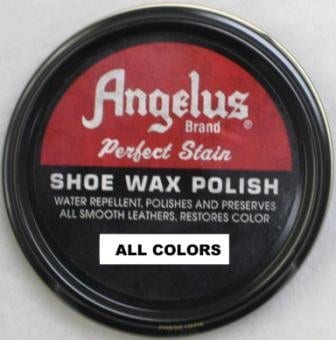 If you need a polish that will last a long period of time, then this product is definitely good for you. The tin that the polish comes in is able to keep it fresh for every single use; this is because it has a very handy snap open lid. This polish is able to clean as well as preserve and waterproof your shoes, making it ideal if you're planning on restoring any old leather shoes that still have wear left in them. Plus, it also leaves your shoes with a glimmering shine making them look as if you just ordered them a few days ago.
We liked this product because the polish is able to last a very long time, meaning that it is very economical and it keeps to the same standards each time it is used.
Check Price on Amazon ➞
4. Dr. Martens Unisex Wonder Balsam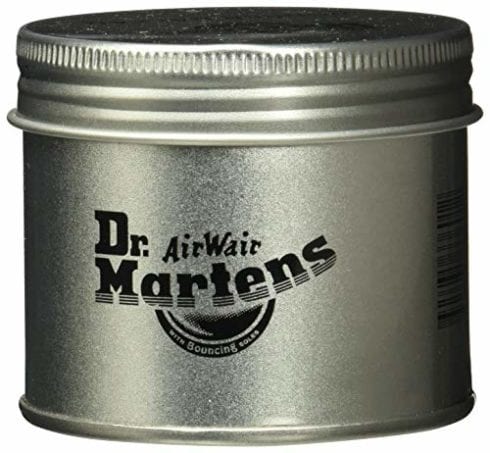 This is a very well known brand, and if you have any of their shoes, you will know that they are professionals with leather shoes. Not only is their shoes top quality, but they also know how to look after leather impeccably as well. One very important factor about this shoe polish is that it also protects against salt marks, as well as protecting your shoes against water and other liquids as well. Plus, it is a very strong polish because it doesn't actually rub off, making it very good for the price that it is.
We liked this product because of the way it can protect your shoes from various things like salt marks and any liquids, plus, it can also remove scratches.
Check Price on Amazon ➞
5. Meltonian Boot and Shoe Cream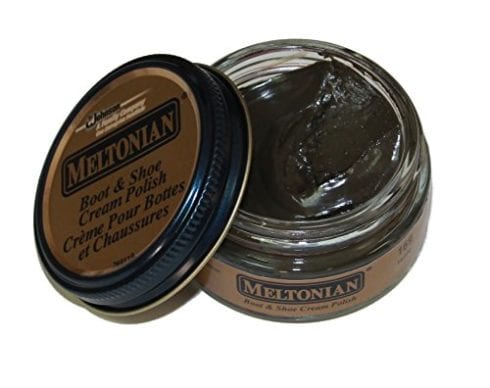 If you have a lot of stains and marks all over your shoes, then this cream is perfect for them. The cream actually gets deeper into the leather compared to regular polishes, therefore, it's able to make them a hell of a lot cleaner, and it is able to restore them as well. Plus, it's also very good at removing old polish from the leather, which is a real added bonus because you won't have to sit there for ages attempting to remove it with a wet cloth. Once the product is on your shoes, you can instantly feel the difference, and it feels as if it has been conditioned.
We loved this product because of the way it feels once you've applied it to your leather shoes; they feel completely nourished and conditioned.
Check Price on Amazon ➞
6. Fiebing's Saddle Soap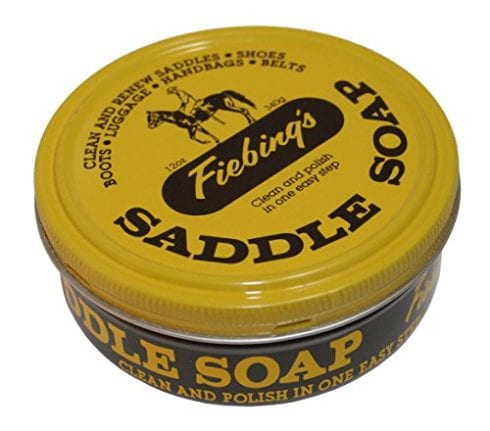 This product is able to work on multiple things from shoes to a saddler and even any other leather products. It is very strong to use on leather and will help it maintain its strength as well, meaning it will be able to last a long time because it's been looked after to a high standard. If your leather products are also feeling a little bit brittle, then it is able to solve this too because it can deeply nourish it as well as making it squeaky clean. Plus, another very good feature of this product is that it is very simple and easy to use.
We liked this product because you are able to use it on most leather goods, it doesn't just have to be used on shoes making it very practical.
Check Price on Amazon ➞
7. Bickmore Bick 4 Leather Conditioner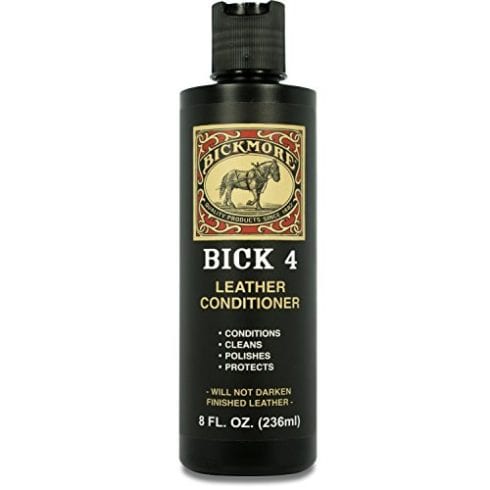 If you have just got some new leather shoes and you want them to stay in the best condition ever then this conditioner will be able to help with that. It can help protect your new shoes and even old shoes against any liquids and stains, and if you accidentally scuff the shoes, this product will actually help prevent there from being any damage. Plus, you can actually use this on any leather goods, it isn't limited to just shoes, for instance, you could use it on a motorcycle seat or even on upholstery items in your home.
We loved this product because it can help prevent any damage coming to your shoes, so you don't have to worry about anything getting ruined.
Check Price on Amazon ➞
8. KIWI Color Shine Liquid Polish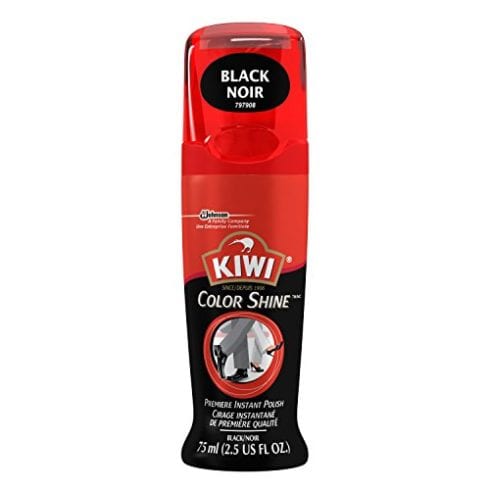 This polish is actually in the form of a liquid, but it is just as good as any other polish. Plus, there is a big bonus with this polish, and that's the fact that you get an instant shine once you've applied this onto your leather goods, which means that you don't have to actually buff them at all. This really does save you some time. Not only this, but it is also able to protect your leather goods from things like water and stains, plus, it can bring nourishment back to your leather.
We loved this product because there is a very big bonus with it and that's the fact that you don't actually have to buff it because it leaves an instant shine.
Check Price on Amazon ➞
9. Crep Protect The Art of Spray

This polish actually comes in a different form as well, because it's actually a spray and this makes it a hell of a lot easier to use. It also doesn't only work on leather it can also work on various other materials like suede, canvas, and nubuck. This factor makes it very economical as you can use it on a variety of products. There are many other features to this product, for instance, it also helps prevent against stains, and it will also repel all types of liquids, and you won't even be able to notice that it is on the item you choose to spray.
We liked this product because you can also use it on many other materials, making it very useful for multiple things.
Check Price on Amazon ➞
10. Huberd's Original Shoe Grease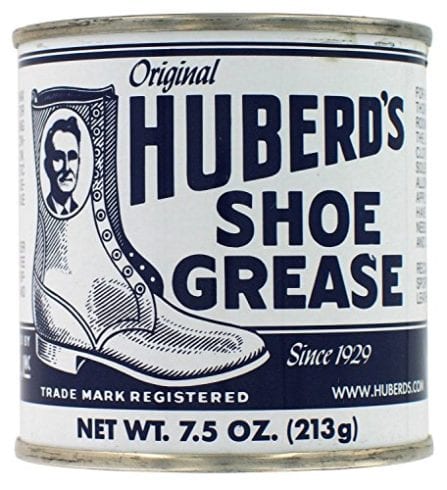 If you want to polish your shoes by only using natural ingredients and you don't want there to be any chemicals on your leather shoes when you polish them, then this is ideal for you. This is because it is very natural and it doesn't contain things like animal fats, which can actually turn the leather rancid. There are additional features with this product, and that's the fact that it will keep your shoes waterproof, nourished, plus they will look very brand new once you have used this type of polish, and it will also still protect them in any weather condition.
We liked this product because it is able to work in most weather conditions; therefore it can protect your shoes in rain or snow.
Check Price on Amazon ➞
Shoe Polishes Buyer's Guide
There are many different polishes and it can be hard to know which type is best for your shoes. Understanding the different options before you buy helps you avoid buying the wrong kind or, even worse, damaging your shoes. Below are some factors to consider before buying any leather polishes.
Types of Polishes
Leather polish is available in a spray, liquid cream or a polish. You should consider the different applications for each type so you avoid damaging your shoes. You should also check the different instructions, which may vary in the application. Another difference to keep in mind is the types of materials each treats, as some may treat other materials in addition to leather.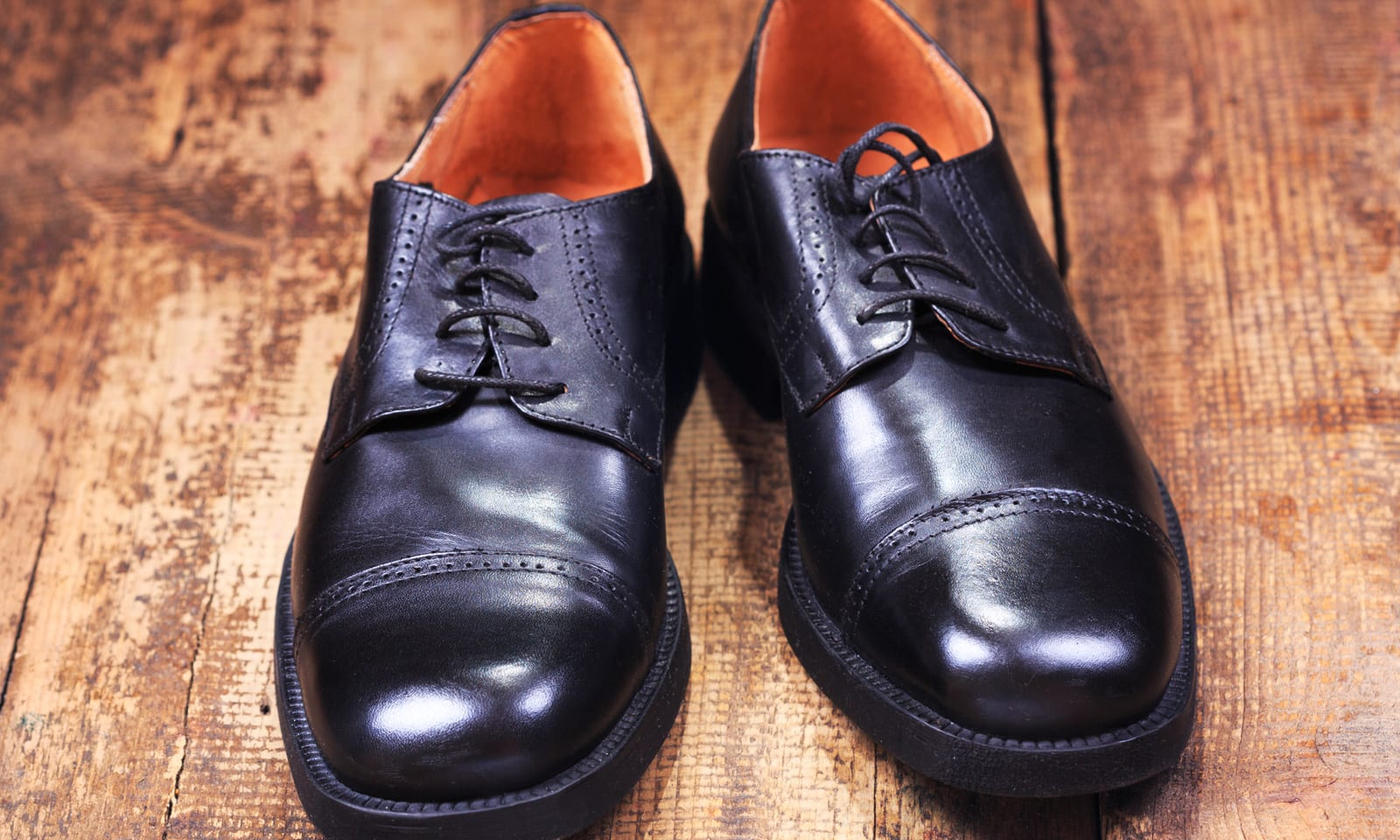 Shoe polish and shoe cream have some additional differences. Shoe polish isn't able to nourish the leather in the same way that cream is able to, and it will also come off of the shoe quicker compared to cream. However, cream doesn't have the same shine effect on leather that polish does.
The Best Ingredients for Products
Many polishes contain a whole variety of ingredients, but there are some certain ingredients that are able to provide the perfect shine to your leather. One thing that you should look out for is that the polish contains natural ingredients and no nasty chemicals; otherwise, they could ruin your leather. One thing you should make sure your polish has is wax because wax is what actually helps protect your leather and makes sure that it stays in a good condition.
Not only this, but it also helps the leather become water resistant. Another thing you should look for is if the polish has any natural kinds of butter in it because these are able to make your product smell as if you've just entered a brand new leather shoe shop.
Chemicals
Some leather polishes may contain certain chemicals that could actually damage the item you want to treat after a long period of time, but sometimes these aren't even harmful chemicals. For instance, if a polish contains animal fat then it may turn the leather rancid, not only this but it can also darken the leather, and it can also affect the stitching of the product as well, by creating a stale odor. If this does happen to you, then it is likely that the leather will then start to rot and you certainly do not want that. Make sure you keep your shoes fresh!
How Do You Use Shoe Polish?
Before you apply any of the shoe polish it's important that you brush or wipe any dirt off of the shoe, plus, if there's any old polish on the shoe, it's important that you remove that as well. You will then need a soft cloth or even a rag and put some of the shoe polish onto there, and then all you need to do is simply buff it around both of your shoes.
How Do You Remove Shoe Polish?
First of all, it's important that you remove the laces off of your shoes and then you need to get a wet cloth and wipe this all across your shoes. You also need to have some type of saddle soap to get the old polish off of your shoes, once you have this wipe the wet cloth gently into the soap in a swirl motion and then start applying it in a circular motion onto your shoe for it to remove the old polish. Once you have covered the shoe with the soap, you then need to use a different wet cloth to wipe all of the soap away.
Shoe Cream vs Polish
You may not think that there is an awful lot of difference between shoe polish and shoe cream, but there really is. Shoe polish isn't able to nourish the leather in the same way that cream is able to, and it will also come off of the shoe quicker compared to cream. The reason for this is that the cream is able to get deeper into the shoe. However, there are some negatives to shoe cream as well, and that's the fact that it won't give you that shiny new shoe look that polish is able to give you.

How Long Does Shoe Polish Take to Dry?
Once you have applied the shoe polish to your shoes, you then need to leave them to dry for around 10 to 20 minutes. The longer you leave it, the better, as it will allow more time for them to dry properly. Once they are dry, you will then need to rebuff the shoe to give it that extra bit of shine.
Conclusion
There are many different products that you can use to clean or even restore your leather goods. They come in many different forms as well, for instance, you can buy them in a spray, cream, balm or even a polish form. It really depends how many times you want to use the polish and what you actually want to use it on, once you have decided this it should be quite simple to figure out which one suits your needs the best.
There are also some things that you do need to look out for before you buy any polish, and that's what ingredients are in the product because you don't want it to ruin your leather instead of helping it. Plus, it's very important that you actually use the polish the correct way and make sure the leather good is clean before you do use it; so make sure you follow the direct instructions on the polishing product before using it.
Shoe polish isn't just for shine. It can also add some water resistance and protection to your shoes.
Did You Know?
Before shoe polish existed people used to use wax to make their shoes shiny. The wax was actually called dubbin, and it was made from wax, animal fats, soda ash, and oil.