10 Best Shoe Stretchers in 2021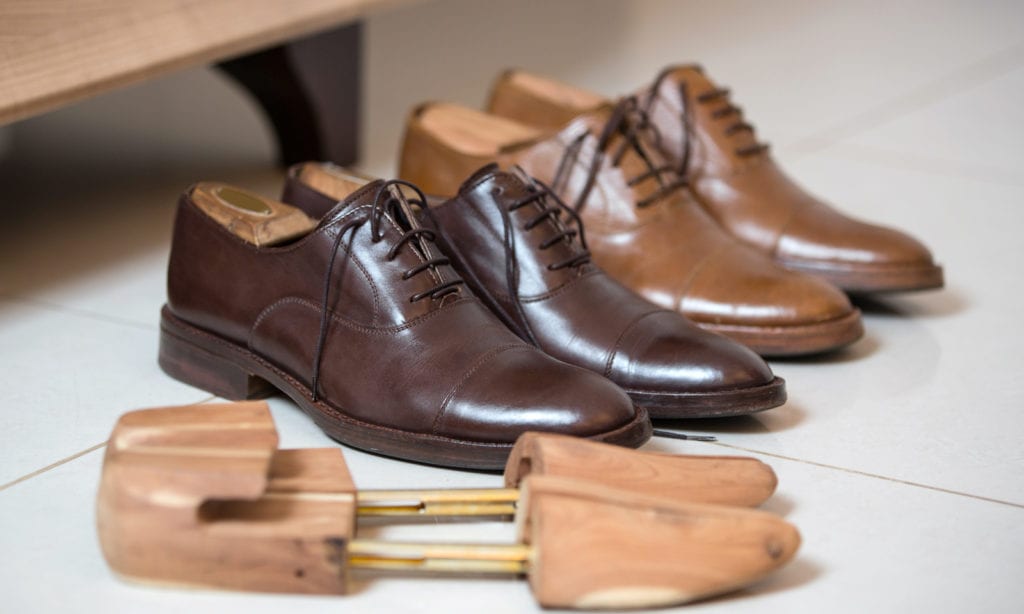 Nobody should have to suffer for fashion, and pain should never be the payment for a stylish new pair of shoes. Unfortunately, it can be hard to find the perfect pair in the right size for you. As most of us are shopping online for fashion items more often, it can be easy to fall in love with shoes that just don't fit right.
There is nothing worse than eagerly awaiting a delivery, or taking a pair of new shoes home from the store, only to find that they are a bit too tight. With the help of a shoe stretcher, you can solve this problem and make a tight pair of shoes fit more comfortably around your feet. This article shows some of the best shoe stretchers on offer to help you out.
These product reviews will take you through ten of the best shoe stretchers on the market, so you can find one to help make your new shoes a perfect fit.
View the Best Shoe Stretcher, Below.
1. Eachway Shoe Adjustable Stretcher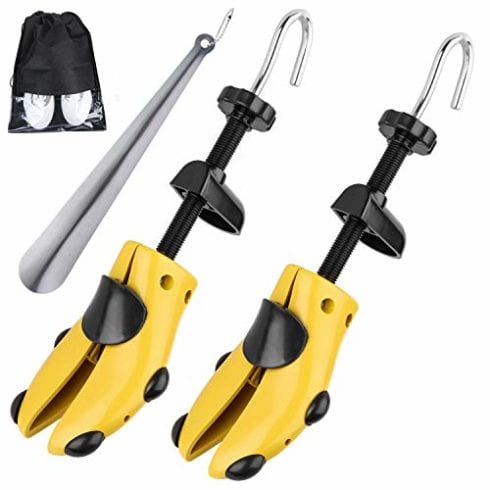 The first shoe stretchers to look at are this pair from Eachway. Eachway have created a convenient and durable shoe stretcher, made out of sturdy plastic with a steel rod in the center. This means they should last pretty much forever and will have no problem keeping your shoes in position.
The main highlight is the adjustment options. Not only can you increase the length to match your shoe size, but you also increase the width to avoid tightness. These shoe stretchers also come in a nice set to make them even more efficient. Bunion plugs and heighten pads are included so that they fit your feet well. There is even a handy shoe horn to help you squeeze the shoes on and off.
This is a great all-round set for making your shoes fit comfortably, with bunion plugs, heighten pads and even a nifty shoe bag included.
Check Price on Amazon ➞
2. FootFitter Premium Professional 2-Way Shoe Stretcher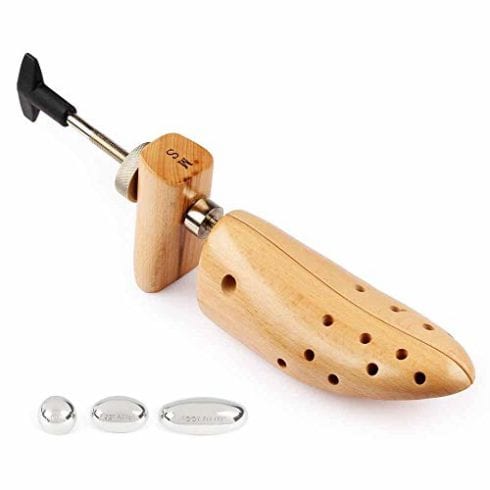 This universal shoe stretcher from FootFitter is designed to fit both your left and your right shoe. This gives it an edge as you only need one of them to fill out your stretching needs. Unless you want to stretch both shoes at once, of course. Again, this is a 2-way stretcher, so it can work to give you the right width as well as the right length.
The Premium Professional 2-way stretcher comes in a polished German beechwood. This is an attractive and sleek design, but that isn't the most important thing when it is inside your shoe or in the closet. However, it does make it breathable, which is much more useful, especially if you have sweaty feet. All the inner parts are metal, so it is guaranteed to stay sturdy while in use.
This shoe stretcher has a breathable wooden design and is a universal fit for all different shoe materials, as well as both right and left feet.
Check Price on Amazon ➞
3. Deluxe Wood Shoe Stretcher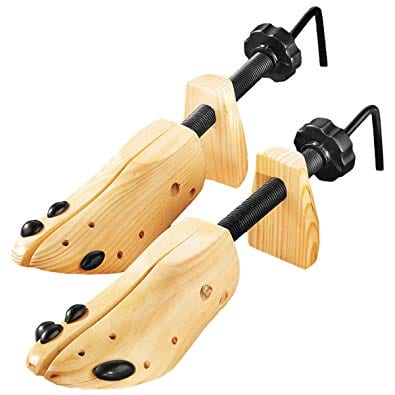 The Deluxe Wood Shoe Stretchers come as a pair, so you have one for each shoe. Again, these are 2-way adjustable shoe stretchers, but they have an added bonus, which helps you to customize them. These shoe stretchers come in a range of sizes, with each stretcher size covering a few standard shoe sizes. This means you can have stretchers that match your feet, so less adjustment is needed to find the right fit.
This isn't helpful for everyone, as a family sharing a shoe stretcher would likely require it to fit a range of shoes. However, it doesn't do any harm otherwise. It comes in a classic pinewood design, which is attractive, but it may absorb some moisture. One advantage is the inclusion of 4 pressure pods for added relief in areas that cause blisters and corns.
The range of sizes available means that you can have a customized pair of stretchers, with fewer adjustments needed in order to find the right fit.
Check Price on Amazon ➞
4. Miserwe Professional Stretcher for Boots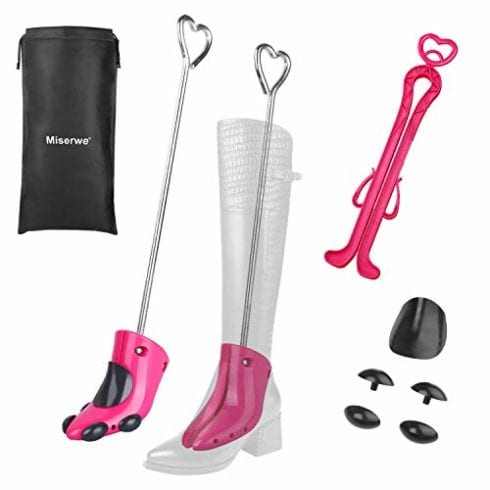 If you have some high boots which are a little too tight for you, the Miserwe Professional Stretcher will do a great job of widening them out. Again, this is a pair of two stretchers, which is ideal for boots as you will want to leave them in for a long time. By having two, you can stretch both boots overnight.
These are simple 1-way stretchers. This means that they can increase the width of a shoe but not the length. Because of this, they also come in particular sizes and, as you might have guessed from the pink plastic, they are made for smaller women's sizes. The lengthy handle twists easily to adjust the width, and there are a variety of bunion and pad plugs included to help give extra relief in the areas where it is needed.
These are the ideal stretchers for boots, especially those which go high up the leg. The simple handle design makes them easy to adjust.
Check Price on Amazon ➞
5. Florsheim Men's Woodard Cedar Shoe Tree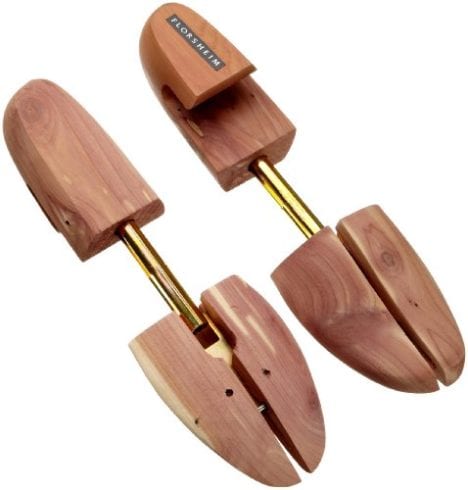 For something slightly different, you can check out these cedar shoe trees from Florsheim. Florsheim is a quality manufacturer of men's shoes, and these shoe trees have been designed to maintain the shape and quality of a smart pair. This is primarily achieved through the use of American red cedarwood. This wood has properties that fight against moisture and acids that your shoe comes into contact with after wearing them frequently.
Unlike most shoe stretchers on this list, these shoe trees are not adjustable and come in a range of specific sizes. The use of Small, Medium and Large sizing may be confusing, but it can be easily applied to standard shoe sizing. They come as a pair of trees, and they are spring-loaded, meaning it pushes against each end of the shoe to maintain its shape.
These shoe trees are made of American Red Cedarwood, which gives your shoes protection from damaging features such as moisture.
Check Price on Amazon ➞
6. Miserwe Adjustable Unisex Shoes Stretcher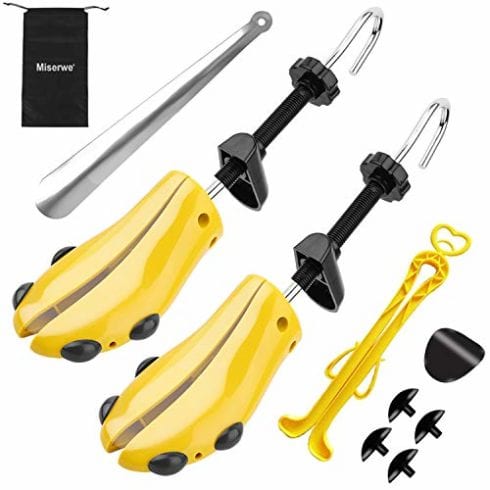 The second offering from Miserwe is this adjustable unisex shoe stretcher. This is designed for shoes rather than boots, although it boasts a boot-shaped stand to help keep boots in the right shape when not in use. This product comes as a pair of stretchers, and each is made from durable plastic and high-quality steel, so they maintain the shape of your shoes while stretching them.
The main advantage of this product is the range of extras that comes with it. Like many shoe stretchers, these come with various plugs to give extra relief around painful areas. This is ideal for preventing blisters in new shoes. It also comes with a shoehorn for easing shoes on and off. When you are not using the stretchers, you can keep them and all the accessories in the handy bag provided.
This shoe stretcher is a fantastic option due to the package it comes in. The shoehorn, range of plugs and useful bag make this great value for money.
Check Price on Amazon ➞
7. HOUNDSBAY Heavy-Duty Shoe Stretcher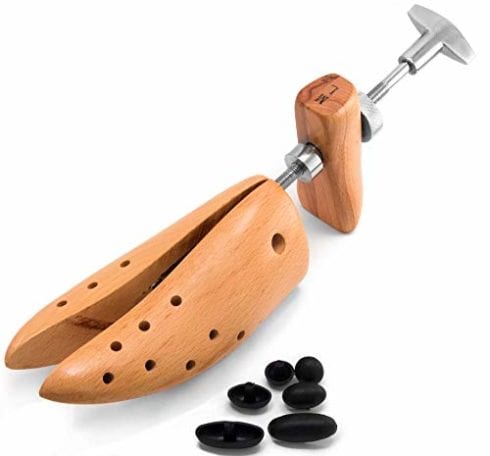 The Houndsbay Heavy-Duty Shoe Stretcher is another single stretcher made from sleek and attractive beech hardwood. With only having one included, it can be tempting to buy a second so you can stretch a pair of shoes at the same time. Unfortunately, the heavy price tag makes this less reasonable. However, with a fast 8-hour stretching time, there may not be much need for a second.
As well as the speed with which it works, the other features of this stretcher make it worth the money. Mainly, the sleek wood and premium metal make it smooth and powerful when pushing against the fabric of your shoes. The two-way system means that it can do this pushing in both directions, and the plugs included means it stretches in all the right places. If you want a trustworthy, premium shoe stretcher, this is a great choice. If you just want occasional use, it may not be worth the cost.
This is a truly high quality, powerful, and long-lasting shoe stretcher for those willing to spend a bit more cash.
Check Price on Amazon ➞
8. XYH Adjustable Shoe Stretcher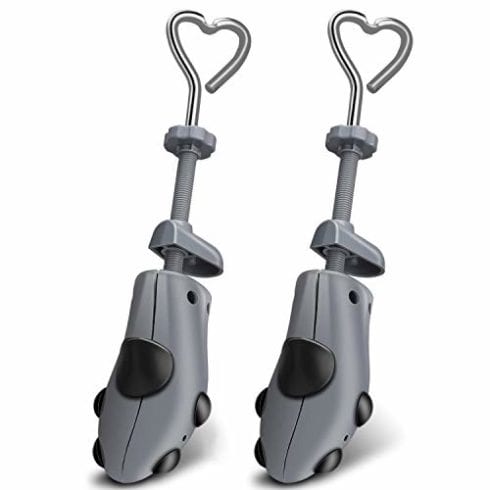 The next product to look at is this adjustable shoe stretcher from XYH. This is another shoe stretcher which benefits from coming as part of a package, with 8 bunion plugs and 2 pad plugs included so you can customize for the best fit. It also comes with a useful drawstring shoe bag.
This shoe stretcher is made out of a non-corroding plastic. This can be better than a traditional wooden stretcher, as it will not weaken or suffer as a result of moisture from your feet. In this sense, it should last a very long time, provided you don't snap it. It also has a larger range than usual. XYH boast that this can stretch shoes from approximately 1/2 to a whole standard size, although you are probably still better off buying new shoes if you need to stretch them that far.
This is a very affordable, plastic shoe stretcher which will last a long time and comes as part of a very useful package.
Check Price on Amazon ➞
9. The Original Shoe Tree Company Stretchers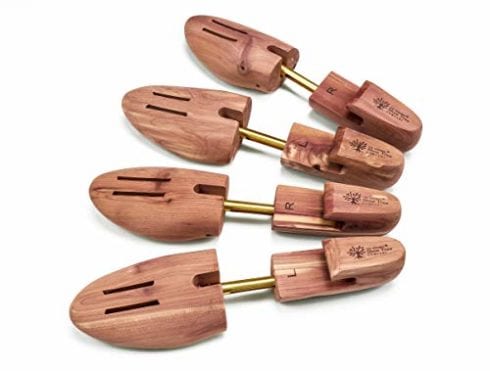 Firstly, the Original Shoe Tree Company has put themselves ahead of their competition here by offering not one, not two, but for shoe trees as part of this package. Two pairs of shoe trees come with a handy drawstring bag for you to keep your shoes tidied away while they stretch.
These shoe trees are adjustable one way so that they can be the perfect fit for any shoe, while the shape is a universal fit for any footwear. The biggest advantage of these shoe trees is the cedarwood they are made from. By using premium cedar wood, these shoe trees have aromatic properties that will fight any odors in your shoes by absorbing sweat left behind from your feet. In this sense, they keep your shoes both healthy and in shape.
The high-quality cedarwood in these shoe stretchers removes bad odors and sweat from your shoes while maintaining their shape.
Check Price on Amazon ➞
10. FootFitter Shoe Trees for Men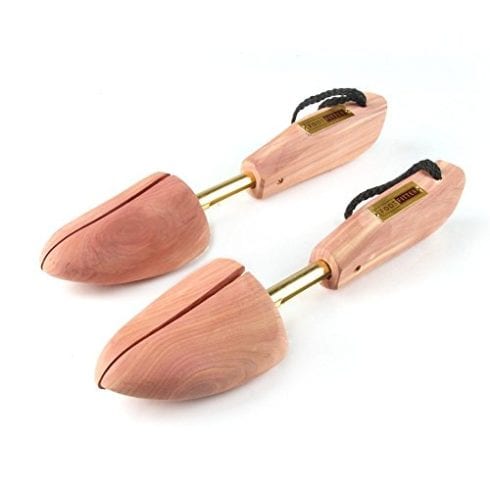 FootFitter has created these unique shoe trees for men's shoes. They come in a range of sizes, but they are intended to fit standard men's shoe sizes, so they will not fit below a size 6.5. The unique design allows these shoe trees to act much like shoe stretchers, as both the length and width can be adjusted. This is so that you can ensure a perfect fit for maintaining the shape of a shoe, but will likely give them a slight stretch too if you wish.
Although they may stretch the shoes slightly, these shouldn't be expected to fulfill any drastic widening of leather shoes. Instead, they have fantastic maintenance properties. They keep the shape of a shoe well and can eliminate bad odors and absorb sweat through the premium, aromatic cedar wood material.
These are an excellent choice for men's shoes as they have the absorption benefits of a wooden shoe tree as well as the two-way adjustment of a stretcher.
Check Price on Amazon ➞
Shoe Stretcher Buyer's Guide
When you are looking to buy a shoe stretcher, a good understanding of how they work, what components are involved, and the benefits of different materials, can help you make a more informed decision. Of course, there are some additional factors that can lead you to prefer a certain shoe stretcher over another. For example, the use of a hook to hang your stretchers up when not in use, or a drawstring bag to keep your shoes and extra parts in could make one better value for money.
However, it mainly comes down to whether a shoe stretcher is made from wood or plastic and whether it functions in one direction or two. These are the important details if you want a shoe stretcher to function the way you need it to, and to ensure it lasts a long time without becoming weak or damaged.
By looking through this guide to buying a shoe stretcher, you should get a clearer idea of how they work and what you need to be looking for. Most people would agree that buying a shoe stretcher shouldn't be the most difficult task. After all, many people choose not to use them. Nonetheless, by getting the right type of stretcher, you can save yourself some money and make those tight shoes a perfect fit.
The product reviews above and the handy tips below should give you all the information you need to buy your first shoe stretcher.
How Shoe Stretchers Work
 If you are buying any new product, it is always a good idea to understand how they work before heading to the store. For shoe stretchers, that is no different. In fact, there are a few factors people often overlook, which can lead to them buying the wrong product and missing out on a truly comfortable fit for their footwear.
The first thing to know is that not all shoe stretchers and shoe trees work in the same way. Knowing whether you want to make your shoes longer, wider, or simply maintain their shape can make all the difference as to which product you should buy. Primarily, there are two types of shoe stretchers.
One way shoe stretchers will only push your shoes in one direction. Normally, this is expanding the width of your shoe. Two-way stretchers will also make them longer, and many shoe trees are available, which simply work to stop your shoes from creasing when not in use.
The first type of stretchers work in a complicated manner. Most of the time, they have a split-toe design, which means the toe part is split into two halves, with a steel rod in between. By twisting the handle, the rod will widen the gap between the two halves of your shoe, stretching them into a more comfortable fit.
Two-way stretchers will also do the same trick for the rod between the toe end and the heel end. This should make them longer, but it is normally less effective. The reason for this is the sole of your shoe. Although stretchers can push the upper materials further apart, the sole will forever remain the same size. Therefore, you shouldn't expect to make your shoes much longer. If you want to stretch them a full size, it is probably best to buy a more fitting pair of shoes.
What Features Should You Look For?
 Generally, shoe trees and stretchers have a toe end which is shaped to match your shoe. Stretchers with a universal fit are best as they will roughly match any type of shoe you need over the years. They also come in various sizes, so find the right match for your feet. Since shoe stretchers are adjustable, you can probably find a two-way stretcher which will adapt to fit various sizes of shoes, if you want to share. However, there are limits to how far they stretch.
Shoe stretchers often come with bunion plugs and pad plugs. Even if you don't think you suffer from blisters or corns very often, it is worth buying a stretcher that includes some of these. There is nothing worse than getting blisters from a new pair of shoes, but a shoe stretcher can wear them in for you before going about your day. Using plugs can push the material a bit further in those areas which are prone to blisters and corns.
Shoe horns and bags are also very useful, but not necessarily a requirement. If you find these included, you might have a bit more value for money, as a shoehorn can help you ease tight shoes on and off without needing to push your way in. This can save your shoes from extra damage and make life a little easier for you.
Which Material Is Best?
 Finally, you should decide which material you want a shoe stretcher to be made from. Pretty much all shoe stretchers are made from wood or plastic. Both of these have positive and negative aspects, and this balance means there is rarely much difference in price.
If you want a wooden stretcher, it should be a good quality, polished hardwood. The main benefit of wood is that it can absorb some moisture and odor caused by sweat. Some even claim to be aromatic and offer other properties that can protect your shoes. These are much less likely to break than plastic stretchers, but if the wood isn't polished, it could weaken due to moisture and be much less efficient.
On the other hand, plastic will last forever and is unlikely to weaken, but it may break under pressure if you aren't careful. Overall, the choice is yours, but understanding the benefits of each material should help you make a more informed decision.
Expert Tip
It is always important not to overstretch your shoes. It is better to stretch them slightly for a longer period of time than to set a stretcher too wide.
Did You Know?
Although plastic is more likely to break than wood, it can last a lot longer if it is looked after, and will not suffer from absorbing moisture.