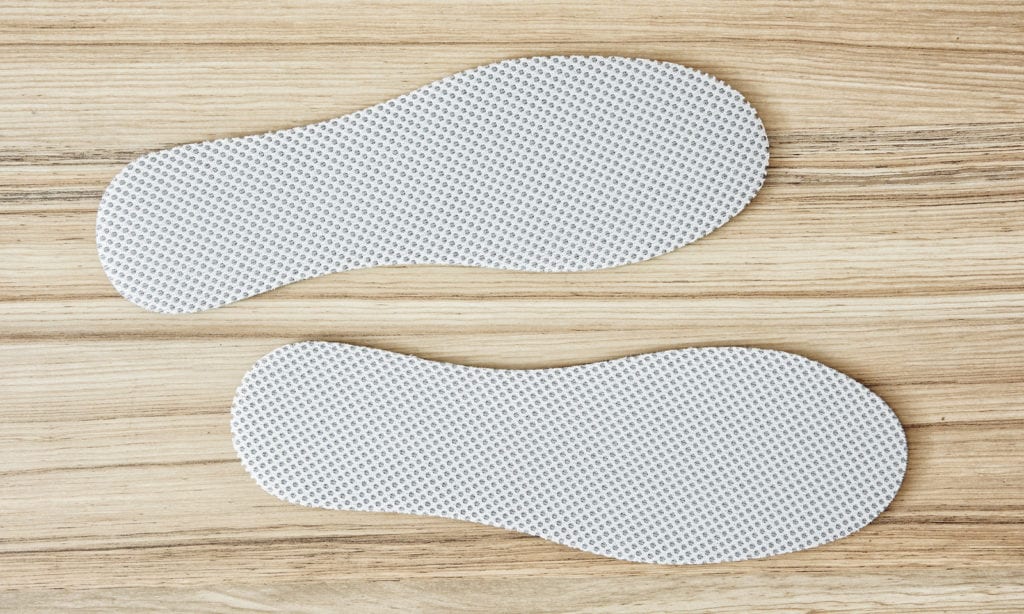 Whether or not you suffer from foot pain, insoles can be of great support to the arches of your feet. They can increase the comfort of the feet, knees, hips and back, as well as increase the length of time you are able to stay on your feet for at any one time. This is useful for specific professions who spend their working lives on their feet, such as medical professionals, teachers, or sporting professionals, along with many others, but it is also advised that the average person takes note of how insoles can increase their foot health overall.
Insoles don't have to be expensive to enhance your comfort, but they do have to be fitted correctly. There is a style of insole available to everyone. There are many different styles of insole available in the current market. Working out which is best for you is not as complicated as you may initially think.
View the Best Insoles, Below.
1. Walk Hero Comfort and Support Insoles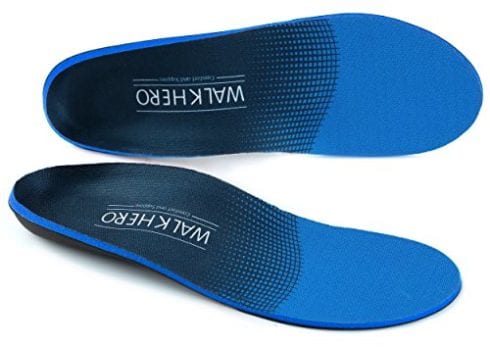 To help realign the foot and leg, these insoles reduce the pain in the feet that are frequently caused by flat feet, bunions, arthritis, or diabetes, as well as that of Plantar Fasciitis and Achilles Tendonitis. Ensure that your feet are always kept in the right position when walking, running, or standing even for longer periods of time. These insoles are heavy-duty and created out of EVA fabric and high-density foam layers. This helps with shock absorption, reduces pain in multiple areas of the body and decreases the heat felt in the feet.
The striking bright blue design enables you to identify the insole with great ease so that you can transfer them from one shoe to another, depending on your activity. These are unisex insoles suitable for a variety of shoes and activities.
The Walk Hero Comfort and Support Insoles are a good choice because of the number of medical conditions that can be helped through the use of these clever insoles.
Check Price on Amazon ➞
2. Superfeet GREEN Insoles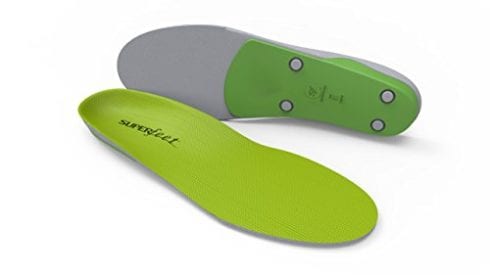 This professional-grade, high arch orthotic style of insole is suitable for both men and women to use in order for their feet to gain maximum support at all times. Available in this striking lime green color, these insoles can be cut down and shaped so that they fit perfectly to your shoes without doing any damage to the insole itself. They come with a fully fitted stabilizer cap, which ensures that the structure of the insole remains at the back of the foot and is supported to a high standard.
Combining this feature with that of the deep heel cup creates the best of support for the feet as well as providing all users with a natural shocker absorber. If you are looking for a smart way to decrease the amount of stress you put on your ankles, knees, and feet on a daily basis, this is a great insole to consider, which is comfortable, well made and highly durable.
The Superfeet GREEN Insoles are great because of the additional features they have in order to increase the comfort and pain reduction strategies for its users, while supporting joints.
Check Price on Amazon ➞
3. Dr. Scholl's Work Massaging Gel Advanced Insoles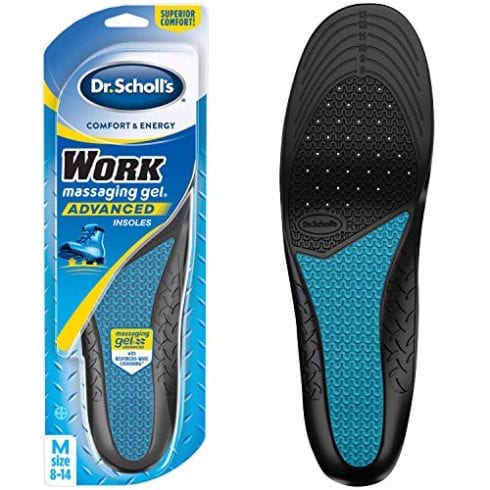 These male-orientated insoles are designed for use in areas where hard surfaces are trodden for long periods at a time. To help compensate for this, they have been created with Massaging Gel Technology and combined with extra cushioning to reduce the amount of shock that the joints encounter while also increase the comfort throughout your day.
There is no need to ever have tired legs or feet again with this style of insole from Dr. Scholl. They are rather firm, but this provides contoured support to the arches in your feet and they can be used in any style of men's shoe. Fitting male shoes from size 8 to 14, these will drastically reduce the impact on your joints from walking around on solid floors all day.
The Dr. Scholl's Work Massaging Gel Advanced Insoles specifically aim at increasing the comfort and support to men's feet who work on hard floors.
Check Price on Amazon ➞
4. Powerstep Orthotic Shoe Insoles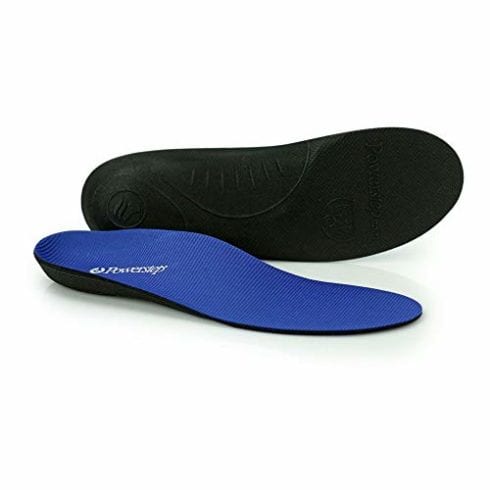 Black and blue might be the colors of these insoles, but your feet will never feel black and blue if you use them. Ideally suited for either gender to use them, they are aimed at people who need help in relieving symptoms commonly associated with metatarsal, arch, or heel pain. These insoles have a heel cradle to help cushion the feet, reduce the impact felt, and increase the stability.
They have a double cushion layer suitable for athletics or working long hours on your feet, and though they are highly cushioned, they are very thin, so they will not add too much bulk to your shoes. Created out of polypropylene, these insoles are full length and are able to fit the majority of shoes.
The Powerstep Orthotic Shoe Insoles are so highly cushioned and yet so thin that they can fit into any shoe worn by either gender.
Check Price on Amazon ➞
5. EASYFEET Plantar Fasciitis Arch Support Insoles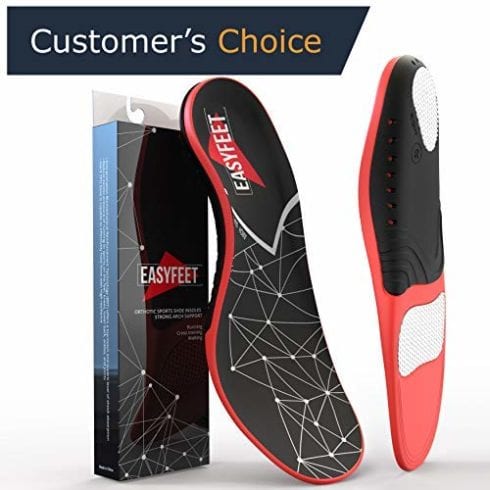 Suitable for men and women, these large insoles are recommended for use by podiatrists to reduce the amount of arch pain and secondary pain felt such as joint pain, spine pain, shin splints, bunions and more. They are also a great way to solve high arches and flat feet too. Whether you need more support for recreational activities or while you are at work, these insoles can provide you with the support you need having been created with anti-pronation biochemical reinforcement technology.
They are shock-absorbing, well-cushioned and are able to support the foot well through the use of the deep heel cradle and heel support, which are both in-built. Created out of multiple different materials, this orthotic can be cut to size to fit your shoes perfectly.
The EASYFEET Plantar Fasciitis Arch Support Insoles cater to both genders, any shoe, any size, any age, and any activity. In fact, you will never want to be without them.
Check Price on Amazon ➞
6. Timberland PRO Men's Anti-Fatigue Technology Insole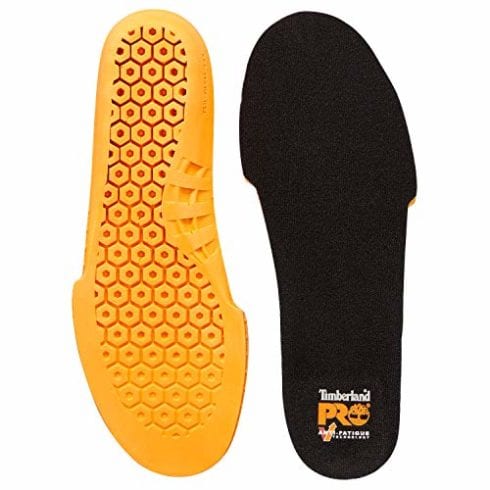 Engineered specifically to increase the comfort of men who are on their feet all day, the Timberland PRO stops feet from getting tired, aching and sore. Thanks to its anti-fatigue technology, the inverted cone foam helps you to keep going for so much longer as your feet will not get tired. They are shock absorbing and really comfortable to wear. Whether you are inside or out for long periods of time, these highly durable insoles will protect you from pain and stop you from putting unnecessary strain on your joints.
Offering a great solution to protect your body, these insoles fit into all styles of shoes, even work boots, steel toe capped boots, and wellingtons, which are notoriously tricky to find insole solutions for.
The Timberland PRO Men's Anti-Fatigue Technology Insole pays attention to finding a solution to pain caused by male-orientated outdoor, hard work jobs, like farming, building, and mechanics.
Check Price on Amazon ➞
7. Sof Sole Performance Insoles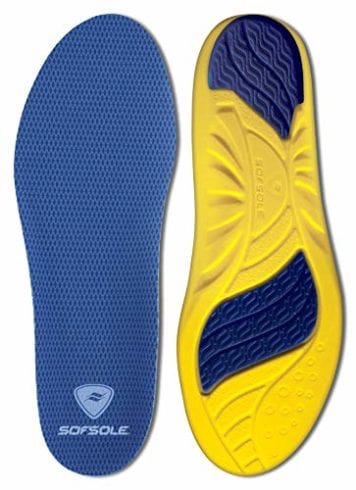 Striking in their blue and yellow appearance, these performance-enhancing insoles are created out of gel and are full length to fill the shoe and fully support the foot. They are created solely out of Implus foam and due to the neutral arch design, they are able to be of great benefit to most feet. This material is used so that it can be trimmed down to perfectly fit any sort of shoe, though these insoles are stereotypically used by men.
The gel pads in the heel and the balls of the foot increase the comfort you will have and the clever Hydrologix moisture management system enables your feet to remain cool and dry even if you are participating in a hot activity. Whether you are someone who undertakes a great deal of sporting activities or needs to increase the protection and comfort of your feet on a daily basis, the Sof Sole insole can help you.
The Sof Sole Performance Insoles focus on the needs of the athletic man when it comes to comfort, energy, and performance with ensured dry, cool feet.
Check Price on Amazon ➞
8. Physix Gear Sport Full Length Inserts
For both men and women who are sport orientated, the Physix Gear insoles are able to provide increased comfort and decreased pain of the feet directly and other joints. Helping with stereotypical sporting injuries such as metatarsalgia, knee pain, and lower back pain, this medical-grade insole protects from further damage while still ensures that participation in sporting activities can be undertaken.
For sporting fanatics or workers who spend long durations on their feet, such as retail workers, teachers, or medical professionals, the foot posture is corrected and the arches are supported well. Fitting into any shoe, this insole has a non-slip heel so that the insole doesn't move in your shoe throughout the day and cause any form of annoyance, enabling you to keep going for that bit longer.
The Physix Gear Sport Full Length Inserts are excellent because of the attention paid to people of a sporting nature who want to increase their foot comfort without being irritated by moving insoles.
Check Price on Amazon ➞
9. Samurai Insoles Instant Relief Orthotics for Flat Feet
Try the Samurai insoles if you want to be a warrior against foot pain, which can be so overwhelming for so many people from all walks of life. These are medical-grade style orthotics, which are said to be able to give instant relief to specific medical conditions such as flat feet and plantar fasciitis. These orthotic insoles move with your foot, so are not irritating when you put them in your shoes and you can cut them down so that they are the right size for your feet exactly.
These insoles are incredibly lightweight and have been created in a striking bright red that can be used in any style of shoe, be it trainers, work shoes, or slippers. Increasing the support of the feet while decreasing the pain in the feet and other joints, the Samurai insoles are definitely worth fighting for.
The Samurai Insoles Instant Relief Orthotics for Flat Feet are great because of the impact they seem to have at reducing medical conditions suffered by thousands of people every day.
Check Price on Amazon ➞
10. New Balance Insoles 3810 Ultra Support Insole
Known for their sporting prowess, New Balance have created an insole that gives the maximum support for undertaking sporting activities or just for everyday life. They are striking in their orange color and have the stereotypical NB branding on them. The sole is synthetic and the cushioning is ultra-absorbent, so shock decreases in the main problem areas such as the heel and balls of the feet. Cleverly designed to filter the air within your shoe, the arch shape gets rid of hot air to keep feet cool and dry.
With an extra deep heel cup, you will have all of the comfort and support you could ever dream of when using these insoles. The anti-blister cover stops the insole from sliding in your shoe so that it does not become an irritant as you continue with your day and prevents blisters from occurring.
With these New Balance Insoles 3810 Ultra Support Insole, so much attention has been paid to the smaller details to ensure that these insoles can be a success for anyone.
Check Price on Amazon ➞
Insoles Buyers Guide and Breakdown
When looking to find the best insole for you, there are multiple different factors to take into consideration, including the following:
Gender
Know the gender that your chosen insole is aimed at is commonly assumed to be more about the aesthetics, but this is not at all the case. The gender declaration is more to do with the length and width of the insoles and how they have been created. This means that you need to look for the insole created for either the specific gender or for an insole classed as being unisex.
This usually means that they are made out of a material that can be cut down to fit perfectly within your shoe and therefore, you will not have any sort of discomfort or irritation. It also means that the heel cup and any other integrated features are more likely to be in the correct place so that you will have more overall success with wearing your insole.
Use
The majority of insoles have one specific purpose. Some are created for people who work long hours on their feet, such a medics, teachers, or retail workers, whereas others are created specifically for people who work outside in all-weathers, so they need to keep their feet warm as well as protected. Alternatively, there are insoles that are created specifically for people who play a lot of sports or spend a lot of time doing recreational activities, such as running, hiking and cycling.
If this is something you can relate to, then you should look into getting insoles specifically for the activity that makes your feet or joints hurt the most. For sporting activities, for example, the shock absorptions levels are greatly increased in the insoles, which will mean that you are much more protected than wearing any other type of insole.
Do you have flat feet? Check out these insoles for flat feet.
Airflow
Whatever you are choosing your insoles for, you always want to have feet that are dry and cool. If you do not take this into consideration, then you risk the chance of getting bacterial infections such as athlete's foot. For this very reason and because trainers are renowned for being sweaty, hot and wet places, which is ideal for bacteria to grow, insoles created with airflow channels should definitely be looked in to further. These air channels ensure that the hot air is removed from around the feet and the cool air is moved towards them.
This means that not only are the feet cooled down, but they are also dry and less likely to get a fungal infection, which can be very nasty if left untreated or continually put into an environment where the bacteria enjoy feeding.
Gel
The cushioning in many of the high-end insoles is now created out of gel pads. This is beneficial for two reasons: it is cooling, which, again, reduces the sweat, heat, and wetness inside the shoe and therefore decreases the likelihood of getting a bacterial infection.
Secondly, having gel pads is one of the most effective ways in which you can cushion your feet. As the gel moves with your feet, you are not pushing against anything solid, which means that it also acts as an excellent shock absorber if you are frequently moving around on solid ground.
For outdoor runners, medics, or retail workers, gel-cushioned insoles will drastically increase the comfort of your feet, which will give you more energy overall. You will also see that you have less pain in other joints in your body and will not be stiff and achy when you wake up each morning.
Not having the resistance of a firmer footing is of huge advantage to people working in particular areas, so if you consider yourself to be in this category, then be sure to get yourself some insoles with gel cushioning. You won't regret it!
Expert Tip
Look for anti-slip covers to prevent your insoles from sliding in your shoes, otherwise, you are going to get very frustrated with your insoles very quickly and they won't work.
Did you know?
That there are insoles that can keep your feet cool and dry, too, so that you can be even more comfortable no matter what you are doing throughout your day?