10 Best Slippers for Plantar Fasciitis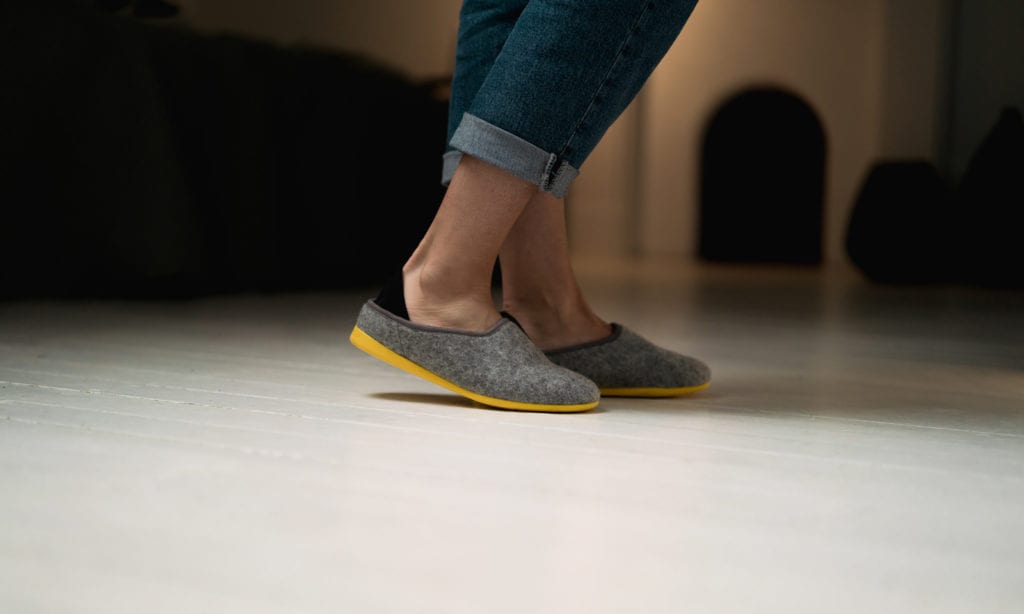 Plantar Fasciitis isn't necessarily a critical condition but it does interfere with your ability to move comfortably. Whether it lasts temporarily or becomes a more serious injury that persists, the right footwear can accelerate your recovery and make life more comfortable. Below are some of the best slippers for plantar fasciitis, as well as some details on managing the condition.
View the Best Slippers for Plantar Fasciitis, Below.
1. RockDove Men's Memory Foam Slippers
These simple cotton and spandex slippers are designed for maximum comfort and simplicity, boasting a clog-style construction that makes them very easy to slip on and off at any moment. The memory foam that acts as the insole will mold to the contours of your feet and provide much more personalized comfort, making it easier to recover from plantar fasciitis while still moving around the house.
Thanks to the sturdy rubber outsole, you can also head outside to do household tasks or spend time in the sun without needing to swap back to your shoes, but you also don't have to worry about them leaving a mark on your indoor surfaces.
These slippers are simple but extremely effective, providing amazing comfort and making it easier to move around both indoors and out. The extra ventilation and odor-free design is just the icing on the cake.
Check Price on Amazon ➞
2. Orthofeet Charlotte Plantar Fasciitis Slippers
These specially-designed plantar fasciitis slippers use a lightweight, ergonomic, and well-cushioned design that boosts your recovery and makes the pain far less of a problem throughout your entire body. Anatomical arch support and a pair of orthotic insoles provide improved care and protection, while multiple layers of pillow-like material cushion every step to help you stay comfortable.
For those with sensitive feet, the upper uses a gentle lining that prevents skin irritation, working well alongside the ergonomic shape and roomy toe box to offer excellent care for each foot. If you don't want the insoles, you can even remove them, and there is plenty of space to add your own if they are needed.
These are excellent slippers for plantar fasciitis, providing all of the proper care and targeting areas that the pain is most likely to hurt so that your recovery can be quick and relatively easy.
Check Price on Amazon ➞
3. SOLLBEAM Fuzzy House Slippers
These fuzzy slippers are built for lasting comfort, making use of a simple but reliable arch support system that helps improve the alignment of your feet and legs during recovery. The design also helps to lessen physical stress and pain both before and after recovering from your injury, supporting everything from your heel to the ball of your foot.
The fur around the interior keeps your feet warm and improves blood flow for a faster recovery, with the softer material preventing irritation and making it easier to relax in the long-term. As a slip-on design with a deep heel cup, you can easily slip it onto your foot, then lock it into place with the easy-to-use strap on each slipper.
These slippers are an excellent choice for dealing with almost any kind of foot pain, providing top-quality comfort and a range of useful extras that make your recovery process far faster and much more comfortable.
Check Price on Amazon ➞
4. Vionic Women's Relax Slipper
These simple yet comfortable slippers make use of leather lined with fabric, providing the same stability and support as a normal shoe with far less skin contact. The soft materials on the inside keep your feet safe and warm while still letting the synthetic sole underneath offer proper foot and arch support.
On top of that is a microfiber-wrapped insole that is designed to absorb shocks, making sure that your slippers don't transfer the force of each step into your recovering feet. Orthaheel technology included in the design hugs your arches and improves this support even further, with the goal of preventing extra heel pain.
These slippers look simple at first, but they are hiding an excellent orthotic footbed, amazing arch support, and a comfortable feel that makes them ideal for people suffering from (or recovering from) foot pain.
Check Price on Amazon ➞
5. HAFLINGER Unisex Wool Hard Sole Slippers
The boiled wool used in these slippers makes them surprisingly warm and comfortable to wear, with the fabric lining providing, even more cushioning and protection while walking around the house. A tough synthetic and rubber sole and breathable set of surface materials ensure that your feet will be kept at an appropriate temperature, while the latex-molded arch support offers you better structure when recovering from foot pains.
On top of that, the sole itself is non-skid and fully waterproof, preventing damage to indoor surfaces and making sure that accidental spills don't cause skin irritation or discomfort. The slip-on design also means that they are ready to wear at any time; no adjustment is needed.
This is another pair of slippers that work well for foot pain recovery, giving you a nice level of comfort without stifling your feet or blocking airflow to your skin.
Check Price on Amazon ➞
6. Vionic Gemma Mule Slippers
These fabric and textile slippers use a Vio Motion support system to make sure that you can move properly with full comfort behind your steps, including biomechanical design elements that hug the natural curves of your feet. This is great for plantar fasciitis recovery, and the adjustable hook-and-loop closure means that you are able to adjust the slippers as needed.
All of the plush-style materials work well together and create a very comforting feeling that is extremely pleasant on your feet, promoting faster recovery and making it easier to relax when you are not on your feet.
If you want maximum comfort to help your pain fade away and speed up your recovery, these slippers are a great option, especially with the built-in support that they can offer you. They are also very easy to slip on whenever you feel like taking a walk around the house.
Check Price on Amazon ➞
7. Spenco Men's Supreme Slipper
The deep heel cupping of these slippers provides you with incredibly good heel and arch support, using orthotic designs that help you walk around even with constant pain in your feet. This, along with the slip-on closure, means that they are excellent for staying warm and comfortable whenever you need to take a walk around the house between breaks to let your feet heal.
A non-marking and non-slip design avoids causing damage to your home's flooring, while the antimicrobial treatment in the insoles removes odors and sweat faster than normal slippers can. All of this is built around a lightweight EVA outsole layer that absorbs shocks and keeps your sore feet separated from footstep impacts.
This is another example of slippers that make comfort a priority but combine the usual soft materials with an odor-managing insole and plenty of deep heel cup support to make the healing process even easier.
Check Price on Amazon ➞
8. Vionic Women's Adilyn Adjustable Slipper
These simple adjustable slippers combine a slip-on body with a straightforward hook-and-loop closure to help you fit them perfectly to your feet. The quilted upper section is surprisingly soft, providing protection and keeping the top of your feet comfortable, while the Orthaheel technology in the insole supports them from below.
Thanks to the non-marking design of the outsole, you don't need to worry about them leaving marks on your flooring. Alongside that is the podiatrist design that was used for the sole itself, taking inspiration from medical experience to provide something that feels perfect for plantar fasciitis cases.
These slippers are a good option for any kind of foot pain, using medically-sound design techniques to try and support your healing process through an orthotic footbed and heel design.
Check Price on Amazon ➞
9. Orthofeet AshevillePlantar Fasciitis
These suede shoes make use of a reliable foam sole with an exceptionally ergonomic design, combining low weight, great cushioning, and extremely accurate arch support into a single piece of footwear. The pillow-like materials on the inside are capable of keeping you comfortable for far longer than a typical shoe.
The unique design has a therapeutic effect on the physical stress your feet and joints have to deal with. Not only that, but the smooth padding used for an interior lining is much more gentle on people with sensitive feet, and the enhanced comfort features indirectly help support your lower legs during longer strolls.
These slippers look bland at first, but they hide an extremely useful ergonomic design that can promote faster recovery and make walking much easier for people with plantar fasciitis, as well as other conditions like sensitive foot nerves.
Check Price on Amazon ➞
10. Vionic Indulge Sadie Mule Slippers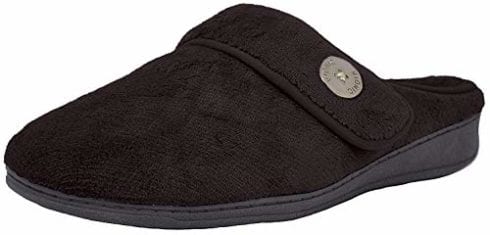 The synthetic soles of these slippers are designed to offer everyday support and protection, assisting with general stability and making it easier to move from place to place while suffering from underfoot pain. The design uses innovative biomechanical technologies to create a design that offers cozy and skin-hugging lining, mostly made from a soft textile that is very effective at keeping you comfortable.
An EVA footbed and textile outsole allow the slippers to absorb shocks without putting weaker flooring at risk of damage, and a simple Velcro strap closure gives you a quick way to tighten or loosen the slippers as you see fit.
If you need simple but reliable slippers that can help you recover, this is one of the best options, especially considering that the EVA footbed can prevent additional pain from missteps or solid surfaces.
Check Price on Amazon ➞
Slippers for Plantar Fasciitis Buyer's Guide
Buying shoes for plantar fascia pain isn't easy, no matter how you phrase it. Searching up "shoes for.plantar fasciitis" or "shoes for fasciitis plantar" will still give you a lot of different options, and narrowing down your scope is always the best way to inch yourself towards the perfect options. However, if you have already decided that slippers are the right option, then you just need to find the best slippers for plantar fasciitis. This isn't any easier, but it at least gives you an idea of where to start looking.
Choosing the best slippers for plantar fasciitis involves some effort in tracking down the features you want and need. It is important to understand that slippers and shoes can be very different from one another: aside from the fact that most house slippers aren't meant to be used outdoors for very long like shoes are, they also generally have very different designs and materials. If you are used to searching for conventional shoes, it might take you a while to adapt.
So, what do you need to know during your search for the best slippers for plantar fasciitis? Here are some tips and ideas to help you track down the perfect pair for your sore feet.
What Is Plantar Fasciitis?
In short, plantar fasciitis is a term for pain in the bottom of your heel, mostly relating to the plantar fascia – a web-like ligament that connects the front of your foot to your heel. It often acts as a biological shock absorber for the arch of your foot and is basically necessary to walk properly.
Because of this, damage to the plantar fascia is known as plantar fasciitis and is one of the most common types of orthopedic complaints that doctors receive. Damage to these ligaments can come from a range of sources, but inflammation and tears can cause pain, stiffness, inability to walk correctly, and sometimes even major issues with retaining balance properly. There isn't a single unified cause or solution since multiple treatments exist that can apply to all kinds of plantar fasciitis.
In general, if you have plantar fasciitis, it is going to cause foot pain for at least a short amount of time. Because of this, dulling the pain and preventing additional issues should be your top priority in most cases.
Where Does It Come From?
Plantar fasciitis can come from a large list of sources, but some are much more common than others. One of the most-recorded sources of this kind of pain is repetitive strain injury, a condition that comes from using the same motions over and over again while putting excessive strain on your muscles. Since the plantar fascia is a bowstring-like ligament that exists on the bottom of your feet, it is not uncommon to damage it from long walking or running sessions, while jumping during sports games, or even just from wearing the wrong kind of footwear and letting it slowly harm your muscles.
Plantar fasciitis can stay for any length of time and appear with almost any level of severity since it isn't a consistent condition: every person who ends up suffering from it can get it for different reasons and at a different scale, and this is entirely dependent on the actions that caused it. Two people running the same distance can still end up with two completely separate cases of plantar fasciitis due to body weight, speed, foot angles, stride length, and the surface they move on.
You can also get plantar fasciitis from certain diseases, with one of the most notable being arthritis. In this case, the pain can be much more random since it isn't directly caused by your movements and is something that your body is doing to itself.
How Do I Treat It?
Plantar fasciitis is handled in the same way as most other inflammation cases or pain-related problems: medication, rest, injections if they are needed, and a reduction in the amount of stress being placed on that body part. For example, great arch support can take the pressure off the arch of your foot if that is where the pain comes from, meaning that it won't keep getting worse while you walk around.
In most normal situations, plantar fasciitis will fade over time – how long it takes is up to the treatment measures taken, as well as how severe the pain is. At worst, a serious case can last up to a year, but it will become easier as the damage heals.
There is no downside to trying out slippers for plantar fasciitis recovery: even if you don't end up with the best slippers for plantar fasciitis treatment, they can still help you stay comfortable and lessen some of the pain while your body naturally heals the muscle.
Why Slippers?
Many people see slippers as being a soft, weak type of footwear made of soft and structurally-weak upper material like faux fur, but that isn't the case. There are thousands of slipper options available that boast great arch support, strong upper material choices, a full toe box, a deep heel cup, a durable rubber sole, and even shock absorption features. Finding the best slippers for plantar fasciitis requires a lot of careful comparisons to figure out which slippers have the features you need.
House slippers, in general, are comfortable. They keep your feet warm and safe all year round and can be worn indoors without damaging the floor. Many patients with foot problems are even offered house slippers as a recovery tool since they are far more promoting of natural healing than a regular shoe is. Some slippers are even designed with medically-approved materials to prevent infections and skin irritation when treating certain conditions.
Whether you use podiatrist-designed slippers or just the best slippers offered by your favorite footwear company, you will be able to find something that can offer you all the support and comfort you need. Even bad slippers can be a good way to get some added comfort in the short-term, as long as you don't mind the lower quality.
Arch Support
One of the key elements for treating plantar fasciitis is good arch support. This helps alleviate the foot and heel pain you experience, as well as making it easier to walk in cases where your feet might be turned inwards or naturally trying to step at an uncomfortable angle. Of course, arch support is a very personal thing, so make sure you try the house slippers if you can before you decide whether or not you want to buy them.
The right kind of arch support is anything that helps dampen the pain and promotes slightly faster recovery, especially if that level of support is helping you deal with pain that otherwise makes it almost impossible to walk. Sometimes, a major feature like an orthotic footbed can be the best way of improving your arch support and eliminating this pain, but in other cases, you might prefer something simple like a removable insert. Arch support can also be helpful in correcting your walking technique if something has made it worse, such as a past injury.
There are usually two types of slippers with arch support: soft and firm. Soft arch support comes from cushioning and padding and adds more comfort at the cost of being less structured overall. Firmer arch support can be more corrective and provide better benefits for speeding up your healing process, but in certain situations, they can also lead to less pain relief. Neither option is best, so it depends on the type of plantar fasciitis pain you are feeling and any personal preference you might have relating to slippers with arch support.
Slippers with arch support are more common than you might expect, especially ones built for pain relief and comfort. Orthotic footbed slippers with arch support are often given out as part of a recovery process from surgery or problems such as plantar fasciitis, so finding slippers with arch support isn't all that difficult if you specify something like "great arch support" in your search terms.
Heel Support
Similarly to arch support, heel support can also matter. While arch support is quite a common addition to shoes and slippers (since it can be useful in basically any situation), heel support is much more niche and usually only applies when you are dealing with major heel pain. You are most likely to find these support features, such as a deep heel cup, in slippers with arch support that have been designed to treat problems like plantar fascia pain.
Unlike slippers with arch support, you can't always add your own heel cup to treat heel pain. They are usually built into the heel of the slipper itself and can't be removed, although you may find an insert that mimics them slightly. Remember that many slippers don't have a defined heel area, and some get rid of the heel entirely, leaving only the insole and outsole with no proper back – some people prefer this kind of slipper, others don't.
Sole
The sole of your slippers has a large impact on how they feel, work, and protect your feet. You may find that some of the best slippers are the best because of their soles more than any other feature, although this depends on exactly what you are looking for. Some soles will be objectively better than others at a specific thing, but most soles will at least be similar in terms of how effective they are.
Outsoles
The outsoles of your slippers act as the main form of protection, but they can also be a key part of making sure that you don't make your plantar fasciitis any worse. For example, if you are still recovering and keep stomping around in thin slippers, the repeated impacts can irritate your skin and may make the pain even worse. On the other hand, slippers with thick outsoles handle the shock absorption aspect well and can often protect you from anything sharp or pointy that you might step on.
Outsoles are also a form of padding that makes the rest of the slippers hold together properly. Like shoes, the outsole is the part that wears down first while walking in them, so the best slippers for long-term plantar fasciitis recovery should be ones that have a large enough outsole to avoid wear and tear for a long period of time. A thinner outsole can still protect you, but it is far more likely to wear out sooner, making that protection meaningless.
While you might not think that it matters for slippers, outsoles control the amount of grip you have on a surface. Both men's slippers and women's slippers can suffer from the issue of being almost completely smooth on the bottom: this won't impact comfort, but it can make it much harder to keep your feet steady on slippery surfaces, sometimes meaning that bare feet would be a better option for a freshly-washed tile floor.
Midsoles
Midsoles fit just below the footbed of slippers and act as a source of both comfort and support. Not all designs use them since many choose to just have a single footbed insole with no other layers. However, if you find a pair of slippers that have them, they may be the missing part of the equation that you were needing.
For example, slippers with arch support can protect the bottom of your feet quite well. Add in another layer under the footbed, however, and you may notice that this protection becomes even stronger, especially if the midsole is made of EVA or another strong material. In other cases, it may act as more cushioning instead, turning the slipper into a softer piece of footwear that can comfort your sore feet.
Midsoles can't easily be replaced and aren't removable, so you are often stuck with whichever midsole the slippers came with if they have one at all. Some designs let you remove the insole, which may mean that you can access the midsole and place your own footbed over the top.
You don't always need midsoles to keep your feet comfortable, especially if you only need minor protection and end up choosing slippers that are already very comfortable. Midsoles are mostly used as a way to boost protection and comfort at the same time if either one is lacking, but for some people, an extra layer of padding can be too much for their feet to feel stable. Like many things in this buyer's guide, it comes down to personal preference and the way that your feet feel when wearing the slippers.
Insoles
The insole, or footbed, is the part of the slippers that your feet touch. A footbed may come in all different varieties and be made out of a wide range of materials, but they are all supposed to offer comfort to your feet rather than full protection. In most slippers, the insole is the cushioning while the outsole is the physical protection, so most footbed layers will be soft and might even share the same material as the internal lining of the slippers themselves.
An orthotic footbed is any kind of footbed that uses orthotic (support brace) designs, usually meaning that the footbed is shaped to promote proper walking motions and the right kind of foot angles. If used correctly, they can prevent much more serious problems than just plantar fasciitis, although the wrong kind of footbed design may actually lead to more foot issues if they aren't appropriate for the person using them (or the condition/injury that a person has).
Watch out for weak midsoles or ones that use more abrasive materials – they can cause skin irritation and sometimes even make the problem worse. Poor-quality slippers might even cause plantar fasciitis if you wear them often since the materials can dig into your skin or make it harder to walk naturally.
Slipper Types
There are certain design elements that make slippers for plantar fasciitis recovery more effective, and identifying them can be very useful when you are trying to get a better idea of what to search for. Slippers can be more varied than shoes in some ways but less varied in others.
Open-back or open-heel slippers are one of the most common slipper types you will find. They are a fabric upper layer that covers most of your foot but leaves the back open, meaning that you can slide your feet in and out of the body rather than having to go through the neck like a regular shoe or boot. Some can be fuzzy and obviously comfort-focused, while others might look more like conventional footwear, but they come in a wide range of styles and can be more comfortable than other options.
Closed slippers are the slipper equivalent of a regular shoe, using a normal heel section. These are better at keeping your feet warm and don't have the open back that open-heel slippers do, so they can sometimes be the better option if you need slippers with arch support and heel protection. Once again, some are very clearly slippers, while others are almost designed to blend in with other shoes.
Slipper boots may be the most casual of all slipper options available, acting like a full boot that covers your entire foot up to your ankle or above. These aren't as common to see marketed as men's slippers, but they are suitable for either sex and can be the best choice if you need to keep your feet warm in cold conditions. The added comfort of material on all sides might also help comfort plantar fasciitis pains.
Sandal slippers are more like cushioned sandals than regular slippers. This doesn't make them bad; however – they can still be some of the best slippers for plantar fasciitis if you want to keep your feet exposed to the fresh air, and a good enough rubber sole can still protect the bottom of each foot from harm.
There are plenty of different slipper types out there, and many are very niche options that all blend together, but it is a good idea to remember that most slippers will have a variation of one of these choices. Having a heel and not having a heel can make a significant difference in how the slippers feel when you are wearing them, so choose carefully and consider your personal needs or preferences.
Materials
Be sure to keep track of the materials you prefer, too. Not all slipper designs work best with certain materials, and you might end up prioritizing comfort over everything else. A suede upper section with a soft foam lining might be one of the best options available to you in terms of men's slippers, but it might also sacrifice a good amount of footbed comfort and stability if you don't keep track of it all.
There are plenty of women's and men's slippers out there to choose from, but not all combinations of materials might be available in a particular style or size that you need. Before you even consider the materials involved, you need to know how much comfort, heat management, physical protection, and traction will matter to you while wearing a new set of slippers since you might not have the option to fix these elements after buying them.
If your feet are sensitive, either because of the pain or from another condition such as diabetes, then you should put even more thought into materials. Sensitive feet can struggle with certain foot support designs and materials rubbing against bare skin, and even if you aren't barefoot, you might find that socks aren't enough to prevent the irritation. The same can happen with injured or cut skin since your feet will be more sensitive in areas where there is damage or a healing wound.
Where Do I Find Good Slippers for Plantar Fasciitis?
There isn't a "best" option across all slippers you can choose from, not even if you break it down into "womens' best slippers" or "best slippers women can use for heel pain." Everybody has different feet and different requirements to keep each foot comfortable, from support to arch height, so you may find that you like the rubber sole on a slipper that another person absolutely hates. Everything, from arch support and foot support to the footbed, can appeal to different people.
However, some details can make certain slippers stand out from others. Podiatrist-designed slippers are often better in terms of how they support each foot and the arch of your foot, as well as the footbed that they use. A podiatrist-designed slipper might even have certain unique features, such as micro bacterial footbed materials, that don't appear in most normal slipper product lines.
Even then, a podiatrist-designed choice might not offer everything you want. Some people will feel more comfortable with a rubber sole for support than a much more complex and high-tech sole option, and you can't change what you like or what makes your feet comfortable.
Conclusion
By now, you should have an idea of how to find the best slippers for plantar fasciitis, or at least know how to narrow your search down. Like normal shoes, it can be difficult to pick out a single option, but you should eventually be able to find what you are looking for. Remember that your feet are different from the feet of everybody else on the planet and that you should always consider your own requirements or preferences before the suggestions of other people. If there is a slipper you like that has good foot support and makes your feet comfortable, it might be worth buying, even if other people don't agree.
Expert Tip by Alexis DeSalva Kahler
Remember that your feet may swell occasionally, especially if they're in pain. If you're unsure of or in between sizes, opt for slightly bigger rather than smaller.
Did You Know?
Some people may want wider slippers for dealing with foot pain, while others will find a hugging fit more appropriate. Some slippers are even designed to be wider than normal so that the wearer has room to spread their toes.