12 Best Boxing Shoes in 2021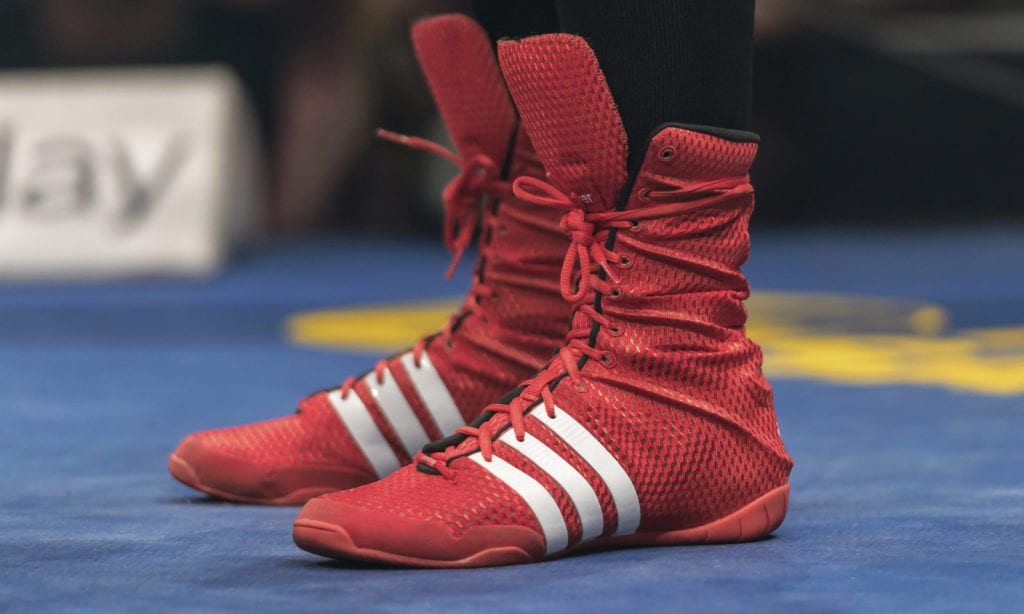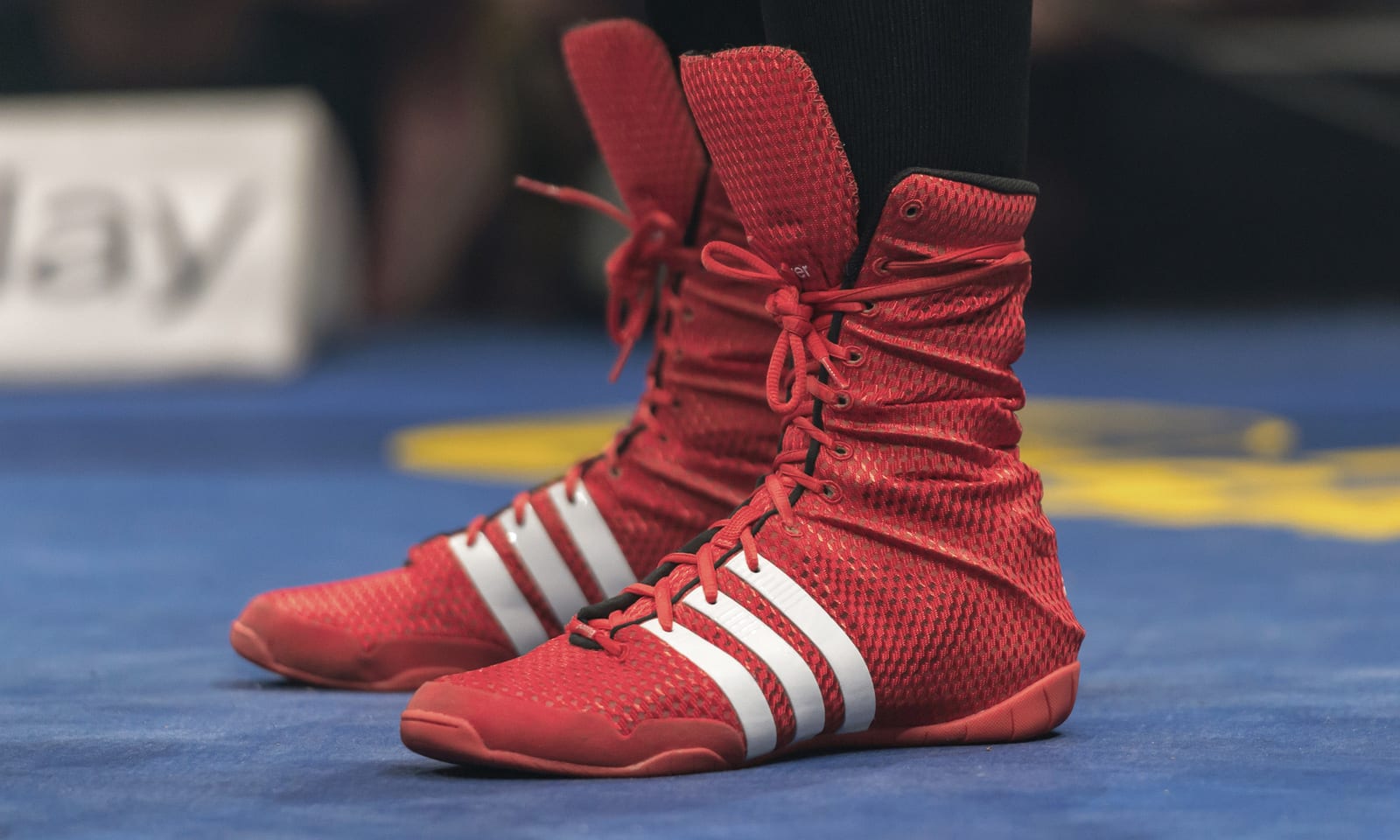 If you want to get into boxing properly, you'll need the right equipment. It's a sport where physical protection is an incredibly valuable thing to have, and everything you wear has to be as protective as possible while still fitting into the overarching rules that each match has to follow. Even something as simple as wearing the wrong shoes can give your opponent the edge they need to beat you, especially if your boxing shoes are uncomfortable or have terrible gripping strength.
Not all shoes make good boxing shoes, so you'll need to try and find ones with the right design elements and features if you want to take boxing seriously. The problem is, there are hundreds of brands to search through, and it can take hours to find a pair that you like.
Below are twelve pairs of shoes that we think would make excellent boxing gear, as well at the reasons they stood out from other designs on the market.
Related: Weightlifting Shoes Review.
View the Best Boxing Shoes, Below.
1. Reebok Men's Boot Boxing Shoe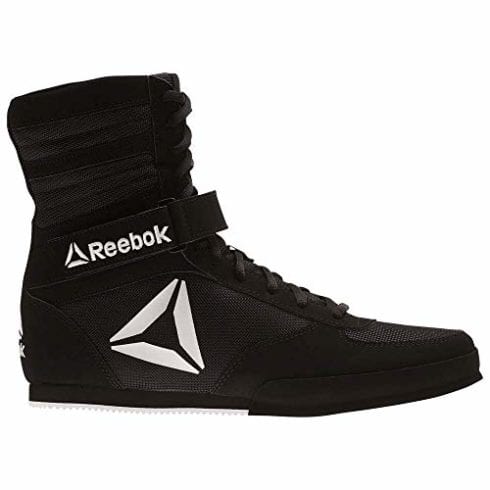 These comfortable boxing shoes use a mixture of textile materials and leather to create a soft yet durable outer layer, with a strong rubber sole providing more grip strength and shock absorption on smooth, hard surfaces. The dual lace-and-strap design allows you to keep your shoes secure on your feet, while still letting you loosen them up when you're not actively boxing for extra comfort.
The flat outsole helps you keep your balance while the padded insole ensures your feet are always comfortable, even during boxing matches. Thanks to the high-shaft design, they also protect your ankles from harm and help support your upright stance.
These boxing shoes combine comfort and support to keep you on your feet as long as possible, and won't slip off or lose their grip easily.
Check Price on Amazon ➞
2. Venum Elite Boxing Shoes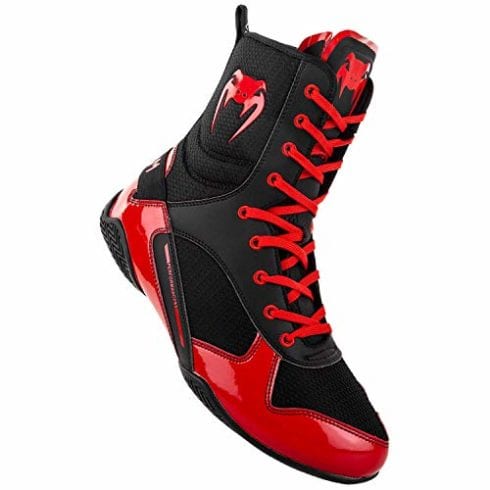 These high-performance boxing shoes are designed for maximum stability and mobility, giving you a much greater level of control over the positioning of your feet to make dodging and repositioning much faster and easier.
The excellent grips on the sole help you keep your footing on even the smoothest surfaces, while the relatively lightweight and flexible materials used in its design give you a full range of motion. The shape of each shoe is designed to be as dynamic as possible, allowing for faster sudden movements and less "drag" that will slow you down.
These boxing shoes are purpose-built to make fast-paced boxing easier, letting you dodge and avoid strikes while putting more force into your own punches.
Check Price on Amazon ➞
3. ASICS Men's Matflex 5 Shoe
These low-heeled, breathable boxing shoes use a large gum rubber outsole to create a much larger amount of traction than many other designs and styles, covering the entire bottom part of the shoe with various grip pad designs. On top of this is a partially-mesh upper section that allows air to flow through freely, keeping your feet cool and protected.
The standard lacing system will be familiar to anybody who's worn lace-up shoes before, so they don't take much time to adapt to – thanks to their standard shape and size, they can be used as regular footwear too.
These boxing shoes are very similar to many other running or exercise shoes, making them a great starting point for new boxers who want familiar footwear to rely on.
Check Price on Amazon ➞
4. Everlast New Elite High Top Boxing Shoes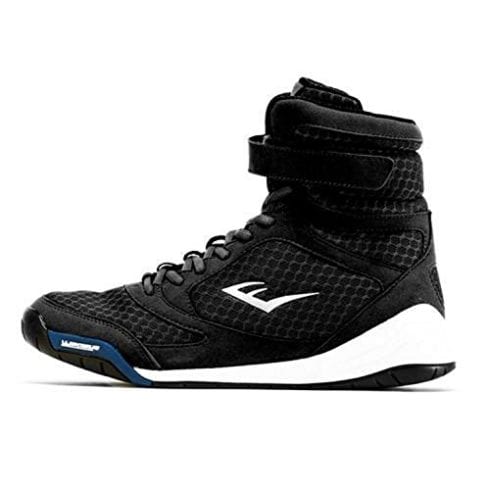 The hybrid design of these boxing shoes allows them to take on a range of different surfaces with ease, making them perfect for a variety of different boxing ring styles and materials. Aside from the usual laces, they also have an ankle strap that provides a lot more support while keeping the shoes secured to your feet.
The exterior design of these shoes is also ideal for breathability, since the mesh weave that covers most of the upper section keeps your feet cool in almost any situation, especially when you're in the middle of an intense boxing match.
These boxing shoes make excellent exercise gear, and they're versatile enough to work in both the boxing ring and during regular training routines.
Check Price on Amazon ➞
5. Otomix Stingray MMA & Wrestling Shoes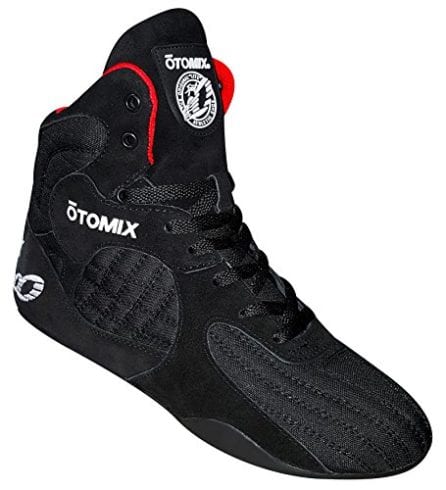 These purpose-built shoes are intended to be used for weightlifting exercises and in wrestling matches, but they're also incredibly useful as boxing shoes and for other types of strength training.  The excellent level of support, combined with the lightweight overall design of each shoe, makes them perfect for all kinds of different moves and movements in the ring, and the high-traction soles make it far easier to keep your balance and maintain your posture.
Not only that, but the high-quality seams between parts mean that these shoes hold together longer than average, so you won't wear them down quickly if you're constantly training and getting involved in boxing matches.
These shoes bring a lot of excellent benefits into the ring, giving you a bigger range of movement while still being strong and stable enough to use when you're on the defensive.
Check Price on Amazon ➞
6. adidas Men's Combat Speed.5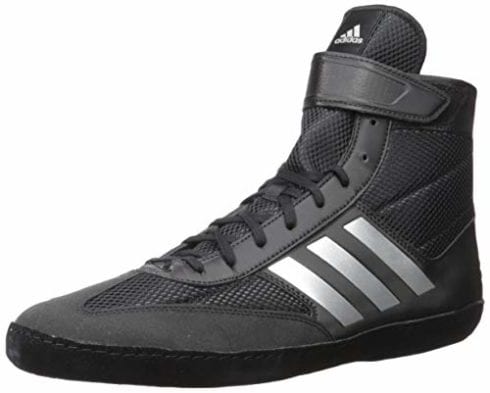 The supportive, breathable, and flexible design of these shoes makes them great for boxers, especially since they can regulate your heat without leaving your skin exposed. The excellent gripping power of their rubber soles helps you stay upright on smooth boxing ring surfaces, with the leather surrounding these gripping points allowing you to quickly dart around without feeling stuck in one place.
Thanks to the flexible materials used in their design, these shoes can also bend slightly for a better range of movement, as well as making you less likely to stumble over if you misjudge a dodge or sidestep.
As boxing shoes, these are perfect for keeping you on your feet while regulating your body temperature, making it much easier to focus on the fight without feeling uncomfortable.
Check Price on Amazon ➞
7. Nike Mens Speedsweep VII
The breathable mesh used on the upper portion of this shoe makes it ideal for regulating your heat in warm environments, as well as getting rid of any sweat that might build up over time. The EVA sock-style lining on the inside of the shoe keeps you comfortable and protected while still allowing you to move your feet normally, and doesn't add much weight to an already fairly light shoe.
Alongside that is the sticky gum rubber outsole, which provides excellent traction, even on smooth surfaces – it allows you to quickly move about without needing to worry about sliding or slipping over, giving you much more control over your position in the ring.
These shoes are simple, yet effective, providing a lot of useful benefits without any real downsides or drawbacks that could get in your way during a boxing match.
Check Price on Amazon ➞
8. Ringside Diablo Wrestling Boxing Shoes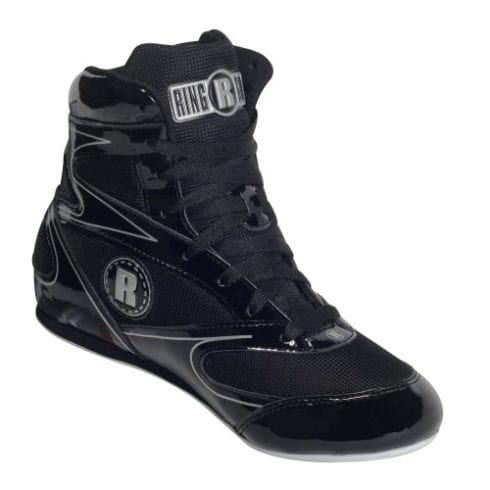 These multi-purpose boxing shoes are perfect for taking on tougher opponents, thanks to their non-slip soles that provide better stability and the supportive ankle areas that let you put more force into each blow. The breathable mesh helps eliminate sweat and overheating, while the flexible design gives you a much greater range of movement without sacrificing any protection or comfort.
The shoe's design as a whole is meant to promote faster and more fluid movement, which can give you an edge in boxing matches, as well as other competitive sports where movement matters.
These shoes are great for boxing, wrestling and a range of other spots, making them ideal for people who like to take part in more than one exercise-related hobby.
Check Price on Amazon ➞
9. Adidas Men's Adizero Wrestling XIV-M
These simple shoes use a very straightforward, no-nonsense design that uses a large and well-designed gripping surface to maximize your traction on almost any surface, making it much easier to control your movements. Alongside that are the large lace-up section and the extended tongue, which add more protection and allow the shoe to stay around your feet without being too loose or tight.
The rubberized inserts used above the insole offer more physical protection and shock absorption, meaning that you can pull off move complex moves without having to deal with foot fatigue during longer boxing matches or tournaments.
As boxing shoes, this boot-like footwear is perfect for people who need a very simple, easy-to-use piece of foot-protecting gear that they know they can rely on.
Check Price on Amazon ➞
10. Rival Boxing Lo-Top Guerrero Boots
These boxing shoes take inspiration from boots and mix them with features from exercise shoes, offering excellent ventilation and superior durability compared to a lot of standard designs. The built-in socks liner is designed to keep air flowing while protecting your feet, and the durable outsole provides plenty of extra grip thanks to its subtle, comfortable shape.
The insole is designed with ergonomics in mind, giving you extra arch support – this, alongside the extra support from its high-shaft design, helps you stay stable and comfortable throughout all kinds of tricks and movements,  as well as preventing foot fatigue and muscle pain.
These boots are great for people who want to take boxing up as a serious sport, especially if they plan on learning techniques that require a lot of muscle support and foot stability.
Check Price on Amazon ➞
11. Title Boxing Velocity KO Boxing Shoes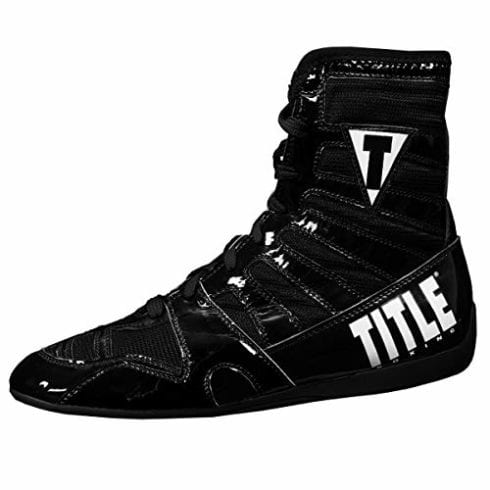 These well-padded boxing shoes use a very flexible gum rubber sole to add an extra layer of protection and grip to all of your movements, as well as promoting better pivoting and turning so that you can put more force into your jabs and strikes. The EVA midsole adds even more protection while also keeping your feet comfortable, as well as lessening foot fatigue.
The reinforced heel area helps protect the most vulnerable parts of your foot, as well as offing more support to your ankles, meaning that you can move with slightly more force and not have to worry about hurting yourself. Not only that, but the majority of the shoe is fully breathable, meaning that your feet can naturally cool down.
These boxing shoes are ideal for serious boxers, giving you the extra protection and power you need to take down an opponent without harming your feet in the process.
Check Price on Amazon ➞
12. Cleto Reyes Leather Boxing Shoes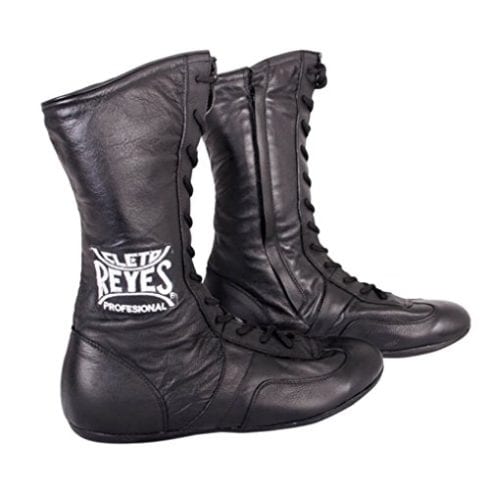 These lightweight boxing shoes are purpose-designed to make boxing much easier. The non-skid sole helps you stay balanced and in control of your movements at all times, while the wide shaft and upper section stop them from feeling uncomfortable tight when they're laced up. Speaking of laces, they extend almost the entire length of the shoe's front, giving you more chances to adjust them in a way that's perfect for your foot shape and size.
Alongside that is the side-mounted zipper, which lets you quickly take off or put on your boots without having to adjust the laces, making it far easier to keep them exactly how you like them before a new match.
These boxing shoes are designed for professionals, and their lace-up design combined with a zipper on each shoe makes them incredibly easy to adjust to your own personal preference.
Check Price on Amazon ➞
Boxing Shoes Buyer's Guide
Choosing a new pair of boxing shoes can seem difficult at first, since it is not like buying generic exercise shoes – certain things matter more than others, and boxing can involve surprisingly intense footwork that you won't see anywhere else. Rather than just running around, you'll be bobbing and weaving all over the place in ways that you don't see in many other sports.
The Sole
A good sole can provide you with all the protection, stability, and comfort you need, whereas a bad sole might make it almost impossible to use your shoes properly when you're in the ring. A good outsole should be both durable and protective, as well as having a decent grip. In some cases, they might also have extra padding, but this is usually left to the insole instead.
The midsole, if there is one, is usually designed to absorb as many shocks as possible. Not all designs will have one, and they're not always necessary, but it's sometimes worth trying to find them if you need more protection or padding for your feet.
The insole is almost always purely for protection and comfort, as well as sometimes adding muscle or arch support to make it easier to wear them for long periods of time.
Grip
The grip is one of the most important parts of any boxing shoe, but not just for stability reasons. A shoe without a good grip can still work, but it might also put you in greater danger of slipping over, which can lead to you losing a boxing match and possibly even harming yourself if you hit a hard surface.
In many cases, being able to stay in the right pose will make a huge difference to your performance, especially on a professional level. Even a slight slip or stumble can open up a weak spot for your opponent to attack, and not being able to stand your ground can mean that a well-placed hit might knock you over even if you're expecting it.
Having a good grip on the surface beneath you makes it much easier to pivot your body, too, which allows for a much stronger punch and more force in your attacks, as well as making it easier to move to absorb more force from attacks you block. Pivoting isn't just part of boxing, though: it can be useful in a range of different sports and exercise routines, and can even be used in day-to-day life while you're walking around or taking a jog.
However, you don't necessarily need the most grip possible. Some people prefer a stickier grip to keep themselves stable after moving, while others prefer less grip to make it easier to skid around punches. Too much grip might even make you feel "stuck" to a surface, making it harder to pivot around to avoid attacks from your opponent.
You might be interested in; Wrestling shoes.
Weight
Weight is also important, for a similar reason to grip. The heavier your shoes are, the harder it'll be the move around, but the easier you'll find it to stand still and avoid falling over. In many cases, however, wearing lightweight shoes is almost always the better choice, since it allows you to move faster and be more agile while still benefiting from any protection the shoes give you.
In general, weight usually translates to the shoes using bulkier materials, so a lightweight shoe might not offer as much physical protection as a heavier one – but this isn't always the case. In some cases, a heavier shoe can be weaker than a lighter one, especially if they're not designed to deal with certain scenarios or situations.
There's also the issue of being able to move fluidly. Certain boxing styles are based on constant movement and evasion, which becomes harder and more tiring if you're weighed down with bulkier footwear, slowing you down and opening up more opportunities for you to get counterattacked while you're trying to get into position.
Expert Tip
No matter what your skill level is, you should focus on comfort and safety above all else, especially if you're getting involved in arranged matches or tournaments.
Did you know?
You can tell if a shoe fits well by how wide it feels on your feet. If there's too much empty room, they're too large, and they'll move around in ways that might harm your feet while wearing them.