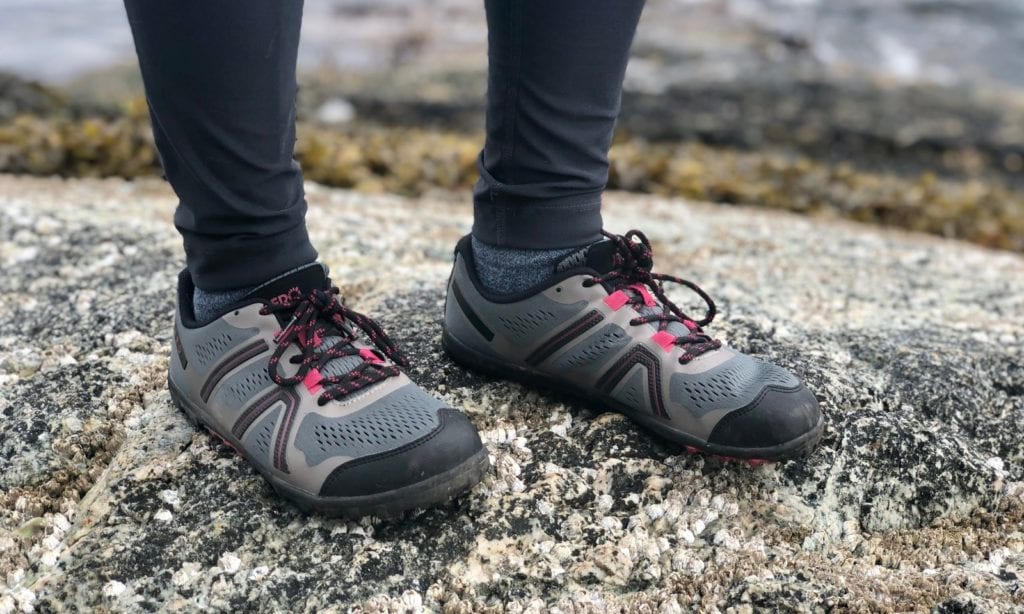 The Xero Shoes Prio come from Xero Shoes, a line created by Feel the World Inc. that originally focused mostly on sandals and other types of open footwear before they made this model. While they are definitely real shoes, they still stick to the barefoot design of older Xero products – with a twist. But is the Xero Shoes Prio line worth using, especially if you have never owned Xero shoes before?
Who are Feel the World Inc.?
Feel the World Inc. are well known for creating huaraches and sandals, aiming for open and roomy fits that can help you stay comfortable in a variety of settings and situations. Xero shoes were the company's first real attempt at a proper shoe that remained closed all the way around. However, due to their background, their shoes are huarache-inspired and quite different from a conventional shoe.
The company appeared on ABC's Shark Tank to promote the Xero Shoes line, which was where a lot of their attention originated from. The company continues to make Xero shoes and other shoe types to this day, with the Xero shoes being as popular as they ever were
What are the Xero Shoes Prio?
The Xero Shoes Prio range is a lightweight, durable, and flexible running shoe style that has become a staple of the company's product list. Made with some similar styles and materials to their older shoe and sandal designs, they are a minimalist take on a typical running shoe, but do not trade away any durability or comfort to get as useful as they are.
Design-wise, most Xero Shoes look roughly the same as your standard mesh upper trainers, with a few minor design differences on the outer layers. However, they are a very different beast performance-wise and have some very unexpected changes from a regular running, hiking, or casual shoe.
The idea behind the barefoot and minimalist style is to help people change their walking and running gait. This stops people from following the mistakes that normal running shoes promote – overstriding, heel-first landing, and movements that can cause unexpected injuries if they are used at the wrong time.
Like sandals, which are also very minimalist, these shoes give you feedback that changes your gait. This feedback comes from the way that you move around and how you adapt to running and walking in them – the first time you wear them will be the hardest, but the longer that they are worn, the easier it becomes to start running in a more comfortable way.
Materials
All Xero Shoes are made with vegan-friendly materials, something that a lot of shoe companies have never really done. The breathable upper uses a reliable and durable mesh, making it much easier for your feet to breathe while you are on the move.
These do not let much water in, so they are perfect for humid days where you need to let sweat and water vapor out, but not in.
All of these materials are still up to the standards that you would expect from another shoe company, so you do not lose out on any comfort or protection features. These materials also mean that it can still feel different from a regular shoe, so even at a very basic level, the experience of wearing them will not be quite the same.
Some of these materials are shared with the sandals and huarache designs that the company has created, including the rubber outsole parts. The overall design and lacing are obviously very different, but this leads to the same kind of traction, walking/running gait, and overall feeling. Unlike a sandal, though, this shoe design is also much easier to use while running above a jogging speed.
Sole
The sole is a core part of the shoe, using a 5.5mm FeelTrue rubber sole. This is a special type of sole from the Xero Shoes line that is designed to protect your feet while allowing for an accurate ground feel, meaning that you can get a proper grip on the ground and move with a natural flow.
The extra protection does not hurt, either, and can stop you from harming your feet on rough surfaces.
This sole is surprisingly protective and a great choice for a wide range of terrain. Considering that the Xero Shoes use a minimalist design as a whole, this kind of rubber sole also provides a good level of foot support, regardless of whether you are trail running or just walking around casually.
Grip
The bottom of the sole provides excellent grip. While they are not hiking boots and will not grip to smooth, slippery surfaces like mountaineering gear, they still have excellent natural grip and support on the terrain you'd encounter on rocky trails, dirt roads, and any other place you might pass through during a run.
This great traction means that runners do not need to worry about performance loss on rough trails and also gives you better protection from slips and falls. Combine that with the lightweight design of the shoes, and this traction can form a core part of your overall support and balance.
Insole
Alongside this is a 2mm insole, which is fully removable. Since these shoes are designed for good ground feel and movement, the difference with and without the insole is noticeable, but you can also replace it with your own insert if you prefer. Even with the insole still in the Xero Shoes, you can get that same barefoot feel.
Flexibility
The Xero Shoes Prio are extremely flexible and can be balled up inside your fists if you compress them hard enough. Specific designs within the Xero Shoes Prio range are great examples of this since they can easily stretch to protect your feet without permanently straining their materials.
The flexible design of the Xero Shoe Prio line means that they also conform to your feet shape, as well as your style of walking and running.
Fewer restrictions on movement mean much greater performance but with no extra weight or loss of traction – making them the perfect shoe for runners who need reliable gear.
Weight
As a minimalist shoe design, the Xero Shoe Prio is very lightweight and easy to use, providing great benefits without adding more weight to your movements. Since most of the materials are both lightweight and flexible, you can tackle difficult running trails without much foot stress, and the traction is still excellent without having to be weighed down.
The light design also really helps with the barefoot feel, keeping everything minimalist and making it really feel like your foot is able to move freely.
As a side note, the light materials make for a light shoe, which makes them a lot easier to transport when you are not wearing them. Since you can bundle the flexible designs up, you need less room to move them, too.
Toe Box
The toe boxes of these running shoes are able to stretch out just like the rest of the Xero Shoes line and allow your toes to breathe properly. The Xero Shoes Prio line aims to be a comfortable shoe while still opening up enough for your foot to move in a natural way, and the wide toe box helps a lot.
When you wear these shoes, you are also going to stretch out the toe box if it is slightly too small. This is a good thing since the shoe can stretch enough to accommodate large feet (as long as the sizing is already close to what you normally wear).
Heel Drop
The Xero Shoes Prio line has a zero-drop construction that leaves no drop from the heel to the toe. This is part of them being minimalist shoes, and while not everybody likes a zero-drop design, it can still be handy for a lot of people that use Xero Shoes Prio. First-time users might want to take some time to get used to the zero-drop design since it can take a different style of walking in some cases.
This might not matter to every person that ends up wearing them, and not everybody will notice a major difference. Still, it is something worth keeping in mind if you want to know what you will be getting.
Arch Support
The arch support of the Xero Drop Prio is neutral and minimal, adding a small amount of support without any major changes or extra pieces. This is due to them being minimalist shoes and means that the stock Xero Shoes Prio designs do not offer any major arch support to the people wearing them.
However, since the insole can be removed and swapped out, you can always use your own that have a bit more arch support. This is useful for serious running fans since you might prefer your own support inserts that you know are perfect for your foot size and shape.
Durability
The overall durability of the Xero Shoes Prio line is better than you might think. Despite being very minimalist and having a simple design that emulated barefoot running, they can handle a lot of punishment and will not wear out easily.
The only thing to watch out for is the outsole, which can start to wear down a bit if you use it constantly on difficult ground.
The upper section should last a lot longer and will not really suffer any wear and tear unless you push them through situations they were not meant to handle. The area around the toes, including the toe box, is the most likely place to scuff and show wear first, although the neck and heel can too.
Some reviews have mentioned that the wear and tear did not degrade quickly past the six-month mark, and that might be because the users started to wear the shoes as they should be.
The design of these Xero Shoes means that you will slowly start to adjust your running style to match them, bit by bit, and that will improve the overall quality of your runs (and the shoes) over time.
Why Should I Use the Xero Shoes Prio?
The Xero Shoes Prio line offers quite a few interesting benefits, and many of them are great for both exercise and casual use. But what should you actually be looking out for, and what makes them a better option than regular shoes you may already own?
Ground Feel
The main benefit of these running shoes is the 'ground feel,' essentially the part of the design that emulates running barefoot. When you are trail running on uneven ground, having that natural barefoot feeling can make it a lot easier to stay mobile, and the minimal weight only boosts this light barefoot feeling even further.
Unlike regular running shoes, these shoes use the same sole and heel design as sandals. A sandal is not the best option for running, but when you turn a sandal into a shoe, you can get the benefits of both at once with a simple and minimal design.
Why is this useful, though? Well, for some people, running with a barefoot feeling is just a preference. However, it can actually have quite a major impact on your feet.
Are There Any Risks?
For trail running, these shoes can seem risky since many trails have dangerous surfaces and a lot of obstacles. When you are trail running, your chosen trial might have a lot of sharp underfoot stones, which can make those trails harder to deal with.
This is one of the few situations where these shoes can be risky since a tricky trail can be very painful to run across.
For example, if you are choosing trails that have a lot of gravel in certain areas or ones that require you to cross sharper patches of rock, you might want to modify your trail to go around them.
Your shoes can protect you, but the ground feel can make them much more of an annoyance. On a smoother trail or an area that is easier to handle, though, there are not any downsides to it.
Movement Correction
As mentioned earlier, having a fake barefoot feeling while running can help your feet a lot. A decent shoe system that replicates the feeling of a bare foot and toes can help you correct your gait, making it much easier to switch to a running and walking form that does not harm you very much.
For many people, modern shoes have created running styles that actively harm the foot without a shoe, causing foot and leg damage. This can even become spine damage in extreme cases.
Running a trail like this can slowly harm your body, but if your feet are moving in a natural way, this damage becomes less of a risk.
The idea here is to use these minimalist shoes to correct your feet. This is why they use similar techniques to a pair of sandals – a decent pair of sandals with a good sole can correct your walking gait.
Here, instead of a pair of sandals, you are using a pair of shoes that include the same general ideas as sandals, just with solid designs instead of straps.
Obviously, you can't expect perfect results if you are not lacing yourself into the shoes correctly or buy a size larger than you need, so a bit of common sense matters a lot.
Regardless of whether you are hiking or jogging down a flat street, though, this simple system of correcting your foot movements can result in a fluid motion and happier, healthier feet.
5,000 Mile Sole Warranty
All Xero Shoes footwear comes with a 5,000-mile outsole warranty, meaning that you get covered from wear and tear if the shoe sole fails to live up to what you needed.
This includes damage such as wearing out and losing traction extremely quickly compared to what you have been promised. If you are somebody who wants your gear to last a long time, then this is incredibly useful.
On top of that, 5,000 miles is actually quite a long distance. If you have only worn these shoes for casual use and the occasional run, then this can cover quite a long time. If they get worn out before the 5,000 miles mark, then you might be able to get replacements or repairs.
Keep in mind that 5,000 miles is also plenty of time to get used to a new shoe, so once you own a pair, you can use the 5,000-mile warranty to spend thousands of miles breaking them in without fear of permanent outsole damage.
For simple minimalist shoes, this is an incredibly useful offer and one that you should definitely take advantage of.
While this part of the review is not related to the body of the shoe, it is worth noting this anyway. This applies to almost any Xero Shoes product, not just the one in this review, so quite a few of their running shoes, sandals, or huarache designs can benefit from it.
Protection
Even with the sandal-based features used in these shoes, they still offer all of the features you would expect from a decent pair. This means things like reflective straps (with some designs having the reflective straps down the middle of the shoe), a better lacing system, and the strong rubber sole that forms the core of each shoe.
Most running shoes need to be comfortable and protective at the same time, and the minimal design here takes away a lot of unnecessary elements, but it still manages to be light and effective.
It does not use materials like the specialist Vibram outsoles sold by Vibram, but it can offer plenty of safety and protection through a simple and reliable design. In a way, the lack of materials like Vibram outsoles or other fairly famous sole materials means that the shoe can rely a lot more on improving the user's walking and running habits.
As long as you are lacing yourself into your pair of shoes properly, you should eventually start moving in a way that does not put pressure on your heel or leg.
A lot of reviews mention that the overall durability of these shoes is impressive, and considering the 5,000 miles warranty, that is not a surprise. Some of these reviews have even mentioned that the durability got better as their own running improved since they began hiking, trail running, and walking 'correctly.'
Conclusion
The hardest part of this review is saying whether or not the Xero Shoes Prio are worth using because it really depends on what you are needing. In general, having shoes that correct your running to a safer gait is a good thing, but there will be people who are more concerned with overall protection than actually improving how they move.
There is also the issue of this review not being able to predict every situation. One person might prefer to run a trail on soft dirt, while another likes a trail that is mostly sharp rock. Beyond that, a trail runner might have a higher tolerance for crossing those surfaces compared to a casual runner.
If this review has made the Xero Shoes Prio line sound like something, you would want to use, then go ahead and look into it.
The benefits can be significant, and the general design is very worth using, meaning that this can be a great form of gait improvement without having to get any specialized training. It can be strange at first, but it will eventually help a lot.
Overall, these shoes are very well made and have plenty of high-quality materials backing up the design, as well as a minimalist construction that enables them to work in a huge range of situations.
The only downside is that they aren't normal shoes, and are not really trying to be, which means that they can take a while to adapt to and might throw off your rigid routine for a while.
If you are interested in trying the Xero Shoes Prio, or any other footwear under the label, then they are not hard to track down. Take a look for yourself and see what is on offer because there might be plenty of different designs to fill whatever niche you're stuck in.
Sources: