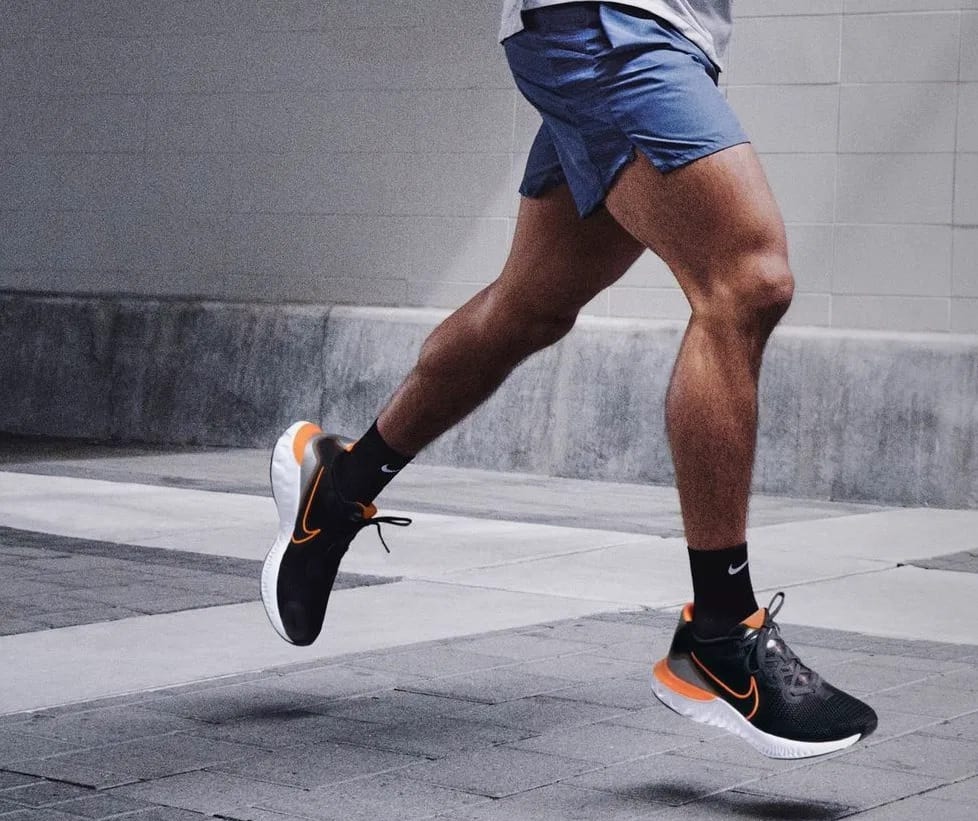 The Nike Renew Run is a fairly popular style of Nike men's running shoe that many people still love. But, like all running shoes, there are so many coming out now that it is hard to keep up with how they are all different. If you are interested in the Nike Renew Run running shoe, then you will want to know more about what it offers – and what is special about it.
This quick review should tell you everything you need to know, the good and the bad.
What is the Nike Renew Run?
The Nike Renew Run men's trainers are designed with a signature Nike style, instantly recognizable as one of their running shoes thanks to Nike's logo and the contrasting color choices. On the surface, it is just another shoe Nike has put out for runners, but it has a unique name because it is technically a unique shoe design.
The Renew Run is designed as an entry-level shoe that boasts great cushioning, ideal for shorter distances. On the surface, this makes it a good choice for people who are new to running or exercise as a whole.
Designed using old Nike techniques, the Nike Renew Run really does 'renew' a lot of them with modern designs.
Sole Section
Heel
Heel support is fairly standard on the Renew Run design. There are the usual support elements, with a regular heel support cup that can work well for most kinds of runner. This also will not wear out or slip during runs.
Arch
Arch support is about average as well. The shoe does not have 5 stars in any kind of foot support but does it well enough that both the arch and heel can stay safe during runs, which is really all that you need in runs.
Cushioning
The sole is the part of the Nike Renew Run that matters most during actual runs. Running on a harder sole would be awful, so Nike has given their shoe the full 5 stars treatment by filling the sole with cushioning. This mostly comes from the Lunarlon foam, a similar material to their more expensive React foam, but with a firmer edge.
Midsole
The midsole uses extra dual-density padding to provide better results, protecting your forefoot and improving stability slightly. This also gives you better protection and durability from the solid surfaces under your feet, which can help when running in urban spaces.
The midsole also adds some excess weight thanks to the Lunarlon foam, which does technically make these a heavier trainer model. However, this is not really a problem for shorter-distance runners, and the weight is right in the middle, so it will not set you off-balance. The React foam may have been lighter, but this alternate foam is not bad, just denser.
Outsole
The outsole uses a strong rubber and a design that can provide great traction on most surfaces. This should make your runs a bit easier on uneven surfaces, especially since they do not wear down quickly. Some reviews mention no wear or tear at all after 50 miles of running.
Flexibility
The Nike Review Run running shoe design is decently flexible, meaning that you will get good transitions for a Nike running shoe. The heavier foam is not much of a problem during runs, though.
Upper Section
Cushioning
The upper of the Nike Renew Run is made with a lot of padding, using thick materials that cover the entire design. This makes them a very good choice for taking on uneven ground where your feet are constantly impacting at different angles, but they need to be worn correctly. On your first runs, expect some slight rubbing.
Mesh
For the Renew Run, Nike made the majority of the top into a dual breathable mesh layer. This makes it very breathable, using two TPU layers to ensure that the shoes are still properly supporting the wearer's feet. The mesh is your regular Nike mesh, letting air through while trying to protect your foot from mildly bad conditions.
Overlays
The TPU layers and overlays on the upper improve durability. This acts as extra padding, adding some additional weight in exchange for greater strength that does not make the inside feel any more narrow than usual.
These overlays are also ideal for keeping your foot secure: each pair of Nike Renew Run shoes is designed to secure to your feet properly. With the overlays, this can happen while making heavy use of lightweight materials, offsetting some of the extra weight from the rest of the shoe.
Tongue
The tongue of the Renew Run line is designed to fit under the eyelets but is not going to get in the way when you are putting them on. This tongue also provides some more comfort and padding, thanks to the soft choice of materials.
Laces
The laces are simple and easy to use, staying tied down as any great running shoelaces should. They are easy enough to swap out if you want other ones since the eyelets are just standard trainer design.
Toe Box
The Nike Renew Run uses a regular toe box with no special gimmicks. This is not a bad thing since it means that a single pair can work as your daily trainer in a variety of different situations without sticking to a niche.
Other Details
Nike shoes can come in quite a few different varieties, and the Nike Renew Run has some quirks of its own that make it stand out from others.
Weight
The Nike Renew Run weighs over 350 grams, making it heavier than some other Nike footwear. This is due to the midsole thickness and the cheaper, heavier foam used. The added mass means that the Nike Renew Run works best for shorter runs since longer ones can get tiring faster and might require you to take a break partway through.
On the plus side, this reduces the price from what it would have been with the more expensive foam, keeping the overall price of the Nike Renew Run lower. The padding and foams also provide a good amount of comfort, which can help you avoid fatigue and keep your energy higher in the short term.
These are not light shoes, but they are shoes that can still support a runner well on short runs. They also do not prevent free movement. Even without lightweight materials, you can keep each foot feeling free and have a free range of movement, just like with any regular light training shoe meant for runs.
Comfort
The comfort of the Nike Renew Run might not be 5 stars, but it can still work well as a comfort-focused shoe for your runs. The good support and soft midsole mean that you can stay comfortable on your runs, while the relatively tough outsole keeps the shoe together for runs that last dozens of miles at a time.
Compared to other Nike shoes, like the Nike Air Zoom shoe, the Nike Renew Run shoes are designed around the density of their midsole. While this might not be true-to-size in the sense of other similar shoe designs, this dual-density layer is good at actually protecting each foot.
Breathability makes a difference here, too. The rubber insole is great for support, but the upper is very breathable, which can be the more important part when running in bad weather. In fact, the extra comfort that the breathable design offers can make up for the added weight since you will sweat less overall.
Price
The price of the Nike Renew Run varies depending on where you purchase it, but Nike is still producing it, meaning that a pair will not be that much higher than any other Nike shoe. Since the upper and outsole do not have any special gimmicks, you can usually purchase them as completely normal shoes without having to look for them in specialist stores.
You can find these trainers anywhere that Nike footwear can be purchased, usually for around the normal retail price. Remember that you want to purchase one that suits your size: the Renew Run line is generally true-to-size in terms of how they fit. If you took your last foot measurements a long time ago, get some new ones done.
Are These Good Running Shoes?
These trainers are high in comfort, okay for support, but lacking in staying lightweight. This does not make them a 5 stars option, but they do not need 5 stars in everything to be a good pair of trainers. In fact, the simple heel support and standard narrow-body mean that they can be good for most regular runs.
There are still plenty of review posts that give this model 5 stars, and these review posts usually praise the comfort and the ease of use. A lot of 5 stars reviews point out that they are easy to wear as a gateway back into a regular run schedule since they do not stop you from taking part in runs at any skill level. A simplified heel support, arch support, and general design make it easy to get used to, too.
So, if those reviews are giving 5 stars for simplicity, then the trainers are clearly best used for runs where you want to ease back into the run atmosphere. This means that they could be useful for people who are just starting to run for the first time as well. While professionals would prefer something half as heavy and a bit more technical, these offer a good size and some great basic features.
Are They Worth It?
If you are having a search for something like the Winflo trainers, then this is definitely worth looking into. The fairly low price makes them affordable without a sale, and they are easy enough to search for due to the famous brand name. They are also good for use in most weather, especially from April onwards (since April usually marks the beginning of warmer conditions).
Review posts about the Renew Run are sometimes mixed, but a lot of them complain that the trainers are too narrow. Make sure that you get the right size if you buy them, since any review that says they are too narrow may have chosen a size that was a bit too small or narrow for them (even by a half-size).
Other than that, any review that gives it 5 stars has a chance to mention how well it performed on runs. This is a good sign since it means that people are clearly using them on runs and liking them, even if some still have complaints.
Does it deserve 5 stars from this review? Maybe, it depends on what your 5 stars would mean. If you are in a search for something to get you back into running, then the Nike Renew Run models might be the trainers to end your search.
Sources: