Nike Epic React Flyknit 2 Review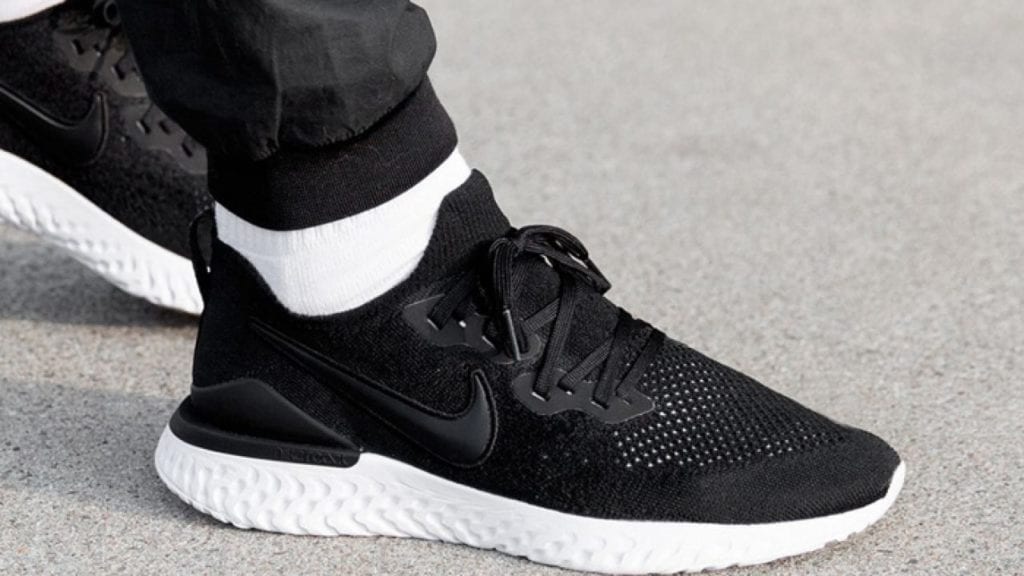 The Nike Epic React Flyknit 2 is another variant of the Nike Epic React, building on the original shoe to create something much better. While it might look similar to a lot of Nike shoes on the outside, this daily trainer has quite a wide range of useful tweaks and changes.
But what makes the Nike Epic React Flyknit 2 worth using, and what has changed in this new version? This Nike Epic React Flyknit 2 review will tell you everything you need to know before you buy this running shoe.
What is the Nike Epic React Flyknit 2?
The Nike Epic React Flyknit 2 was designed using a lot of Nike concepts, as well as taking notes from previous shoes that have used some similar elements. The biggest detail with the React Flyknit 2 is the fact that it uses a new type of foam, something that makes it a lot more comfortable to wear.
The name comes from the Nike Flyknit technology, a system that uses strong fibers to create a lightweight Nike Flyknit upper. This Flyknit upper is not only stronger in general, but offers more support, flexibility, and breathability, all useful things to have in running shoes.
The Nike Epic React Flyknit 2 running shoe is the next step in using this Flyknit technology to create a lightweight and cushioned option for runner fans, similar to a trainer. The main differences are the quality of materials, the improvements to different areas of the design, and the light construction.
At first, the Nike Epic React 2 seems like any other Nike running shoe, but it goes off in its own direction. If you are interested in the Nike Epic React Flyknit 2, then here are some explanations of what to expect.
The Sole Section
The sole of the Nike Epic React Flyknit 2 has been re-designed from previous Nike shoes, coming with a range of new details and changes to make it more performance focused. As a running shoe, it needs to have a strong outsole to protect you from harm, but it also needs to be a shoe that improves your control.
Remember that the sole forms the base of the rest of the shoe, so it can be extremely important to certain types of runners. Instead of filling a niche, the Flyknit 2 has tried to cover multiple bases at the same time and succeeded quite well.
The Outsole
The outsole rubber is tough and stable, handling most surfaces very well and avoiding easy wear and tear. They will not start to fall apart after only 50 miles, making these great running shoes for longer-term runners that do not want to constantly rebuy replacements.
Since the rubber sole does not wear down quickly, the internal cushioning is also more durable. Even after a hard run, you will not have damaged the insole or midsole very much at all.
This shoe sole also has very good grip and traction, which is a vital part of using any shoe for fast movement. This outsole can not only hold its own on both natural and artificial surfaces, but it has the proper traction lugs to move you across rough terrain, so you do not have to restrict your runs to paths and roads. It should be fine to use in bad weather like rain, too.
The Midsole
The midsole is a React midsole design and uses the same kind of quality as the rest of the Nike Epic React Flyknit 2. This means that you will get good support, as well as a buffer between the insole and outsole. The soft foam helps a lot while running and can prevent foot fatigue in the short term.
The midfoot is an important part of the foot during running sessions, and the designers were aware of that. Most of the cushioning in the Epic React Flyknit 2 is made to help the middle of the foot as well, rather than just the toes, the heel, or the ball of the foot.
The Insole
The insole uses plenty of special Nike React foam, the part of the design that gives the shoe its name. This springy cushioning acts like a rubber rebound without actually altering your stride, meaning that you get a better energy return on every step.
An added bounce also makes it a little easier to keep yourself moving for longer periods of time since you always have some momentum. On a long-distance run, this kind of stability is more important than you might think, and you can see some great results.
Arch support is fine – the shoe does not put much focus on it, but it is there, and it is functional. The padding is more important here since your feet will be impacting with the ground constantly during a run, and more protection reduces the chance of foot fatigue or other kinds of pain. The arch supports that the shoe does have should be more than enough to keep your feet happy.
Heel and Forefoot
Proper heel support matters a lot, and the Nike Epic React Flyknit 2 uses a well-made plastic heel counter block that holds the shoes to their shape. This heel counter gives you more support in general and allows the shoes to properly flex without losing their strength.
The true-to-size design of the lower means that the heel should not pinch the back of your foot, giving you a snug fit. Remember that a comfortable heel massively improves performance, so most runners will find these shoes very easy to start using.
The forefoot is designed to prevent sloppy movement. While a high heel and forefoot stack would usually mean lower stability and a soft, cushioned running style that is not very practical, this design manages to avoid that downside while still keeping the added cushioning.
This might seem like a small thing, but it can completely change the way that your weight moves inside the running shoe, giving you much better performance overall.
Weight
The light design combined with great traction makes this an excellent shoe for all kinds of running purposes. While the low weight enables responsive movement and keeps you light on your feet, but there is also enough mass to keep you protected properly while you run.
Nike shoes can sometimes vary in weight, so it is good that these ones are deliberately lightweight. A new runner can quickly learn to wear their pair properly without getting tired out due to the weight, and an experienced runner will find the Nike Epic React Flyknit 2 a great way to keep themselves moving.
This low weight also makes them a lot easier to use in general, even outside of runs. The shoes are light enough to wear casually without feeling like they are slowing you down, which is perfect for hot days or when you are already quite tired. On top of that, they are easy to carry in a bag or box if you do not want to wear them constantly and prefer to keep them ready for your run.
React Foam
The Nike React foam cushioning used in the Nike Epic React Flyknit 2 is designed to give off the highest possible energy return, beating the previous effort by Nike with a 13-percent increase. This creates a responsive, cushioned, and snug fit across the midfoot that can stay lightweight and energize your feet as you move.
This foam is a core part of the shoes, and for a good reason. With the Epic React 2, Nike has deliberately leaned into the next version of their existing techniques. Since the Flyknit technology is already very effective, the foam was the part that needed improvement next.
The end result is that the Nike React Flyknit 2 running shoe provides plenty of comfort, keeps your feet safe and secure, and generally feels better to wear. The lower half of the shoe on its own has plenty of soft padding and similarly soft foam to help runners keep running for longer.
The Upper Section
The upper has also been reworked, especially thanks to the heavy use of Nike React foam to give them more cushioning. The Nike Epic React Flyknit 2 uses the Flyknit upper that the line is known for but improved on it with an updated version of the design.
Remember that the upper needs to fit your foot, so some of these elements might be different if you have larger or smaller feet than average. Your foot shape, arch height, instep, and even the length of your toes can all impact the way the shoe feels, so this review assumes that you have average feet and are wearing the appropriate shoe size.
Toe Box
The toe area is quite simple, using a straightforward toe box design that does not have any special materials or features. However, they still keep the same padding as the rest of the shoes, meaning that they are suited to running for longer periods of time.
This design also means that there is not anything to worry about regarding damage to the toe area. There are not any hard-to-replace parts or reinforced areas that can hurt you if you slip, meaning that you have the same flexible and responsive feeling that you already feel across the rest of the shoes.
This is about what most people would expect from running shoes since any kind of extra weight in the front can slow down your running speed. Instead, the shoe does not have any kind of extra padding or protection here, relying purely on the normal comfort features of the design.
Upper Heel
The top of the heel uses a solid plastic late to connect to the sole, which basically serves as an extra part of the heel counter. This is a rare feature that not many shoes have used, even within the Nike brand, but it suits the Epic React Flyknit 2 quite well.
While this could feel strange to some people who are not used to it, this bit of plastic supports the foot and adds some extra structure to the design, compared to the older version. This also means that the upper and heel are more connected, which could slightly improve overall durability.
The heel is a vital part of all shoes, and here, it sees a lot of use as a way to keep the rest of the design stable. This is not a bad thing since running shoes do not necessarily need a specific heel design: this shoe uses it as a way to add more structure since the heel will not be in much danger of getting damaged anyway.
Upper Materials
As a trainer, the Epic React Flyknit 2 is designed to be flexible during your running sessions. Each pair uses high-quality Nike materials in a true-to-size design, which should mean that they suit an average pair of feet perfectly.
The upper only has one overlay, and that is the Nike logo. There are not too many layers to work with, and the shoe stays thin while also having the padding needed to keep you comfortable. Compared to the previous version of the Flyknit design, this is a slight improvement on an already great set of materials.
Some of these shoe materials are Nike-specific, so you would have to research further to find out exactly what the composition was. Remember that some might be considered a company secret: they will not necessarily say "contact us on social media, and we'll tell you," and may keep the information hidden to prevent people from copying their shoes.
Flexibility
Even if your Epic React Flyknit 2 is a bit too small for your feet (less than a half-size too small on one foot, for example), the flexibility means that it should not be painful. You still want the best size possible for your foot shape and size, but added flexibility and stretchy materials remove the risk of your feet getting hurt if it is a tight squeeze.
This flexibility also lets the materials bend a bit while you run, so the shoes are not going to stay rigid constantly. The Epic React 2 can give you a better ride on most surfaces, including uneven natural ground, without damaging the shoe or forcing it to bend more than it was designed to bend.
These shoes do not have any of the bad flexibility – the type that causes a shoe to warp or bend when it is not supposed to. Despite being so soft and stretchy, each shoe is also rigid enough to retain its shape. Unlike flimsy shoes without proper structure, these shoes will not collapse inwards at random times.
Is the Nike Epic React Flyknit 2 Running Shoe Good?
The Epic React 2 stands out from a lot of other running shoes for being something more than just a standard set of running trainers. As running shoes, they have a lot of features that allow you to keep your energy and momentum high, meaning that it is much easier to go for miles and miles without needing a break. They also offer a great level of comfort, more than you might expect.
Not only are they ideal for running miles and miles in a single session, but the comfortable ride also makes them good for people who only run in short bursts. You can put the running shoes on, go for a short run, and get back home without even feeling foot fatigue for the couple of miles you might have covered.
There might be running shoes that fill certain niches better than the Epic React shoes, but for general-purpose running, this is a great choice of shoes that can keep you comfortable in most situations. The added cushioning and padding are always nice to have, especially if you are the kind of runner who likes a challenging trail or natural path.
In general, the Epic React 2 shoes are a great choice that you will not regret using, especially considering how well they have been scored in other review posts.
A lot of people see them in a very positive light, and some review articles even score them higher than many other Nike shoe types simply because they are so flexible and versatile. The Nike Zoom Air is well-liked, but for some people, these beat the Air Zoom line completely.
Should I Buy the Nike Epic React Flyknit 2?
If you are looking for shoes that can help you zoom from place to place without stopping, whether that is across dozens of miles or just around your own street, then these are a good choice. The smooth ride makes a massive difference and keeps them feeling very comfortable, but also enables you to go for much longer while wearing the shoes.
Compared to other trainers, the biggest reason to use them is the energy they can put into your movements. It is not just about keeping you comfortable: the padding actually makes the shoes boost your own running and keeps your legs moving consistently, which can reduce the number of breaks and pauses you have to take.
If you want a shoe that can fit into multiple niches and keep you comfortable the entire time, then the Flyknit 2 is definitely a good option. It is a great shoe for staying safe and comfortable during runs, but this does not come at the cost of extra weight, a poor fit, low durability, or an extremely high price. It is a balanced shoe that can tackle a wide variety of situations well and keep you comfortable throughout.
The Nike Epic React Flyknit 2 is worth a try if you can find it. It might not be a niche shoe, but it covers most situations perfectly and gives you a great balance of comfort features that all work well together.
Sources: