10 Best Nike Running Shoes in 2021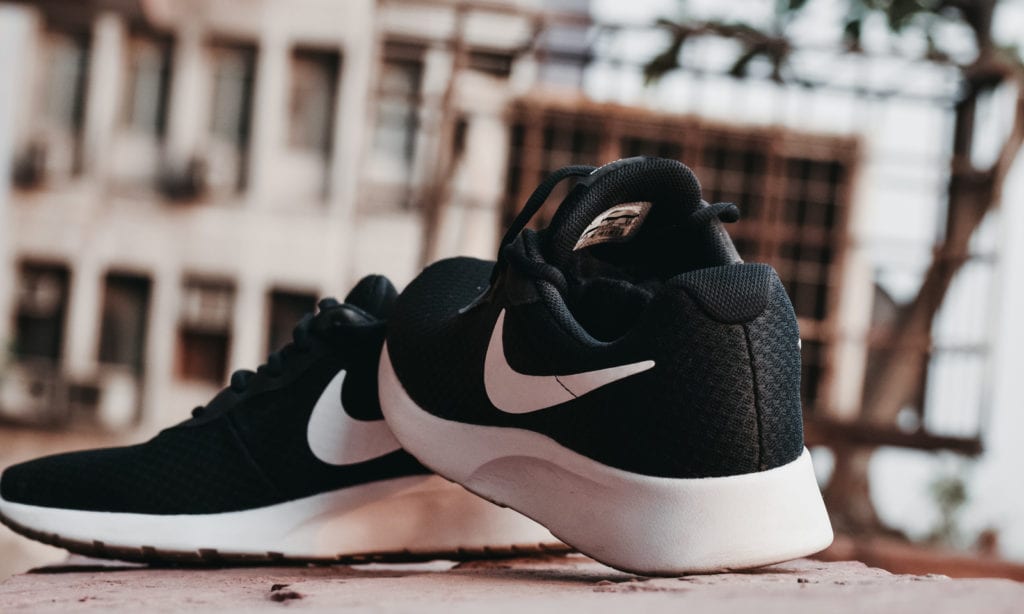 One of the most iconic companies in the globe, recognizable instantly through its very distinct logo, Nike have earned their stripes through years of producing top quality shoes, fit for every physical activity you can think of. The roots of Nike run deep, from humble beginnings having imported shoes sold from the backs of cars to one of the leading providers of shoes as we know it — a feat that so few have been able to replicate; there will be only one, Nike.
Ask any athlete, they'll tell you the same thing: Nike has some of the best running shoes out on the market today. Finding the right pair of running shoes can make you feel limitless; especially if you find that you run long distances out in the open all year round.
Nike is constantly filling their catalog with new products for one to choose from, which can make it somewhat difficult to find the perfect running shoe for you as there are so many options to choose from, this is where this article comes into play.
Related: Top rated Men's running footwear.
View the Best Nike Running Shoes, Below.
1. NIKE Men's Revolution 4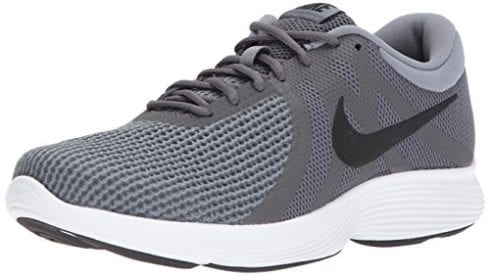 The first running shoe on our list here is also one of the more versatile pairs here. These shoes have been designed for comfort, with a cushioned insole and padded ankle collar, which will allow you to pass over various terrain, with little to no effect on the bottoms of your feet. Impact on every step you take is a big reason as to why this shoe is included here. Available in multiple colors to choose from, the Revolution 4 is also one of the more cost effective shoes also.
We found that the Revolution 4 was very effective in running across different terrain, it is also very comfortable to move around in given the padded support within the shoe.
Check Price on Amazon ➞
2. NIKE Men's Air Max Torch 4
If style is something that you take into consideration with running shoes, then the Air Max Torch 4's should be at the top of your list. A carbon fiber outsole will make it incredibly durable no matter how often you are using them. The toe of this one is outfitted with a phylon forefront, with a low top design, proficient in adding mobility. Reviews for this shoe have customers promising to never wear anything else, having put thousands of miles on them already!
One reason why these running shoes stood out was due to the reflective elements, which makes them very visible in low light, perfect for late night running.
Check Price on Amazon ➞
3. NIKE WMNS Revolution 4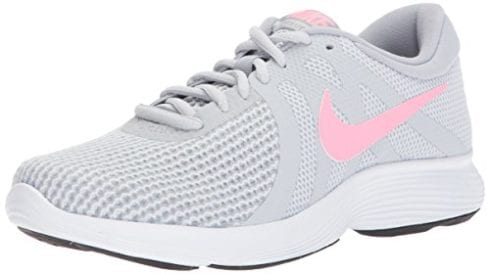 Essentially the female version of the first entry in our list here. The Nike Women's Revolution 4 is a full lace fastening shoe, complete with cushioned insole and padded ankle collar. The foam midsole will make wearing this shoe a breeze too, which will only benefit your runs as a result. Some of the color options here do differ from the male version. The sleek design of this running shoe is not to be outdone by, it is actually one of the more stylish running sneakers on the market.
The comfort in this shoe cannot be stated enough. Wearing these shoes when running will only better your performance.
Check Price on Amazon ➞
4. NIKE Men's Air Monarch Iv
These shoes are classed more as a fitness shoe than a regular running shoe, which does mean that you could wear these when weight lifting, or committing too many other physical activities outside of running. A leather shoe which is optimized for airflow courtesy of perforations that cascade across the shoe itself. Within the shoe itself you'll find Air-Sole unit cushions which only adds the comfort and support by proxy.
The fact that this shoe has various different uses that aren't limited at running is just a testament to how unique this shoe is in general.
Check Price on Amazon ➞
5. NIKE Women's Tanjun Running Shoes
This shoe is made for breathability, this is one of the main highlights of this one that comes in at the half-way point in our list here. Another lace shoe, the Tanjun Running Shoes come with a chunky midsole, which makes for underfoot cushioning which will only add to the experience of moving around in these shoes. Lightweight design and optimal breathability make for a very comforting shoe indeed.
The Tanjun Running Shoes are perfect for allowing your feet to breathe when out running, which will only allow you to run faster and for much longer.
Check Price on Amazon ➞
6. Nike Women's Free RN 2017
Built for ultimate comfort and breathability, the Nike Women's Free RN 2017's are among some of the more stylish running shoes that you can pick from. A shoe that is available in multiple colors, the tri-star outsole allows for a natural ride when out in the open over long distances. Like some of the other shoes featured here, this one is made to be very comfortable and breathable from the moment you slide your feet into them. Like its name suggests, this shoe is made for the feelings of freedom!
The ergonomic design of this shoe is a big highlight of this one, and there's plenty of additional features in this one to warrant your purchase.
Check Price on Amazon ➞
7. NIKE Men's Swift Running Shoe
Offering comfort and cushioning with every step, the Swift Running Shoe promises optimal movement with every run. This lace up shoe comes with a fit sole insole, one that comes with flawier cables that feature on the sides of the shoe to add to a locked up feel for whenever you wear them. Lock down your runs with these breathable running shoes. The only issues we foresee with these shoes is the material used, which can get wet pretty easily.
The locked in feel for this shoe does a great job in adding to your runs oddly enough, be sure to check them out for yourself!
Check Price on Amazon ➞
8. NIKE Men's Flex 2017 RN
Flex is the aim of this running shoe, and flex you will thanks to the design of this running shoe. This is clearly the most stylish looking running shoe in our list here. This one is available in multiple different colors depending on what your preferences are. Another lace-up shoe, one that utilizes a tri-star outsole and dynamic flywire which only heightens your experiences when out and about in the shoes yourself. The gum rubber sole adds for a shock absorbent fit too.
If style is something you consider when purchasing running shoes or shoes in general, then you will want to be buying these, no questions asked.
Check Price on Amazon ➞
9. NIKE Womens Flex Contact
Beauty in simplicity that is what the Flex Contact's can offer you. The lavish white design on these shoes look very stylish at first glance, but how well do they perform? The Flex Contact's allow for a very natural fit and are one of the more comfortable shoes to train and work in. The lace-up closure of these shoes will make every step matter, with little resistance from the ground as you move around. The cushioned footbed only heightens your experiences with this shoe outright.
Exercise in style with these ergonomic running shoes, like the previous entry in our list here, the word flex was implemented on purpose.
Check Price on Amazon ➞
10. Nike Women's Air Zoom Pegasus 34
Pegasus was a winged horse from Greek mythology and is also the name that is attached to these running shoes. The Air Zoom Pegasus 34's are available in various different colors for you to choose from. The full-length Zoom Air unit allows for a smooth, responsive ride, with a beveled heel that makes for optimized touchdown and transition from each step you set down. The collar of this one has been engineered to make for less pressure around your ankle, which is perfect for an easy run across various terrain.
This shoe is optimized for durability. This is a running shoe that will last years if you look after them, optimized perfectly for ankle support!
Check Price on Amazon ➞
Nike Running Shoe Buyer's Guide
Disclaimer
Before you consider making any purchases, you should first identify your own personal specifications for the running shoes you wish to buy. This could include a budget or the reason why you are wanting to purchase running shoes, to begin with. For example, if you are buying shoes for the look rather than the list of features/characteristics of the shoe, then you will probably find a product rather easily (any in the Nike Flex line). If you find that you have issues with the joints in your feet, then finding a running shoe with the right amount of support will be a must for obvious reasons.
Here are a few Requirements that you Should Consider when Purchasing Running Shoes of any kind:
Shock Absorbent Technology
Nike technology is optimized for easy mobility, this is true in all of their products, but with running shoes, there is an emphasis on more absorption due to the increase in steps, and the power generated by more momentum from running rather than simply walking or going about your day as normal. Shock absorbent shoes will make running a lot more rewarding if you happen to be running outside over terrain that isn't as straight as certain locations.
Rubber soles are implemented into these shoes for a reason. Rubber is known to be one of the most shock absorbent soles known. Nike in-particular utilize foam in the soles of most of their shoes for a reason. Foam is yet another responsive material that is perfect for running shoes. Remember, with every step you take while running, your full body weight is pressed down onto your shoes which can cause wear and tear over time if you are a frequent runner.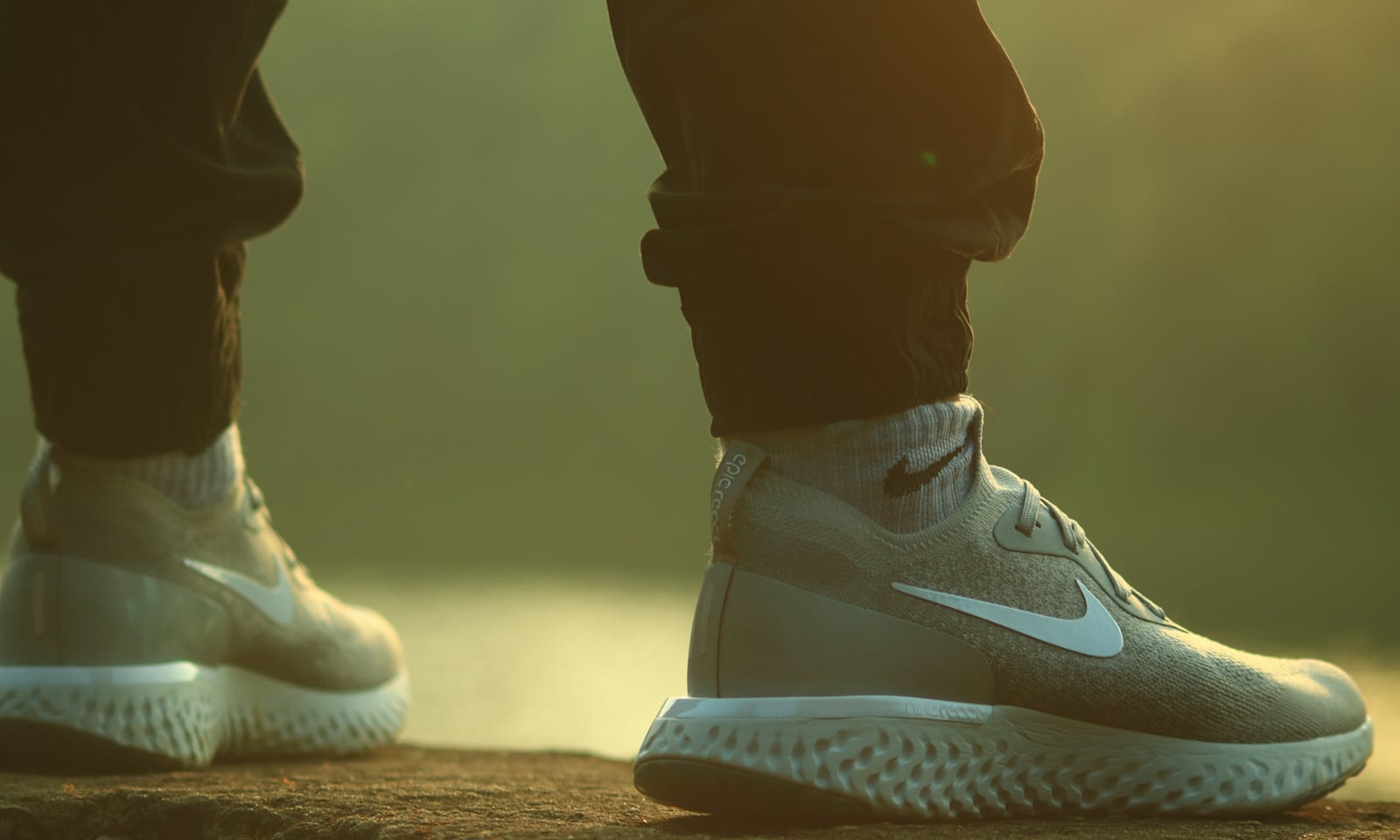 Responsiveness
If you purchase shoes in a store, then before you leave with them you've more than likely tried them on to see how they feel, this is fine, but you can't exactly run around with them there and then and get a feel for what they're like when participating in a more vigorous activity. This is especially true also if you are to purchase any of the products listed above from the internet, as trying them on isn't really an option either. Knowing how responsive your running shoes are will only be known to you from the moment that you have them on your feet and are running outside.
What to look out for will vary depending on the size of your feet and the wideness of them also. By response, we mean how the show moves when mobility is in action. If you find that you run and then suddenly stop, and the shoe moves around still when stationary, then this will mean that the responsiveness of the shoe is poor. Sharp movements with little to no resistance is the desired effect, as this will mean that your workouts are a lot more extensive and the shoe will actually prevent injury over long spaces of time.
Comfort
There is no set material used in every running shoe out there, which is partly the reason why most are confused as to which are the best shoes to purchase. In our eyes, variety is the spice of life, and you should make a decision on which shoe to purchase based on your own preferences that you should have set beforehand. Every single one of the shoes mentioned in our list above are comfortable to wear initially, but how they handle running or other forms of exercise will remain to be seen.
Durability might be a strong consideration to think about despite you maybe having your eyes set on one shoe because of how comfortable it is. For example, you might want to consider a leather made shoe over a fabric one if you are running somewhere that has bouts of wet weather, as the fabric will only slow you down when running if they happen to store water. Whereas leather will absorb water, yes, but most of it will run off the side of the shoe also.
Nike is renown for quality, which is partly the reason why their running shoes are so popular to begin with. Personally, we would go with the Nike Air Monarch iv's just because of how versatile they are, and the many different uses that it possesses which includes running outright. You should always be looking for running shoes with some sort of ankle support also, as certain surfaces could cause injury to your ankles in-particular if you have not taken a level of caution.
Style
We understand that clout is important when it comes to your shoes, which is why style is such an important factor to consider when purchasing running shoes. It helps that a lot of Nike products are available in various colors, allowing you to outfit them with other sportswear perfectly if you find that you're bothered by that sort of thing. Although certain Nike products are more fashionable than others (any in the Flex line) that does not then mean that it is an all-round shoe. If you are going for something durable, then you might want to consider a shoe that isn't that stylish.
Style is obviously a preference, but the designers over at Nike are always keeping in mind the look and feel of their shoe from a visual standpoint with every decision. We would recommend finding some sort of middle ground. Pick a running shoe that is comfortable and has all of the features you are after that fits your specifications perfectly, from this point moving forwards will you be able to narrow down your options and therefore be able to choose a shoe that fits your style.
If you find that you don't run that often, and are looking at only doing it a couple of times a week, then you could easily make a purchase based solely on appearance as the likelihood of the shoes breaking down over time is quite minimal. You are always going to be the best judge when it comes to these considerations, make a final decision from intuition, and you won't set yourself up for failure!
What Nike Shoes are Good for Running?
Any shoe from Nike that has the running name attached to the shoe itself will normally give you an idea on its purpose, it's really that simple. Air Max's are made for casual wear in the same way that Yeezy's are made for fashion purposes. Any of our offerings from the list will serve as the perfect running shoes. Yes, some of the shoes featured here are more durable than others due to the materials used in the sole and the top part of the shoe, but all of them will do the job when it comes to running.
Just remember, the shoes you purchase should fit that of the places where you are planning on running. For example, if you run around parks during seasons of wet weather, then mud might be an issue to white colored shoes that are made from fabric such as the Nike Women's running shoe – the Flex Contact, so perhaps buying a leather option could be more applicable for you in your situation.

How to clean Nike Running Shoes?
Most Nike shoes are made from the simplest of fabrics, which means that they can be washed extensively using a washing machine! This will depend on how dirty they happen to be of course, as if they have but a few dirt patches, you might be able to buffer them out using a wet cloth. Keep in mind that the color of your shoe will dictate how washable your shoes are.
Putting white shoes in with red washing will cause them to go pink if you aren't careful, in the same way, that a white shirt might go pink from the same method. Common sense should be your guide here, but if you're still in doubt, read the tag on the shoes, it will tell you if you can or can't wash them in a certain way!
Expert Tip
If you find that your feet smell due to exercise, then washing the shoes after every couple of days will help prevent this, or just leaving them in dry spaces after use will keep them from smelling so often.
Did you know?
Nike was originally known as Blue Ribbon Sports, a somewhat popular distributor of athletic gear (now known as Asics). In 1971 the name was changed to Nike and would later proceed to take the world by storm!