10 Best Running Shoes Under $100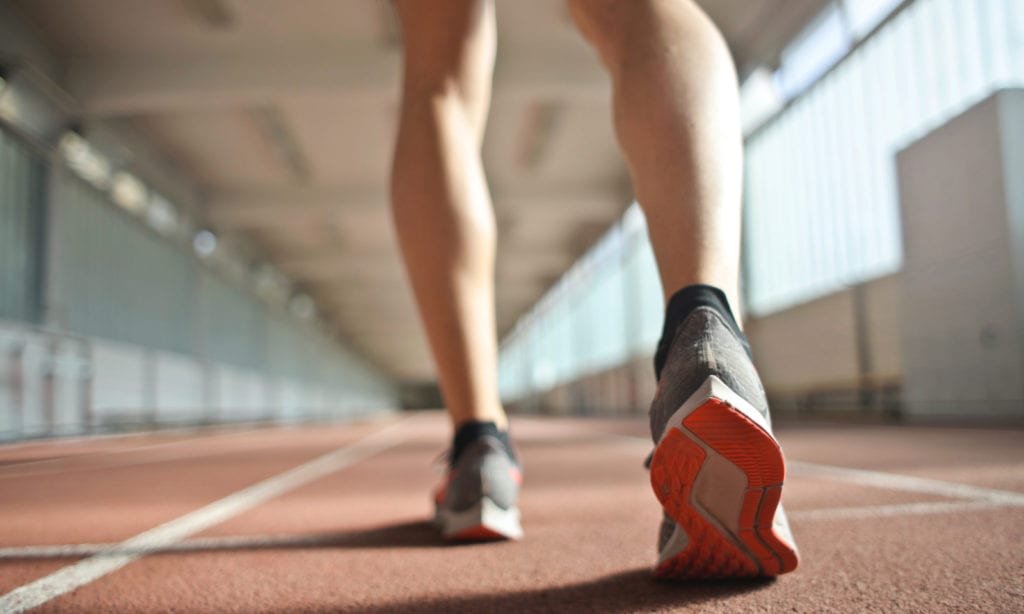 Running is one of the best forms of exercise that you can do, although some people are put off due to the high price of running shoes. But, don't worry, there are plenty of fantastic running shoes under $100 that you can buy to get you running like a pro. Cheaper running shoes have many of the same features that the more expensive ones have and are perfect for getting you running outside, in the gym, or just a comfortable pair of shoes while you walk around.
Some of the great design features include support for the arch of your foot, airflow holes to ensure your feet can breathe, sock liners to absorb the shock as you run, and lightweight material to make you fly through the air. It can be hard to choose the right running shoe for your needs, but this guide will help you find a pair of running shoes under $100 that fit the bill.
View the Best Running Shoes under $100, Below.
1. Under Armour Men's Charged Assert 8
If you like your running shoes to give you flexibility when you run and give you great cushioning simultaneously, these are the ideal running shoes under $100 for you. The upper is made from a mixture of polyester and elastane to give a flexible feel and to provide comfort as you run along. The sock liner is soft on your feet, although it is strong enough to provide arch support and impact absorption. These aspects are essential in a great running shoe as this is where you require supportiveness the most.
Plus, these running shoes under $100 are very lightweight, meaning you won't feel them weighing you down; this is ideal for people who want to run for long distances. Another great feature is that these shoes will last you a long time as they are very durable due to how they are designed. You won't need to worry about sweaty feet either as there are airflow holes at the back to ensure your feet are cool and dry.
These running shoes are perfect for all runners, especially those you want a completely flexible shoe and allows your feet to move the way you want them to.
Check Price on Amazon ➞
2. ASICS Men's Gel-Kayano 26 Running Shoes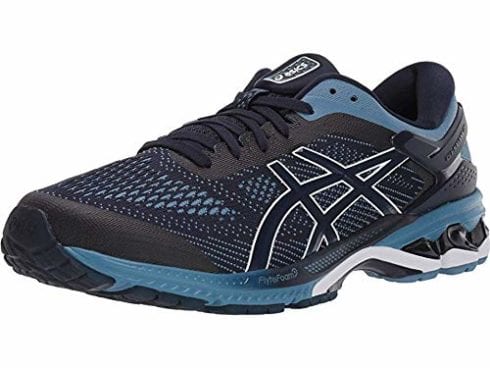 These Asics Gel Kayano's are one of the best running shoes for long-distance runners. The shoe has a unique gel technology that is situated at the back and front of this shoe, which enables shock to be absorbed as your heel lands, and you push off from the front. This feature also helps to keep you feeling powerful throughout your run, making it a great option for longer runs. The overall cushioning in this shoe provides the right comfort level and has a good level of foam incorporated into the sock liner and has an ultra-light midsole.
If you like your running shoe to provide stability, the special Trusstic system in this shoe keeps your foot in the best position as you run. The mesh upper on this shoe allows your feet to breathe that will get you to perform well on every run you complete.
A fantastic Asics Gel running shoe that keeps your feet cool while providing stability and, most importantly, protects your feet from the impact on long-distance runs.
Check Price on Amazon ➞
3. New Balance Men's Fresh Foam Roav V1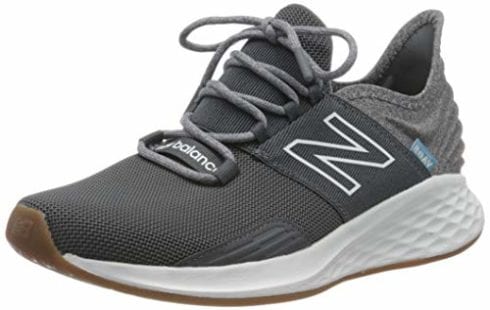 Do you want a running shoe that you can run and complete various workouts in? Then these New Balance Fresh Foam running shoes under $100 are for you. They are easy to slip on and fit like a glove as the synthetic mesh upper molds nicely around your foot to ensure maximum comfort no matter what activity you are doing, even perfect for walking around the city. Plus, they are lightweight, so they won't weigh you down.
There are many great features on these New Balance Fresh Foam running shoes, including a uniquely designed heel that provides sufficient grip to keep your foot in place while you exercise. Another great feature is the rubber outsole that ensures these running shoes will last you a long time and so you can get as active as you like. Your feet will constantly feel supported and comfortable while you wear these running shoes.
One of the best running shoes that are perfect for running but also other activities. These New Balance Fresh Foam shoes have all the features needed to keep your feet comfortable and supported.
Check Price on Amazon ➞
4. Adidas Women's Cloudfoam Pure Running Shoe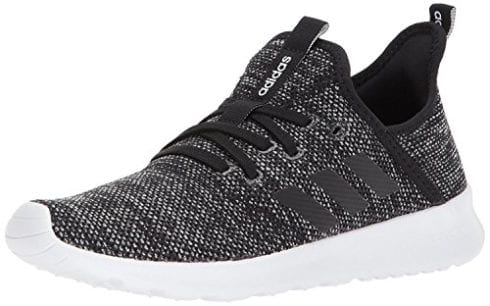 A must for any active females who are after a running shoe that is specially designed for the female foot. Plus, it is perfect for any activity, whether you want to run, hit the gym, or even walk around with extremely comfortable shoes. If you are new to running, these running shoes will provide you with the right amount of cushioning due to the unique foam inside the sock liner and under $100.
The foam midsole is incredibly soft, and the memory foam sock line will support your foot. The upper of this shoe grips perfectly around your foot so you can run without having to worry about them slipping and causing blisters. These Adidas shoes are easy to slip-on and come with handy hoops to help if your foot needs extra guidance.
One of the best running shoes that are made specifically for women. These running shoes will help you to achieve your exercise goals and keep your feet happy.
Check Price on Amazon ➞
5. Nike Men's Revolution 5 Running Shoe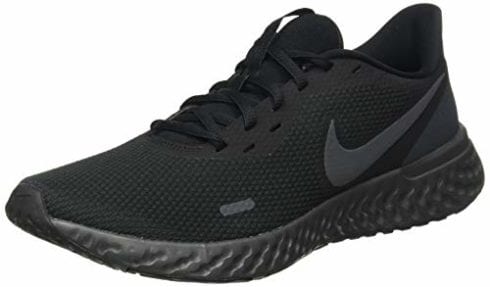 If you like running over a range of different surfaces, from indoors and out, then the traction on these Men's Nike running shoes won't let you down. They can grip to a range of surfaces and are great if you sometimes go off the beaten track, as a stable connection with the ground each time you run will benefit you greatly.
Another great feature is that they have a lightweight design that allows your feet to breathe while fitting snugly around the upper part of your foot to keep your movement stable. The outsole continues onto the front of the toe box area so you can achieve a smooth stride. These running shoes also have fantastic support in the heel area, which is essential to keep your foot protected and stable.
It is a fantastic running shoe under $100 and has all the features you need to get you running indoors and outdoors. These lightweight shoes won't hold you back.
Check Price on Amazon ➞
6. Brooks Women's Revel 3
These Brooks Revel 3's are ideal for any activity from working out to walking the city street. They are one of the best running shoes under £100 for women who like to feel comfortable when they work out and with all the additional features that enhance performance. These running shoes have a built-in BioMoGo DNA cushioning system that adapts to the way you run and your weight to ensure a shock-free run. Just like the Adidas Women's Cloudfoam running shoes, these are also perfect for any activity from lower impact to higher impact, plus they can be worn all day long.
The upper of this shoe fits perfectly around your foot to add comfort and stability. The bonus is that the warmth from your foot activates the upper so it won't stretch with increased wear, so this makes it one of the best value shoes as you can get active whenever you feel like it.
This pair of Brooks Revel 3 running shoes provides you with maximum comfort and feels very comfortable on the upper, especially in the toe box area, as they won't squash your feet due to the heat-activated material.
Check Price on Amazon ➞
7. ASICS Men's Gel-Venture 7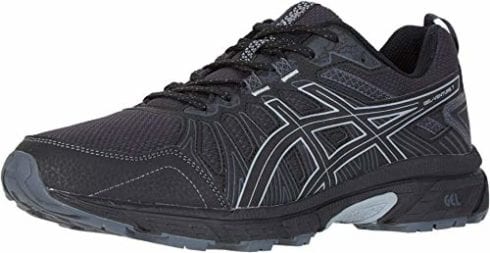 Another Asics gel running shoe under $100 that has made it onto this guide. This pair of running shoes are perfect for outdoor trail runners and will keep your feet in optimal condition and provide you with great features to keep you running longer. The outsole on this shoe is ideal for outdoor running as it has abrasive rubber that will grip to the ground perfectly each time you leap. The outsole also rises slightly at the heel and onto the toe box to provide an exceptionally smooth stride.
These affordable running shoes for under $100 are extremely comfortable as the sock liner provides some great features, including moisture control, additional bounce, and allows airflow. Plus, there is a gel system incorporated to absorb shock, ideal for long trail runs.
If you like running trails, this is the best running shoe you can purchase for under $100. Due to these shoes' amazing features and durability, it will feel like a new pair every time you wear them.
Check Price on Amazon ➞
8. Saucony Women's Cohesion 10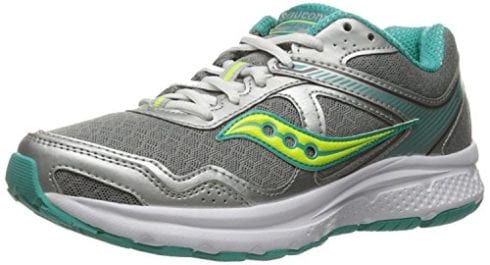 These Saucony running shoes are perfect for any activity that you are doing, whether you are going on a long walk or run. The shoe has some great features that make this shoe under $100 a great purchase and worth the money. If you find your feet get hot when you are doing your activities, there is no need to worry about these running shoes as the toe box, top, and heel areas all have a mesh that allows your feet to breathe and keep them cool and dry.
Along with the mesh upper, there are laces so you can make the shoe as tight or loose as you prefer depending on your running needs. For additional comfort and grip, the inner heel is cushioned to ensure your feet say stable. The rubber outsole is designed in a grid-like fashion and provides fantastic grip with any surface, so you can run worry-free.
A fantastic shoe that ensures your feet have enough balance, flexibility, and comfort as you run along or take part in any exercise class.
Check Price on Amazon ➞
9. Adidas Men's Lite Racer Adapt Running Shoe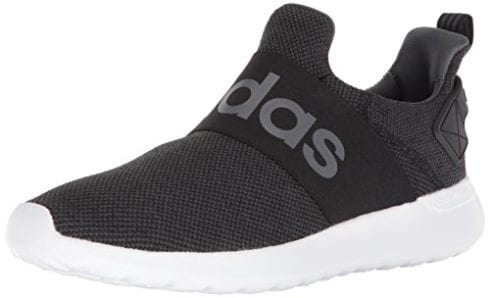 Another Adidas shoe that has made it onto this guide, this time for the men. This shoe offers a tailored fit due to the mesh upper that will fit comfortably around your foot as you use the strap at the back to help pull these running shoes onto your feet. Another one of the best features of this pair of running shoes for under $100 is the cushioning. There is an OrthoLite sock liner that makes sure your foot is fully cushioned and to reduce the impact to your feet as you run along.
Plus, this sock liner provides good arch support and keeps your balance on track as the shoe hits the ground, giving optimal stability. There is an extra strap across the top of the shoe to increase stability and looks good with the Adidas branding.
This pair of running shoes from Adidas offers a breathable mesh upper that also molds to your foot's shape for all-over support.
Check Price on Amazon ➞
10. ASICS Women's Gel-Nimbus 21
If you like to complete your running in the morning or late at night when light is dimmer, then these Asics Gel Nimbus 21's are a great option. They have the Asics branding on the sides, which is also reflective, so it means you can be seen at any time of the day. These running shoes under $100 have a uniquely designed heel that will make sure your heel does not slip, and so you get maximum support.
Some of the best features on these running shoes include the FlyteFoam system that gives you an extra bouncy feeling as you stride your way through your run and the fantastic midsole design that has an increased height of 3mm, which relieves tension in this part of the foot and tailored to females.
The ultimate shoe for running if you like a spring in your step and for your feet to be fully supported at all times. There are some great features on this shoe, making it one of the best on this guide.
Check Price on Amazon ➞
Running Shoes Under 100 Buyer's Guide
Affordable Running Shoes
Running shoes are an essential must-have if you partake in this sporting activity or you do regular workouts. This is because running shoes have additional built-in features than a regular shoe will have or an everyday sneaker has. With any type of sporting activity, you are putting more pressure and impact onto your feet than regular actions of walking along at a leisurely pace. Aspects such as cushioning, traction, breathability, and heel support are all key factors that help make a pair of running shoes better for your feet than regular sneakers.
Many brands make exceptional running shoes such as New Balance, Nike, Asics, and Under Amour, with many of those brands featuring on this guide. The good news is that those brands make their running shoes affordable, under $100. Although they also make running shoes that will cost more, it is unnecessary to pay large amounts of money just for shoes to run or exercise in.
Cushioning
This aspect is vital! All shoes for running will be sufficiently cushioned as they have to be to ensure the impact is absorbed so you can have a comfortable run without causing injury to yourself. Cushioning will be different in each shoe, although it will always be along the bottom area where your foot will connect with the ground. Some shoes will have additional cushioning around the heel area, which also adds extra grip, so your foot doesn't slip out when you run. Others will have more cushioning inside the tongue area.
Midsole Designs and Technology
Many design features can be incorporated into the midsole area. On most shoes, for running, you will find a foam midsole that will help protect the foot when you land and take off. If you get pain in your foot's middle area, it is important to ensure the cushioning and support in this area are to your requirements as it will make you perform better when you run or workout.
The Asics Women's Gel-Nimbus 21 offers a uniquely designed midsole specifically for women and helps support their feet. The midsole is raised by 3mm to help relieve tension in this area. This isn't a feature you would get in a regular sneaker and is designed for the way the foot moves when you run or do workouts.
Outsole Durability
Many of the shoes on this guide have a rubber outsole. This is a great feature as it ensures the shoe will last for a long time as it is very hard-wearing and means you will get great wear out of your shoe for running, which is under $100. The outsoles on these shoes come in different pattern styles and look. This is because some offer better traction than others.
For example, a shoe for trail run will have a better-designed outsole that will ensure it provides the wearer with maximum traction or grip to the surface. This is important if you run over different terrains as you don't want to fall over just because the shoe grip wasn't sufficient.
Airflow Features
The shoes on this guide all have good breathability, whether that is via the mesh upper or specially designed airflow areas around other parts of the shoe. Many of the shoes have additional airflow areas other than the top of the shoe. Still, the Saucony Women's Cohesion 10's have mesh airflow areas around the heel and toe box areas to ensure your feet are feeling cool and dry throughout your activity. Plus, this is a great feature to ensure your shoes stay fresh and new smelling.
If you are using your shoes for long periods, then breathability is a feature you should ensure your shoes have as it will make a difference to your overall comfort level, as no one wants a sweaty foot.
Additional Features
There are many great additional features on some of these shoes, including the fit that the upper has. The New Balance Men's Fresh Foam Roav V1's and the Adidas Men's Lite Racer Adapt Shoe both fit snugly around your foot to provide you with stability and support as you run, plus this feature ensures your feet won't get tired when you wear them.
For long-distance runs, the Asics Men's Gel-Kayano 26's have built-in gel technology in both the heel and front so it can provide ultimate shock absorption. This is a must for long-distances, and it has a system that keeps your foot stable as you run, called the Trusstic system.
The Asics Women's Gel-Nimbus 21 have a specially designed heel that provides maximum grip. This is a great feature as everyone's heel is different, and this heel molds around the way yours is shaped and positioned to ensure they are a perfect shoe for every female.
These shoes also incorporate a FlyteFoam system, that provides more bounce than a regular sock liner. This is ideal if you need extra assistance to make a run more smooth and bouncy. If you are looking for a more Orthopedic sock liner, then the Adidas Men's Lite Racer Adapt has this feature. It will help keep your feet from feeling tired, all while supporting the arch and providing a soft light feeling as you run.
You don't need to spend a lot of money to get great features that will help you with your performance and keep you injury-free.
What are the Best Running shoes for under $100?
It's hard to say, as all the running shoes on this guide are great in their unique way. It depends on what you need the running shoes for. If you need a shoe for running a trail, then the Asics Men's Gel-Venture 7's are your best option as they offer great traction on any surface.
For running shoes that are great for any activity, then the New Balance Men's Fresh Foam Roav V1's are the best as they are supportive and provide great cushioning for various sporting activities. New Balance does a range of running shoes for various run types, although they don't all feature on this guide.
Are there Other Running Shoes that are as good as the ones on this Guide?
Yes, there are other running shoes like the Asics GT range and the Nike Free range that offer many great features. The Asics GT offers fantastic cushioning and protection from impact as your foot lands, just like the Nike Free shoes do. Another feature on the Nike Free shoe is the breathability, which helps your feet to stay cool and dry as you do any activity.
Which Brand makes the Best Running Shoes Under $100?
All of the brands on this list make some of the best running shoes that are available to purchase. Many other brands have not featured on this guide that also can be considered the best running shoes for certain runners.
Expert Tip
When choosing running shoes, make sure they are designed for the type of running that you want to complete, such as trail running. Plus, ensure the cushioning is right to help reduce the impact as you run. You can always opt for extra comfort from a special run-suitable sole.
Did you know?
The majority of running shoes under $100 have the same features and enhanced technologies that many of the expensive running shoes have, so you might as well save yourself some money.