10 Best Boot Laces in 2021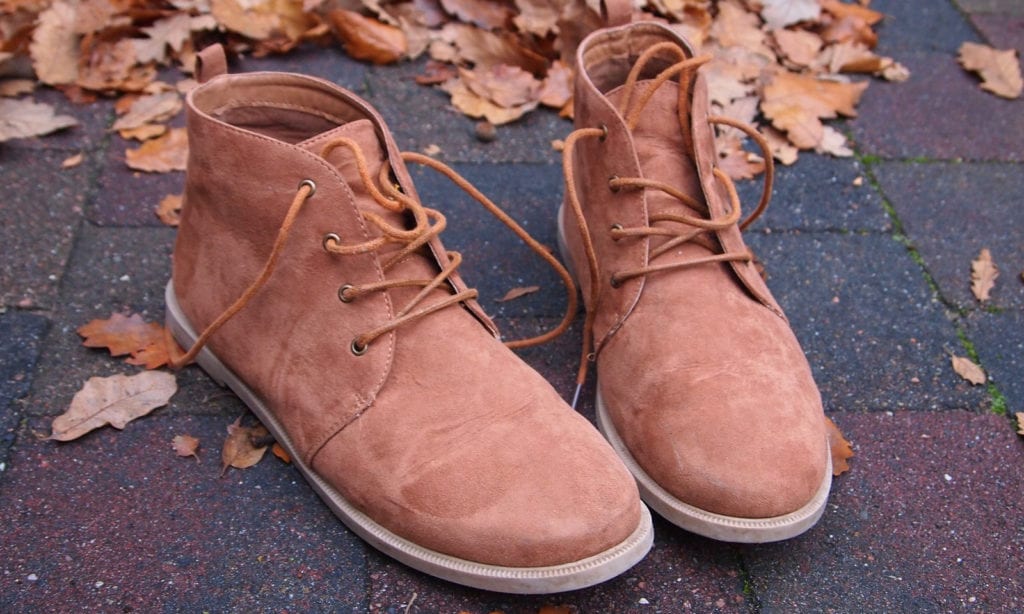 Having good laces is important for any kind of shoe, especially if you are relying on them for protection and weather-resistance on a daily basis. Bad laces can break easily, stretch unexpectedly, or come unraveled at the worst possible moment, but a good pair will be able to last you for months without any signs of wear and tear. It's just a matter of choosing a lace style and brand that fits your needs, rather than assuming that the cheapest and most accessible options are the best boot laces.
When it comes to boots, there's nothing more important than having a lace that makes them fit comfortably over your feet. Below are ten of the best boot laces we could find, as well as the reasons they're better than your average cheap shoe or boot laces.
View the Best Boot Laces, Below.
1. Miscly Round Boot Laces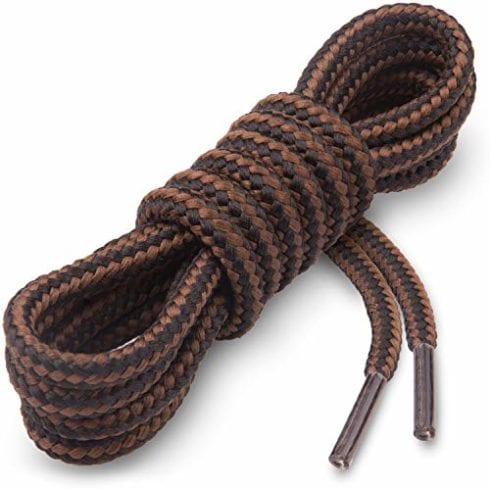 These boot laces are durable and well-designed, allowing them to stay tightly tied under almost any conditions, including bad weather. The inner nylon cords allow for an extra level of strength, while the outer polyester keeps them durable in the long-term.
While these boot laces are designed for heavy-duty boots, they can also be used in regular footwear to give you a tighter, easier-to-adjust fit. Plus, they come in packs of six, meaning that you'll get six laces that are all identical and easy to swap out if one somehow gets damaged.
These boot laces are straightforward, offering plenty of strength and durability without being too over-the-top to use in casual and formal footwear too.
Check Price on Amazon ➞
2. Ironlace Extra Heavy Duty Round Boot Laces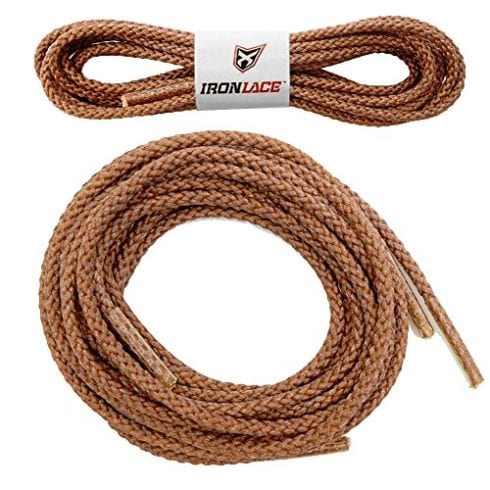 The extreme durability of these boot laces makes them great for workplaces and poor weather conditions, and they have over 1500 lb of breaking strength, making it hard for them to snap or stretch if they are being subjected to a lot of force.
The materials used to construct them are fireproof up to 332 degrees C, and the standard 1.8" size means that they'll fit into your existing footwear without needing any modifications. Not only that, but their durability means that the color of these boot laces won't fade easily, so they'll always look relatively new.
These boot laces are simple yet durable, offering plenty of strength and damage resistance without being awkward to use or oversized. They're best suited to workplace use but can work well in bad weather too.
Check Price on Amazon ➞
3. AOMIDI Boot Laces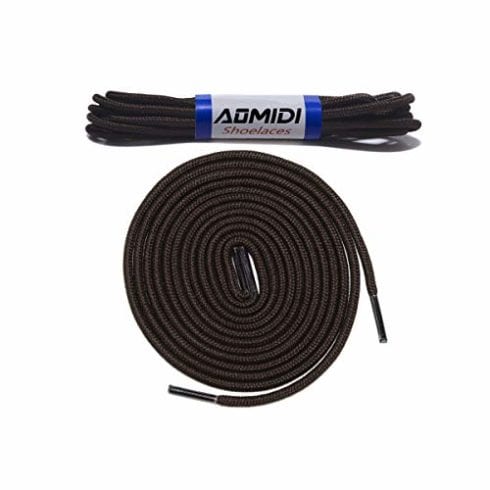 These boot laces are designed for both boots and athletic shoes, using multi-purpose materials that allow them to stretch without snapping easily or wearing down quickly. They're similar to most other lace styles, meaning that it's easy to swap them out on your existing shoes, and the variety of colors means that you're not limited to simple blacks and browns. In addition, they are available in various lengths, allowing you to choose a size that's perfect for your current footwear.
These laces bridge the gap between athletic laces and work boot laces, being both durable and comfortable without leaning too far in either direction. They're also more varied than most heavy-duty laces, coming in multiple colors.
Check Price on Amazon ➞
4. Xpand No Tie Shoelaces System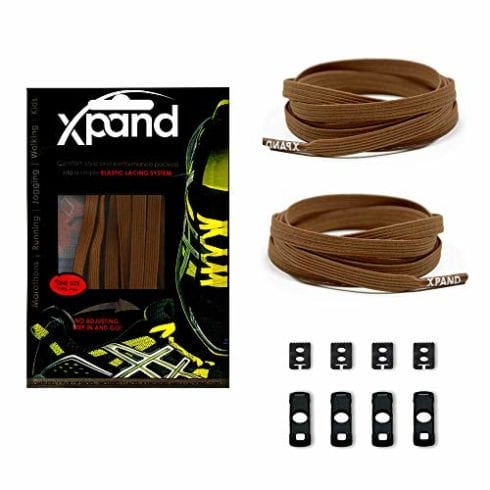 These elastic laces are very stretchy and durable and are able to easily fit into any kind of shoe. However, the real interest is in the lace anchors, which allow you to set your laces up and then lock them in place to turn your lace-up shoes and boots into slip-on designs.
Thanks to the expanding and easy-to-stretch nature of the laces, they can be extended to over 100" without any impact on their overall strength, meaning that they're extremely easy to adjust for larger boots without having to ruin them permanently. Being able to lock their position also makes them very useful for people who are sick of tying laces every day.
Many elastic laces are weaker than their non-stretchy counterparts, but this pair combines a stretchy overall design with strong materials.
Check Price on Amazon ➞
5. OrthoStep Round Athletic Shoelace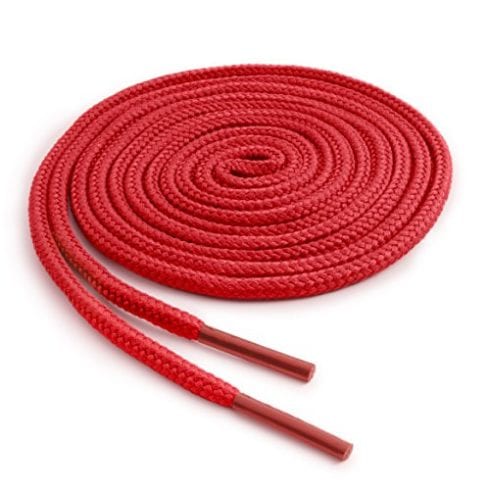 These athletic shoelaces are designed to be as convenient as possible, taking a simple design and improving on it without changing much about the laces themselves. They come in a variety of colors and are easy to adjust, with a 1/8" width that's able to fit into all standard shoes and boots.
The unspecified materials used to make them are comfortably rigid, and they won't wear out or stretch easily from regular use, making them a great all-round pair of laces for most types of footwear.
These laces are simple, reliable and don't try to do anything extreme, offering a quick and easy solution for anybody who needs some stronger replacement laces in their boots.
Check Price on Amazon ➞
6. YFINE Round Waxed Shoelaces
These dress shoelaces are perfect for more formal occasions, using comfortable polyester silk to keep your shoes and boots comfortably tight on your feet. However, that's not all they're good for – they've been waxed for extra protection and have a non-fading design that retains its color even after exposure to bad weather or sunlight, and the simple round shape means that they'll fit into most standard shoes and boots with ease. On top of that, each color is available in multiple sizes for different shoe styles, making it easy to find one that fits your exact needs.
While they might not fit everybody's needs, these are some of the best boot laces for people who want to look good while wearing them.
Check Price on Amazon ➞
7. LOCK LACES Heavy Duty Elastic No Tie Laces
These heavy-duty laces are purpose-built for as much durability and comfort as possible – they're waterproof, weather-resistant and easy to adjust on the fly, making them excellent for a wide range of different types of footwear.
On top of that, they can be locked in place to make your boots into slip-on shoes, and the simple design allows them to fit into almost any type of shoe without feeling too tight or restrictive. The locking system gives you an easy way to secure them in place at any time, so you won't constantly have to undo and redo your laces to hit that comfortable "sweet spot."
If you're looking for durability and comfort in equal amounts, these maybe some of the best boot laces on the market, mainly because they're able to fit into any shoe without stretching or wearing down.
Check Price on Amazon ➞
8. Handshop Waxed Boot Shoelaces
These waxed cotton boot laces are comfortable and shiny, making them seem more stylish than conventional laces. They're able to keep their shininess and tightness well and can fit into a variety of footwear, ranging from formal shoes to full-sized hiking boots.
Like many laces, they're available in multiple colors and sizes, meaning that you can choose a pair that fits your shoes or boots well instead of having to deal with a design that won't look right. They're also made of environmentally-friendly materials, so producing them is less damaging to nature in general.
These laces are mainly supposed to be used for dress shoes, but they can double as great laces for boots too, especially since they're waxed to make them slightly more durable than regular aces.
Check Price on Amazon ➞
9. Diamondlace Heavy Duty Hiking Work Boot
These laces are supposed to be "five times stronger than steel," boasting a very durable and abrasion-resistant design that allows them to withstand deep water, corrosive chemicals, and extreme heat without breaking down. The company even states that they're fifteen times more damage-resistant than Kevlar.
The simple visual design means that they can blend into most footwear quite easily, and they're still the same size as regular laces, meaning that they'll be fully compatible with most standard boots and other types of footwear.
These laces are extremely durable and damage-resistant, but still keep the same shape and size as standard boot laces, allowing them to replace your existing laces with almost no difference in tightness.
Check Price on Amazon ➞
Boot Laces Buyer's Guide
The best boot laces are ones that you know you can rely on, but getting reliable laces requires that you understand what you actually need. Not everybody will find the same pair of laces useful, especially if you're somebody that has a job, hobby, or lifestyle that needs laces with specific materials or design features.
This can be anything as simple as the length of a lace to the total amount of force it can hold at once, so figuring out your requirements should always be the first step towards buying a pair, no matter who you are.
Size
Just like shoes, size makes a big difference. Laces that are too small or too large will become almost useless unless you're able to adjust them or cut them down, but even then, it's best just to have the right size from the very start. While a boot lace that's too long might not seem like a problem, it'll quickly get awkward to have to tuck the ends inside your shoe or tie an extra knot to ensure you don't trip up, and it just adds more hassle to something that should be quite simple.
Keep in mind that not all laces stretch far, either. While some are specifically designed to stretch when needed (mainly designs that use elastic), you can always end up with laces that are more solid and don't stretch at all. In this case, you'll have to make do with the length you have, so some people prefer to go slightly over their required length just in case.
It depends on what material the laces are made of. If the laces stretch, they're more likely to fit than if they don't, especially if you're just guessing at the size that you need. However, stretchy materials have their own set of downsides, too. Make sure you've measured the laces you need as best you can – the easiest way is to remove one of the existing laces and measure it in a straight line since this will give you agood estimate of what you need.
Safety
Safety is also  really important, and poorly-chosen laces can cause some worrying problems if you're not careful. Perhaps the most obvious is if they're too loose – it's easy to trip over laces that trail under your shoes, and this can be even worse if you're wearing heavy boots since you might find it harder to maintain your balance if you start to trip over.
Laces that are too tight can also cause a problem since you might hurt yourself by tightening them too much.The more your shoes dig into your skin or compress your feet, the more likely they are to rub against your skin or create small sores (or perhaps even cuts if the interiors are solid enough). Because of this, it's usually a good idea to try and strike a balance where possible, since the majority of people will want laces that are comfortable yet still tight enough to feel safe.
As a side note, depending on your job, it might be worth looking into fireproof laces. Most people won't have any need for them, but if you work around open fires a lot (whether you're a chef, firefighter or work in some kind of manufacturing role), you'll want to make sure that the ends of your laces can't catch on fire and burn your shoes (and by extension, your skin). It's not a widespread problem, but it can still surprise people who aren't prepared for it.
Style
The style might not be the first thing that comes to mind when you're buying boot laces, but it can matter, and it might even affect your job or hobby under certain circumstances. The simplest reason you might care about style is, of course, the color – colorful laces can make or break certain pieces of footwear, and could even ruin an entire outfit if they stand out enough. On the other hand, colorful laces can also be a good way of identifying your shoes if you work or live with people that have the same footwear, especially if they're different sizes.
In some cases, colored laces can also be a problem. For example, many hunters and birdwatchers wear hunting boots for the added protection against the elements, but bright colors might make them stand out more to the animals they're following. It might also make it harder for people to take you seriously if you're in a professional environment, especially if the rest of your clothing is completely formal, but you have bright lime green or pink laces.
There's another kind of style that matters, too: the overall look of the laces. Branding, logos, patterns, and materials all make a massive difference in how laces look, and not all of them will be appropriate for every situation. Some materials just look less formal in general, while others can look too formal for hiking or walking gear.
Materials
Speaking of materials, remember that different laces will be made out of different things. Even if two laces are made with the same materials, they can have completely different ratios of one material to the other, and two designs that look identical might actually be made of very different things and in very different ways.
Perhaps the most obvious reason to care about the materials is their durability – stronger laces can put up with more physical wear and tear before breaking or snapping. It can also affect how well they hold up against different weather conditions, especially when it comes to things like rain or humidity. In fact, depending on the materials used, water can sometimes lead to cheaper laces fraying easily or even retaining the water and getting soggy.
On the other end of the spectrum, you have comfort – some materials are just more comfortable than others, and it's not always easy to tell from a glance unless you do some research into the materials too. While laces aren't that important in terms of comfort, since they aren't pushing against your bare skin, they can still make a difference.
Softer materials will be less rigid, allowing them to bend and stretch slightly but reducing how strong they might be. Harder laces will be the opposite, providing a tighter fit that won't loosen easily. Depending on what you need your boots for, you'll want to have one over the other.
Expert Tip
The best boot laces are ones that feel comfortable – try to prioritize a comfortable fit over everything else if possible.
Did you know?
There's no set pattern to replacing your laces, so don't be afraid to keep an existing set if they're still serviceable.