10 Best Hunting Boots in 2021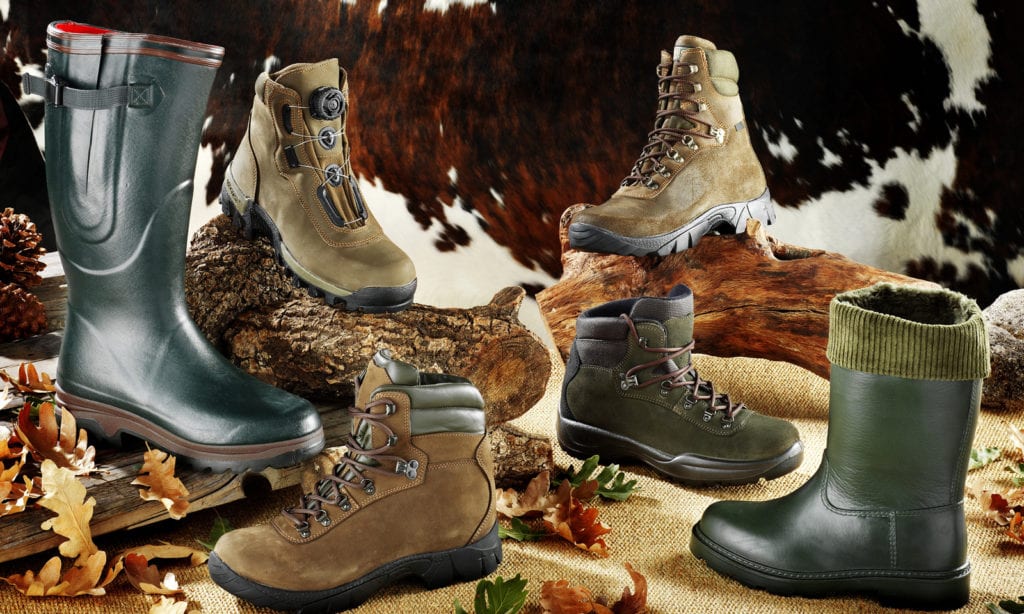 Anyone who's been hunting before will know how important it is to be wearing the right sort of hunting boots. As with many sports and activities, the right footwear makes a big difference. If you're wearing adequate boots, your feet will feel comfortable, warm and protected. But the proper boots will also protect you against the habitat you're hunting in, as well as making sure you don't give off any other odors which could lead to an animal knowing you're on to them. In this article we'll be looking at the best 10 hunting boots on the market, which will be able to help you choose the right boots for your hunting needs.
View the Best Hunting Boots, Below.
1. Kamik Men's Nationplus Boot
This pair of Kamik boots keep your feet warm, cozy and dry while you're out and about hunting. The Kamik brand understands extreme conditions, so no matter what you're going to face in the brave outdoors your Kamiks will help keep you protected. Overall, these hunting boots are dependable, reliable and good at their job. We recommend getting the size above your standard size as they tend to run a bit on the small size.
These boots fit perfectly and kept us warm and comfy in the long hours of hunting. With only one layer of socks and in snowy temperatures of 22-30 degrees Fahrenheit we felt super toasty.
Check Price on Amazon ➞
CHECK PRICE ON ZAPPOS ➞
2. Lowa Men's Tibet GTX Trekking Boot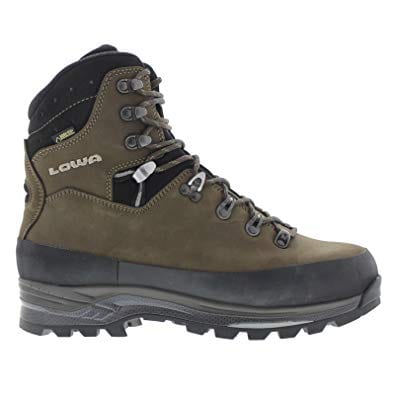 These Lowa Men's Tibet GTX Trekking boot is excellent for any hardcore hunters looking for a pair of boots as ready for adventure as they are. Whether you're trekking for miles to catch your prey or you going to be hunting off-trail a lot these Lowa Men's Tibet Boots are the ones for you. Thanks to the premium nubuck leather uppers of these boots you can easily take them anywhere.
And with the addition, of a durable but waterproof and breathable Gore-tex lining your feet will be feeling sturdy but comfortable. We also loved the PU midsole which provides a longer lasting underfoot support which is definitely needed when you're carrying large equipment around with you for hours on end. Inside the boot, you'll also find a special ankle flex design which enables you to walk comfortably.
These boots are a great pair of high-quality, durable hunting boots perfect for any activity off trail or cross country and even suitable for scrambling your way up a mountain peak!
Check Price on Amazon ➞
CHECK PRICE ON ZAPPOS ➞
3. ArcticShield Insulated Rubber Outdoor Boots
Whether you're looking to take these boots out in mud, rain or snow, you'll easily be able to hunt to your heart's content in these Arctic Shield's Neoprene Rubber Boots. These boots feature a 7mm neoprene rubber and are also heat-resistant to retain insulation and return 90% of the body's warmth back to you! There's also super lightweight and windproof water-resistant insulation inside which keeps you comfortable no matter where you are or what blizzard you're about to face.
You'll never have to worry about being seen in these hunting boots either as they feature a practical and stylish camouflage lining. These boots really make a great Christmas or birthday present for any hunting fanatic. We're sure your husband, father or brother will be over the moon with a present as durable and long lasting as these hunting boots.
Our favorite thing about this hunting boot was definitely the 7mm neoprene which is combined with the lightweight retain insulation. These features made us feel warm and protected where ever we wore these boots.
Check Price on Amazon ➞
CHECK PRICE ON ZAPPOS ➞
4. Irish Setter 2870 Vaprtrek 8″ Hunting Boot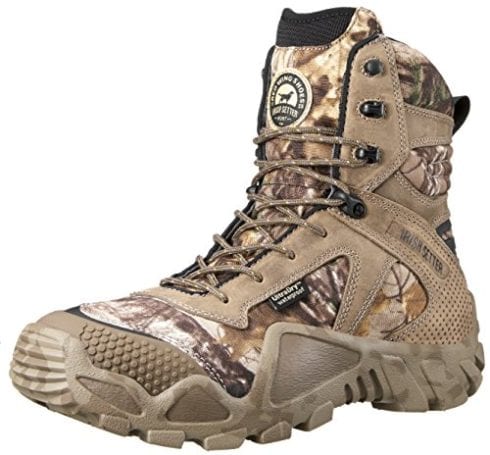 The Irish Setter hunting boots are brilliant for those looking for a lighter boot than the traditional ones - as this particular model is 40% lighter than most others. This makes the Vaprtrek 8 inches more responsive and mobile - the most athletic hunting boot ever! You'll not be seen in these beauties either thanks to the camouflage design. These hunting boots are also waterproof thanks to the UltraDry technology which help keep your feet dry but allow your feet to breath.
The UltraDry really is just brilliant for long-lasting performance and comfort as you hunt. We also loved the ScentBan control technology which makes sure odors stay inside the boots instead of escaping and giving you away to your catch!
We really enjoyed how lightweight these boots were, without compromising on durability. Overall, we loved how great these are during the early-season of hunting.
Check Price on Amazon ➞
CHECK PRICE ON ZAPPOS ➞
5. LaCrosse Men's Grange 18" Hunting Boot
These LaCrosse Men's Grange 18inch boots are great for those hunting in wetlands, this is thanks to their 50% neoprene material. We also adore the patented AeroForm technology which delivers extreme comfort and durability in a subtle boot. The rest of the material which isn't neoprene is made from polyurethane for a super ultra-lightweight flexible and waterproof comfort. We know there's nothing worse than having wet feet during a hunt!
LaCrosse took over four years to create these beauties of hunting boots, this makes them truly one of the most outstanding hunting boots out there on the market today.
Check Price on Amazon ➞
CHECK PRICE ON ZAPPOS ➞
6. Danner Men's Pronghorn 8" Hunting Boot
The Danner Men's Pronghorn 8 inches are a solid hunting boot which is definitely built to last. Featuring a camo hide leather and a streamlined design you'll easily be able to get yourself around any terrain in these boots. We equally love the all-leather toe and heel cap which protect you against the general wear and tear. Thanks to the wider opened toe box, those with wider feet will be able to wear these hunting boots with ease.
This Danner also comes with a waterproof and breathable Gore-tex lining which help keep your feet dry where ever you hunt. This boot will really be there for you no matter where you end up roaming this is thanks to such outstanding craftsmanship with the outside to the inner footbed of ortholite with triple layers of cushioning for maximum comfort.
Our favorite thing about these boots has to be the rugged hardware which quickly creates a secure fit and long-lasting performance so you can concentrate on hunting!
Check Price on Amazon ➞
CHECK PRICE ON ZAPPOS ➞
7. Rocky Retraction Insulated Outdoor Boot
The Rocky Retraction Insulated Outdoor Boots are brilliant for those who care about having dry and warm feet while roaming around the outdoors. The camouflage design and leather material of these hunting boots help you look great but don't let you stand out too much. We also adored the nylon in these which prevent the shoes from tearing as we walked through woods.
The insulation in these hunting boots of 800 grams makes it super easy and toasty to hunt during even the coldest of winter months. As far as men's hunting boots go, we think you'll find these hunting boots brilliant for keeping you safe and waterproof!
We loved the 100% leather and textile design of these boots which gives them a luxurious and durable feel.
Check Price on Amazon ➞
CHECK PRICE ON ZAPPOS ➞
8. Irish Setter Men's 880 Elk Tracker
These Irish Setters mean business which you can tell from their rubber sole to their 100% leather and their 200 grams of insulation. One of the best things about this Irish Setter is the exclusive scent control process which is added to the leather material which allows it to hide its scent as well as killing any bacteria which may grow around your hunting boot. In addition to this, the gore-tex technology blocks moisture from the outside which allows the moisture to evaporate from the inside.
Our favorite thing about these hunting boots was the 3M Thinsulate Ulta insulation which is thin and warm while remaining durable to withstand the long hours you'll be trekking in them.
Check Price on Amazon ➞
CHECK PRICE ON ZAPPOS ➞
9. Muck Boot Unisex Woody Sport
These Muck Boots are great for both sexes being able to get stuck in with the hunting. Featuring a neoprene and rubber material means these boots are perfect for hunting ducks in the wetlands for example. And thanks to the 2mm of thermal foam under the foot alongside the warm fleece lining, you'll be able to stay dry and warm whatever the weather conditions.
You'll easily be able to hunt between temperatures of -40F to 39.2F. The CR Flex-Foam also featured in these hunting boots allow it to adjust to your foot's contours which ensure you get the most comfortable and stable foundation while you hunt. This prevents you from any chafing or blisters.
We adore that woman can join in on the hunting action too while wearing these unisex hunting boots.
Check Price on Amazon ➞
CHECK PRICE ON ZAPPOS ➞
10. Under Armour Infil Ops Ankle Boot
Under Armour Ankle hunting boots are perfect for any weather really. Featuring breathable Gore-tex membrane which is 100 percent waterproof but still manages to let sweat escape so you can stay both dry and warm while you hunt! What's really special about this hunting boot is the Cupron anti-fungal pro fibers which helps reduce and kill odors which are 99% proven to prevent athlete's foot fungus!
Our favorite feature in these hunting boots definitely has to be the molded rubber top cap which helps provided fantastic support during those long hunts.
Check Price on Amazon ➞
CHECK PRICE ON ZAPPOS ➞
Hunting Boots Buyer's Guide
There are many types of hunting boots available, so we've outlined what you need to know to find which pair of hunting boots are ideal for your needs. Important things to consider include where you'll be hunting and in which season, or what the weather will be. As with any purchase, it's important to make sure you've researched this topic correctly to ensure you get your money's worth.
Additionally, the amount of activity and risk involved in hunting requires you to make sure you have the right protection. Choosing the right pair of hunting boots will not only bring you comfort, but they can also provide you with some essential health and safety.

Hunting Boot Types
This is what's so great about the hunting boot industry these days, is that you can actually pick what type of boot you need based on the activity and habitat you'll be hunting in. We can't stress enough how important it is to have the right type of boot and insulation when you go hunting. We'll be covering the main three models of hunting boots here for you:
Field Boots: Field hunting boots are great for those wanting a pair of shoes to protect them during inland hunting with different terrains and potentially cold weather. But this boot will not survive your hunting activities if they include getting wet, this is because the field hunting boot is made with leather, mesh, and nylon and therefore does not include waterproof materials. These boots can consist of a variety of insulation to suit your weather needs. Overall, the field boot is perhaps the most classic of all hunting boots as it's perfect for providing stability and protection over rugged terrain.
Rubber Boots: For those looking to keep their feet as dry as possible while they hunt in wet conditions, for ducks for example. You'll definitely need a pair of rubber huntings. These boots also help you avoid absorbing smells from yourself or the others your with. This is thanks to the rubber material which doesn't easily hold on to odors as it reflects away water. One of the only things you can't do with a rubber boot is take it to a super cold climate, this is due to the rubber material not lending itself well to the addition of insulation.
Snake Boots: There's a snake in my boot! Just kidding. Snake boots are the hybrid model between a field and rubber hunting boot and can be used for both situations. What makes the snake boot that extra bit special though is that these boots have more extended collars and are made out of special materials which protect you from poisonous snake bites!
How many Grams of Insulation for Hunting Boots?
The right type of insulation is imperative when choosing a pair of hunting boots because your feet need to be kept both dry and warm while you're outside for long periods. It, therefore, depends on the type of hunting activity you are undertaking to know how much insulation you will need. For example, 200 grams of insulation is grand for a mild day or an evening hunt as long as you're quite active during this hunt.
Most hunting boots on average will have around 400-600 grams; these are great for mild to cold days where you'll be moderately moving. But if you're going somewhere even colder we definitely recommend getting yourself a pair of boots with around 800 grams.
If you're going to hunt in extreme weather, we suggest you opt for 1200 grams, these work great in 30 degrees or less. But if you're about to go hunting in extremely cold weather, say under 0 degrees 2000 grams may suit you.
What is the Difference Between Hiking and Hunting Boots?
Both a hiking boot and a hunting boot will offer you great support to help give you stability and traction while you trek through woods and uneven surfaces. But there is actually a substantial difference between the two. Hunting boots are designed for where you will be wearing them, this is why they have insulation in some of them. But hiking boots are mostly made in different weights depending on your needs as a hiker.
This is one of the main differences, in that hiking boots are just general shoes which will help you across rocky terrain. However, hunting boots are made for the environment you will be hunting in. For instance, you'd want a pair of thin rubber boots if you're in marshy or swampy areas, but you wouldn't thank anyone for a pair of rubber boots if you're hunting in less than 30 degrees.
Although it may make sense in some instances to wear hiking boots instead of hunting boots. We would advise against this as it's essential to wear the right footwear based on what it was designed for. We think you'll definitely find you get a better hunting performance if you wear the right boots, this is because hunting boots with come with weather-proof features, insulation and even a camouflage design that you won't get from a hiking boot.
How to Get the Smell out of Hunting Boots?
You've already spent enough on making sure you have the best hunting boots for your needs and now their starting to smell. Well, don't worry we're here to help you get the scent out so can stay on top of your hunting game! We know there are some times in life that boot feet stink is not appropriate and hunting is one of them. So to keep your boots smelling fresh and neutral so they can't distract you from the hunt, it is best to get them clean.
Believe it or not, the best way to keep your boots clean and neutralized it to use a baking soda concoction. Firstly, rinse your boots out and then add water and dry. After you've dried your boots place some baking soda inside the boot leaving it to sit for a few hours even overnight if you have really particularly smelly boots! After this, you can re-wash your boots using normal soap and detergent.
Once your shoes have dried, you can once again place baking soda inside, but this time you can start wearing them still.
Remember to choose hunting shoes based on your hunting environment. For example, if you're hunting in water, you'll need an appropriate waterproof material. Also remember to clean and dry your shoes regularly to extend their use. Find something like a PEET Boot Dryer which can help dry your boots safely.
Did you know?
The greater the insulation on your hunting boot the harder it will be to walk in them. So even if you're going to need insulation, if you need to be quick on your feet while hunting, you might want to opt for less.