10 Best Oxford Shoes in 2021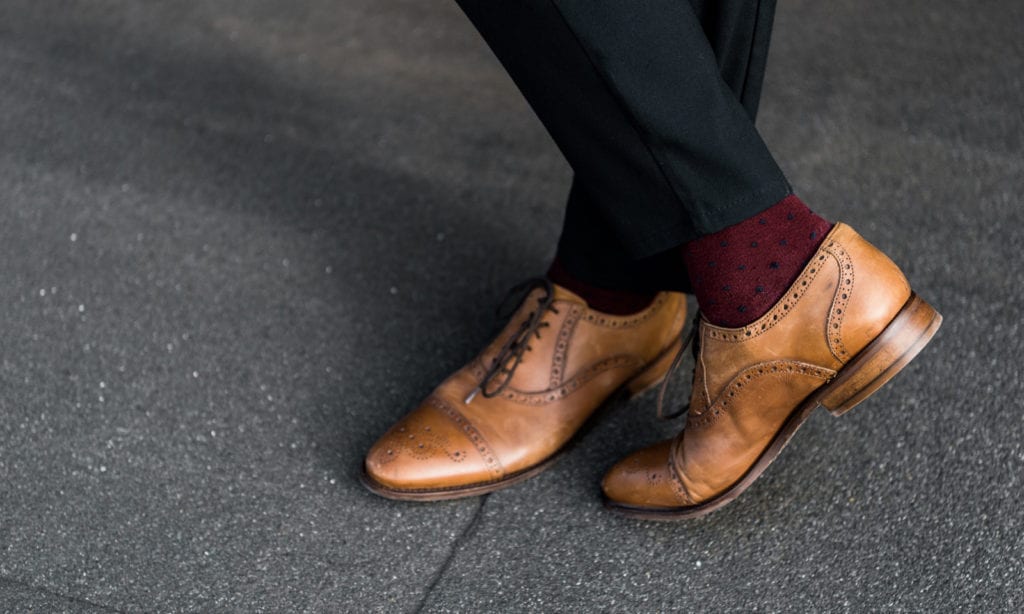 Oxford shoes are one of the simplest ways to make any outfit look smart. The iconic lace-up design helps add a touch of class with minimal effort. Whether you wear them to work, social gatherings, or more formal occasions, a pair of Oxfords is a staple item that anyone can pull off. While most smart dressers will always have a pair of these dress shoes in their wardrobe, it's hard to know which design will give you the most comfort with a classic sense of style.
Oxford shoes have been the professional footwear of choice since the 19th century, but now there are so many styles to choose from that it can be hard to find the best one for you. This article will take us through some of the best options. The following Oxford shoes offer a classic look in a range of designs. Looking through this guide should help you find the best pair.
View the Best Oxford Shoes, Below.
1. Clarks Men's Tilden Cap Oxford Shoe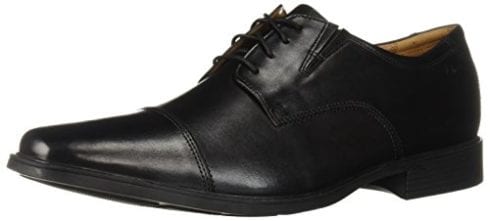 The first pair of Oxford shoes to look at comes from Clarks, who are renowned for producing durable footwear at an affordable price. This is a toe cap design, making for a simple yet elegant shoe that suits everyone. Available in either black or dark tan leather, these Oxford shoes are perfectly suited to formal occasions as they can easily match a range of suits or other outfits.
The TPR soles provide comfort when walking, as well as making them reliable and sturdy. Those who spend a lot of time on their feet could trust a pair of Oxfords like these to last through any long wedding ceremonies or even a regular walk to work, without having to worry about them wearing away under their feet. The soles also offer extra padding for added comfort when on the move.
These Oxford shoes by Clarks offer a durable design while maintaining a sleek appearance.
Check Price on Amazon ➞
2. Cole Haan Men's Lenox Hill Cap Oxford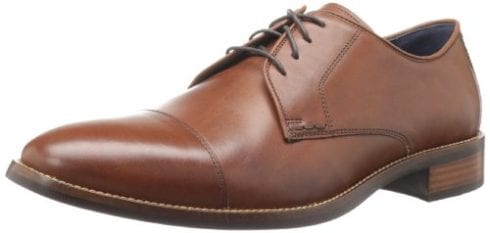 Cole Haan's toe cap Oxford shoes are all about an attractive, professional look. This pair can come in either black or tan, with the latter having a slight burgundy tone which makes them stand out as a stylish piece of footwear. Not only this, but they have a low, stacked heel which, while not insignificant, is subtle enough to make you look taller without raising any eyebrows.
The soles are made of strong gum rubber, meaning that these should be very durable and not too noisy when walking around. The Cole Haan Oxford shoes are designed for professionals who want to look smart and proper while going about their day and can offer plenty of comfort throughout.
These Oxford shoes are perfect for those willing to spend a little more cash on an attractive but subtle toe cap.
Check Price on Amazon ➞
3. DREAM PAIRS Bruno Marc Oxford Wingtip Shoes
These Bruno Marc Oxford wingtips are perfect for shoe shoppers who want a good looking design without having to spend too much money. Available at a low price, these Oxford shoes are perfect for formal occasions, with the intricate wingtip pattern making them stand out in any crowd.
Although the price is low, this doesn't seem to have had an impact on the standard of quality in the design, or the comfort of the shoe. In fact, this pair of Oxfords have a latex cushioned footbed so the wearer can stay comfortable in them through the longest meetings and parties. The non-skid outsole also makes them ideal for walking around while keeping a fresh, classic look.
These wingtip design Oxfords are an attractive and comfortable pair of shoes which is perfect for those who don't want to part with too much cash.
Check Price on Amazon ➞
4. CLARKS Men's Raharto Plain Oxford
The Raharto Plain Oxford shoes from Clarks offer a more unique approach to the classic design than many of the others listed in this article. Whereas the majority of the items listed are ideal for formal occasions, these plain style Oxfords have a more casual feel to them, highlighted by the white synthetic sole. The youthful look of the white soles is furthered by the lack of a heel and cushion soft technology, making them ideal for moving around at social gatherings.
Of course, these are still appropriate for formal events, but the relaxed impression they give off may be better suited to a night out with friends, where they can help make your outfit more stylish. These Oxfords are also quite light, giving the wearer a bit of extra freedom and comfort when on the move.
These shoes offer a more casual look through their plain design, helping them to match a wide range of outfits
Check Price on Amazon ➞
5. KENNETH COLE Men's Cap Toe Oxford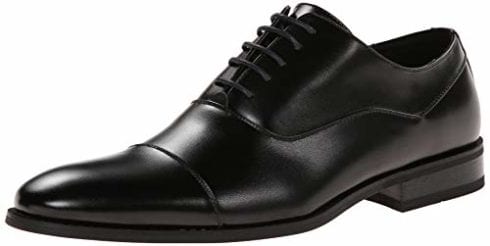 The sleek design of the Kenneth Cole toe cap Oxford is impressive, to say the least. Almost every aspect of these Oxford shoes is crafted to look as dapper as possible. However, the cushioned footbed means this is not done at the cost of comfort. The wax laces and the stitched detail on the toe cap design make these shoes stand out as one of the smarter options on the market.
Ideal for formal events, these toe caps may come at a higher price than some of the other options, but they certainly make for a classy look. Importantly, they boast a wear-resistant outsole so they are designed to last. Perhaps they aren't the best option if you want a simple shoe to wear to work, but if you're looking to show off a solid professional look, these could be a perfect choice.
These are some of the most dapper, attractive Oxford shoes on the market, with a sleek design that is worth the price tag.
Check Price on Amazon ➞
6. Stacy Adams Dunbar Wingtip Lace-Up Oxford
When it comes to comfort, these Wingtip Oxford shoes have it all. The memory foam insoles mean that these fit perfectly around your foot, with extra shock absorption for men on the move. The blind eyelet lacing and perforated wingtip design add some class to an already sleek piece of footwear. What's more, the subtle one-inch heel gives these Oxfords gentlemanly appeal, suitable for a date night or a simple work outing.
The breathable lining adds even more comfort and flexibility, so it's unlikely that you'll feel too stuffy after a long day in the office or a long night of celebration. Perhaps most importantly, these Oxfords look sleek and professional in black, brown, indigo, and cognac, so they can match any outfit or style that you choose.
The memory foam cushion insole makes these Oxford shoes superior in comfort and durability.
Check Price on Amazon ➞
7. DADAWEN Classic Suede Leather Oxford Dress Shoes
Making a classically smart Oxford shoe look casual is a hard thing to do, but DADAWEN has achieved just that. Their modern suede design gives these dress shoes a youthful appeal which is only furthered by the range of colors they are available in. Whether you want to wear them to a more casual party, or simply want to take a fresh approach to your suit, a pair of suede plain toe shoes can make any outfit look youthful while still elegant.
The non-skid outsole and cushioned footbed mean you can wear these while traveling or walking through town. On top of all this, they are available in half sizes, so there's no need to stress over finding the perfect fit.
The DADAWEN suede Oxford shoes are a youthful, modern take on the plain toe Oxford design, perfect for smart-casual social events.
Check Price on Amazon ➞
8. Bruno Marc Men's Oxford Dress Shoes
These Oxford shoes come in two brown colors which give them a more vibrant look when matched with your suit and can add some life to simple jeans and shirt combination when you're at a casual event. The high gloss sheen makes these dress shoes particularly smart and sleek for those occasions where you want to stand out from the crowd, and the cushioned footbed makes them comfortable when you're on your feet.
Like some of the other options, these also come in a non-skid outsole, so it is easy to walk around outside. The low heel adds a subtle inch of extra height and, best of all, they come at a very affordable price. These Bruno Marc Oxfords are flexible and breathable around the heel for extra comfort where it's needed most.
The Bruno Marc Oxford shoes are another smart, attractive option which come at a very affordable price.
Check Price on Amazon ➞
9. Calvin Klein Men's Brodie Oxford Shoe
Calvin Klein is a popular brand that is known for giving a stylish edge to all types of clothing, and when it comes to their Oxford shoes, this is no different. This offering comes in a sleek pointed toe design with a thin outer material making them ideal for summer. The lightweight material and simple laces mean that these can be the perfect pair both for walking to school in or for traveling to an important business meeting.
While comfort and style are most important for a proper pair of Oxfords, having a well-known designer doesn't hurt either. These Calvin Klein shoes offer all three. They are available in different shades of black and brown, allowing you to choose the pair which best matches your normal day to day look. Not only this, but they are certainly smart enough for a wedding or a big party as well.
These designer shoes come in lightweight patent leather, making them ideal for the spring and summer seasons.
Check Price on Amazon ➞
10. Rockport Men's Charles Road Plain Toe Oxford
Rockport's plain toe Oxfords are a very simple and practical design. The thick sole with shock absorption allows you to wear these for any job, whether you're stacking shelves in a supermarket or sitting behind a desk. The synthetic outer material is particularly easy to clean, so there is no need to worry about getting them dirty.
These shoes should last a long time no matter what you get up to when you're wearing them. The simple plain toe design means they can match with almost any outfit and they won't distract anyone's attention from your sharpest suit. The Rockport brand is known for its durability, and these shoes will survive the weather all year round, making them well worth the price. Unlike some dress shoes, these don't need to be a one-off for a special occasion.
These practical shoes are durable and easy to wear, making them suitable all year round.
Check Price on Amazon ➞
Oxford Shoes Buyer's Guide
Oxford shoes come in a range of styles and materials to suit all different kinds of events. This staple piece of footwear has been around for well over a century, so naturally, there have been countless innovations made which have since become classic styles. Unfortunately, having such a wide variety available can make it quite challenging to choose the right pair, so even after reading through a range of product descriptions, it is important to understand what it is you are looking for, and why you are looking for them.
Comfort is also vital when buying any footwear, so finding the right fit is just as necessary. Whether you want to wear them for school, work, weddings, parties, or even just for walking around the town, there is a type of Oxford shoe perfect to fit your needs. Therefore, this short guide should help you make sure you pick the right pair to suit whatever those needs are while maintaining the right balance between comfort and style.
Why an Oxford Shoe?
The first thing to understand when going to buy a pair of Oxford dress shoes for men is why you want to buy them in the first place. You can tell from the range available that quite a lot of styles fall under this category, so it is important you know what an Oxford shoe is, and why it is so special, before walking into your local shoe store.
The Oxford shoe is rumored to come from students wandering around the campus at Oxford University during the 19th century and has since become a favorite item for businessmen, school children, and fictional spies. This touch of class is something that makes Oxfords so iconic, but there are, of course,, some physical features that help you distinguish them from boots and Derbies.
Oxford shoes have a specific closed lacing system, meaning that it is stitched closed at the end nearest your toes. They are also cut low around the ankle, so it is always a good idea to wear them with some nice socks. The first decision to make is whether you want them brogued or not. This means that they have holes perforated in the outer leather, allowing for each pair to have a distinctive style.
Many of the pairs listed in this article are brogues but choosing not to have this extra design feature can appear more formal. This is clearly a matter of personal taste, but it is a good place to start when choosing which style you would like. With this understanding of what an Oxford shoe is, you can be more informed when deciding which type is best for your lifestyle.
Which Style to Choose?
As you can see from this article, Oxford shoes come in a range of styles. This means you have a choice to make as to which is best for you, before trying them out for size. Nowadays, the choice of style is mainly subjective, meaning you can simply choose the type that looks the nicest to you. In the olden days, there was a degree of formality involved in judging which were more appropriate, but thankfully that is no longer the case.
The styles of Oxford shoes are different based on the design of the toe, and there are a number of options to choose from. Firstly, there is a plain toe option, like the Rockport and DADAWEN offerings listed previously. These shoes stand out due to their lack of detail, and the plain design makes them appear more formal and best suited to smart or black-tie events.
Then, there are the cap toe Oxfords, which have a distinct line of stitching to separate the toe from the rest of the shoe. This adds slightly more detail but still retains its plain and formal look. Traditionally the least formal, and potentially the most stylish, are the wingtip style shoes. These are brogues that have a pattern that spreads around the shoe in the shape of the letter 'm'. This is a good choice of shoe for those who want to stand out from the crowd and show off their taste in footwear.
They can be suitable office wear or help make an outfit more lively for weddings and other parties. The variety in colors that Oxford shoes come in means that a wingtip shoe can be as subtle or as dramatic as you please. Of course, with each style, there are many pairs of shoes available, and they can have intricate or simple designs. However, choosing a style first can help narrow your options down.
Finding the Right Fit
Once you have chosen a design, and perhaps even settled on a specific pair of Oxford shoes that you like, it's vital to make sure that they fit you correctly and comfortably. Comfort is always important when choosing any type of shoe, but Oxford shoes are built to last. The inherent durability of this kind of footwear means you can expect to wear them for a very long time.
Therefore, buying a pair that are slightly too large or too small will not be worth your while. A general rule of thumb when purchasing Oxford shoes is to find a pair that have approximately one-eighth of an inch between the two eyelets holding the laces in place at the top of the shoe. This means that when you fasten the shoes together, you have just the right amount of room to stop them from being too tight or too loose, and this should reflect the fit of the rest of the shoe.
It is always a good idea to try them on and, if possible, walk around in a pair before buying to make sure your feet will have the right amount of freedom. Other factors, such as a cushioned footbed and a memory foam insole, are always good to look out for in order to gain that extra degree of comfort.
Expert Tip
No matter which Oxford shoes you go for, it's important that they are comfortable. A strong rubber sole allows you to walk around comfortably regardless of the occasion.
Did you know?
Although the origin of the Oxford shoe is unconfirmed, they have been a popular choice of professional footwear since at least the 19th century.