10 Best Men's Shoes in 2021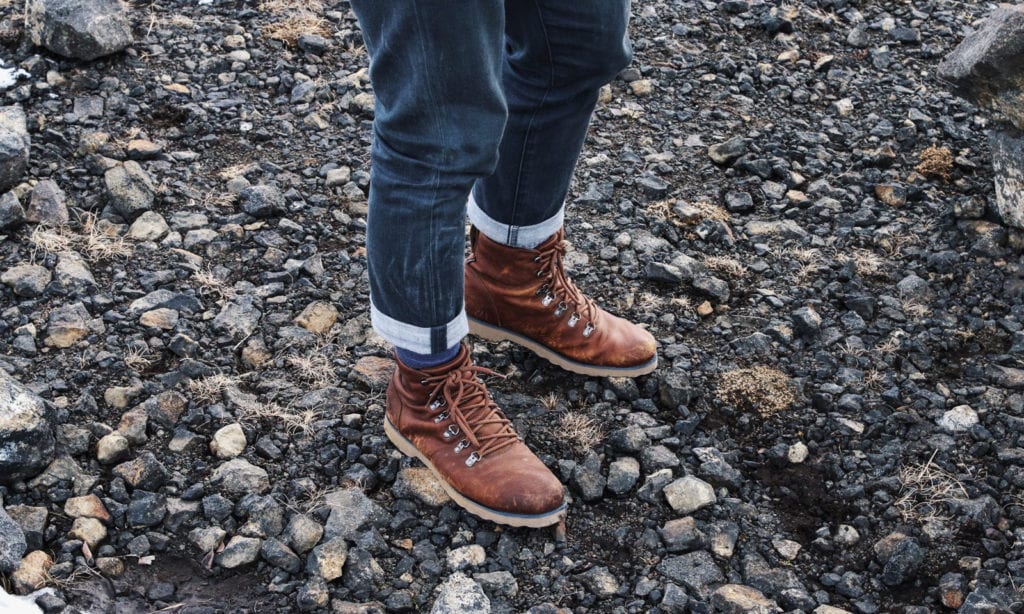 Shoes are an essential part of any gentleman's attire. Whether you need a pair suitable for the office, a big night out, or just walking through town, it is important you have a strong, comfortable, and stylish pair that you can rely on. From sneakers to boots and brogues to loafers, there's all manner of styles on the market to suit whatever situation you may find yourself in.
When it comes to choosing the right pair for the occasion, it can be hard to make a decision with so many options available. For that reason, we're going to run through some of our picks for the best men's shoes in stores today. Hopefully, with the help of this article, you will be able to find the perfect fit.
View the Best Men's Shoes, Below.
1. Clarks Men's Bushacre 2 Chukka Boot
The first men's shoes to look at are these Chukka boots from Clarks. Clarks is a reliable manufacturer of shoes, so you can expect a high level of quality to come with the label. This is first shown through the 100% leather design. They might take a few wears to break them in properly, but the quality material will look smart whether you wear them casually or formally.
These men's shoes are great for the range of options they provide. The whole look is semi-formal, so you could probably wear them for workdays and days off, but this will all depend on the color you choose. There is an enormous range available, and some even come in a slicker suede option too. Once you have selected your style, you can specify the fit as they come in both half sizes and wide fit. One downside to these shoes is that they can be larger than usual, so it is recommended you buy half a size down.
These boots can fit almost any occasion thanks to their smart-casual design. The wide range of colors and the suede option means they can match any outfit too.
Check Price on Amazon ➞
2. Nike Men's Air Force 1 Low Sneaker
Nike has produced the first sneakers in our list, a pair of low Air Force 1s. The low design brings you down to earth with great comfort and a certain style. This design is a timeless classic, which originated as basketball shoes for the stars and has now become the trendy street fashion of the modern-day. With a range of colors available, and a plain, perforated upper, these should match any outfit and keep you looking fresh.
As well as style, these men's shoes offer great comfort. The soft cushioning can match any other sneaker, and the perforated leather material makes them more breathable, so you shouldn't get sweaty feet. Also, the rubber sole is very durable, so you won't cause damage any time soon. These are vibrant, stylish sneakers, and we recommend them for a more casual look.
These are a stylish pair of sneakers from the popular brand Nike, bringing fashion back to the original Air Force design basketball men's shoes.
Check Price on Amazon ➞
3. Nike Men's Benassi Just Do It Athletic Sandal
Another offering from Nike is this pair of Benassi Athletic Sandals. Admittedly, sandals aren't the most versatile form of footwear, but if you are looking for something to lounge around the house in, or even to wear by the pool, these are the ideal choice. The spacious sole gives your toes room to move and air to breathe, and the strap keeps your feet in place without any discomfort.
Comfort might be the number one priority for a pair of sandals, but these don't look too bad either. They come in a wide range of colors, so you can look as bright and flashy as you like. They also have the strong Nike tick across the front so you can show off your good taste in brands while you strut around. If you are after some relaxed footwear, these are the most fashionable way to do it.
These sandals offer the comfort and breathability of sports shoes while being casual enough for loungewear or to use on vacation.
Check Price on Amazon ➞
4. Clarks Men's Tilden Cap Oxford Shoe
Next up are another reliable pair of men's shoes from Clarks, and they look great too. Oxfords are one of the most historic, classic designs of footwear available. Ideal for work or formal events, oxfords offer a level of class that you don't get with most other men's shoes, and the reliability and durability of the Clarks brand mean they will last a long time without any need to worry.
The classy style of these Tilden cap oxford shoes is demonstrated by the material, which is 100% leather and comes in various shades of brown and black. You can easily find the shade that suits you or your clothes the best. For extra comfort, they even come with built-in ortholite insoles, so your feet are cushioned with room to breathe. They come in half sizes and wide sizes too, so you can find the perfect fit.
This is another pair of reliable men's shoes from Clarks which match the classic look of oxfords with the extra comfort of an Ortholite insole.
Check Price on Amazon ➞
5. Skechers Men's Equalizer Persistent Slip-On Sneaker
Another pair of sneakers come from the popular footwear brand Skechers. Skechers are known for their easy, comfortable shoe designs, and these persistent slip-on sneakers are no different. Without laces, these men's shoes let your feet slip straight in and straight out, making them perfect for a lazy day or rushing out of the house. What is more, the lightweight, breathable design means you will barely feel them as you go about your day.
As well as being lightweight, the breathable mesh of these men's shoes means your feet get plenty of air. Also, they are well padded, especially around the collar, so they should be very comfortable. You won't feel any stress or discomfort around your foot. If that is not enough for you, there are also multiple color options so you can choose your favorite look to match your casual clothes.
Skechers have produced these easy, slip-on sneakers with comfort in mind, and the breathable mesh should stop your feet from sweating on the move.
Check Price on Amazon ➞
6. Bruno Marc Men's Dress Ankle Boots
Another formal addition to your shoe collection are these ankle boots by Bruno Marc. Bruno Marc produces fantastic formal wear, and a wide range of men's shoes in a classic, brogue design. These dress shoes offer real class to your outfit and are perfect for looking smart through the winter months.
The faux leather may not seem as high quality as some boots, but it makes them more flexible and more affordable. Comfort is often missed when buying boots, but these are a good solution to the problem. They even have a zip up the side so you can take them on and off easily without causing any damage. They also have two shades of brown available, if you want to be picky about the color.
If boots are more your thing, these shoes offer the high-class design of brogues, with plenty of comfort and flexibility.
Check Price on Amazon ➞
7. Crocs Men's Santa Cruz 2 Luxe Loafer
One of the most well-known shoe manufacturers in the world are Crocs, but not always for the right reasons. While some people appreciate the simple, comfortable, and convenient design of Crocs, most people think they are a bit on the ugly side, and they have become unfortunately famous for it over the years. However, the haters can bite their tongue when they see these loafers, as the simple appearance makes them an attractive item with more comfort than any before.
The comfort of these men's shoes mainly comes from the croslite material. These will feel like clouds of air around your feet, making them ideal for relaxing in your home. As well as that, the simple and subtle design means you can wear them out as you go about your day if you like a laid-back look. The range of colors gives you plenty of options to choose from. Some customers say the sizing is a bit tight but, with the right fit, you won't want to take them off.
Crocs may be seen as unfashionable, but you won't even recognize these loafers thanks to their extra soft inner material and subtle design.
Check Price on Amazon ➞
8. adidas Originals Men's Superstar Sneaker
Another option for a casual pair of sneakers is the Adidas Original Superstars. In the world of sneakers, there are few things more iconic than the trademark 3 stripes of Adidas. In fact, one of the few other iconic features is these superstar shoes worn by sporting heroes of the past. The classic design seems as modern as it is retro, and they should look great on any lively feet.
If you want a flashy shoe, it better be comfortable too. These men's shoes offer plenty of support through their well-padded insoles, and the rubber soles let you bounce around without any damage. The upper leather material will last for a long time and still look great, provided you can keep them clean. When it comes to sneakers, Adidas Originals have a design that deserves to be considered by all customers.
These are a classic, retro pair of sneakers that will look fresh and youthful on anyone's feet. The three stripes of Adidas are timeless.
Check Price on Amazon ➞
9. Sperry Men's Striper II Salt Washed CVO Sneaker
The last pair of sneakers in this list of the best men's shoes are this salt-washed pair from Sperry. Sperry has produced these canvas shoes to offer a casual look to everyday clothing. They may not be great for athletics, but the comfort of breathable canvas is nicely paired with the laid back look they offer. A lot like classic Converse, these shoes offer a relaxed fit and design while feeling very lightweight.
Canvas shoes are often susceptible to wear and tear after regular use, but the rubber soles shouldn't see any damage. They are non-marking too, so you could use them for light exercise indoors. Saying that they are mainly a fashion shoe. Any outfit will look more youthful with the addition of canvas, and the range of colors makes these even better. Even the footbed is spacious and comfortable, so you can relax while you go about your day.
The youthful appearance of the canvas is matched with reliable rubber soles and a spacious, comfortable footbed to make these stand out as a great pair of casual sneakers.
Check Price on Amazon ➞
Men's Shoes Buyer's Guide
Shoes should be the easiest purchase in the world. Absolutely everyone needs them, and almost everyone enjoys looking at them, picking a style, and buying them. So why is it so difficult to choose? Well, they are just too important, so the decision is too hard. Also, so much can go wrong with shoes. You need to have an appropriate pair for work and for parties, and they need to fit right too.
A gentleman should really have a good pair of shoes to match every occasion. Nobody wants to be caught out by having a pair too bright and flashy for the office, or too dull and boring for a night out. Finding footwear to match your clothing is even harder. With so many styles available, it is hard to know which pairs will go with everything, and which will be a one time wonder.
To help you make the right decision, this little buyer's guide will take you through the three main problems: matching the occasion, matching your style, and picking a comfortable pair. This guide, along with the reviews above, should help you decide what you are looking for before you head out to the shops.
The Right Style for the Occasion
 The first thing to look for when buying new shoes is whether they match the occasion you want to wear them for. This might seem obvious, but there is nothing worse than wearing some canvas sneakers to a formal event, or some brightly colored suede boots to an important business meeting. In order to make the right decision, you need to know what you are going to wear them for, or whether they need to suit every situation, you could be in.
Are you looking for men's shoes to wear at work? If that is the case, you probably don't want them to be too bright or flashy. Oxford shoes offer a classic, smart design that can look great without standing out too much. A subtle toe cap design can be another to draw the eye, while the plain leather should keep you smart enough for any meeting or sales pitch.
If you are going for a more fancy pair, to suit a wedding or a simple night out, maybe you should experiment with some color. A suede shoe can offer more style for a formal occasion, while canvas or colored sneakers can be a more casual look for a night out if you keep them clean.
The best idea is to have some all-round good men's shoes for every situation. A pair of sneakers that aren't too bright can make a smart outfit more casual or a casual outfit more prominent. Brogue dress shoes can also be used for everything from parties to office meetings. This is a sensible decision that can save you money in the long term too.
The Right Style for You
 As well as matching the occasion, you need to match your own personal style. Not every man sees himself as stylish or thinks footwear is too important, but you should always be happy with what you are wearing. If you have a more laid back personality, sneakers or canvas shoes are probably more your thing. If you are a more charismatic, confident guy, maybe you could brave some bright sneakers or suede boots.
One thing you might realize is that matching your personality might match the occasion too. A party is only what you make of it, so if you want to wear your smartest dress shoes, you might feel smarter through the night. Wearing your colored Chelsea boots could change your mood too.
Comfort is Everything
Last but not least is comfort. No matter what you are wearing, they need to fit right. Otherwise, you could end up with blisters or worse. Nobody should suffer for fashion, so it is vital that you try on a pair of shoes before you buy them. Most online retailers will let you return items without much hassle if they don't fit, but if you've got the time, it is a good idea to get down to the store yourself and find the right size.
There's a lot of ways men's shoes can be made more comfortable. Some pairs have memory foam insoles, which will adapt to the shape of your feet. Some have extra padding around the toes and the collar of the shoe. To stop any pain, pick a pair that offers great support, and style can come afterward.
Expert Tip
As always, with men's shoes, comfort is key. If you don't get a chance to try them on, check out some reviews online as sizing can vary, especially with sneakers.
Did you know?
The Oxford shoe and all of its various toe cap patterns is one of the oldest types of formal footwear available, and an excellent choice for wearing to work.