12 Best Casual Shoes For Men With Jeans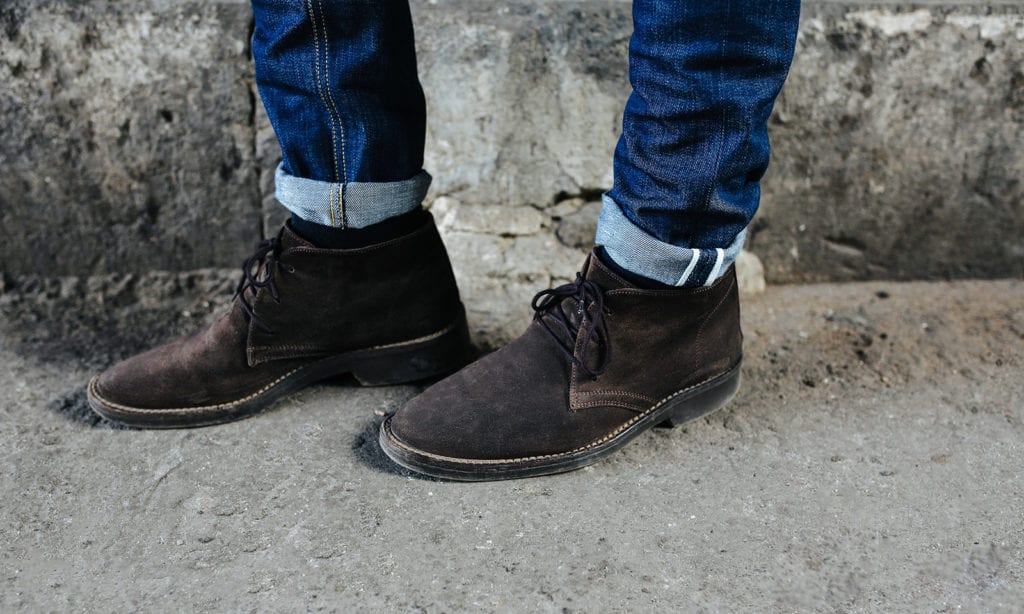 Jeans are a great addition to a huge range of outfits, both casual and semi-formal, but they are not always the easiest choice to work with. Many people struggle with matching shoes to their jeans, especially if they're trying to avoid looking plain or generic: not all shoes will work well with them, and some combinations have been tried so often that fashion-lovers actively try to avoid them whenever they can.
The fact that there are dozens of different types of jeans on the market doesn't help matters, either, and it's easy to get overwhelmed by choices that look good on paper but turn ugly when you try them on yourself Below are twelve of the best casual shoes for men with jeans we could find, as well as some hints towards the kind of style they're suited for.
View the Best Casual Shoes For Men With Jeans, Below.
1. Skechers Men's Classic Fit-delson-Camden Sneaker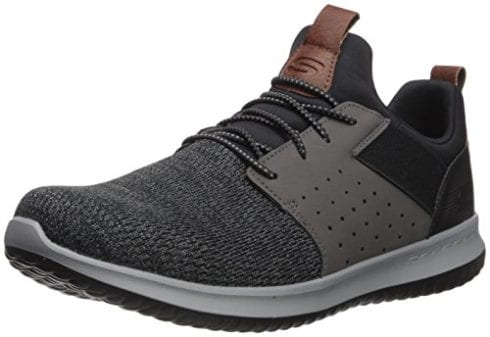 These synthetic and textile sneakers use an almost-two-tone color scheme that makes them very smart, even when they're part of a casual outfit. The breathable mesh and air-cooled memory foam help keep you cool on hot days, while the strong synthetic sole provides an excellent level of grip and protection to the bottom of your feet. Unlike a lot of shoes, these sneakers also have elastic bungee-style laces that are much more comfortable in the long-term, as well as a flexible midsole that adds more comfort and stability to the design.
These shoes are perfect for a smart-casual look, fitting nicely under both loose and tight jeans while providing an excellent level of comfort with each step.
Check Price on Amazon ➞
2. Blundstone Dress Series Chelsea Boot
These leather Chelsea boots use a high shaft and collar to keep your ankles safe and dry in all kinds of weather, with a thick rubber sole offering more protection and padding than regular casual shoe. The sides are divided into two different types of leather and fabric, providing an interesting and comfortable design that doesn't deviate from its solid colors too much. The heel area has extra shock protection to keep the vulnerable back of your foot safe, as well as a removable insole designed for anatomical accuracy and support.
Boots can be tricky to get right, but this pair is casual enough to work well under jeans without being too flimsy for regular outdoor use.
Check Price on Amazon ➞
3. JOUSEN Suede Oxford Casual Dress Shoes
The small perforations in these dress shoes make them perfect for smart-casual situations, or just as a piece of stylish casual footwear. Thanks to their straightforward and smooth design, they can also work really well in formal situations and have a low collar that doesn't interfere with thicker or wider jeans.
The latex microfiber lining and soft insole give you far more comfort than other formal shoe designs, while the rubber outsole adds, even more, cushioning on any surface, meaning that you won't need to worry about foot fatigue or sore heels if you've been on your feet for most of the day.
It's rare to find shoes that work with multiple outfit types, but these dress shoes work well in both formal and informal situations.
Check Price on Amazon ➞
4. Clarks Men's Bushacre 2 Chukka Boot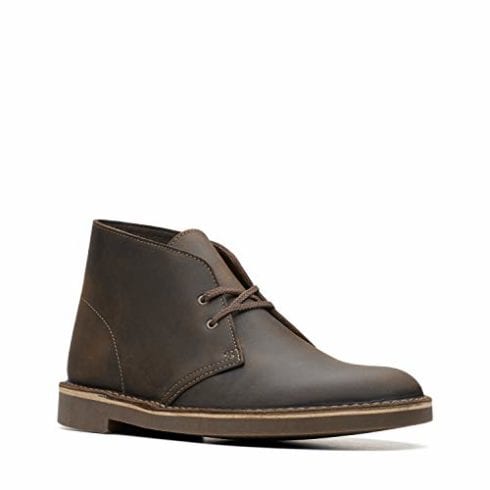 These Chukka boots are very simple and straightforward, using a basic four-holed lace-up design and a small heel platform that makes them very easy to wear. The crepe rubber sole is strong enough to protect your feet from all kinds of surfaces, both hard and soft, while the outer layer of the shoes themselves are surprisingly durable when it comes to bad weather and dirt. Thanks to the smooth bottom on the sole, you also don't need to worry about stones and other debris getting caught in your shoes, making them much easier to clean and maintain as a result.
Sometimes the best solutions are the simplest, and these boots are great for a range of different situations, fitting in well with most jean colors and styles.
Check Price on Amazon ➞
5. adidas Men's Seeley Skate Shoe
These canvas skate shoes have a very low design that makes them ideal for almost any kind of jeans, even tight-fitting pairs. The EVA insole provides an excellent amount of extra support, and the synthetic outsole beneath it helps reduce foot fatigue without throwing off your balance.
The canvas used for the upper section is well-ventilated and comfortable, keeping you cool and safe without feeling like you're being weighed down. On top of that is the synthetic overlays, which add even more structural support and visual detail to the shoe's simple and effective design.
While they aren't the most formal choice on the market, this pair of skate shoes can work with a wide range of outfits, especially alongside jeans.
Check Price on Amazon ➞
6. Sperry Men's Authentic Original 2-Eye Boat Shoe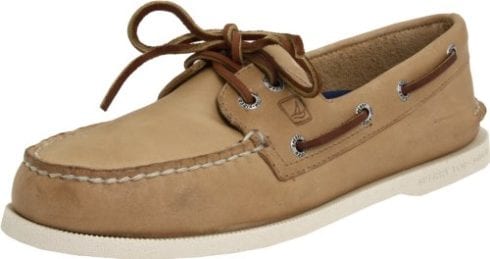 These leather boat shoes take on very authentic design, complete with proper laces and very comfortable shape. The slip-on-like design means that the Sperry boat shoes are great for casual use both indoors and outdoors, but the EVA heel cup and strong hand-sewn seams ensure that they won't fall apart easily if you start using them often.
The flat outsole is equally as durable, allowing for a natural grip and staying comfortable regardless of the surface you're standing on. Not only that, but the beveled heel section makes it easy to keep your footing on uneven surfaces.
Boat shoes can be a mixed bag most of the time, but this particular pair is great for anybody who wants to look good and stay comfortable.
Check Price on Amazon ➞
7. Clarks Men's Tilden Cap Oxford Shoe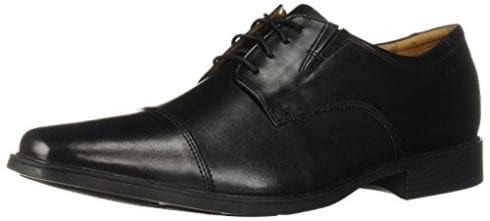 Oxford shoes are great for formal and professional outfits, and this pair uses a padded collar and soft insole to ensure that you feel comfortable while wearing them. The interior also uses plenty of extra cushioning, as well as moisture-wicking materials that improve breathability and get rid of any water or humidity.
Below that is the strong gum rubber sole and raised heel section, which absorbs shocks well and keeps dramatically reduce foot fatigue. You can even remove the entire ortholite footbed to replace it with your own, making it suitable for people with specific medical needs for their own molds.
Shoes like these can turn a pair of jeans into part of a professional outfit, and you won't even feel uncomfortable if you're more used to casual footwear.
Check Price on Amazon ➞
8. adidas Originals Men's Superstar Shoe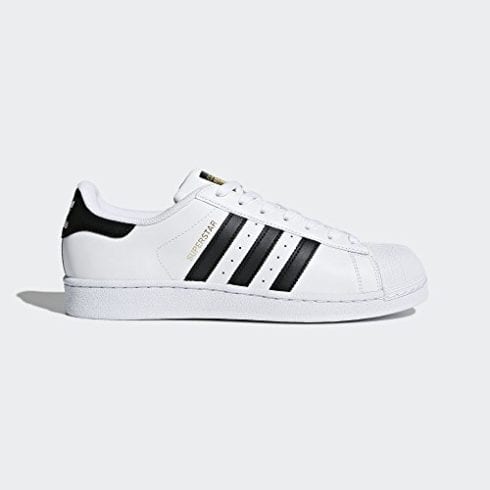 These sneakers combine simple design with an excellent set of materials ranging from real leather to durable rubber. The famous "shell toe" Adidas design provides great protection on the front of your feet, as well as boosting the overall stability and durability of each shoe, while the rear uses a raised heel that protects other vulnerable areas from harm on solid surfaces.
Thanks to its solid-color design, there's no extra flashiness or flair that can get in the way of the rest of your outfit, meaning that these shoes can work well in any situation that doesn't need perfectly formal footwear.
These sneakers are perfect for casual and smart-casual events, and you might just be able to squeeze them into semi-formal situations if you build your outfit well.
Check Price on Amazon ➞
9. DREAM PAIRS Oxford Wingtip Dress Shoes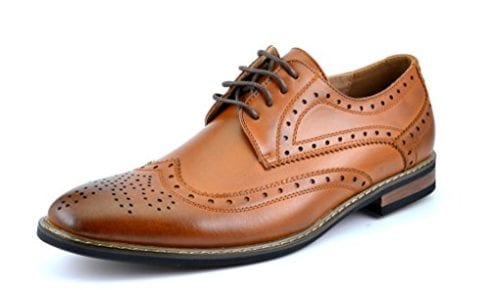 These lace-up dress shoes are perfect for people who need something formal yet stylish, taking a simple Oxford shoe shape and adding plenty of detail without overcomplicating the colors or materials. They're made out of durable faux leather and latex, providing excellent comfort without looking cheap, and the great construction means that they won't fall apart easily or lose their shape if you wear them often, so they can double as an excellent choice for casual settings too. Plus, despite having wingtips, they're subtle enough to blend into darker-colored shoes, making them look completely smooth from a distance.
These shoes are a good mixture of casual and formal, doubling as both when combined with the right outfit, jeans or no jeans.
Check Price on Amazon ➞
10. Polo Ralph Lauren Men's Faxon Low Sneaker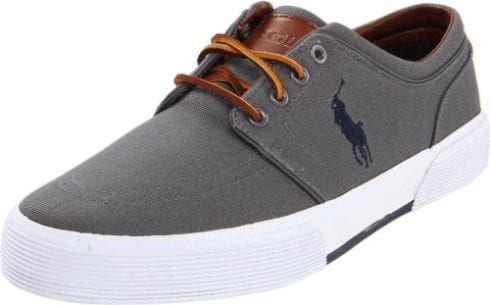 These low sneakers are built for as much comfort as possible, using a soft inner layer alongside its canvas top section to keep your feet protected from both physical and weather-related harm. The thick gum rubber sole provides far more support than many other trainers, and the lack of a large collar improves breathability without relying on a cheap-looking mesh.
Thanks to its simple eight-hole lace system, you can quickly adjust it to fit your foot exactly, and the low design means that you can treat it as a slip-on shoe too. Below all of that is the outsole surface, which uses a subtle pattern to improve your grip.
A low design makes it much easier to pull off combinations with jeans, so these sneakers might be some of the best casual shoes for men with jeans in a casual setting.
Check Price on Amazon ➞
11. BRUNO MARC NEW YORK Chukka Ankle Boots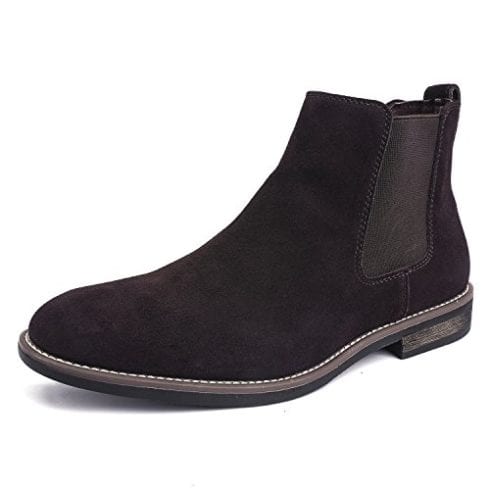 Made of leather and other assorted textiles, these boots look stylish without being over-the-top or flashy, letting them blend in with a range of formal and informal outfits. The stacked heel provides better stability and grip on rough natural surfaces, while the mostly-leather exterior keeps the weather off your feet regardless of the situation. To make these boots more flexible, part of each side is made of a stretchy material, letting you slip the boots on in seconds rather than having to undo any laces or force your foot into an uncomfortably small hole. This also allows it to protect your ankles properly in poor conditions.
Not all boots need to be for work purposes, and these make excellent casual wear in wetter or colder situations, especially if your jeans don't cover all of your legs.
Check Price on Amazon ➞
12. Bruno Marc Men's Bush Driving Loafers
These Italian-style loafers are very casual, offering plenty of comfort and grip while still retaining a classic overall appearance and silhouette. The materials are hand-sewn together for extra durability, meaning that they'll hold up longer than standard boat shoes, and the very simple laces make adjusting the tightness and fit really easy.
Not only that, but the outsole and midsole are designed for as much protection and comfort as possible, absorbing shocks and reducing foot fatigue without feeling too bulky. On top of that, since these driving shoes are so low-cut, they can be used as slip-on shoes or emergency footwear, and they won't interfere with longer jeans or other trousers.
While they're definitely meant for casual use, these shoes are stylish and classy enough to work in semi-formal outfits too, especially with jeans or other tight trouser styles.
Check Price on Amazon ➞
Casual Shoes For Men With Jeans Buyer's Guide
The best casual shoes for men with jeans aren't going to be obvious straight away, for a multitude of reasons. For one, it's not like there's a specific type that will work with jeans in every situation – it depends on a person's individual style, the atmosphere of the place they're in, and how the rest of their outfit is constructed. Jeans bridge a gap between formal and casual in a way that's hard to pin down, and it depends on the specific types of jeans you're wearing. Even if two people wear the same brand of jeans, there are also various sub-styles for different fits, so it can take a while to construct a good look from scratch.
The Occasion
One of the biggest mistakes you can make when going to a party, event, or another occasion is wearing clothes that stand out in a bad way. This can work both ways – turning up in casual wear to a formal event is obviously frowned up, but turning up to a casual event in formal clothing can also be really strange, and might even make it seem like you're trying too hard to look stylish. Make sure you know the occasion you're going to, and choose your shoes accordingly.
Let's say you're going to a work party where casual clothing is allowed. While you could technically turn up in jeans and sandals, you'll want to make a good impression, so something like stylish boat shoes or professional-looking boots might work well. On the other hand, if it's a night out with close friends, you should choose whatever's comfortable instead.
Remember that not all jeans are suitable everywhere, either. If you want to look smart, you'll probably want tight-fitting jeans – some establishments will treat tight jeans as acceptable formal wear, but not loose ones, so make sure you put on the right pair beforehand. Even if they're the same color and brand, the fit makes a huge difference.
Color
Shoes come in all kinds of shapes and sizes, but the color is often one of the biggest problems. Many casual shoes are designed with very bright (and sometimes mismatched) colors, which can make them look far more tacky or casual than they actually should be. On the other hand, if you've got a pair of casual shoes that use a single-color design, you might be able to pass them off as something more professional if you design the rest of your outfit well.
Ironically, the more detailed and ornate your professional formal shoes are, the less likely they are to count as formal shoes since they'll lose some of the straightforward and simple visual design that they're supposed to have. This can also be a massive problem with logos since many brands like to stamp colored logos onto their footwear in places that disrupt the rest of the design. You'll want as close to a single-color or two-tone design as possible if you're going formal.
Remember that jeans come in different colors, too.  The darker they are, the better they'll be for formal occasions, like with most regular clothes. In casual settings, you can usually wear whatever colors of jeans you like, but brighter blues will be some of the hardest to build a good outfit around.
The Fit
As mentioned earlier, the fit matters, but there are actually quite a few different jean fits to choose from:
Regular fit, which is meant for most body types. Works well with almost any kind of shoe.
Slim fit, which is slightly more formal but can still work with most shoe types.
Relaxed fit, which is loose and generally doesn't work with formal footwear.
Loose fit, which is even looser (as the name suggests) and mostly meant to be used with exercise shoes or other very informal styles.
Skinny jeans, which are usually very tight-fitting. Depending on how they look on your body, they can either be formal or informal, since it really depends on your body shape underneath them.
The best shoes for men with jeans aren't always going to be the same because of this since one person might wear a regular fit while another mainly wears skinny or slim jeans. This makes it harder to take one person's recommendations at face value, so make sure you get a chance to try on the shoes and jeans together if possible. You never know how a different fit might affect particular styles and brands, so it's worth figuring out a good outfit ahead of time.
The Weather
Like all footwear, weather can play a massive part in what you're actually wearing. Jeans are usually hardy enough to stand up to cold air, and slight drizzles, but not all footwear will be, so you might have to change your plans if the conditions don't go your way.
A good example is heavy rain – some shoes aren't built to stop it, and you'll quickly end up with soggy feet, damaged socks or even completely (if temporarily) ruined shoes. Modern technology makes it easy to predict bad weather, so you should be able to plan ahead, but you still need to choose carefully. Not all shoes are waterproof, and not all waterproof shoes look good, so you'll have to find something that fits all your existing criteria in addition to the need for waterproofing or weather resistance.
The opposite can also be true of heat – warm weather means that warmer shoes will become uncomfortable, even if they're still soft and durable, so you'll end up hating the fact that you're not wearing something lighter and more ventilated. Again, you can plan ahead for this, but it puts another obstacle in your way that you'll need to workaround.
Expert Tip
Remember that your top half also matters – if you can't make some shoes work with your jeans, an appropriate shirt, t-shirt or coat might salvage it, especially if it's coordinated.
Did you know?
Many shoes have laces that you can swap out – this can be a good way to inject more color into an outfit or get rid of laces that don't match the rest of your clothing.