10 Best Shoes For Foot Pain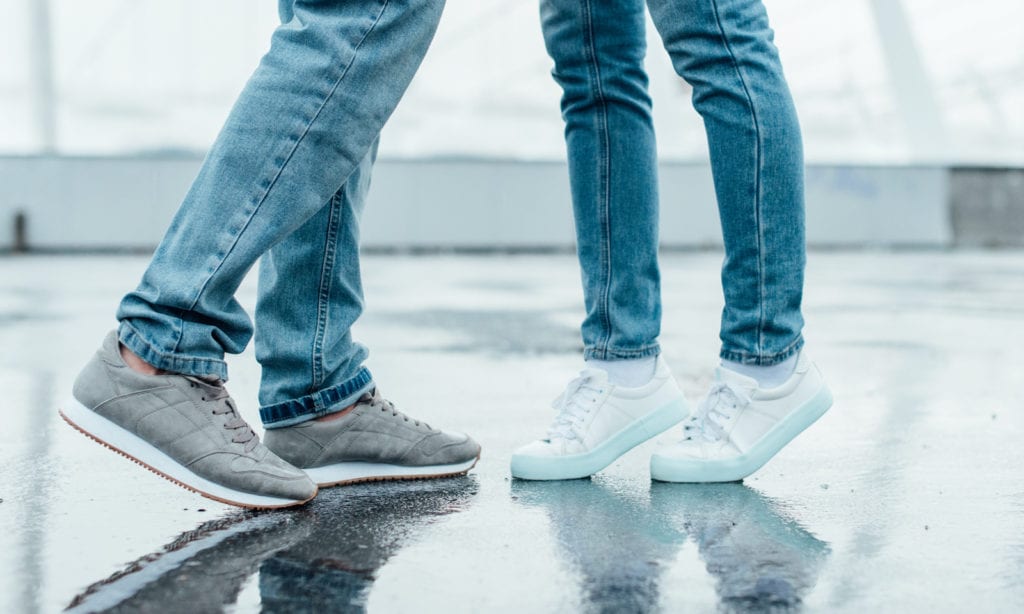 Many people suffer from foot pain. No matter how serious, it is important that you can manage to stay comfortable, the right pair of shoes is the best way of doing that. Foot pain can come in all forms, from plantar fasciitis at the soles of the feet to cramping and blisters caused by physical activity. The best shoes for foot pain will give you room to breathe and relax.
Finding the best shoes for plantar fasciitis and other foot pain problems can be difficult if you aren't sure what you are looking for. With that in mind, here are some of the best shoes for foot pain and tips on how to pick your perfect pair.
View the Best Shoes For Foot Pain, Below.
1. Skechers Performance Women's Go Walk 4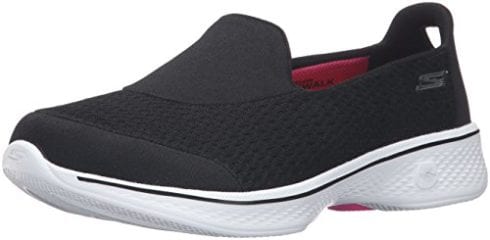 First up, we have these comfortable walking shoes from Skechers. These shoes are made for women on the move, as the breathable mesh material and lightweight design is ideal for long walks. While not suited for more active exercise, these are ideal for keeping feet fresh when walking and benefit from a bamboo-lined footbed, which prevents the appearance of bad odors.
As well as being well suited for walking, they are also ideal for dealing with foot pain. Of course, the same features that make them good for walking help stop the pain caused by plantar fasciitis and other foot problems. The light, breathable design means you won't feel any tightness or sweat around your feet. Also, these have strong support in the arches to prevent aches.
These casual shoes come in a lightweight, breathable mesh design that will be light on your feet and odor repellent, thanks to the bamboo in the footbed.
Check Price on Amazon ➞
2. CLARKS Women's Sillian Bella Mary Jane Flat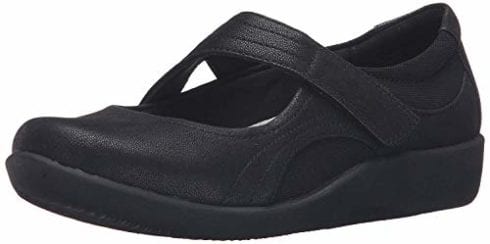 A slightly less vibrant pair of shoes are these Mary Jane flat shoes from Clarks. These are made for women who need smart, simple shoes that are comfortable. If you are a woman who suffers from foot pain, these might be the best shoes available to help you deal with the problem, and they come in a couple of different colors so you can choose how they look too.
The ortholite footbed is one of the most important features of shoes for foot pain, and these include one to give you plenty of space to wiggle your toes. They also have impressive cloud stepper insoles. This means that there are multiple layers to the sole, which provide comfort, softness, and shock absorption to help prevent foot pain.
The soles of these cloudstepper shoes are designed to support your foot through bouncy rubber that absorbs shock and an ortholite footbed that gives you room to breathe.
Check Price on Amazon ➞
3. Brooks Mens Adrenaline GTS 19 Running Shoe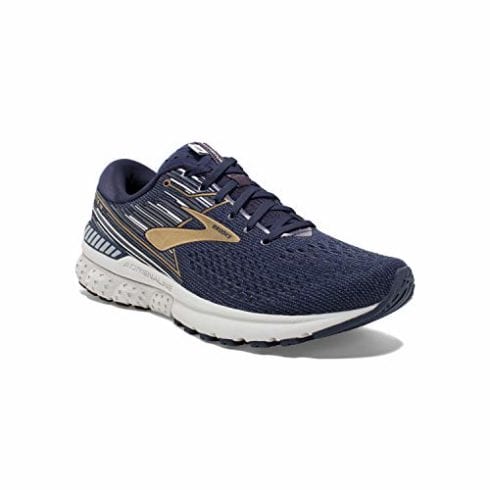 Next up are these running shoes from Brooks. Foot pain can cause all sorts of problems for the people that suffer from it, none more so than those who like to run and exercise. Men who run can take some comfort in these Adrenaline GTS 19 running shoes, which are designed with comfort and freedom from foot pain in mind.
These are available in a range of colors, so you can choose how you want to stand out on the track, and they have a range of sizes to match wider feet too. They take advantage of soft cushioning in the insole to give you as much comfort as possible when you are on your feet. They are also lightweight and breathable thanks to the mesh used in the upper material.
These shoes for foot pain are ideal for men who want to run and exercise without consequences, as they provide plenty of support while you stay active.
Check Price on Amazon ➞
4. Ryka Women's Devotion Plus 2 Walking Shoe
Another pair of women's shoes for dealing with foot pain are these Devotion Plus 2 walking shoes from Ryka. Ryka has designed these specifically for women. In doing so, they have engineered the sole and the footbed to match the unique shape of a woman's foot, making sure they get support and room in the right places.
They also come in a range of colors and can be quite stylish to wear when on the move. The breathable mesh design makes them look active while also giving your feet plenty of air while you walk. The soles are designed to give maximum support through their multiple layers, and they have shock absorption, too, so you will feel less impact.
These women's shoes have been designed specifically to offer support where women's feet need it most by matching a feminine foot shape.
Check Price on Amazon ➞
5. ASICS Men's Gel-Nimbus 21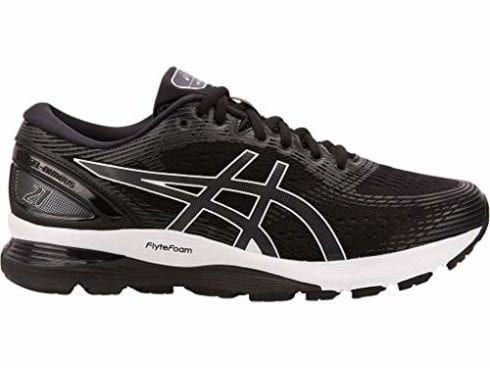 ASICS has produced a fantastic pair of sneakers to help men deal with foot pain. ASICS typically made very stylish and fashionable trainers, but these also have the benefit of being very comfortable and giving your feet the support they need for getting through an active day. In a range of colors and with their trademark style, you can expect to look your best while feeling free of foot pain.
They also offer all the support you need for your foot pain, including an effective cushioning system. This lets you feel the soft pressure under your feet that you need to keep going. They also have shock absorption in the soles to prevent you from feeling the impact from the ground when running.
These sneakers are designed to adapt to the shape of your foot for maximum comfort while looking pretty good too.
Check Price on Amazon ➞
6. Orthofeet Best Plantar Fasciitis Shoes
One of the best options for foot support is to buy through Orthofeet. Orthofeet has created these shoes for foot pain, which do everything they can to ensure you get the support and protection you need to deal with plantar fasciitis and other foot problems. This is achieved firstly through the supportive soles, which are designed ergonomically to cushion your foot when you put pressure on the ground. Support also comes from the orthotic insoles, which provide anatomical arch support.
The shoes are flexible too. This can be seen in the elastic laces, which will stretch appropriately to make sure you have the right level of tightness around the girth of your foot. There is foam padding too, and stretchable upper material. With all of these features, the shoes essentially mold around your feet, so help you in whatever way you need.
Orthofeet provides the best all-round support and protection for foot pain, thanks to arch support, extra padding, and a flexible fabric upper material.
Check Price on Amazon ➞
7. OOFOS – Unisex OOriginal Recovery Sandal
If you want the support of good orthopedic shoes but the casual look of someone on vacation, OOFOS recovery sandals are the best shoes for you. Whether you are sat by the beach or lounging around the house, sandals are the best footwear for relaxing, and now you can use them to fight foot pain too.
They come in a range of colors, so you can choose which look best on a deck chair or in the garden, and they are unisex so anyone can find comfort and joy in them. More importantly, they cradle your arches to alleviate any pain you may have there. They also use OOfoam technology, named in coordination with the brand. This means they are 37% more shock absorbent than standard foam sandals. If that is not enough, they are machine washable too.
These sandals are a little different, as they offer the foot support you normally find in sneakers with the freedom and informality of sandals.
Check Price on Amazon ➞
8. Birkenstock Arizona Unisex Leather Sandal
Birkenstock is one of the more well-known brands on this list, and they offer a bit more style with their sandals. These are classic sandals, but they are made of 100% leather, so you know you are looking your best with a touch of class. They come with a big list of color options, from khaki to zinfandel, which will help you to relax in style, and wide and narrow sizing to ensure maximum comfort for your foot.
The style offered by these slightly expensive sandals does mean that they aren't exceptional for dealing with foot pain. They have all the benefits that leather sandals should, but not quite the level of comfort technology that OOFOS and ortho feet provide. The soles are quite deep so that they can even out your body weight across your foot, but if you want more than the comfort sandals provide by default, you should probably look for something else.
If you want sandals with a touch of class, these Birkenstocks will do just that and help spread your body weight across your foot at the same time.
Check Price on Amazon ➞
9. Orthofeet Gramercy Men's Oxford Shoes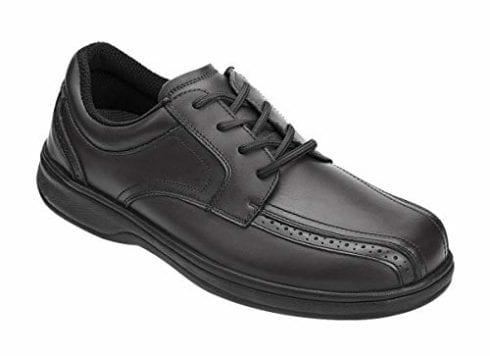 Finally, we have these Gramercy Men's Oxford shoes from Orthofeet. Yet again, Orthofeet has pulled it out of the bag with these shoes for foot pain. It is clear that a lot of effort has gone into designing these shoes to be as comfortable and supportive as possible for dealing with discomfort around your feet. There is plenty of foam padding and cushioning to keep your feet happy, from the sole to the upper fabric.
As well as padding, these also use a classic Orthofeet anatomical insole for giving you support and room where you need it. You can also enjoy a roomy toe box and soft leather, so you know that your feet are not under any strain. What is great about these shoes is, unlike most comfortable shoes for foot pain, they are still smart and formal. Orthofeet has managed to take the comfort and flexibility of sneakers and sandals and use it for leather dress shoes, so you have footwear for all occasions.
These are ideal for those who suffer from foot pain but still need smart-looking footwear for work or formal events, as they will provide both comfort on your feet and class.
Check Price on Amazon ➞
Shoes For Foot Pain Buyer's Guide
When it comes to buying the perfect walking shoe for plantar fasciitis, heel pain, or another foot pain problem, it can be hard for you to get the right pair. No matter how much time you spend looking at pairs of shoes online, it is tricky to really understand which ones will be comfortable to wear on your feet. Of course, it is important to try all shoes on before buying, especially when they are orthotic shoes, but there are a few tips you can keep in mind for helping you find the best shoes for foot pain.
No matter what foot pain problem you are dealing with, you need a shoe that will keep your feet comfortable when standing up for long periods of time, as well as when you are free to relax around the house. Style is important too, so when you look for those features, take the time to get a pair you like the look of too. Otherwise, let's go through some of those features to look for when you are buying shoes for foot pain.
Types of Foot Pain
Foot pain can come in various forms and can make you uncomfortable in different parts of your feet, whether that be your heel, the base of your foot, your ankles, or your toes. Pain through the base of your feet, known as plantar fasciitis, can be the worst form of foot pain and requires plenty of support in the soles of your shoes.
Shoes with arch support by brands like Orthofeet can give you support where you need it so that the pain is less stressful. These brands put comfort first and help you stay standing for long periods of time by putting lots of protection in the soles of the shoes.
Heel pain can be harder to relieve. With an orthotic shoe, arch support is often key, but you need to wear shoes that can take pressure off your heels, so they are painfree. This can be achieved by having a lower heel, but a heel which may have plenty of firm rubber underneath it. This will free you from heel pain by balancing your weight more evenly across the base of the shoe. You can be free from heel pain by applying pressure elsewhere so you can be more comfortable when standing for long periods of time.
In order to stay standing, it is important that comfort comes first. A painfree shoe will have padding in the heel, the sole and the upper material so that your feet are free to move around comfortably. Good orthotic footwear will eliminate heel pain and other forms of foot pain together so that you can get where you need to go painfree.
Comfort and Support
The two key features to look for when fighting foot pain are comfort and support. These should come first, before style, so that you know you have a shoe which will keep your feet happy when you are standing up as well as sitting down looking good. The difference between these terms is that one requires padding and cushioning while the other one requires space, so your feet are free to move within your footwear.
These features are important in different parts of the shoe. For example, if you wear a sandal, you will expect your toes to feel free, but you may not get much help in your heels. On the other hand, sneakers might help your heel first, by layering the material below it to help you when standing, but you will rely on light materials and mesh to feel free.
No matter what shoe you want to buy, if you put these features first on your list of priorities, you will wear the most comfortable footwear for your comfort in your heel, sole, and toes.
Aesthetics
The last thing to think about is the way your footwear looks. When you wear new footwear, it is important you feel confident that you look good, especially if you are going to be standing up a lot and throughout the day. If you are lounging around the house, it may be a different story. However, if you are standing on your feet all day, you will want your footwear to look as stylish as possible, which can be quite hard to do when you have aches and pains in your feet.
Whether you suffer from foot pain or not, you need a shoe that is appropriate for the scenario you find yourself in. Sneakers and running shoes are generally the most suitable for keeping your feet comfortable, but often the times we find ourselves standing on our feet the longest is when we need to look smart, and sneakers aren't appropriate. It is hard to find orthotic shoes that look good on your feet when you are standing at a party or a work event.
Orthofeet has made a formal shoe for such occasions, where you are standing on your feet but need to relieve foot pain. Dress shoes rarely have the right padding around the heel, which can be problematic if your feet are prone to heel problems, or issues in the rest of your foot.
A common misconception is that you can't look good wearing shoes for foot pain, but this is not the case. Even some sandals will look more stylish than others. Finding the perfect shoes for standing on your feet depends entirely on the occasion, so it is important for your feet to be comfortable in dress shoes, as well as running shoes.
There are plenty of options out there for those of us who suffer on our feet, but if you know where your foot pain is located, and are able to apply padding to the right part of the foot, this should be no problem for any style of shoe.
Expert Tip
Shock absorption is particularly important if you spend a lot of time running or walking. A thick, protective sole will resist impact from the ground, so movement feels more natural.
Did you know?
Problems like plantar fasciitis normally mean that you suffer from a lack of support in the sole of your shoes, so thick, cushioned soles with shock absorption can relieve pain.