20 Best Running Shoes in 2021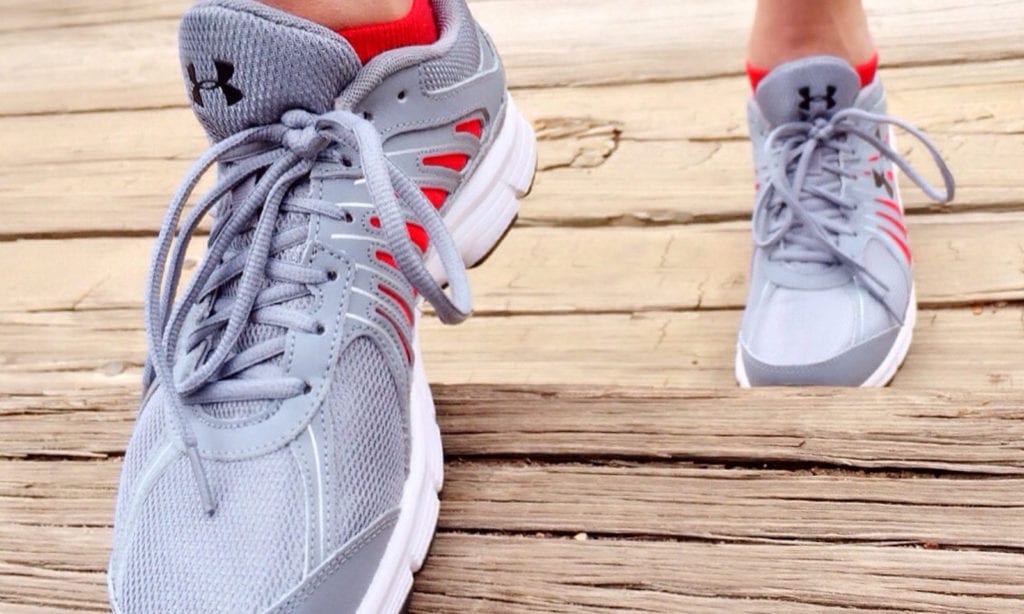 Whether you're a pro-athlete or a casual Sunday jogger, it's very important to any runner that you get the right sort of shoe. Having the right sort of shoe accompany you on your adventures can make the world of difference in comfort and performance. For example, someone who runs track or treadmill will need a different sort of running shoe to those running long distances or trail based runs.
Some people also need different support in different parts of their feet, those who have overpronation will need different running shoes to those with normal pronation, as well as those with underponation requiring special shoes for underpronation. Luckily, the running shoe market does cater for everyone making sure every inch of your foot is fully supported so you can be the best at what you do!
We've scoured the running shoe market for all their best men's running footwear and women's running trainers to provide you with this handy guide to help best your personal best.
View the Best Running Shoes, Below.
1. Brooks Men's Adrenaline GTS 19
These streamlined running shoes use a custom-made streamlined design to improve support and cushioning compared to a standard running or exercise shoe. The mesh used in the upper section allows for more breathability in hot weather, as well as an extra level of flexibility to deal with uneven terrain or sudden bumps.
The internal cushioning of these shoes is made with high-energizing materials that are supposed to give you more control over each step, while the GuideRails system adds support in the upper section that keeps your feet at safe, comfortable angles. This is backed up by the asymmetrical insoles and improved rubber outsole, both of which work together for a great mixture of stability and protection on a range of different surfaces.
Support is vital when you are running for long distances, making these some of the best running shoes in terms of raw, no-frills support that comes straight from the design and materials.
Check Price on Amazon ➞
2. Brooks Women's Ghost 12
The well-ventilated upper section of these running shoes means that they are ideal for warm weather and sweaty conditions, but they still use enough solid synthetic materials to offer excellent support and structure. The standard lace-up design keeps them easy to adjust without making it easy for them to loosen accidentally while you are running.
The strong rubber outsoles offer an excellent level of protection from solid surfaces, regardless of whether they are natural or man-made, making it easier to deal with varied terrain during a long-distance run. Alongside this is the soft and balanced interior cushioning, which is specially designed to help you stay upright and focused on soft or uneven ground.
These are great running shoes for runners who take on a wide range of different trails and paths, providing excellent comfort and stability for nearly any kind of surface without being too biased towards a specific situation or running style.
Check Price on Amazon ➞
3. Under Armour Men's Micro G Pursuit Running Shoe
These balanced shoes are designed for multiple different types of running, using a mixture of great flexible cushioning and tough sole materials to keep your feet properly protected and supported. The mesh used in the upper section reduces each shoe's weight and gives you far more ventilation, with the extra foam padding helping to improve the fit even further around vulnerable areas, like your ankles.
These running shoes use a strong EVA-based insole, alongside regular cushioning, to give you a protective and comfortable inner layer. Below that is the shock-absorbing foam midsole, followed by the tough and traction-improving rubber sole that gives you extra stability on less solid surfaces.
While these running shoes don't boast any extreme features, they make great use of standard materials to give you a simple, reliable, and gimmick-free set of footwear for day-to-day running on almost any kind of surface.
Check Price on Amazon ➞
4. Saucony Women's Guide Iso 2 Running Shoe
These simple shoes use a straightforward, familiar running shoe structure and shape that makes them suitable for a wide range of different situations. The mesh-based overlay increases breathability without leaving your feet too exposed, meaning that it will stay comfortable even in light rain and puddles, while the other materials used as part of the upper section provide a natural-feeling level of padding and protection.
Each shoe's insole is made with a specially contoured design that helps provide a more custom fit, as well as better protection from sudden impacts and shocks. This, combined with the durable rubber outsole and supportive structure of the shoe as a whole, makes foot fatigue and pain far less likely, especially during shorter runs.
The mixture of durability and cushioning offered by these running shoes makes them great for general-purpose use, especially if you are always taking on new conditions and terrain rather than sticking to one route.
Check Price on Amazon ➞
5. Saucony Men's Kinvara 10 Running Shoe
These soft-feeling and tough-soled running shoes use a neutral design to make them much more versatile, keeping away from any major bias that might make them too specific to use in most situations. The built-in EVA midsole gives you much more comfort, protection, and responsiveness when you are out running, while the EVERUN insole adds more cushioning and structure to each step. Most of the upper section is covered in a supportive yet breathable mesh.
Thanks to the materials used in the design, each running shoe is lightweight compared to other brands, making them much more useful for running styles that rely on low weight and simple gear. This makes the strong outsole even more useful as a result.
These running shoes are simple, reliable, and very lightweight, making them a perfect choice for people who prefer minimalist or basic gear that doesn't overload them with extra weight or unnecessary features.
Check Price on Amazon ➞
6. ASICS Men's GT-2000 7 Running Shoes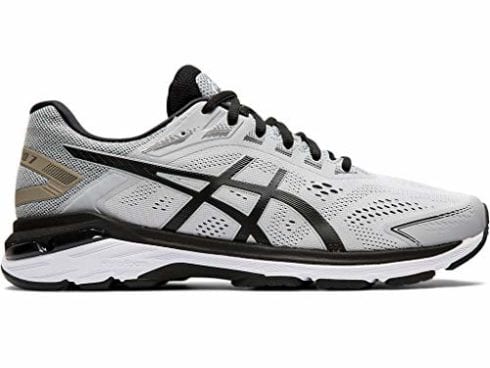 These mostly-synthetic running shoes combine a classic mesh design with a wide range of strong, supportive synthetic materials, giving you a mixture of comfort and protection without being too light or heavy to survive frequent running. The wider forefoot designs help reduce skin and toe irritation, as well as making it easier for your toes to splay out, reducing the chances of future skin issues or pains.
This mesh improves ventilation and natural cooling in hot weather without exposing too much of your feet. Alongside this is a cushioned tongue to deal with pressure on your skin, as well as a padded heel section that gives you more support and protects a vulnerable area of your foot that many other shoe designs overlook.
Having more protection is always good, and these running shoes use a special seamless design that is able to protect your feet from dozens of painful issues.
Check Price on Amazon ➞
7. Skechers Unisex GOrun Razor 3 Hyper Running Shoe
These mostly-synthetic running shoes are built with a special seamless design that massively improves the comfort they can offer, especially while you are on the move. The lace-up body has been designed to reduce pressure and prevent rubbing on your skin, while the lightweight materials mean that you won't feel weighed down during longer runs.
These running shoes have a very responsive, durable and cushioning midsole layer that is made of high-quality foam, as well as a really tough rubber outsole that is able to provide excellent traction on a massive variety of surfaces. Thanks to the unisex construction and easy-to-wear, padded interior, they are suitable for dozens of weather conditions and running trails, both natural and artificial.
These running shoes are great for handling a massive range of different locations, situations, and conditions, but still boast enough strength and padding to make them nice and comfortable regardless of how straightforward your running session is.
Check Price on Amazon ➞
8. HOKA ONE ONE Mens Clifton 4 Running Shoe
These trainer-style running shoes combine a comfortable and cushioned interior with a tough, supportive exterior. The most notable extra feature is the specially-designed geometric foam midsole, which keeps you protected while also extending the lifespan of your footwear. The slightly flexible design makes it easy to fit on larger feet, while the breathable mesh used for the upper section helps prevent stuffiness and skin irritation.
Thanks to the round-fronted design of each shoe, there is more room to move your toes around, improving your stability in a natural-feeling way. Below that is the angular rubber outsole, which uses strong materials and a carefully-crafted design to provide far better traction on both solid and soft surfaces.
These running shoes offer plenty of support without skimping on protection or breathability, making them a comfortable and reliable choice for taking on rougher terrain and more intense running routines.
Check Price on Amazon ➞
9. Altra Women's Torin 4 Road Running Shoe
The low weight of these women's running shoes makes it easier to maintain your top speed during difficult runs. However, "lightweight" doesn't mean "weak" – they use a set of tough and flexible materials, including a very breathable mesh with a mixture of small and large perforations, to provide the best possible support and comfort in every situation.
The special Quantic midsole is the main feature, using a specially-created type of foam to improve comfort and help your feet rebound with each step, making it easier to push yourself further and keep going without letting foot fatigue set in. This, combined with the stretchy upper section, makes intense running schedules and paths much easier to handle.
These are great running shoes for anybody who likes to push themselves harder and harder, giving you plenty of protection and support while also making it easier to break through your own personal barriers and limits.
Check Price on Amazon ➞
10. New Balance Men's 1080v9 Running Shoe
The custom blown rubber outsole used in these running shoes offers an interesting mix of comfort and stability, helping you keep your balance and run more consistently without having to manage foot fatigue as often. The mesh layer used on most of the upper section provides more breathability and flexibility without being too weak to endure frequent use, making them great for hot weather.
Each running shoe has an Ortholite insole that provides more comfort and support than a generic design, meaning that it is much easier to handle difficult terrain and hard, solid surfaces. The outsole design is inspired by data from real runners and various tests, giving you traction that is based on tried-and-tested shapes and sizes from previous shoe models.
If you need to stay stable and supported during a run, these running shoes are an excellent choice, combining proven methods of boosting stability and improving durability without feeling too uncomfortable to use.
Check Price on Amazon ➞
11. ASICS Mens Gel-Venture 6 Running Shoe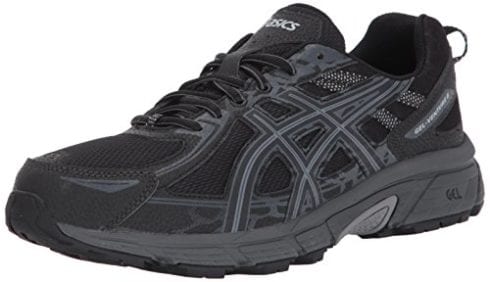 The ASICS Men's Gel-Venture 6 is a great classic running shoe built for every runner's need. They're a classic solid looking running shoe, made of synthetic material, a rubber sole and feature shaft measures from the arch to the low-top of the shoe. Your foot will feel comfortable and supported thanks to the GEL cushioning system under the sole which is great for alleviating the impact your foot will get as it hits the ground.
This is especially important if you're going between terrains and mid-distance runs. The ASICS Men's Gel-Venture also features a removable sock liner, this is useful if you need to place a medical orthotic liner inside the sole instead.
We loved the GEL cushioning system which is situated in the rear foot or the shoe. Perfect for minimizing impact!
Check Price on Amazon ➞
12. New Balance Men's 990v4
The New Balance Men's 990v4 running shoes are great breathable and cushioning runners. Thanks to the blend of 100% leather and textile and USA's craftsmanship these trainers provide the perfect support you'll need when running. Not only do they look like a classic, stylish New Balance, but these shoes also feature sections of breathable-mesh in between the leather which is great for letting you foot breath during those tough running sessions. And thanks to the ENCAP technology which features an EVA core in the heel you'll be guaranteed protection throughout your training.
The look! It's often so hard to find really quality looking running shoes that still perform as well as the uglier ones, and with this pair, we found the (New) Balance!
Check Price on Amazon ➞
13. adidas Originals Women's Superstar Shoes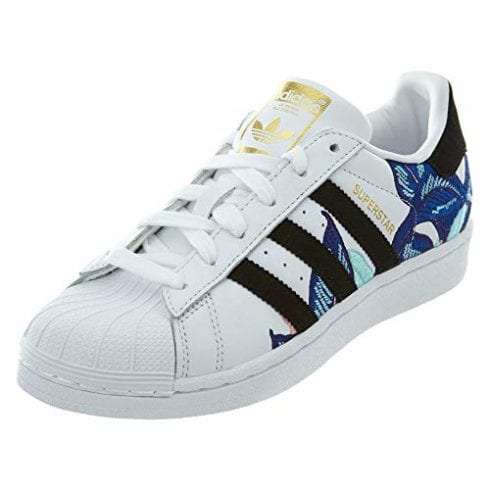 The Adidas Originals Women's Superstar Shoes are great for a stylish, retro, laidback workout look. Comfortable and sturdy thanks to the class white leather exterior - which is handy for cleaning! Alongside this, you'll find the classic Adidas three stripes which look ascetically great, but next to these you'll also find mesh lining which allows your feet to comfortably breath while you're working hard!
Inside you'll find a nice cushioned ankle support and a removable insole, this can easily be removed for washing and also if you need to change the insole for any form of padding to suit your feet's needs.
With its classic three-stripe colored lines down each side the Adidas Superstar screams a retro '80s look that we are so on board with!
Check Price on Amazon ➞
14. ASICS Women's GEL-Venture 5
The ASICS Women's GEL-Venture 5 is great for the serious runners, and you tell in this from the shoes great sporting design that they mean business. On the outside of the Venture 5, you'll find the classic ASICS 100% synthetic material and paneling of neutral mesh to help your foot breathe. Underneath there is an ASICS high abrasion rubber sole which makes it great for multi-surface traction, this is great if you're a long-distance cross-country runner or plan on running across terrains which will vary.
Inside the shoe you'll find a removable foam sock liner, this is handy if you need to change it for any medical reasons. But we found the foam sock liner more than suitable at comforting your feet. There is also the renowned GEL Cushioning System under the insole which we always find is great for protecting you during those long-distance runs.
These running shoes are great for working out, they support your foot properly thanks to its foam insole and gel cushioning system.
Check Price on Amazon ➞
15. PUMA Men's Tazon 6 FM
The Puma Men's Tazon 6 are a great pair of shoes which provide both a fashionable modern look while also still functioning as proper workout shoes. You won't have to compromise on fashion over practicality ever again with these! These PUMA's look great and are made from synthetic material with a leather look and feature a rubber sole underneath.
These shoes really know how to blend a comfortable design for your feet with their shaft measures low-top from the arch, alongside a tough protective exterior.
We love how effortlessly classy and classic these look, grab your gym git and chuck these PUMA's on because you feel raring to go in these bad boys.
Check Price on Amazon ➞
16. adidas Women's Cloudfoam Pure
The Adidas women's Cloudfoam Pure, are (as they're aptly named) a pure dream to walk in. When you step your feet into these shoes, you definitely feel like you're working on foam made of clouds. But this isn't the only great thing about the Cloudfoam Pure's. These shoes are great for working out however you want because of the entirely textile mesh upper material which allows your foot to constantly breathe.
Between the soft upper exterior, cloudfoam bottoms the lining is also made from a molding sock liner which just adds that additional comfort to your during your workout.
We absolutely adore the cloudfoam Adidas technology between the insole and the sole. Every step we take in these shoes we are in heaven!
Check Price on Amazon ➞
17. Under Armour Men's Micro G Assert 7
These Under Armer Men's Micro G's feel amazing on your feet and they protect and support your foot properly while working out. What's not to love? The textile and synthetic material create a lightweight and moveable fabric upper which is great for allowing your feet to breath. Don't worry about them being too flexible though! These Under Armour's also feature durable leather over the top and in the middle of your foot this helps to enhance your performance by locking your foot in place.
The sole is made of synthetic materials but features a solid rubber coating with is perfect for helping absorb some of the shocks from your foot as you hit the ground running.
Our favorite feature of these Under Armours is the Micro G foam midsole which provides the best comfort we've seen in any shoe.
Check Price on Amazon ➞
18. Brooks Mens Adrenaline GTS 18
The Brooks Men's Adrenaline is a serious running trainer will ample sturdy support and a streamlined look. Your performance will improve dramatically in these shoes thanks to their synthetic mesh upper fabric and cushioning underneath. What's especially about these runners is that they are perfect for overpronationed feet.
People who overpronate usually end up applying more pressure to their shoes and will wear them down quicker. These shoes are great for overpronationed feet thanks to a mixture of their sturdy support and also their special arch design. So there you have it - you've got no excuse to slip these on and run around in comfort!
If you have overpronation in your feet, these shoes are the best for being able to give you the proper support you need.
Check Price on Amazon ➞
19. NIKE Men's Revolution 4
The NIKE Men's Revolution 4 is one of those classic must-haves for your wardrobe when it comes to running shoes. Featuring a sharp, modern and minimal design with a black mesh upper and the famous white tick over the top. These Nike's are great lightweight runners that will help your feet breathe while you work out. Inside the trainer, you'll find a heavenly soft foam layer which will comfort your foot from any impact your shoe.
We just love the classic look of a Nike running shoe that gives you a go-to relaxed look every-time - where ever you're about to go work out.
Check Price on Amazon ➞
20. Brooks Womens Launch 5
The Brooks Women's Launch 5 is great for any serious runner, and you can feel this with every step you take, every time you hit the ground running in these shoes you can feel the power. Built with a single piece of mesh fabric around the upper body but with an internal bootie means that you'll get all the benefits of a breathable shoe and a secure fit! The Brooks 5 also comes with the gravity-defying cushioning meaning you'll be able to run on any surface.
This means you'll still be protected and ready for any adventure you want - where ever your feet may roam. Bonus tip - we also found out these we great for those with wider feet.
Our favorite feature when it comes to these women's Brooks has to be how unbelievably secure they are which is great for any long distance runner.
Check Price on Amazon ➞
Buyer's Guide
We've presented to you what we think are the best running shoes out there, but now comes the hard part. You now need to select which is the right running shoe for you. Very often people do not treat their feet with the right love and care that they need. At the end of the day, your feet are very important for getting you out and about, and if you don't look after them, your health can suffer. We are constantly using our feet, and they carry the whole weight of our body, if we are not walking properly on our feet, the repeated stress of our weight can damage us over time.
Suffer from flat feet? Then try these running shoes designed for flat feet.
Some of the most common foot problems from ill-fitting shoes are corns, calluses, bunions, and ingrown toenails. Wearing footwear that's safe and appropriate for the job in hand, in this case running will prevent such problems from occurring. Shoes are such a personal thing it can be hard to know what's will fit your foot properly and help you in your sporting performance.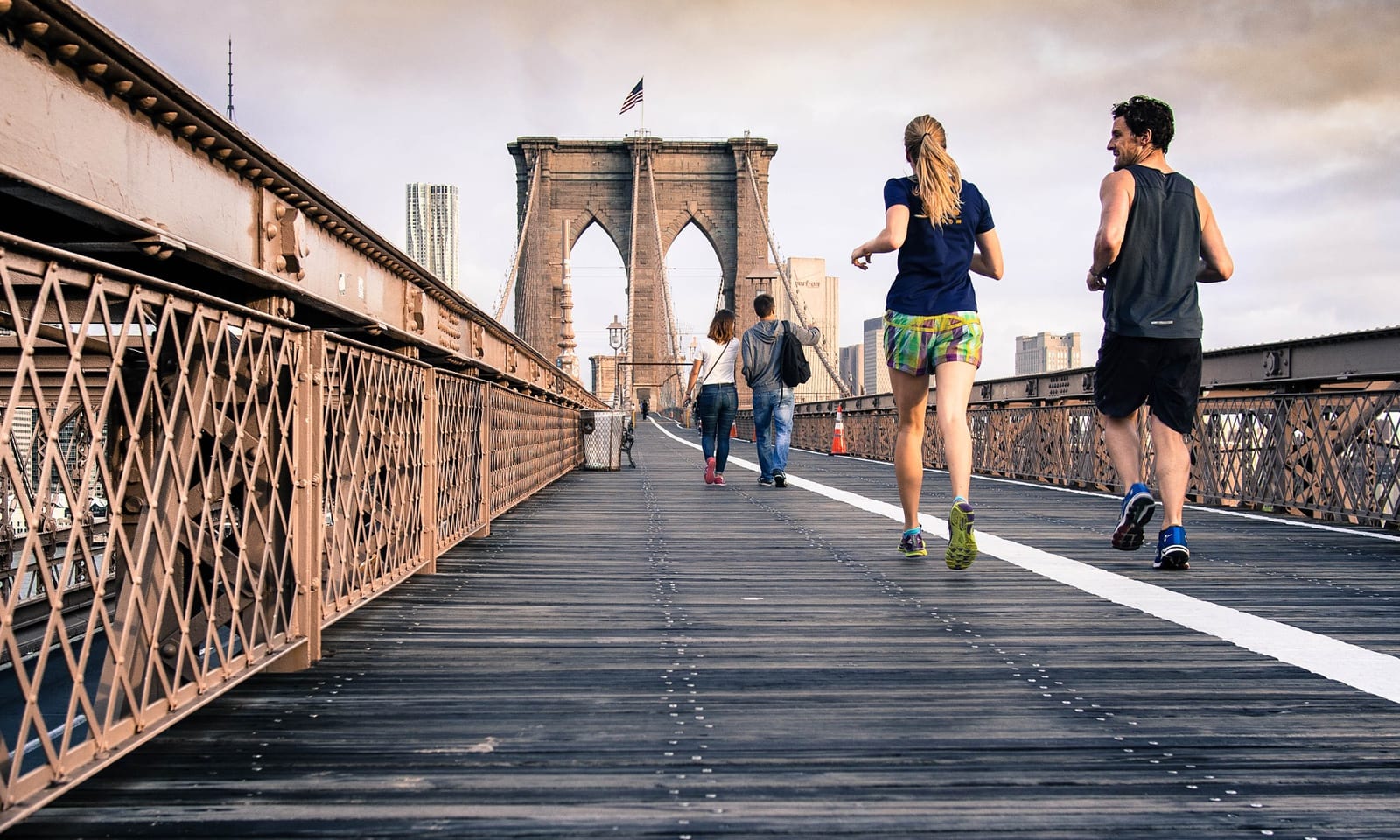 This is why we've decided to talk about running shoes a little bit more in two different categories so you can explore the different options and see where your best fit shoe is! We're going to be discussing the fit of the shoe and what type of sport you will be using them for, both of these factors really shape what you will need to get.
Fit
It pretty much goes without saying that the fit is important with any shoe. But this is incredibly important when it comes to running shoes as there is another factor to consider. A proper fitting running shoe based on your pronation. In case you didn't already know pronation is the natural motion of the foot when you walk and depending on whether or not you have a normal or over pronounced walk depends on what sort of shoes you need to buy.
You will put your self at high risk of injury if the shoe gives you too much or not enough foot rotation. Here's a handy guide to pronation and your shoe type. If you have neutral pronation you foot will roll slightly inwards and then overpronation is when your foot rolls inward excessively. You can also lie somewhere in-between the two and have moderate pronation. Once you know what sort of pronation you have, you can select your shoe type.
Those with a neutral to moderate pronation should look at the lighter weight running shoes as they do not need as much of solid support. And then, on the other hand, those with overpronation need a lot more support to counteract how much their foot moves in their shoe.
It is very important you make sure you've got the right fitting shoe, not just to help your running but to make sure you do not damage your feet. And damaged feet can lead to a whole host of other health problems.
Type
People have different sporting habits, and even in running, there are different types of runner. From your 5 days a week trailblazer to you casual Sunday jogger, your track sprinter and everything in between. Once you've found the running shoe with a proper fit, you also need to consider if it the right sort of running shoe for the activity you want it to do. For instance, lightweight running trainers such as Nike's and Adidas aren't that suited for the cross-country long-distance trailblazers.
The lightweight, soft mesh and foam bottoms of these runners lend themselves more to gentle runners or joggers who probably won't run that long or often. This isn't a bad thing as they'll be perfect the gentle runners giving you ample cushioning for the flat roads or sidewalks you'll be running on. If you are more a cross-country runner, we would advise you look at something more like the ASICS or Brooks as these often come with a lot more support, especially around your midfoot.
And what's even more important about running trainers like these, in particularly the ASICS, they have GEL cushioned soles which are great for protecting your feet against the heavy impact your foot will face going between different surfaces.
How Should Running Shoes Fit?
It's hard to know sometime how well a shoe should fit. A running shoe should fit snug between your heel to midfoot but still allow your toes to wiggle at the front. If you're still struggling to work out what running shoe fits you, you should always go half a size or a full size up as your foot expands when it hits the ground. When trying on your shoes before you by them, experts recommend trying them on midday when you've been on your feet more, and your feet tend to swell when you run.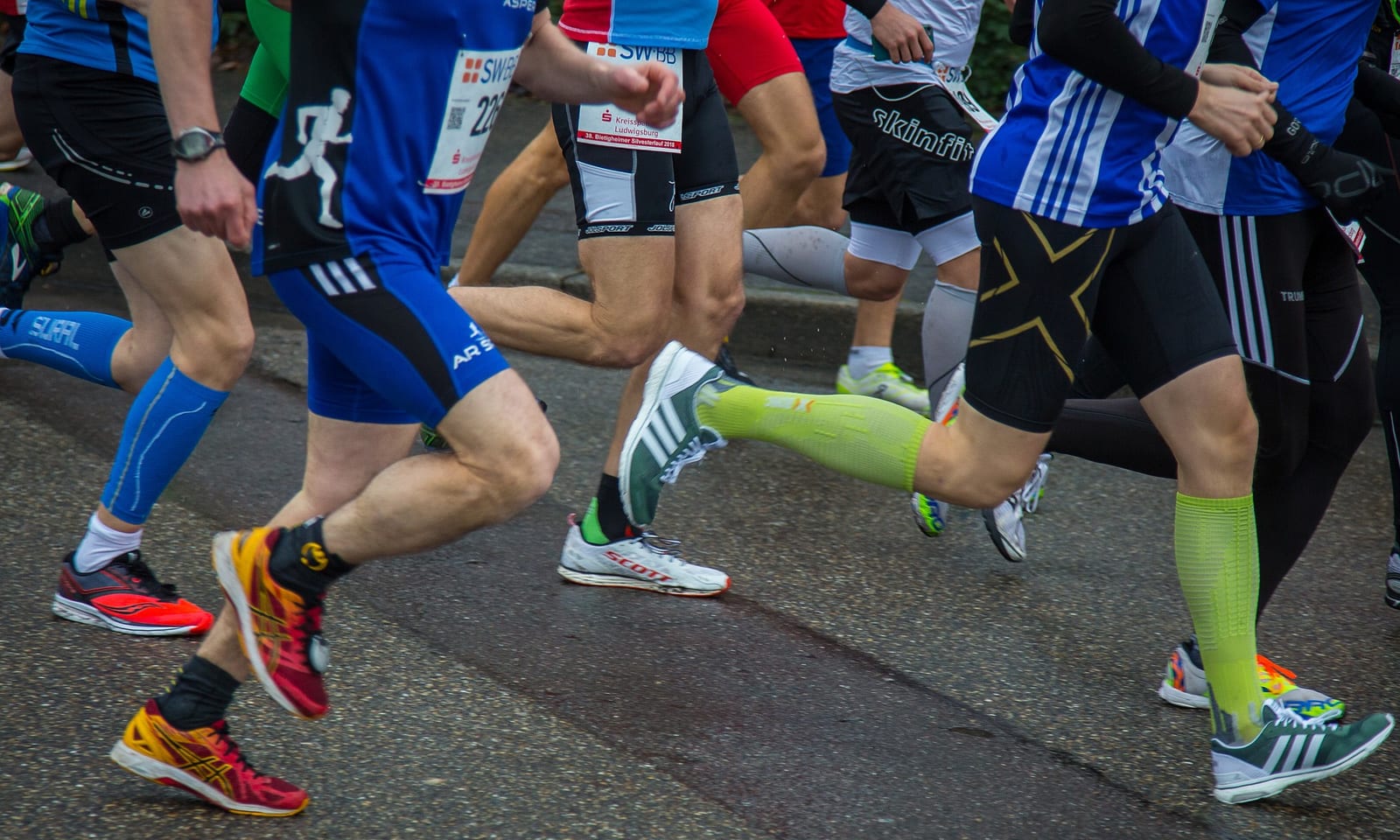 You should also check that there is a thumbnail width between the end of your longest toe and the tip of the shoe. You can also check how well your shoes fit based on the laces, if they're too close together, they're too big, and if they're too far apart, they're too small.
How long do Running Shoes Last?
On average experts estimated that your running shoes should last 400- 600 miles. There is no set time though as it will all depend on how often you use them, your body weight and foot type. If you're feeling like they're no longer supporting you as much as they should then it is probably best to buy a new pair. Better to be safe than sorry – especially when it comes to your foot health! Make sure you buy the best running shoes you can afford.
How to lace Running Shoes?
This may sound very obvious, and you may think you learned how to tie your laces back in elementary school. But the truth is many runners don't know how they tie their shoes can customize the fit of their shoes. If your feet are slipping around in your shoe, you can try the runner's loop. For this fit, you can tie the shoe up normally and then on the last loop thread the lace backward creating a loop and then tie it to the opposite side of shoe in-between the loops.
This will help tighten up your show at the heel. If the shoe feels too tight in the middle of your foot, you can tie them in a parallel lace style which will take the pressure of your foot. To do this remove the lace and re-tie by running the thread through two eyelets on one side and two on the other but then skip the next eyelet and continue repeating. These are just some of the ways you can use lacing shoes to help your performance shoe fit.
Expert Tip
You should never place your shoes into the dryer as this will break your shoes! The intensive heat will end up melting the midsole… WHOOPS!
Did you know?
Nike shoes got their name from the Greek goddess of victory and the correct way to say Adidas is Ah-Dee-Dass.