Appropriate Footwear for Work and Business Meetings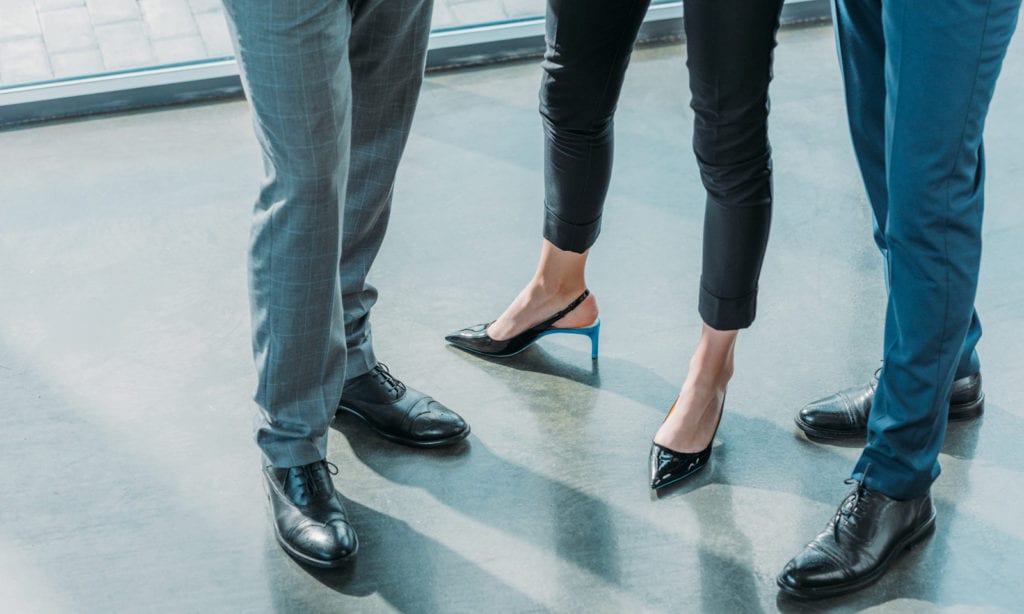 Shoes for Work & Business
Knowing how to dress for work and business meetings is essential in order to stay comfortable and relaxed without looking out of place and embarrassing yourself. Knowing what's appropriate, comfortable, respectable, and sensible is an integral part of preparing for work and business meetings, and understanding footwear is an important part of this knowledge. Staying comfortable can make long meetings so much more bearable, but many people sacrifice that in favor of looking smart and respectable.
It is possible to combine those two, staying comfortable while looking sharp, as long as you have the right type of shoes. There are many different types of appropriate footwear for work and business meetings out there, and it can be hard to tell which ones those are and exactly which situations those are appropriate for.
That is where we come in! Here at Shoe Advisor, we've put together a brief introductory guide to appropriate footwear for work and business meetings, explaining some of the things you need to consider when you are looking for this type of footwear as well as offering some direct suggestions for easy footwear options for work and business meetings to help get you started.
With our work and business footwear guide, you can feel more confident about your footwear choices and stay comfortable through long meetings without ever worrying about how you look.
Types of Business Attire
There are several different types of business attire available, and it is important to know what situation you're looking to buy shoes for before you buy. Shoes that are appropriate for one type of work or business meeting environment will not necessarily fit with the ensemble required for another business environment, so your first step is always going to be thinking about what specific work or business meeting situation you're dressing for.
Some offices allow you to wear casual attire for work and business purposes. If you work in this type of informal office, then you don't really need to worry about anything other than comfort, as formal clothes are less important in this environment. Sneakers, sandals, loafers, flats, or low heels are all appropriate here.
One step up from casual attire is the vague and hard to define aesthetic known as "smart casual," combining the informal and relaxed style of casual dress with a little more of a clean and professional look that communicates that you care about your appearance and want to look smart. Shoes for smart casual dress include sneakers (if they're smart and clean), dress shoes, heels, flats, or boots.
The next step up is business casual, which is one of the most common dress codes for work, although not so often used for business meetings. This is a look that combines respectable business elements with more relaxed clothing such as khakis and shorter sleeved shirts. Flats, heels, loafers, oxfords, and boots are all appropriate for casual business environments.
More traditional and conservative businesses require you to wear business professional dress. This is a respectable and smart aesthetic that you can expect to find in industries such as finance, law, accounting, or government. Appropriate shoes are smarter and cleaner in style, such as oxfords, loafers, smart flats, or heels no higher than three inches.
Business formal may be required for the most formal work settings such as important evening events, awards ceremonies, or benefit events. This is similar to black tie dress but more understated in order to maintain business professionalism at all times. Only the most formal shoes are appropriate here, such as oxfords, loafers, heels, or formal flats.
What You're Looking for in Footwear for work and Business Meetings?
The world of footwear is a vast and confusing one and choosing the right footwear for work and business meetings can be difficult. You need to ensure that your footwear meets certain criteria in order for it to be appropriate for the situation, and some of these are more important than others.
Your shoes for work and business meeting situations should always look appropriate for the formality of the environment – not too casual, but also not too formal! This is the most important aspect of choosing the right footwear for work and business meetings, as it is the area where other people will notice if your footwear is inappropriate, but it's not the only thing you should consider.
It is also essential to ensure that your footwear is comfortable; you don't want to be spending a long work day in uncomfortable shoes, as this can cause serious problems as well as a great deal of discomfort at the time. You don't want to be distracted from a serious meeting by foot pain, and you should do everything possible to ensure that your feet stay comfortable while looking respectable!
Style
Style is an important part of choosing appropriate footwear for work or business meetings, for both men and women. You need to make sure that your chosen style of shoe is appropriate for the particular dress code of your office environment, and the right color to go with the rest of your business attire. You also need to consider the specifics of the work event in question.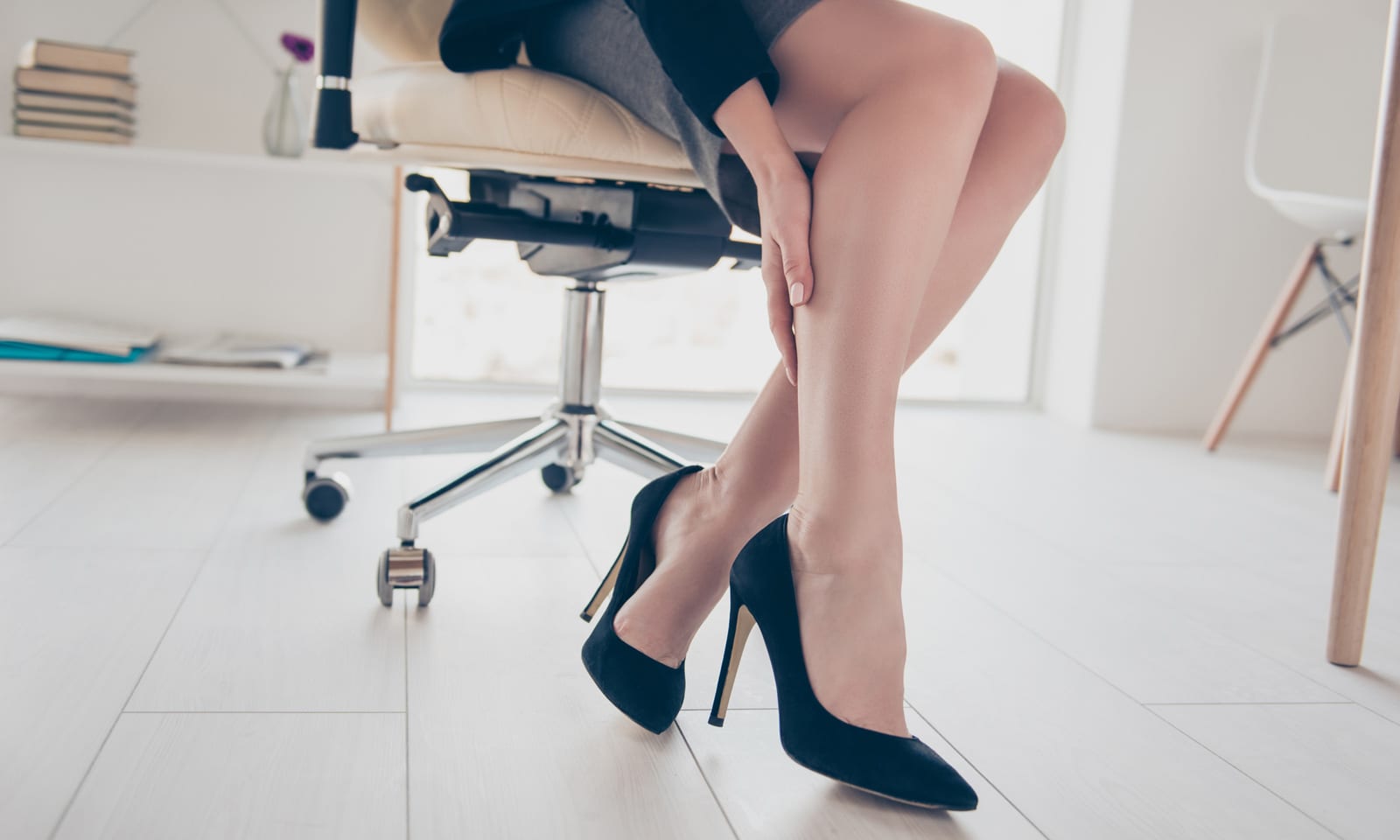 Are you having a meeting with your colleagues, or is it a meeting with people from a different company? You're going to need to up the formality and respectability a little for meetings with people from other companies or your superiors, but more informal meetings with your peers may not require such a sharp style.
In general, you're looking for closed-toe shoes in neutral, smart colors such as blues, browns, and blacks, with minimal ornamentation. Your office may well have a formalized dress code with restrictions on what style of shoe you can wear for work; have a look to see if such a thing exists, and if not, follow the lead of your colleagues. It's always better to be too smart and formal than too casual and not formal enough!
You're also going to want to make sure your shoes are well maintained, as scuffed toes or worn down heels are a bad look for professional situations. Make sure you keep your shoes for work or business meetings well cleaned and polished and take them to a cobbler fairly frequently to keep them in the best repair possible.
Comfort
You may think that comfort is not particularly important when choosing a business or work shoe, but it can make a massive difference to your health and happiness. Of course, it's important to look appropriate, as others can see your shoes and it is important to look appropriate, but your feet are a very important part of your body and should be looked after very careful to maintain health and comfort.
Make sure your shoes for work and business meetings fit your feet well, as poorly fitting shoes can cause problems, and break them in well for added comfort. It's also worth remembering that your feet will swell slightly over the course of the day, so having shoes slightly on the larger end is a good idea. You're going to want to ensure that your circulation is not constricted by too tight shoes!
There are a number of extra steps you can take to ensure your shoes are as comfortable as possible, though. Comfortable, padded insoles can make a massive difference to the comfort of your feet, and you'll want to ensure that the footbed of your shoes is well padded to keep your feet stable and cushioned for a long work day at the office.
Men's Footwear for Work and Business Meetings
The world of men's footwear for work and business meetings is more complicated than it might look at first glance. In general, you're going to want two pairs of shoes: a black pair for wearing with black suits, and a brown or gray pair for wearing with other colors of suits. These should cover most situations, although you may want a somewhat fancier and more formal pair of dress shoes for exceptionally formal situations.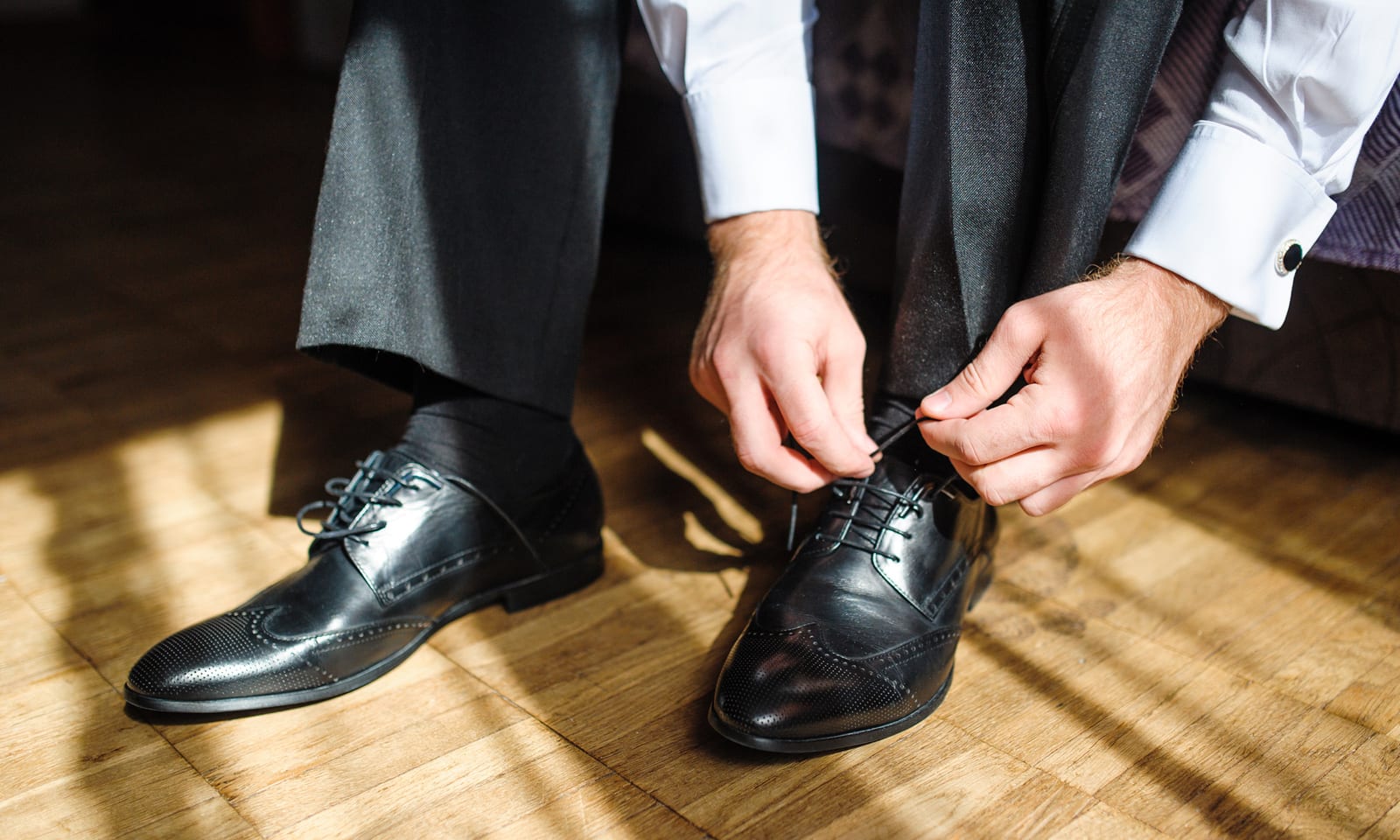 There are many styles of men's footwear for work and business meetings available, and telling the difference between them is a valuable skill to have. Oxfords are the most basic of these and are particularly versatile. A good pair of brown or gray oxfords can be worn in more casual situations, or combined with more formal outfits for serious occasions.
These are minimalist shoes with narrow, clean lines, and can be found in a wide range of different styles and materials. Derby shoes are very similar but more suited for smart casual environments than formal situations. Loafers are another relatively casual type of dress shoe for work and business meetings, easily identified by their slip-on, lace-free nature.
These are comfortable shoes that still look smart enough to wear in most work and business meeting situations, and are often a good choice for balancing comfort and professionalism.
Women's Footwear for Work and Business Meetings
As a general rule, you're going to need at least two pairs of shoes for work and business meetings. You may well want more than two, but two is the minimum. A pair in black leather is essential, as is something in a nude color; these two options should be appropriate for most work outfits and ensembles. Leather, suede, or patent leather are the best materials to choose, as these look smart and classy and work well in most situations.
In terms of style, you're going to need shoes with closed toes for work and business meetings, as open-toed shoes tend not to look very professional. Simple, closed toe shoes are the best choice, as you're looking for clean lines and smooth, understated designs.
Flats and heels of up to three inches in height are good options, as anything above three inches of height is less appropriate for business environments. Smart leather loafers are also a good choice, and often give much more comfort than heels.
Conclusion
Footwear is an important part of dressing for work and business meeting environments. It's easy to focus on looking smart and neglect the comfort of your feet, but it is essential to look after your feet well even when you're trying to look your best. Consider the precise nature of the work environment or business meeting in question, and dress to fit that environment. Shoes may not be the most important part of your business outfit, but that does not mean that you can neglect them! They are still important elements of your ensemble.