A Guide to Finding a Shoe that Fits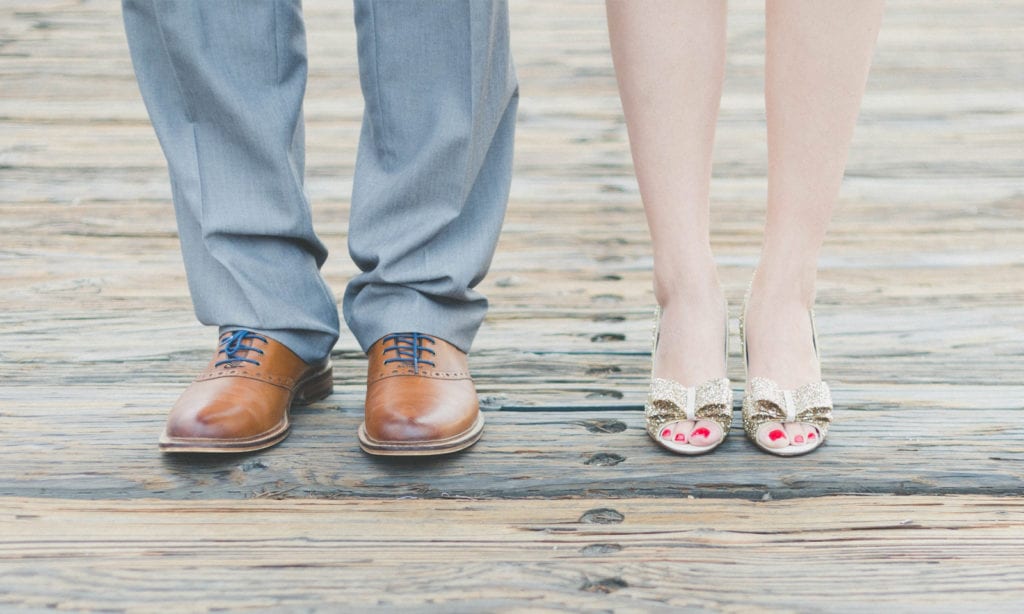 Wearing ill-fitting shoes can cause a lot of problems with your feet. You may think that you know what shoe size you are and what you need to look for when choosing a great pair of shoes, but many adults are not wearing shoes that fit.
There are a lot of problems that can be caused by wearing shoes that don't fit, yet this is something that can be easily avoided. You need to understand how to measure your feet and how shoes should fit in order to find the best pairs for your feet. Here at ShoeAdviser, we have devised a guide for you to finding a shoe that fits.
What Is A Good Fit For Shoes?
In order to find shoes that fit you well, you need to understand what you are looking for in the first place. A lot of shoe sales assistants will tell you that shoes will stretch over time, so it doesn't matter if they feel a little tight when you first try them on. Although this is true in some cases, no amount of wear will change the length of a shoe.
You can determine whether a shoe has a good fit by wiggling your toes if they are closed shoes that you are wearing. You should have enough room to wriggle your toes in shoes that fit. If you are choosing high heeled shoes, you want to make sure that your toes are lying comfortably next to each other and are not squashed.
A good fit for shoes may differ depending on the style you are choosing. Men's dress shoes should have around half an inch between your longest toe and the material of the shoe. This can be easily determined using a finger, and you can see whether you need a bigger size.
You can also use your fingers to determine the fit of the heel. Stick a finger between the heel of the shoe and the heel of your foot. If your finger fits in and has a lot of room to spare, then you will need to go down around half a size. However, if your finger does fit in well or at all, then you will need to go up half a size.
Shoes that fit will also allow the ball of your feet to fit comfortably in the widest part. A lot of women's shoes may be designed to a point or are narrow, so you need to pay particular attention to this part when you are trying on shoes to ensure that they fit.

How To Measure Your Feet For A Good Fit
It is recommended that you get your feet measured around two times a year as this will give you the most accurate size for your feet. Finding what shoe size you are and the dimensions of your feet can make shoe shopping a lot easier, both online and in-store.
Your feet will change size as you age, due to the fact the tissues and ligaments relax and stretch. This is why it is important for you to keep up to date with the measurement of your feet. When measuring your feet, you need to get the dimensions of the length, width, and arch.
This is the simplest way of measuring your feet a home, although we would recommend getting your feet measured at a shoe store. Most shoe stores offer this service for free.
Use a plain sheet of paper and make sure it is flat on a firm surface, not plush carpeting or textured surfaces. You may want to tape it down on the floor to make sure it doesn't move.
Measure your feet without shoes on, but wear socks if this is what you will be wearing with your shoes. Place your feet flat but comfortably on the sheet of paper to allow your toes to spread naturally.
In order to trace around your foot, hold the pencil as perpendicular as possible. Outline the shape of your foot, going as close as possible to your feet as you can for a more accurate measurement.
Once you have a stencil of the shape and size of your feet, you can use this to determine the dimensions you need to find shoes that fit.
You will find the length of your feet by measuring the distance of the curve of your heel and the longest toe. The width is the fullest part of your feet, which is most likely going to be under the toes.
Tips For Measuring Your Feet
Once you understand how to measure your feet, there are still some things you need to consider. These tips are going to make the whole process of finding shoes that fit a lot easier.
Measure your Feet later on in the Day
Your feet will swell during the day, so it is important that you get the measurement of your feet later on in the day when this has already occurred. This will ensure that the shoes you are choosing will not be too tight.
Make sure you are Standing when you Measure your Feet
When you are standing, your feet will spread out, which can impact the way your shoes will fit. As you are going to be walking and standing a lot when you are wearing your shoes, this is very important to consider when you measure your feet for shoes that fit. To get the most accurate fit of your feet, get someone else to take the dimensions of your feet as you stand tall, and look forward.
Consider the Length of the arch of your Feet
When measuring the size of your feet, a lot of people will forget to consider the arch. This is the measurement between the heel of the foot and the ball, which is where the big toe joint bends. Shoes that fit will bend at the same point that your big toe does. To determine whether shoes fit your feet, rise up onto your toes when wearing both shoes. If the shoe bends before or after the joint of your big toe, then this is not a good fit.

Shoe Size Doesn't Matter For A Good Fit
This may seem counterproductive, but do not get too caught up in the size of shoes that you are trying. The size of shoes can differ a lot between brands and types of shoes, so you are likely going to have to change this every time you want a new pair of shoes.
The reason why different shoe brands or companies have different shoe sizes is the fact that they have their own lasts. Lasts are essentially the mold that shoe manufacturers use to make their shoes around. As different companies have their own set of lasts, it is likely that the shoe size will be different even if this is only a subtle change.
This is why it is so important that you measure your feet as you can use these dimensions to determine whether shoes will fit you. Most shoe manufacturers will provide dimensions of their shoes as well as the shoe size, and this is what you should use.
For The Best Fit Focus On The Larger Foot
Most people have one foot that is bigger than the other. For some people, this is a very subtle difference, or it can be quite noticeable. Either way, in order to find shoes that fit, you should focus on the larger foot.
Although you want to make sure your shoes fit both feet, focusing on the larger foot will ensure that you are going to be comfortable for longer. There are different pads and inserts that you can purchase if your shoes are too big, as these will take up some room in the shoes for a more accurate fit.
However, if the shoe is too tight, there is nothing you can really do to improve the fit. Although it is likely that some shoes, such as leather dress shoes, can stretch over time, nothing will change the length of the shoe. This means that going slightly bigger with the fit of your shoes is the better option.
How To Try Shoes On That Fit
When shopping for shoes, you obviously need to try them on to see if they fit. You can try shoes on at the shoe store or out of the box if your order online. In order to determine how well shoes fit, there are some things you need to do.
Wear Socks or Hosiery when Trying Shoes On
When trying shoes on, it is important that you wear the socks that you would normally wear with these kind of shoes. This allows you to determine how well they will really fit during your everyday life. For example, if you are wearing dress shoes, make sure you are wearing thin socks or hosiery, or thick socks with athletic shoes.
Walk Around with both Shoes on
When trying shoes on, it will do you no good to sit or stand in one position. You need to make sure that your shoes will be comfortable and supportive when you are walking and moving around. This is why it is important for you to walk around the store or your home with your new shoes to determine how well they fit. Take some time to walk around on different surfaces, if possible.
Shoes Should be Comfortable Right Away
Although it is true that some shoes can be broken in, all shoes should be immediately comfortable when you try them on. If you do not feel comfortable in your shoes, then they do not fit.