How to Clean Timberland Boots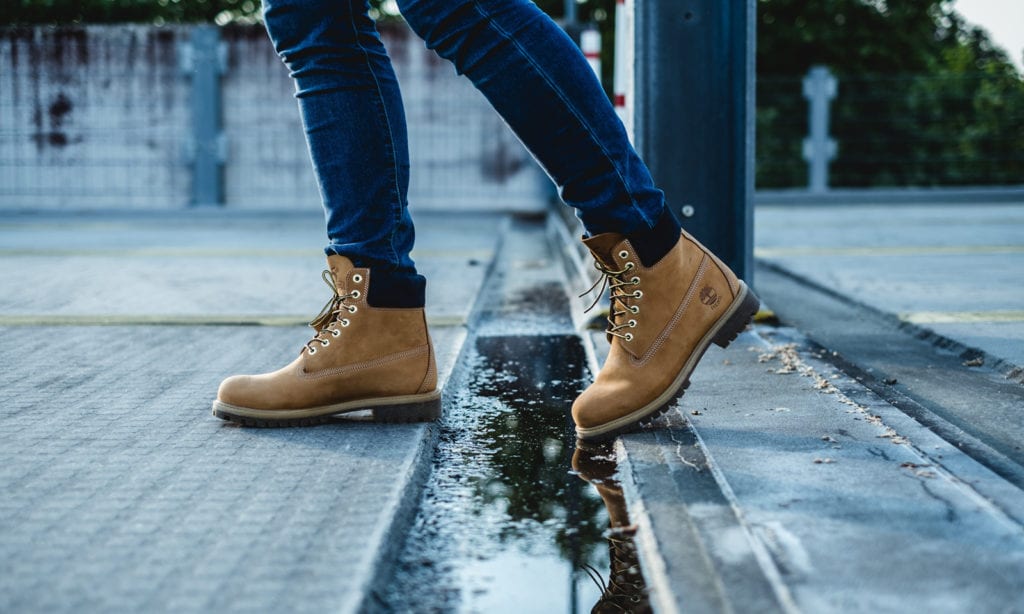 The iconic yellow Timberland ankle boots were originally designed as sturdy, reliable work boots for outdoor utility wearing, but in recent years they have become a popular fashion choice and everyday casual shoe style for many people. A clean pair of timberland boots is a great fashion choice for many men and women, as they are practical, reliable, and look great in any situation. To keep that distinctive yellow color looking good, you will need to keep your timberland boots as clean as possible. Cleaning timberland boots will also extend their lifespan, keeping them in the best condition possible for as long as possible.
Because they are made from nubuck leather, they need to be taken care of carefully when you clean your boots, as materials like suede and nubuck leather require special cleaning methods. Make sure you know what you are doing before you try dry cleaning suede or nubuck! Fortunately, if you are wondering how to clean timberland boots, we've put together a guide to cleaning nubuck boots at home.
No matter how intimidated you are by the prospect of trying to find the perfect boots cleaning products in a shop, we are here to help. And if there are any questions left after you've read our guide to removing dirt and stains, just contact us for more information and full details on our privacy policy! To learn all you need about boots timberland cleaning, read on below for all the information!
Cleaning Small Spots from Suede Boots
It is not hard to get rid of small marks from shoes made from materials such as suede and nubuck leather. You don't even need a specialist cleaning kit for leather boots! How to clean small spots from suede boots is easy. Let's run through it step by step.
Step 1: Cleaning off Small Debris
The first step in cleaning suede or nubuck boots, before you get to the use of any water or timberland cleaning products, Use a soft brush to clean dirt and debris off the boots, making sure that you wipe the entire boot surface clean. Use the brush in a downward motion, brushing from the ankle down to the toe. Make sure you use a soft brush and not a stiff brush for this part of the process!
If your boots are only a little dirty, this should be enough to get rid of a small stain. If your leather timberland boots are particularly dirty, then just remove as much of the dirt and debris as you can. We will get to the rest of it, such as the deeper-seated stain elements, with the next few simple steps!
You can use any soft brush for cleaning suede, nubuck, or similar materials, but you might find that an affordable pro-level suede brush might be the best and easiest way to get your timberland boots clean.
Step 2: using a Pencil Eraser to Remove Scuff Marks
Scuff marks are easy to remove when cleaning your boots. You don't even need to use any special products, just a new, clean pencil eraser, although a "Timberland cleaning bar" product is available for use on timberlands boots. Use your eraser on the surface of your shoe as if you were trying to remove pencil marks from paper, and most normal scuffs should be easy to remove.
If the marking is proving stubborn, you might want to try a product such as the Mr. Clean Magic Eraser. Just moisten the marks with a little water before you use your eraser products on them in this case! You can also use baby wipes to wipe small, shallow stains from a work boot, but if you've got a 6-inch smear across the side of the boot, then this approach won't work so well – it will work best for smaller stains!!
Step 3: Clean your Boots with a Brush Again
When you've managed to get rid of the surface marks from your boots, it is time to restore the surface of your nubuck boots to pristine condition. Suede and nubuck have surfaces that are different from the smooth surface of leather and need to be restored after you use any cleaning method.
Use a brush for this cleaning step, such as the brush you used earlier for the first step. Brush lightly and gently across the surface of your shoe, and ensure that you keep moving in one single direction. This will make sure that the surface looks clean and smooth, restoring it to look like new once again.
Step 4: Regular Spot Cleaning to keep your Timberland Shoes Looking Their Best
The best way to clean any footwear is the preventative method: cleaning your boots before they get too dirty will make your life much easier in the long run. Wipe your timberlands clean and gently rub away any dirt with a soft cloth or brush about once a week, removing stain and dirt marks before they get too deeply engrained. This simple approach will help to keep your boots as clean as possible, ensuring that they never look too bad or become too difficult to clean with standard methods.
How to Deep Clean your Timberland Boots
Cleaning timberland boots thoroughly is not a quick process, but the results can be impressive, restoring color, texture, and surface impressively if you are willing to put in the time and follow the appropriate steps and methods.
Step 1: Ensure you have the Correct Cleaning Products and Accessories for your Boots
There are a number of different options when you buy Timberland boots, some of which are suede, some are leather, and most are nubuck. The traditional timberland style is made from nubuck, though, which may be cleaned with any cleaning items and accessories designed for use on suede or nubuck.
Be sure to buy a cleaning kit to clean your timberland boots that is for the same color of materials as the upper of your boots. Cleaning timberland boots can only be done with suede or nubuck leather cleaning products, though, so ensure that you do not buy a dry cleaning kit for standard leather boots rather than one designed specifically to clean timberland boots!
If you aren't sure what sort of product to use for cleaning your timberland boots, visit your local supplier of work boots and outdoor shoes and ask if they have any products suitable for use to clean timberland boots.
Step 2: Take out the Shoelaces
This is the first step in cleaning any boots. How to clean shoelaces is an easy process, though – you don't need to be a pro of any sort! Just take the laces out of each boot and check if they are clean. If they are already clean, then set them aside until later. If they are not clean, then soap and water methods are the answer.
Wash your laces in warm water with soap in it until all of the dirt has been removed. The best method to apply here is to scrub the laces together with the soap and water – you are looking for a vigorous scrub here, not just wiping gently! Once you are happy that they are clean, just take them out of the water and hang them out to dry.
Alternatively, if you don't want to scrub items by hand in soap and water, you can include them in a standard laundry load. If they are particularly dirty, though, you might want to try to wipe the worst of the dirt off first with a cloth or even an old toothbrush, so you don't just apply the dirt to your clothing items instead of your laces!
Step 3: Remove Loose Dirt and Debris From your Timberlands
Using a soft bristle brush (not a toothbrush!), gently rub any loose dirt and debris from the surface of your boots. It is better to use a brush than a cloth, as brushes are better for getting into small corners. If you use a toothbrush or other stiff brush type, however, you run the risk of scratching the leather, so it is far better to use a softer one!
Don't forget the sole of your timberlands. You may not think to clean the soles of your shoes very often, but this part of the boot picks up a great deal of dirt, gravel, and other mess that can make your cleaning process much harder if you don't get rid of it early.
Step 4: Cleaning the Soles of your Boots
Rinse the soles of your boot with clean water, and then, using mild dish soap and a toothbrush, scrub out any stubborn buildup of dirt on the sole. You can rub the soles a bit more vigorously than the uppers, as the rubber used for soles is more durable than the leather or suede used for the upper parts of timberland boots!
Step 5: Scrub the Outsides
Using a pro boot cleaner and clean, warm water, start scrubbing down the upper part of your timberland boots. This is the point that will remove the worst stains, but you need to take care and be patient as you work. Use a soft brush to scrub the exterior of your boots, taking care to only brush in one direction to keep the surface of the suede looking good.
Ensure that the footwear cleaner you are using is of a type appropriate for timberland boots, and be prepared to apply multiple coats. You may not be able to get the stains out of the leather of your boots with a single pass with cleaner and water, but with patience and care, you should get rid of all the stains eventually. Take care and work slowly and methodically, repeating this step over and over again until you are satisfied that all of the stains have been removed from the top of the leather or suede.
Finally, rinse off your boots, wiping away any remaining marks with a soft cloth, and your boots should be ready to look good as new once they are fully dry.
Drying and Polishing Timberland Boots
Drying and polishing work boots like timberlands is very easy in the comfort of your own home. Let's quickly run through the step by step process for safely drying a boot once you've washed the stains out with a shoe cleaner product. After all, you don't want to wear a wet boot, even if you've gone over it with cleaner and got rid of all the stains! First, you need to make sure that you support the shape of your boot. Stuff your wet boots with crumpled up paper before you leave them to dry – any sort of paper you have lying around your home should be fine, although you should note that colored paper may leave stains on the inside of your shoe if you are not careful!
Newspapers and items such as old paper bags work fine, although white paper is generally the ideal choice for keeping your boots looking fresh and new. Then, leave your boots to air dry in a warm place for a full 24 hours. Don't place a boot too close to high heat, such as fires or radiators, as this can cause the leather to crack and dry out! At this point, you could try using baking soda to eliminate the last of the odor in your shoes.
Pour some baking soda into the toes of your work boots, and shake them around a bit to distribute the baking soda more evenly. Just remember to tip the baking soda out again before you try your boots on! Once your boot is completely dry, buff it to restore the top layer of the nubuck. Use a soft, dry brush, and lightly rub it across the upper of your boot in one direction, keeping the fibers brushed so they all lie flat in the same direction.
Before you wear your leather boots, you may wish to condition them. Pick a spray conditioner or balm proofer to apply to your boots – there are many different spray-on conditioners available. Follow the directions on the packaging of the spray to ensure you do everything correctly! Once you have let that dry, your timberland leather boots will be ready to wear again!