How To Waterproof Leather Boots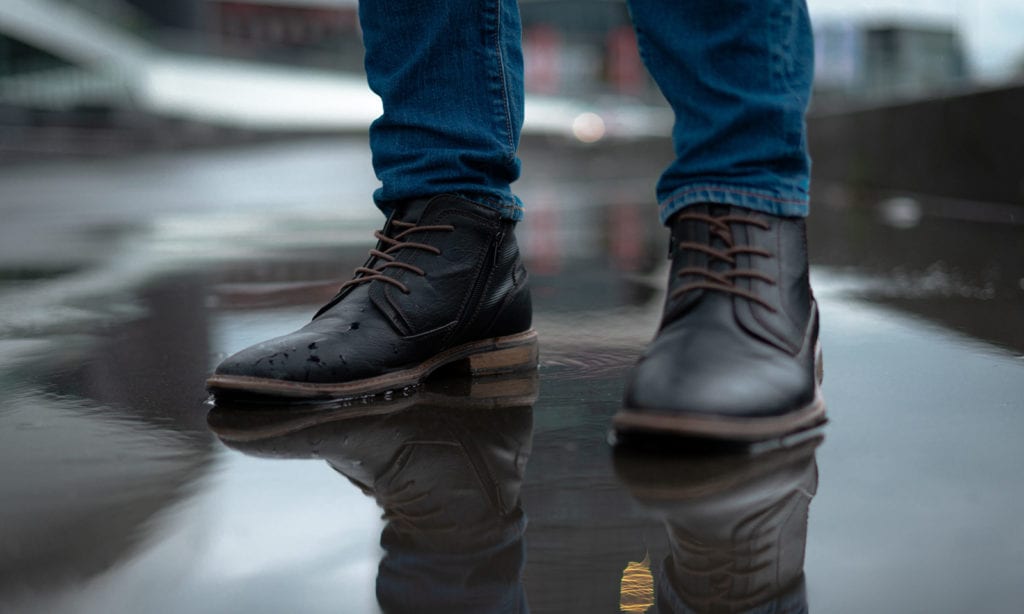 While it is possible to buy waterproof leather boots, not all of them are made the same, so you might need to do some work to make sure that they last. If you have spent a lot of money on leather boots, you will want to ensure that they survive the winter. Luckily, you can learn how to do waterproofing for boots to ensure that your feet will be dry, no matter the weather. Waterproofing boots not only keeps your feet warm and dry when it is raining, snowing, or sleeting, but it can also extend the life of your shoes.
It can take a long time to find the perfect pair of winter boots, so you want to make sure they last. Most leather boots need some form of waterproofing before they can be worn to work or out in winter weather, even if they claim to be waterproof already. Even if you buy specific waterproof boots, this protection will fade over time, so you should learn how to work at boot waterproofing now so you can always be prepared.
Can I Buy Waterproofer For Boots?
It is possible to DIY a boot waterproofer, or you can opt for over the counter products. No matter what kind of waterproofing treatment you choose to use, it is important to be aware of the timespan it offers. For example, using a standard waterproof balm on leather boots that were not made to be water-resistant will only offer you protection for a couple of weeks.
This means that you will have to constantly work to waterproof leather if you want the protection to last. Some forms of waterproofing treatment can last longer, which will be discussed later, but you will need to reapply whatever you are using at some point in most cases.
There are various kinds of waterproofing products for leather boots, which can make it quite difficult for you to determine which is going to be best for you.
What are the Best Products to Waterproof my Boots?
When it comes to buying waterproofer for leather boots, there are lots of products to choose from. From wax to balms and creams, you can choose a suitable way to waterproof your footwear based on your budget, time, and ability. Using a waterproofing wax may be the easiest option, as these can take minutes to apply, and it is very easy to do so. Before applying a waterproofing wax or similar products, you do need to make sure that your leather boots are clean.
This means you will need to work on the boots to remove any debris, mud, or grit from them before applying the waterproofing wax. There are specialist leather cleaning products you can use to do this, but most leather boots can be cleaned just as well when you apply water and soap to them. It is important to remember that water may change the color of your boots, but once they dry, they should go back to normal.
Depending on the wax you are using, you may need to wait until your leather boots are completely dry before you can apply the waterproofing layer. Make sure to read the instructions for use before applying any product to your leather boots, as you will need to get it right to make them waterproof.
Once you are ready to apply the waterproofing wax, you can do so using a soft cloth. Dip the soft cloth in the wax and begin applying it to the leather boots in circular motions. If the boot is dry, you may experience a little friction here, but waterproofing should not damage your shoes.
When applying waterproofing wax or cream to leather boots, make sure to work it into the seams of the leather as well. This will prevent water from coming into your work boots or leather footwear.
How Do I Make My Leather Boots Waterproof?
If you do not want to use a specific waterproofing wax or cream, there are other options available. To waterproof your work boots or leather shoes so they can be worn all winter long, there are several different kinds of products you can try. It is important to make sure that you spend time to clean the leather boot before applying any sprays, gels, or creams to them.
If you are trying to waterproof work boots, make sure all dust, debris, and grit have been removed from the shoe beforehand as these can mix in with the waterproofing solution and tear at the leather. There are several different things you can use to waterproof leather boots using DIY methods. The following are great to use in an emergency or if you do not have a lot of time to spare:
Transmission Oil
This kind of oil is known to repel water, making it an excellent option for those wanting to waterproof their work boots. It can keep your boots dry and protected during wet weather, keeping your feet safe inside of them. This method may not be suitable for all leather footwear, so be careful when using transmission oil on your boots.
Before you wear the boots outside, simply coat the entire shoe in transmission oil. Do not repeatedly use this method as transmission oil can discolor the leather and make it appear red.
Clear Enamel Spray
This can be a quick way to give your leather footwear a break from moisture, which can improve their durability. Before going outside, spray a couple of coats of clear enamel onto the boots making sure to cover the whole upper area of the shoe. However, this is not a long-lasting barrier against water, and you will notice that the spray has started to wear off after a couple of hours.
Nonetheless, this can be an excellent solution for those in a hurry who only need to wear their boots outdoors for a few hours.
Vaseline
Vaseline is something that you will find in almost every household, and it can offer a good temporary barrier against water. Before using this method to waterproof your boot, make sure to clean your boots as you would before you use any other leather conditioner.
Apply Vaseline over your boot in the same manner as a waterproof wax or similar cream, taking extra care over the seams to prevent water from coming into the shoe. Remove any excess Vaseline from the boots before wearing them and allow them to dry before putting them to use.
Candle Wax or Beewax
This kind of waterproofing requires heat to be applied to your boot, so it should only be done on certain kinds of leather. It is one of the most popular ways to DIY waterproof leather shoes, so chances are you have already been recommended this process. Nonetheless, you will need to rub a candle or some beeswax over your boot to do this method.
Make sure to cover all areas of the boot, including the upper and the seams to keep everything watertight. Once you have applied the wax to the shoe, you will now need to add some heat so it can melt and create a protective barrier. This can be done using a blow dryer.
Once you have melted the wax, leave the boot to sit for around five minutes. This is one of the longest-lasting DIY waterproofing methods, and it can be a great option if you do not have any waterproofing products to use.
Should I Waterproof My Boots?
If the above methods sound a little too risky for you, then you may be wondering whether you even need to waterproof your leather shoes in the first place. There are a lot of benefits to wearing waterproof shoes, and it can offer a lot of protection to your feet.
Without waterproof shoes, your feet will be exposed to water, and this can cause damage and even some deformities if left too long. If you spend all day with your feet in the water, even if they are only a little damp in your boots, you could end up facing some major damage to the skin on this part of your body.
Conditions like trench foot can be very painful, with symptoms of numbness, tingling, and redness, and these are caused by wet feet. Make sure that you are properly protected this winter by waterproofing your boots.