The Importance of Clean Shoes (And How to Keep Them Clean)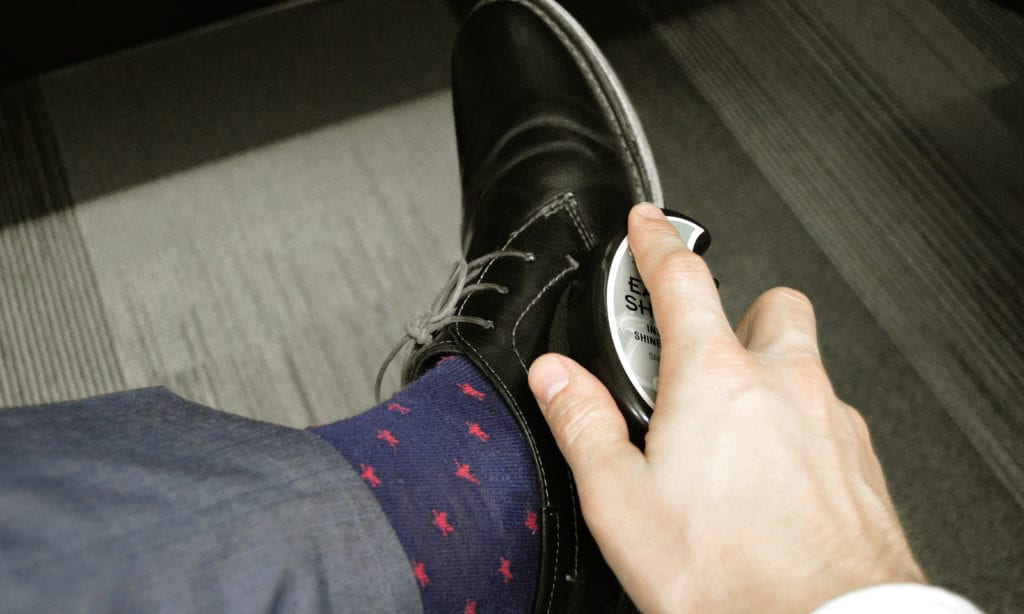 How to Keep You Shoes Clean
Everyone owns at least one pair of shoes. They're an essential part of every wardrobe and a vital tool for life. Not everyone knows how to look after a pair of shoes, though, meaning that they often become damaged, scuffed, stained, or otherwise dirty, making them look far less good and ruining the look of any outfit. It doesn't matter how hard you try to take care of your shoes: if you wear them regularly, they are going to get scuffed and dirty in the end. That means you're going to need to know how to clean your shoes.
Shoes are available in a wide range of different materials and styles, all of which require slightly different methods for cleaning and maintenance. Here at Shoe Adviser, we've put together a set of short guides to how to clean some of the most common types of shoes and materials, as well as an explanation of why it is important to keep your shoes as clean as possible.
Why is it Important to Clean your Shoes?
Wearing clean, shiny shoes is incredibly important, especially in any situation where you want to look professional or smart. If your shoes are scuffed or stained, then it doesn't matter how much care you have taken with the rest of your outfit: you're going to look scruffy, and like you don't care about how you present yourself.
Clean and well-maintained shoes are also going to last longer. Scuffing and dirt weaken the materials of the shoes, fatiguing them and leading to damage and other problems. If you want your shoes to last as long as possible, you are going to want to clean them regularly and look after them carefully. A well maintained and regularly cleaned pair of shoes can last for years before they need repair or replacement!
How to Clean Leather Shoes?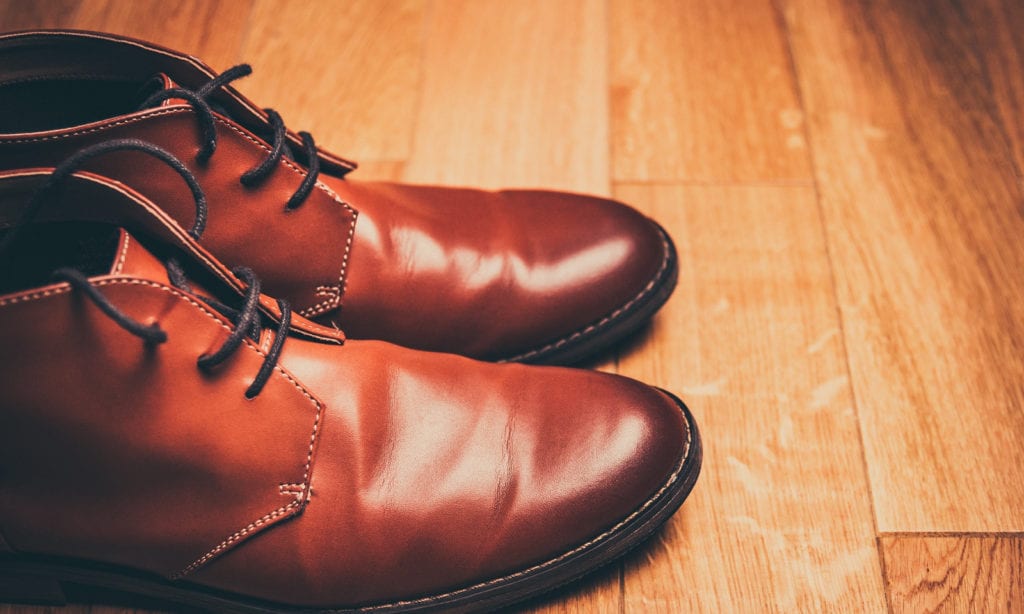 Leather is a natural material, which means that it requires oils in order to keep it supple and flexible. The skin it's made from produces its own oils, which are extracted during the tanning process and then reapplied to the finished leather afterward to keep it as natural as possible. During everyday wear and other situations, though, the leather of your shoes will gradually lose these oils. If leather dries out, it will lose its shine and flexibility and, in more extreme situations, will crack and split, ruining your shoes.
Taking care of leather shoes is a lot like taking care of skin. You need to keep it safe from sunlight, too much heat, conditions that are too dry, prolonged soaking… pretty much anything that might mess up your skin will also cause problems for the leather of your shoes.
To clean leather shoes, you're going to need soap, water, a small scrubbing brush, shoe polish in the appropriate color, and a rag to apply the shoe polish. To start with, lay down some newspaper on the surface on which you're working, and remove the laces from your shoes for separate cleaning.
Dip a small brush into warm, soapy water, and gently scrub the surface of the shoe in small circular motions to loosen up and remove any loose dirt particles. It might take a little while to get everything off, but this method should eventually loosen up the worst of the dirt. If the dirt is proving particularly stubborn, try dabbing at it with a cloth soaked in diluted vinegar to loosen it up more effectively. Once you've done that, wipe the vinegar off the surface with a clean, damp cloth, and you're ready to go.
Dirt can weaken the fibers of the leather in your shoes, making cracks much more likely to occur, and so it is important to remove as much of it as possible whenever you notice that your shoes are dirty. Once you've cleaned up the shoes, no matter which method you've used, leave them to rest for at least 20 minutes before you start polishing.
Once again, caring for leather shoes follows the same principles as caring for your skin. Much like when you moisturize your skin after washing, you're going to want to polish your shoes after you've cleaned them. Apply a cream polish (ideally a lanolin based beeswax shoe polish) to a soft cloth, ensuring that you're using a color of polish that matches the color of your shoes, and work it into the surface of the leather in a circular motion.
Keep going until you feel that you have covered the entirety of the shoe and given a smooth coating with no discoloration or streaking. Leave it to dry for a little while, and then buff the leather to a shine with a clean, soft cloth, and your shoes should look good as new again!
How to Clean Suede Shoes?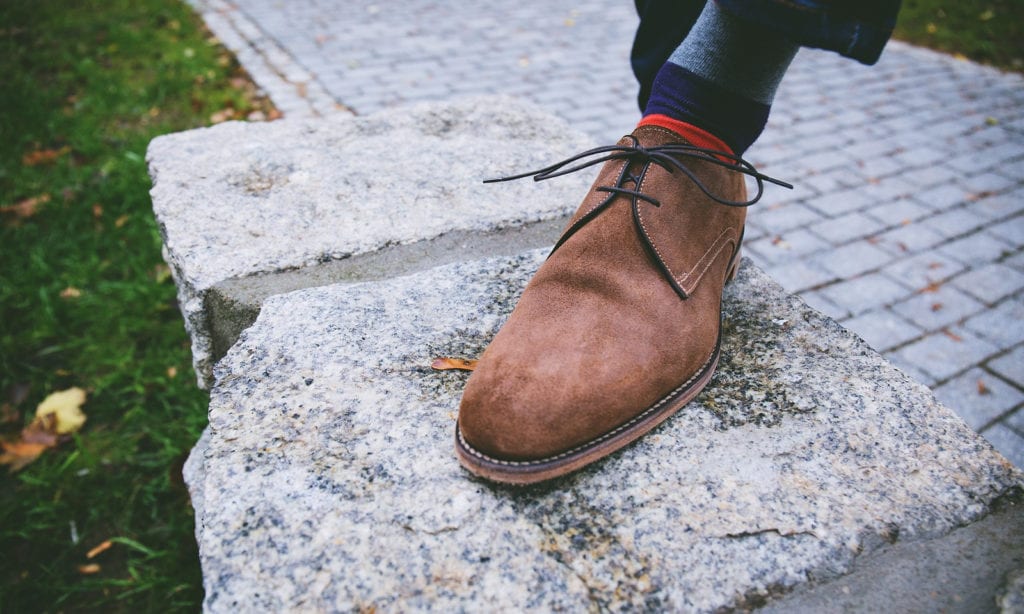 Suede is a soft, flexible leather that is more relaxed and often more comfortable than most other types of leather used in shoemaking, but it picks up scuffs and marks more easily than most other types of leather. As suede shoes can quickly become scuffed and dirty, you're going to need to clean them relatively frequently if you want them to stay looking sharp and respectable.
If there are stubborn stains that you can't remove by hand, though, you may wish to take your suede shoes to a professional cleaner, as suede can be difficult to deep clean without risking damage to the material of your shoes.
To remove dirt from suede shoes, wipe them down with a clean, damp cloth. Scuff marks can be cleaned up by gently rubbing them with a standard pencil eraser, which should be able to remove most minor scuff marks. Larger scuff marks, or those that are more stubborn, can be removed by gently brushing them with a toothbrush. Be gentle and careful, however, as intense scrubbing will only cause more scuff marks!
Once you've got rid of the markings, you may find that the surface of your suede shoes looks rougher and less attractive than before. Fortunately, this is easy to fix. It's worth buying a suede brush for this, as these are designed to restore the texture (often known as the "nap") to suede surfaces with ease, restoring them to perfect smoothness.
How to Clean Sneakers?
After heavy use, any types of athletic shoes or sneakers can get unpleasantly sweaty and grimy. Unfortunately, unlike the rest of your athletic gear, you can't just run your sneakers through the washing machine, as this can severely damage the materials. If you want to protect your investment in your favorite sneakers, you're going to need to hand wash them, and wear socks for sweaty feet.
The first step in cleaning your sneakers is to scrub off any larger chunks of dirt or grime. Scrub the most problematic and visibly marked spots on the outside of your sneakers with a dry, stiff brush to remove the worst of the dirt, and then it's time to deconstruct them for cleaning. Take out the laces and the insoles and put them aside for now.
Then, fill up a sink with warm soapy water, and you're ready to get started. Using a soft brush or a sponge, scrub the entirety of your athletic shoes, and use a toothbrush or other smaller tool to reach smaller and harder to access spots on your sneakers. Once you're satisfied with your work, rinse the sneakers in cold, clean water, and leave them to air dry until they are completely dry.
How to Clean White Sneakers?
White sneakers can be a great element of many different summer looks, thanks to their bright, fresh, clean look, but anyone who's ever owned a pair of white sneakers has struggled with them losing some of their shine. White sneakers get stained, scuffed, or otherwise marked very easily, no matter how much care you take to try to keep them clean.
Fortunately, while it might be impossible to prevent them from getting marked, it's actually relatively easy to get white sneakers back to clean whiteness. White leather sneakers are very easy to clean, thanks to how little water is absorbed by the leather. If your white sneakers are made from leather, all you're going to need are a packet of magic erasers, a few paper towels and clean rags, and some standard soap.
Using a moistened paper towel, wipe down the surface of your white leather sneakers to remove any larger pieces of dirt or looser markings. Once you've done that, leave your white leather sneakers to dry for at least 10 minutes.
Moisten a magic eraser (but make sure it's not completely soaking), and run it across the soles of the sneakers until all of the visible dirt has been removed. After that, use soap to lather up your clean rags and gently massage the leather uppers of your white sneakers until the dirt is gone. This can take a little while, but eventually, the dirt should all be removed. Then, simply rinse off the leather surface with a clean, damp rag and allow them to air dry.
White canvas sneakers aren't quite as easy to clean, but they aren't impossible. To clean white canvas sneakers, you're going to need to start by mixing two tablespoons of plain white vinegar, a cup of warm water, and a tablespoon of baking soda together into a paste. Use a toothbrush to work this paste into the surface of the canvas uppers of your shoes, allow it to dry into a white crust, and brush it off once it's completely dried. That should draw most of the markings out from the canvas!
Conclusion
Looking after your shoes is vital to keeping them in good condition. Failing to do so will lead to the weakening and breaking of the material, reducing the lifespan of your shoes significantly. Keeping your shoes clean is an important part of this, as it can prevent dirt from damaging your shoes. A little bit of regular maintenance and cleaning can go a very long way towards looking after your shoes, and you don't have to put a large amount of effort in if you make sure you clean your shoes regularly.
Cleaning your shoes will also ensure that they don't let you down when you need to look good. Shoes might be a small part of your outfit, but people will still notice them, and scruffy looking shoes can ruin all of your efforts towards respectability, making you look a bit of a mess. A well-maintained pair of shoes will help you look great!