10 Best Deadlift Shoes in 2021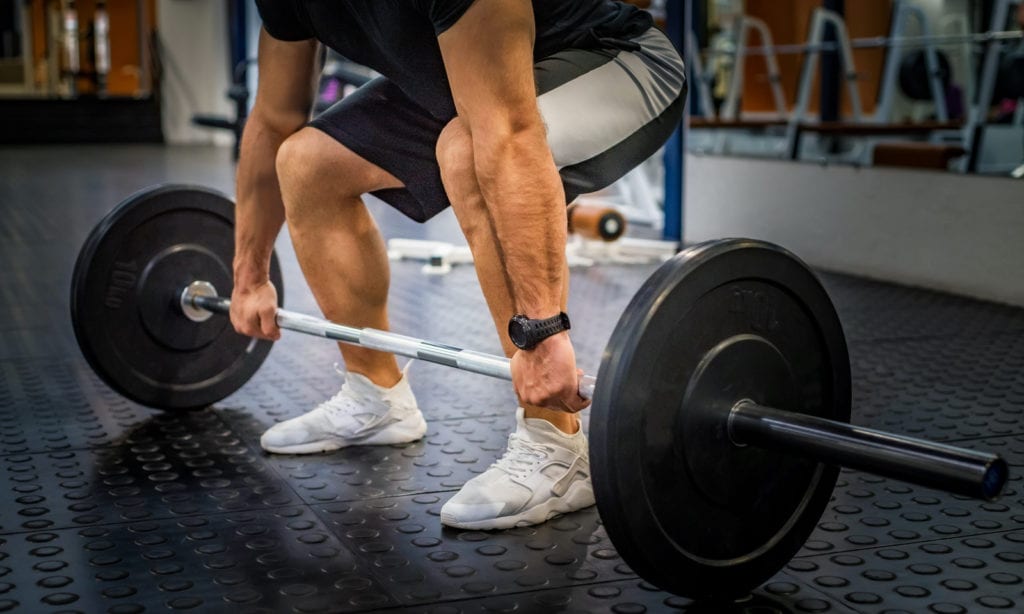 Deadlifts are a very popular form of exercise that you will see in almost every gym, but that doesn't mean it is easy. In fact, many people end up injuring themselves because they haven't properly prepared for the motions they need to go through, and it is very easy to forget how important a good pair of shoes can be for any sort of tough exercise. If you are planning on trying out a deadlift for the first time, or if you already deadlift and just feel like something is wrong with your technique, you might need a new pair of deadlift shoes to help you balance your body or keep a strong grip on the surface underfoot.
View the Best Deadlift Shoes, Below.
1. Reebok Men's Crossfit Nano 8.0 Flexweave Sneaker
These CrossFit-focused trainers are built using a rubber sole with a design that copies most flat shoes, giving it a larger surface area for a stronger level of grip. The lace-up system is easy to use and allows you to easily adjust the fit, while the synthetic upper materials keep your feet breathing and let air flow through properly. This also means that they are surprisingly comfortable, mixing flexibility and durability to give you the best possible results without lowering your stability or putting your feet at risk. The internal cushioning is also very simple, giving you proper support without over-complicating the design or focusing on a single point over other areas of your feet.
These simple trainers make for great deadlifting shoes that mix a straightforward design with great material choices.
Check Price on Amazon ➞
2. INOV-8 Men's FastLift 335 Powerlifting Shoes
These deadlifting shoes are made specifically for the gym, using a range of materials to reach a perfect balance of strength, flexibility, and comfort. The nylon ripstop used in the design is overlayed with lighter materials to provide twice the protection against damage, and the flexible layer used around the front of the foot makes it much easier to move around. Not only that, but the lace-up system also uses a separate hook-and-loop strap to let you quickly and easily tighten the shoe without having to re-tighten the entire body, making it easy to adjust on the fly. On the inside is a removable custom-molded footbed that is meant to offer extra comfort and protection, as well as a Power-Truss heel and sticky rubber outsole for better balance and grip.
These deadlifting shoes are ideal for people who want the reassurance of a grip-focused, sticky outsole, and the comfort of a flexible upper section.
Check Price on Amazon ➞
3. Converse Chuck Taylor All Star High Top Sneaker
The high-topped design of these Converse Chuck Taylor shoes allows them to cover your ankles, potentially helping you stay balanced and protecting a weaker point of your foot if you drop anything. Rubber soles provide an excellent level of grip and underfoot security on all surfaces, while the custom OrthoLite insole gives you plenty of cushioning to make sure that you are comfortable as often as possible. The upper section is mostly made with canvas, giving each shoe a good level of breathability and flexibility without causing it to be weaker than a standard trainer would be. Not only that, but the design uses medial eyelets that improve airflow and make it easier to adjust the laces.
These sneakers make great gym shoes in general, but they are excellent deadlift shoes thanks to the higher airflow and breathability.
Check Price on Amazon ➞
4. Reebok Men's Lifter Pr Cross-trainer Shoe
These durable, breathable fitness sneakers are made with tough full-grain leather and a range of synthetic materials to maximize support without making you uncomfortable. The design includes multiple features that are meant to improve your stability and side support even further, such as the Powerbax TPU plate and the thick rubber outsole that is angled forward. You also get a simple hook-and-loop adjustment system that can be altered in a heartbeat to suit the situation, as well as a separate lace-up closure for adjusting the major parts of the fit to suit your foot shape and size. There is even anti-friction lining on the inside to wick away moisture and keep you cool for longer.
These deadlift shoes are focused on keeping you cool, dry, and stable, a useful combination no matter how serious you are about your exercises.
Check Price on Amazon ➞
5. Nike Metcon 4 Mens Cross Training Shoes
These exercise-focused trainers are made with a mixture of synthetic and textile materials, offering maximum flexibility and breathability to make sure that you can stay safe and comfortable for longer without having to worry about harming your feet. The gum rubber sole gives you plenty of underfoot protection without getting in the way of your movements, and the synthetic inner layers are able to provide far greater comfort when you are exercising. There is no defined heel, meaning that the almost completely flat sole can give you a higher grip strength on indoor areas and make it easier to manage where your feet are at all times.
These shoes are great for support and movement, making it easier to deadlift without having to worry about your feet slipping away or your ankles starting to hurt.
Check Price on Amazon ➞
6. Vibram Men's KSO EVO Cross Training Shoe
These toe shoes are designed so that each toe on your foot has its own separate area, spacing them out more and offering a unique kind of grip not found in regular, completely flat shoes. The mixture of different synthetic materials in the design makes them surprisingly durable as well as comfortable, while the strong rubber used for the sole means that they can survive a lot of punishment from long-term use. The most obvious feature is the separate toes, which makes it much easier to grip onto any surface and offers more freedom of movement while still giving you the same feeling as any regular deadlift shoe.
These are some of the simplest lifting shoes on the market despite their unconventional design, making them one of the best options for people who prefer practical gear.
Check Price on Amazon ➞
7. adidas Men's HVC Wrestling Shoe
These wrestling shoes are designed to stand up to all kinds of physical exercise, using a mixture of suede and synthetic leather to give you a high level of durability and flexibility at the same time. The design is incredibly simple and doesn't rely on gimmicks, giving you a straightforward, breathable and very comfortable piece of footwear that uses both a lacing system and a high-up strap to help you adjust the fit to your exact preferences. This simplicity, combined with the almost completely flat sole that works well indoors, makes it a great option for all kinds of exercise or workout routines.
These wrestling shoes also work really well as a deadlift shoe choice, taking a simple design and improving it rather than adding gimmicks that might limit its uses.
Check Price on Amazon ➞
8. INOV-8 Men's Barefoot Running Shoes
This cross-training shoe makes use of a sticky rubber sole to improve grip even more than normal designs, helping you stay stable and supported on all kinds of surfaces. The Y-lock and zero-drop heel features mean that it is even easier to stay on your feet when doing difficult movements during deadlifting, and the improved materials mean that your feet are still able to breathe properly during workouts. The natural improvements to the grip, along with the lightweight materials used in the construction, make it suitable for almost any kind of exercise both indoors and outdoors, including deadlifting and other stationary activities.
These shoes are suitable for almost any form of exercise, making them a great choice for people who want to do more than just deadlift at the gym.
Check Price on Amazon ➞
9. Sabo Deadlift Shoes
These Sabo deadlift shoes are designed specifically for deadlifting, using an anatomical design that is meant to support your feet, help airflow to your skin, and help you stay stable for longer. The excellent side support is able to stop your feet from 'rolling over' and hurting you, while the lateral strap-based tightening works alongside a full lacing system to give you full control over the way that the shoes can fit onto your feet. Not only that, but the high top design means that you are able to get better performance out of activities like strength training while protecting your ankles from harm or discomfort.
This Sabo deadlift shoe design is perfect for keeping your feet safe and secure on flat surfaces, especially while using heavier weights.
Check Price on Amazon ➞
10. adidas Men's Powerlift.3.1 Cross Trainer
These lightweight and durable deadlift shoes use a range of useful extras, such as a breathable air mesh collar and tongue, to keep you comfortable through your exercises. The forefoot area has an open structure to allow for natural toe movements, preventing cramps or other injuries from long-term use, while the high-density midsole ensures that you can stay stable during your deadlifting sessions. The simple lace-based closure system means that you can easily adjust the shoes to your foot shape, and the flexible materials used in the construction stop them from feeling restrictive when you are wearing them. Thanks to the strong outsole, they can withstand a lot of wear and tear, too.
These shoes work well for all kinds of exercise, with deadlifting being only one of many that it is able to support really well.
Check Price on Amazon ➞
Deadlift Shoes Buyer's Guide
Buying new shoes can take a lot of time, even if you are not getting them for any specific purpose. The more niche your needs get, the harder it can be to find a pair that suits you, which is why picking the best deadlift shoes can be much more difficult than it might sound at first. If you are not sure what the best deadlift shoes would be for your particular situation or exercise style, you might want to look into specific features and design elements to get an idea of what you should be looking for.
Shoe Types
There are hundreds of individual shoe types out there, and any pair could be the best deadlifting shoes for your personal needs or preferences. For example, some people prefer deadlift slippers: deadlift slippers are simply slippers designed for deadlifting, using an open design rather than being a complete shoe. Other people might feel that the best deadlifting shoes are any deadlift shoes that are built up to Olympic weightlifting standards, while others might just prefer deadlift shoes that they find comfortable. You might also have a certain brand, such as Chuck Taylors, that you prefer over other shoe types, even if Chuck Taylors don't make the best deadlifting shoes from a statistical point of view.
Whether you've got a bias for Chuck Taylors shoes (or a similar brand), prefer deadlift slippers, or want the best shoes regardless of their brand name and design, it is important to look at the shoe as a shoe rather than a deadlifting tool. Like any shoe, you need to be sure that you will get a snug fit and good performance out of them. Every shoe is designed to fit onto somebody's foot, but that doesn't necessarily mean that every shoe will be practical for your situation or the kinds of deadlifting you want to do.
Because of how deadlift shoes are supposed to work, you might find that even the best deadlift shoes also have drawbacks. No shoe is perfect, and deadlift shoes are just that: a shoe that is meant for deadlift uses. This means that, like normal shoes, they can't be the best at everything. You can't have shoes that are lightweight and also heavy, you can't have shoes that are flexible but also rigid, and so on. Choosing a good deadlifting shoe is about picking the best point on the scale when it comes to things like weight, fit, size, and materials.
Weight
Weight might not sound that important compared to other parts of a shoe design, but it can make a significant difference and might even change the kind of situation the shoe is supposed to be used in. One of the biggest mistakes you might make it going for heavier shoes: this can be logical since you'd expect them to hold you in place for longer and make it easier to stay stable, but that can actually cause more problems than it solves. More weight reduces your range of motion and puts more pressure on your feet when you try to move, whereas a lighter shoe becomes much easier to move around and doesn't force you to try as hard if you need to re-balance yourself.
You need to think of your feet as supports. If you are not using a lifting shoe that can offer you a stable base, then you at least want one that makes it easy to move your foot around so that you can always shift your weight and get yourself in a safe, balanced position. If you choose something that is too heavy, it is very easy to end up slipping over or not being able to get yourself back into a balanced position, which could result in you falling over. Nobody wants to fall over while deadlifting, even if they have a safety mat to land on, so you'd be better off trying to deadlift barefoot than use big, heavy boots. That is not to say that they can't work, but you have to be very careful about the shoes you are using.
Remember that weight isn't always caused by the materials themselves. The shoes might actually have a thin sole and upper section, but use a heavy heel or have ankle support that weighs it down. In most cases, a bit of weight can be a good thing (especially if it can help you balance), but you want to make sure that the shoes are designed specifically for a purpose like that. A shoe that is heavy just for the sake of being heavy won't help anybody. You will need to try and learn the 'feel' of your shoes, too, since every person will have their own preference for how their legs are spread: the floor can play a large part in this, but if your best shoes are too heavy then they might still make it uncomfortable for you to be weightlifting in that way.
Heel
The heel is one of the biggest parts of any shoe design, but that doesn't mean that all heels are going to work. A high heel can be a big risk when you are lifting heavy deadlifting gear, and there are very few practical reasons to have a non-flat heel. A raised heel not only gets you to put your feet at an angle, which is already a bad idea, but that can also result in major issues with how your shoes handle traction and grip. The larger the heels are, the bigger the disconnect between the soles of your feet and the floor itself, which can make it difficult to adjust your position without looking at the ground – something you can't really do during deadlifting. A near-non-existent heel is a much better choice, giving you a flat surface to work with that keeps each foot mostly parallel with the ground.
It is easy to tell if a raised heel will be an issue just by looking at a shoe. The more it is tilted forward, the less suitable it will usually be as a deadlift shoe, especially if it has insoles or non-removable inserts that angle your feet even more. While you can usually remove or cut out these inserts, you can't do much about a raised heel, so you should avoid them wherever possible. The best way to ensure that you get a flat heel is to look specifically for shoes that offer them, since many brands actually have them as a selling point, and there is a large market for flat-heeled shoes. It doesn't have to be perfectly flat: as long as it is close enough, it should work, but flatter is usually better.
Sole
Each deadlift shoe should have a sole that can keep you stable and safe, no matter what. While all exercise benefits from a good sole, deadlifting can be extremely dangerous, especially once you get into the realm of Olympic weightlifting and the kinds of heavy weights that are involved there. Not only is a sole your main line of defense against damage from the ground, but it also forms part of your foot support and acts as the gripping surface to keep each shoe from slipping around, all things that matter a lot even during casual deadlifting exercises. Weightlifting shoes are often built in a way that gives them the best possible sole design, even at the expense of other features that might be useful.
It is good to try and find your personal 'midpoint' with the sole since everybody has their own preference. A thin sole that is too close to the ground will make your weightlifting shoes less cushioned, but improved stability, but a thick one that is further away can limit the amount of stability you get but increase the cushioning effect. A midsole can help boost either or both of these factors, but only some deadlifting and wrestling shoes will have them since they still take up space inside the shoe body.
The insole also matters there. An insole isn't just a point of cushioning: it is also part of the inner lining of your shoe, and often has a direct impact on your feet and the way you feel while performing a deadlift. Lifting shoes need to be comfortable, and that means that the inside of a shoe is just as important as the outside of the shoe. You should also be aware that some insoles might connect to a toe box, which can be a nice addition to certain deadlift shoes at the expense of adding more weight to the front.
Metatarsal Strap
A Metatarsal strap is one or two lateral straps that run from horizontally across the middle of the shoe, adding more stability and making each shoe less likely to slide during deadlifting. The best deadlifting shoes will often have them as a built-in feature, but some people add their own lateral straps to create a custom deadlift shoe. You can also get ones that apply to your feet directly, but these are usually meant for barefoot deadlifting and can often feel uncomfortable unless you are already used to them. Like many professional pieces of gear, a strap like this is mostly used by people who are serious about their performance, but they can also be handy for beginners that want an extra safety feature in case their shoe starts to slip.
Conclusion
By now, you will have seen a few examples of some of the best choices when it comes to deadlift shoes, as well as tips on how to hunt down your own deadlift shoes for future use. Remember that everybody has different preferences, so you might prefer a shoe that other people don't. No matter what you go for, hopefully, you pick shoes that can keep you safe during a deadlift and give you the best possible results: a good shoe style can be the key to pushing yourself further and staying comfortable throughout your exercise!
Of course, the shoes here are just a suggestion, so don't hesitate to look up other options if none of these shoes appeal to you. Even if they are not shoes you'd want to use, they can be a good jumping-off point to start your search into other shoes, especially if you are not that familiar with all the different types and features that you can choose from.
Expert Tip
Try to choose your deadlift shoe based on the floor you will be lifting on. Wood, stone, concrete, rubber, and vinyl all work best with different shoe sole types, so picking deadlift shoes based on the workout environment can make it much easier to prevent shoe slips.
Did You Know?
Deadlift shoes are often designed without thick soles for a simple reason: they don't squish into the ground from the weight. They won't be as comfortable, but the shoe will also last much longer under the heavy pressure it is handling, especially during Olympic lifting.