10 Best Workout Shoes in 2021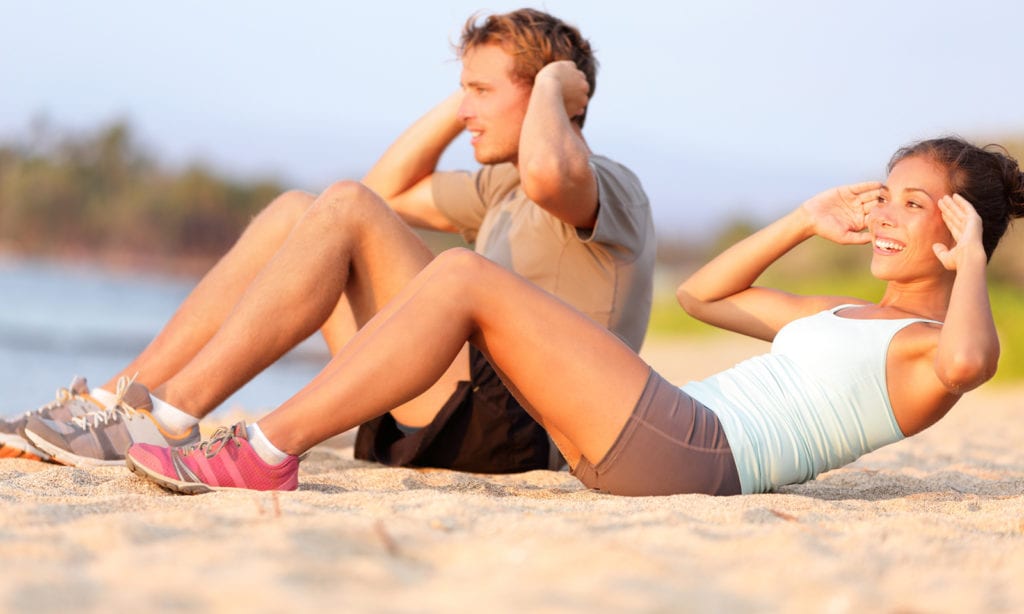 Working out can be great. Whether you're a gym bunny, looking to shed a few extra pounds for a vacation or you've finally caved to the gym trend. Chances are you're going to need a decent pair of workout shoes – whether you are male or female! If this is your first time buying some workout shoes, you may feel a bit lost trying to select the right shoes to suit your training needs.
Or you might be a gym pro, and you're just looking to get that bit extra out of your workout. Then you've come to the right place! Stick with us, and we'll help you find a durable pair of workout shoes which will keep your form on point and your body well protected while you focus on getting your personal best.
We've gathered the top ten workout shoes out there on the market these days. So sit back and relax, as you're bound to find the perfect pair of workout shoes that will help you become a workout warrior!
Also see: Best Shoes for the Gym.
View the Best Workout Shoes, Below.
1. ASICS Women's Gel-Nimbus 21
This ASICS Women's Gel-Nimbus workout shoe is brilliant for those looking for a shoe to go running in. This running shoe is made from manmade mesh and features a low-top arch. This workout shoe will help support you on whatever terrain you find yourself running on thanks to its flytefoam midsole technology which provides brilliant bounce back no matter what the distance you're running either! We also think you'll notice the difference in the shock absorption from the rearfoot and forefoot gel brand technology.
We love this workout shoe thanks to its seamless materials which reduce the potential for irritation and friction you'll find with a lot of other brands.
Check Price on Amazon ➞
CHECK PRICE ON ZAPPOS ➞
2. Nike Men's Metcon Training Shoes
The Nike Men's Metcon is the essential gym buddy, giving you the best from your workouts every time. These shoes feature a breathable mesh on the upper side of the model and an abrasion-resistant rubber sole. You'll also be able to adjust the laces on these Nike's thanks to their Flywire cables which create a locked-down fit. One of the best things about these Nike's is that you'll feel comforted by a sock-life feeling thanks to the bootie construction and cushioning which is found all over the insole and foam midsole.
These Nikes are the perfect pair of workout shoes for those looking to hit the gym and perform a variety of gym activities.
Check Price on Amazon ➞
CHECK PRICE ON ZAPPOS ➞
3. Great Soles Ballet Non Skid Socks
The Great Soles Ballet Non-Skid Socks are a unique pair of workout shoes which were founded by 2 sisters in America, and they're great for getting on the mat and practicing your downward dog. These socks are a brilliant hygienic alternative to practicing your favorite sport in your bare feet. These sock style workout shoes are super durable and suitable for machine wash while inside out and on a cold rinse. We found that the Great Soles Ballet Non-Skid Socks suited women from any size between 6-9.
One of our favorite things about these workout shoes are the superior silicon dot technology which makes it practically impossible to slip in these shoes.
Check Price on Amazon ➞
CHECK PRICE ON ZAPPOS ➞
4. PUMA Women's Tazon 6 Cross-Training Shoe
The PUMA Women's Tazon 6 Cross-Training Shoe is perfect for those who mean business when it comes to their workout as these workout shoes are great for some serious mileage. What makes this workout shoe so great is it's synthetic leather and perforated side panels which are specially designed for comfort.
We also loved the snug and comfy feeling and fit of this workout shoe thanks to its padded collar and tongue. Also, the eco-OrthoLite insole is perfect for giving you essential comfort, material regeneration, air circulation, and antimicrobial protection.
We loved these Puma's as they really helped our performance in the gym thanks to their air circulation designed which kept our feet cool while we built up a sweat.
Check Price on Amazon ➞
CHECK PRICE ON ZAPPOS ➞
5. adidas Performance Men's Powerlift.3
The adidas Performance Men's Powerlift.3 is vital to those looking for a workout shoe they can incorporate as part of their daily weight training. This model notably features an extra-wide design which encourages your foot to spread out, this helps you lift better as there is less strain placed on certain parts of your feet. We also adored how lightweight and durable the upper material on these workout shoes was.
This adidas makes it possible to have a sturdy and durable workout shoe without having to settle for something super heavy which can compromise your performance in the gym. Snatch, jerk and deadlift in these men's shoes made for weight lifting and everyday weight training. With an extra-wide design that allows the foot to spread, the shoe pair a lightweight and durable upper with a wide midfoot strap for a locked-down fit. A high-density die-cut wedge midsole keeps you stable.
These adidas are great for those men who are looking to perform better while lifting weights. Thanks to the durable and firm design of these workout shoes we found a vast difference in our form during lifting and the recovery time after!
Check Price on Amazon ➞
CHECK PRICE ON ZAPPOS ➞
6. Reebok Men's CROSSFIT Nano 8.0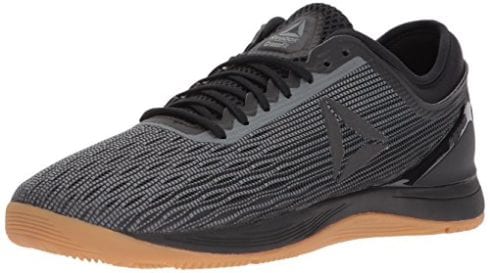 These Reebok Men's Crossfit are perfect for those looking for a strong foundation while performing powerful movements. This model in particular features a wide toe box which allows for an extra comfortable fit while you get busy in the gym. Another feature that helps this workout shoe provide you with the most stability is the minimal drop outsole which helps secure your foot in place helping you keep perfect form!
Don't be fooled into thinking all of the durability and strength on this workout shoe will compromise how flexible this workout shoe is either. We found that the flexweave upper on this shoe was great for giving us flexibility, durability, and security during our workouts too!
The reason, we loved these Reebok Men's CROSSFIT so much was thanks to the stability and comfort you get from this model which we think is unparalleled to any other workout shoe we've tried.
Check Price on Amazon ➞
CHECK PRICE ON ZAPPOS ➞
7. Brooks Womens Glycerin 18
The Glycerin 18 is brilliant for giving you a soft ride to cushion your feet while you hit the ground running. This model of workout shoe features the softest plush transition zones and a super DNA cushioning system which ensures you have total comfort. This smooth transition ability helps make every move you make from heel to toe feel as if you're walking on a cloud - it's just that soft and smooth.
And the updated 3D Stretch Print featured in the Glycerin 18 model is brilliant at giving you a streamlined fit! The super malleable cushioning DNA is able to provide you with 25% more adaptability than other workout shoes.
This Brooks Glycerin really is the best for those women who take their running seriously! And as a result of this want a pair of workout trainers which are designed to handle the intensive training of a runner.
Check Price on Amazon ➞
CHECK PRICE ON ZAPPOS ➞
8. Reebok Men's Ros Workout Tr 2.0
This pair of Reebok Men's Ros Workout shoes are essential if you like functional fitness training. The updated design of this model, in particular, is great for cradling your feet with support throughout your workout, while allowing you to flex at all times for better balance while you lift those weights in the gym. This shoe design also features 100% mesh/textile which is perfect for allowing your foot to breathe while you do all of the hard work.
We also love the multi-surface rubber outsole which is great for stopping you from slipping on any surface you come across while training. Basically, this workout shoe has been excellently engineering by a brand who know what they're doing to maximize the impact and performance of your workouts.
The best cross fit shoes for wide feet - which is an absolute godsend! Anyone who has wide feet and have tried to exercise in lousy workout shoes continuously will understand this pain.
Check Price on Amazon ➞
CHECK PRICE ON ZAPPOS ➞
9. Womens Nike Free TR 8 Training Shoes
The Women's Nike Free TR 8 Training Shoes are perfectly designed to help give you the best assistance you could ask for in the gym. Thanks to this models lightweight fabric and single-layer mesh across the upper we think you'll find these workout shoes a dream to move in, as they bend and flex to your particular foot's needs. We also think you'll love the removable foam insole which allowed us to feel cushioned support throughout our workouts.
Overall, if you're looking for a workout shoe for the gym or cross-training activities, we know that you'll be happy to have these Nike Free TR 8's in your gym kit at all times. Did we forget to mention they also look amazing when matched with our workout outfit?
I was looking for an all black sneaker, which is why I got these. I had heard that Nike runs a full size under, so I ordered a full size up, and they fit really well. The toe area is roomy, and the way the shoe is constructed by my heel is super comfy. I love them.
Check Price on Amazon ➞
CHECK PRICE ON ZAPPOS ➞
10. Reebok Men's Yourflex Train 11 MT
These Reebok Men's Yourflex Train workout shoes are brilliant for those athletes that want to push themselves harder and further with every training session. They're made from a synthetic material featuring shaft measures which allow for support and breathability during your workouts. We found that thanks to the synthetic sole we had great form on whatever machine we chose in the gym. These Reebok's are also just super lightweight and help you easily negotiate your way to a great workout!
These workout shoes are great for aerobic workouts, they're super comfortable and highly durable. You'll definitely be able to keep these as an essential part of your training gear.
Check Price on Amazon ➞
CHECK PRICE ON ZAPPOS ➞
Workout Shoes Buyer's Guide
If you're looking for a pair of shoes that will help you workout, there are many things you should consider.
What to look for in a workout Shoe?
You really need to spend time, effort and money searching for the right workout shoe. Think about it, you've already spent a lot on your gym membership, equipment, and your workout outfit, so it makes sense that you invest in protecting your feet.
Make Sure you're Happy with the look!
While how your workout shoe looks are not the most important thing to look for in a workout shoe. These days there's such an abundance of different shoe models suited for every workout need but also every outfit option. And you know what they say, if you look the part – you're going to start to play the role.
Make Sure it Fits!
It sounds like the most obvious thing to make sure of, but too many times do people end up buying some workout shoes that don't fit them. There are many reasons for this so make sure you try on your workout shoe around the same time of day you're likely to working out in them in. If you're looking for training shoes for lifting, we always recommend getting a size up from your usual shoe size.

Make Sure you're not Wearing old Shoes!
Generally speaking, you should change your workout shoes after 300 – 500 miles, this isn't always easy though when the primary function of your workout shoes isn't for running. But fear not you can easily tell if your shoes need updating based on how sturdy their material is and how much rubber is still left on the sole.
Make Sure you're Stable!
It's imperative you pick the right workout shoes for the type of training you'll be undertaking. We'll go into it later, but in general, you need to make sure your foot is well protected for jumping, parkour and weight lifting, and if you're long distance running you need cushioning.
Make Sure you've got the Right Traction!
If you're going to be doing a variety of activities including things like HIIT and Tabata workouts in your new shoes you need to make sure the rubber is firm and able to cope with quick movements without letting you slip.
Make Sure you Allow your Feet to Breathe!
It's really essential not just to keep the smell away but the sweatier and hotter your feet are while you work out the more this will impact on how well you can perform. If you know your feet are going to get pretty hot and sweaty, it's best to look for something with lightweight fabric or mesh panels. Workout shoes and socks for sweatier feet with a material such as these allow your feet to breath during those intensive workouts!
What Sport will you be using the Shoes For?
The first thing you should think about when shopping for a new pair of workout shoes depends on what sort of sport you'll be using your new workout shoes for. Different models of workout shoes will be more suited for various different sports.
Gym Cardio: If you're one of those who favor the cardio or training style workout class you best get yourself some supportive shoes. You'll find as you jump around in classes such as Tabata or HIIT workouts you need shoes which provide ample cushioning and support. If you have a normal to wide sized width foot, you may want to look for workout shoes with additional width, as this allows for maximum movement.
Treadmill Runner: For those of you that are all about clocking up the miles on a treadmill, you're going to need some running shoes. When looking for a running workout shoe, you should definitely check whether or not you overpronate or not – this will help define what type of running workout shoe you'll need.
Weight lifter: If working out for you involves lifting the heavyweight you'll know you need a secure solid form and grounding to help give you the power you need to lift. This means your workout shoes will also have to offer you a proper form and therefore need to be firm, flat and sturdy. If you try wearing your Nike runners while lifting weight, you'll find you ache a lot more the next day.

When Should you Replace Workout Shoes?
It can be harder to know when to replace workout shoes as unlike regular running shoes, you won't be able to work out when to replace them based upon how many miles you've run. Instead, the best way to know when it's time to replace your workout shoes is every three to six months.
How to keep Shoes from Slipping off heel During a Workout?
There's nothing worse than your shoes slipping off your heel during a workout, trust us we've all been there midway through pushing our bodies to the extreme our foot slips out, and we're suddenly thrown of our game or reaching our personal best. There are two ways to avoid this happening to you during your workout.
Firstly, no shoe should ever be slippy at the heel as any shoe which is slippy at the heel does not fit. Secondly, make sure your shoe is tight across the middle of your foot. This mid-foot part of the pump should be tight enough to feel sturdy without being too tight to cause any injury or pain.
How to Double knot Workout Shoes?
Many people swear by tying their shoes into double knots as it promotes better comfort and stability for a workout. Firstly you should pull the laces tight and make sure they're an even length. Then cross the laces and pull tight again. Then you need to manage to create and hold two parallel loops and loop them left over the right. We advise folding the left loop under, around and then under again. After this, you can pull your laces as tight as you like to suit your needs.
Expert Tip
You should never try and use the same workout shoe for every type of workout you do. As running shoes are made for the flexibility of running and shoes for walking or lifting weights will be stiffer to suit these sports needs.
Did you know?
Sneakers were given the name because their rubber soles didn't make a squeak as most other shoes did when they were walked in.