10 Best Lifting Shoes for 2021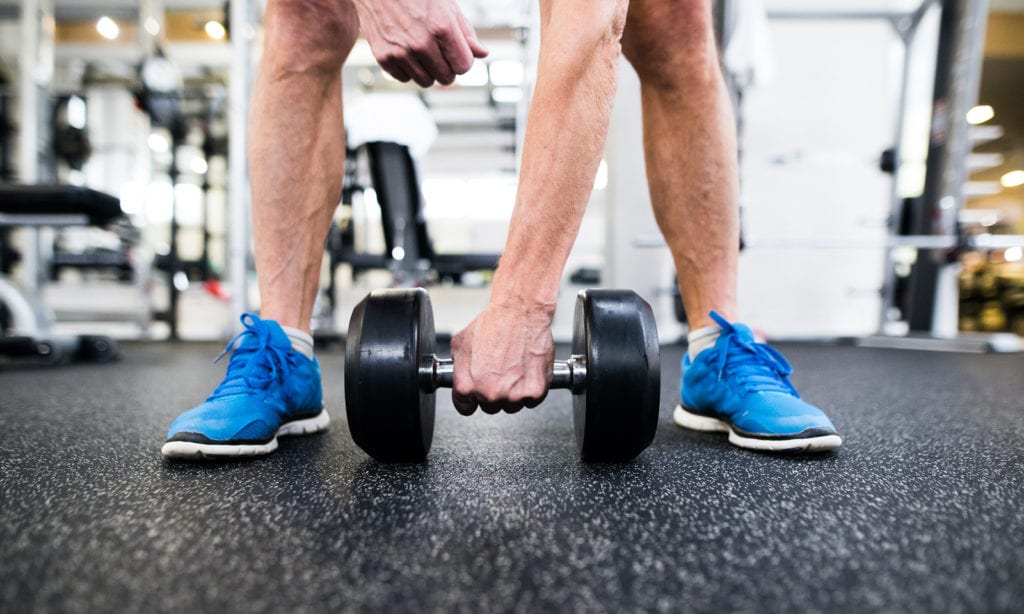 Whether you are thinking about taking up weight lifting, or you are a seasoned pro, it is important to have the right shoes for the job. When you are exercising and putting your body through stress, you need to be comfortable. Good, breathable sneakers will help you to achieve this. Similarly, though, you need to be stable and fixed to the floor to hold your balance.
Finding a pair of lifting shoes that are light and airy while also being firm and reliable can be a difficult challenge. Fortunately, we have gathered some of the best lifting shoes on the market and put them together with a helpful buyer's guide so that you can easily find the perfect pair for your weight lifting needs.
View the Best Lifting Shoes, Below.
1. adidas Powerlift 4
The first lifting shoe on our list is the Adidas Powerlift 4. Adidas is one of the most famous sneaker brands out there, which means you can expect these to look good as well as doing their job. The sturdy rubber soles keep your feet safely on the ground while you are lifting, and the durable canvas material fits tightly around your foot. They are also lightweight, so you should be comfortable walking around with them, although the canvas material isn't as breathable as other shoes.
Like most Adidas sneakers, they look pretty great. The classic three stripe design stands out, and you can show them off in a range of colors too. This might not be the most important thing when you lift weights, but everyone likes to look good at the gym, really. The only downside would be the lack of grip on the rubber soles and the lack of air through the canvas. However, if you want to look good lifting, these are a great choice.
These sneakers are for professional weight lifters, but they have the bonus of looking great, too, with a classic Adidas design and a range of color options.
Check Price on Amazon ➞
2. NOBULL Training Shoes
Next, we have these training shoes from the weight lifting brand NOBULL. These sneakers come in a wide range of colors, so you can look good while you are in the gym. These are also a more comfortable fit because of the materials NOBULL has chosen to use. The mixture of mesh and fabric in the upper part of the lifting shoes keeps them lightweight, as well as letting plenty of airflow through so that you don't get too sweaty.
The fabric also uses a SuperFabric guard. This gives you extra protection by acting as a barrier between you and the ground or whatever obstacles you come into contact with. This extra protection should keep you comfortable while training. They also have good traction on the sole of the shoes. Not only does this help you hold your stance while lifting, but it also means they can be used both indoors and outdoors as it suits you.
These are a high tech pair of lifting shoes as they incorporate a SuperFabric guard around the whole foot, which applies pressure against the ground, climbing ropes or obstacles.
Check Price on Amazon ➞
3. Reebok Crossfit Nano 8.0 Flexweave Sneaker
Reebok has produced some attractive, comfortable, and reliable lifting shoes in these CrossFit Nano 8.0 Flexweave Sneakers. These are available for both men and women, with the only real difference being the sizing. They also come in a huge range of colors. There are so many to choose from that it is unlikely you will find somebody wearing the same pair at your gym session. The design looks great too.
As well as the aesthetic appeal, these lifting shoes are made of high-quality materials, which can give you stability and comfort while you train. The wide toe box means you have room to move your feet and plenty of air around your toes. The flexible fabric used for the upper material means they feel natural, too and will move as you do. High abrasion rubber on the outsole gives these lifting shoes plenty of traction, so you won't lose your footing, and the minimal drop design helps to keep you grounded.
Reebok has combined comfort and security with these sneakers, as the wide toe box and flexible upper material meet a minimal drop, abrasive rubber outsole.
Check Price on Amazon ➞
4. Converse Chuck Taylor All Star Sneaker
When you think of shoes designed for weight lifting, Converse might not be the first brand to come to mind. The classic Chuck Taylor All Star sneakers are famous for their aesthetic appeal, but not so much for the support they can give your feet. However, with a high level of traction on their rubber soles, they are perfect for keeping your feet in position while you train.
Of course, they look good too. With a wide range of colors available, these can be customized to match any style. They are also really comfortable because of the inclusion of an ortholite insole. This gives your feet plenty of support while you lift. The canvas upper material can keep your feet warm and doesn't allow much air to get through. However, this is the only real problem in an otherwise comfortable, sturdy, and stylish choice of sneakers.
This is a famous shoe design, which is also very comfortable thanks to the ortholite insoles used to keep your feet happy.
Check Price on Amazon ➞
5. Reebok Lifter Pr Cross-trainer Shoe
If you want your training shoes to be designed with weight lifting in mind, look no further than the Lifter PR Cross-trainer shoes from Reebok. This is a pair of specific weight lifting shoes that are still produced by a popular, mainstream, fashionable brand. The power of the Reebok logo can be seen in these attractive sneakers, and the wide range of colors ensures that you will appreciate these trendy shoes.
Of course, it is not all about looks, and these perform well for weight training too. The stand out feature for lifting is the wrap around the middle of the foot. This TPU gives extra support and stays tight around your foot to hold you in position when you train. As well as this, the durable rubber outsole should give you all the traction you need, and the breathable mesh should keep your feet dry and comfortable during exercise.
These sneakers are designed specifically for weight training and perform well with extra support from anti-friction lining and a Thermo TPU midfoot wrap.
Check Price on Amazon ➞
6. Nordic Lifting Powerlifting Shoes
Another popular brand for weight lifting shoes is Nordic. Nordic has created these Lifting Powerlifting Shoes to give stability and comfort to men who like to work out with weights. One way in which they have achieved this is the inclusion of a raised heel. This raised heel means that users of these shoes will be encouraged to stand straighter, keeping good posture while they lift. The raised heel is part of a rubber sole with plenty of traction, too, so you are stable while you work out.
You get to choose between blue and black color options depending on which suits you best, and they also come in a premium shoe box. This could give these lifting shoes an edge over some competitors, as they can make a great luxury gift for your hard-working fitness friends. As well as looking good, they also offer premium comfort, with a breathable mesh tongue and collar.
Stability is furthered with these lifting shoes due to the strong Velcro strap, the raised heel, and the anti-slip traction sole, which plant you firmly to the ground.
Check Price on Amazon ➞
7. Inov-8 Bare-XF 210 V2 Sneaker
The Inov-8 Bare-XF 210 V2 Sneakers are designed to be great training shoes for women. They are matched for use in all parts of the gym, and look and feel great too. They come in a small variety of colors, and they use lightweight materials to feel natural when you move around. This natural feeling is aided by Meta-flex technology in the soles. Meta-flex technology lets the shoe bend and move with your foot, so there are no limitations during your training session.
These are also great for weight lifting, thanks to the sticky rubber used in the outsole. This rubber has plenty of traction, which will keep you firmly planted to the ground while you lift, to keep you safe from harm. The rubber outsole is also designed to have maximum surface area coverage for extra balance.
This is an excellent pair of all-round training shoes for women, with in-built technology to protect the foot against climbing ropes and to give natural flexibility.
Check Price on Amazon ➞
8. Reebok Ros Workout Tr 2.0 Cross-trainer Shoe
Reebok has produced another great pair of lifting shoes in their Ros Workout Tr 2.0 Cross-Trainer shoes. These sneakers are designed to support your feet in the best way possible, thanks to the light feel they have. This means you can move around easily without anything holding you back. As well as being lightweight, they also use breathable mesh so plenty of air can get around your sweaty feet while you work out.
Reebok makes their shoes look great too, and these are available in a wide range of colors to please the eye. As always, the appearance of these Reebok sneakers is very attractive and stylish, so you could wear them casually at social events too. The underfoot cushioning means you won't feel strain under your feet while you lift, and the thick rubber soles are made to function on all surfaces.
This is another stylish pair of sneakers from Reebok in a range of colors, which offer plenty of support through their lightweight, cushioned design.
Check Price on Amazon ➞
9. Nike Metcon 4 Cross Training Shoes
Another big brand pair of weight lifting sneakers are these Metcon 4 Cross Training Shoes from Nike. The classic Nike tick appears across the side and sole of each lifting shoe, so everyone will be able to see which designer you prefer while you train. Nike has also offered them in a huge range of colors and made styles suitable for both men and women alike.
The engineering of the lifting shoe is also top class, with a sticky rubber sole to keep you firmly grounded while you lift weights. The breathable mesh heel and drop-in midsole are there to make sure you have maximum comfort and support around your foot in all positions. An extra benefit is a low heel, which comes in handy if you like more athletic workouts, such as handstands and stretches.
If you like big-name brands, you can't go wrong with Nike, who have produced yet another training shoe with a solid grip and stand out aesthetic appeal.
Check Price on Amazon ➞
10. Inov-8 Fastlift 335 Weight-Lifting Shoe
Finally, we have these Fastlift 335 Weight-Lifting shoes from Inov-8. Unlike many of the big brand competitors, Inov-8 have chosen to put performance ahead of appearance with these shoes, as they only have two simple color options available. However, the subtle black design is enough to look professional while you lift or exercise in the gym if you'd prefer to have a focus on you rather than your feet.
In terms of comfort, these lifting shoes are designed very well, with a Meta-Flex system to ensure that they feel natural and can bend with your foot as you move around. They are also very light, which means you won't feel gravity working against you when you exercise. The sticky rubber sole keeps your feet firmly on the ground, with minimal chance of slipping over in a dangerous situation. Overall, these are high-performance sneakers, which will serve you well for weight lifting.
This is one of the more subtle pairs of lifting shoes available, which is more focused on performance and support than appearance.
Check Price on Amazon ➞
Lifting Shoes Buyer's Guide
Plenty of weight lifting shoes have been designed over the years, and as the sport grows more and more popular among young people, more and more related products are produced. Whether you take part professionally, do weight training at the gym, or you are just a beginner who is interested in the concept, there should be a pair of shoes to match your needs.
Of course, you might think that everyone should want the best lifting shoes, regardless of ability, and you would be right. However, if you aren't a full-time weight lifting pro, you might not want to invest too much, or you might want a more versatile sneaker to use for other things.
If this is the case, it might be a good idea to look at the pairs on this list with big names behind them, like Nike and Reebok, which can offer style, comfort, and bright colors at a reasonable price, that way you are more likely to wear them on a casual day, as well as at the gym, and they can give you more value for money.
On the other hand, if you want to get stuck into weight lifting, and you are willing to spend some money on it, there are a few features you should look out for. The best lifting shoes are designed to give you comfort and stability while you lift in order to improve your performance. With that in mind, here are some things to look out for.
Stability
When it comes to weight lifting, one of the most important things to get right is stability. Nobody wants to fall over in the gym, and getting your balance right will give you better overall results when you lift too. In order to achieve this, the best lifting shoes will have a slightly raised heel. This helps you maintain your balance as you stand straight in an upright position, and will feel more natural under your feet.
The best lifting shoes will also have plenty of traction in the sole. The outsoles should be made of rubber for high performance, and a sticky grip can hold you in position on the ground without slipping or wobbling. Of course, this is important for safety, but also for your composure and confidence when lifting.
Comfort
As always, with footwear, comfort is key, and this has never been truer than for weight lifting. If you simply lift weights as part of your training in the gym, you will want comfortable footwear that works for all the machines. However, weightlifting is the task with the most pressing need for comfort, mainly due to the amount of time spent in a low squatting position. In order to deal with this, the best lifting shoes have a raised heel to let you reach that low position without putting any additional strain on the back of your foot.
Comfort is also important for weight lifting as any strain will distract you and cause problems. For high performance, you want your feet to be light and move without your foot without holding you back in any way. In order to achieve this, many sneakers use mesh around the heel, the collar, and the tongue. This lets plenty of airflow through your sneakers and keeps your feet cool.
Breathable footwear is important, but it is also good if they can move with you as you exercise. Flexible materials are best for these shoes, which is why most lifting sneakers have synthetic or mesh uppers, rather than leather. This means that as you bend your toes or stretch your foot, the shoe can do the same as if you weren't wearing any sneakers at all.
Style
There is no doubt that people want to look good in the gym. After all, physical appearance is the main reason why a lot of people work out in the first place. With this in mind, you probably want to buy sneakers which look as good as possible. Flashy footwear that you can show off might also seem like a better investment if you can wear them out in the town too. If style is what you are after, some major brands like Adidas and Nike might be the place to look for your new lifting shoes.
Expert Tip
Especially if you are new to weight lifting, it is a good idea to get shoes with good, sticky grip on rubber soles, so you don't slip on sweaty ground.
Did you know?
Weight lifting shoes are normally designed with a raised heel. This is different from most sneakers but helps to keep you comfortable when you squat.