10 Best Nike Walking Shoes in 2021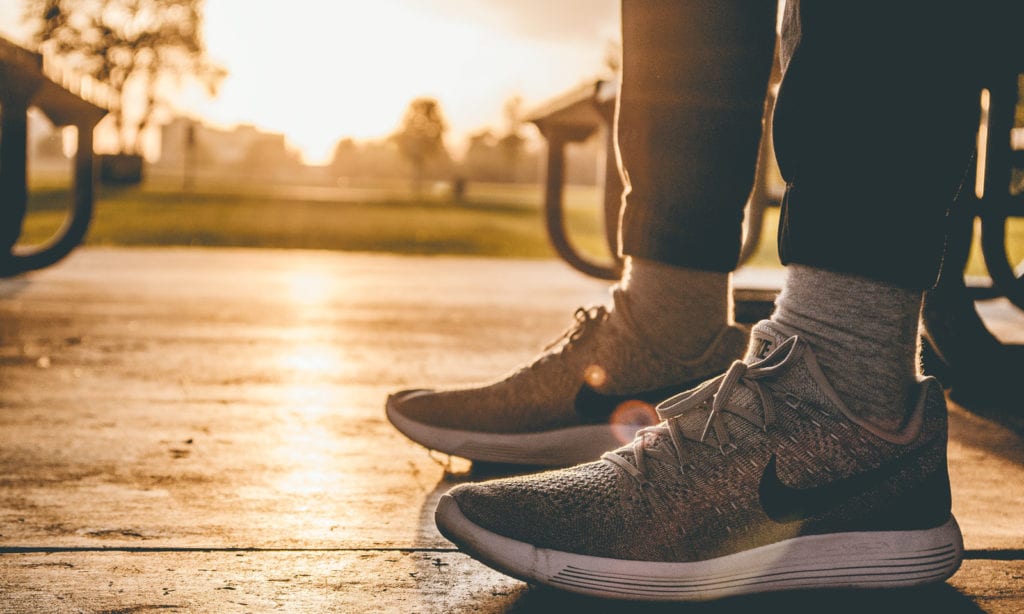 If you are passionate about walking, or just need to walk to get from A to B you need to protect your feet, you aren't going to get very far on your route without a decent pair of walking shoes. Let's face it we have all had shoes that pinch or are too loose and we all know about those painful blisters that can hinder your movement or stop you from walking entirely until they have healed. Practically, you need your feet every day; to move around your house, to perform your job and to socialize. So, it is really important to look after your feet and make sure you purchase the best for them, even if you are looking for walking shoes for an ad-hoc basis we recommend that you use a well made walking shoe to protect those essential feet.
The good thing is, you aren't alone. And it doesn't have to take you a lot of time to decide which shoe is best for you, we have researched the best Nike walking shoes on the market for both men and women and compiled a list below to help inform your decision.
View the Best Nike Walking Shoes, Below.
1. Nike Men's Revolution 4 Running Shoe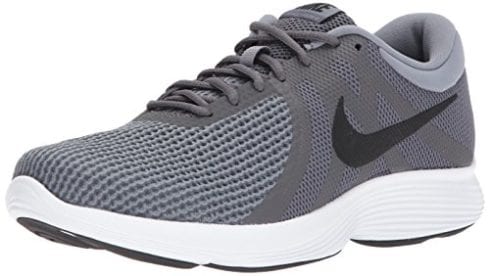 Revolution 4 is a modern design running shoe comprising of a mesh upper and rubber sole, the positive feature of this shoe is the Phylon midsole included. Phylon is a lightweight foam material that provides an excellent level of cushioning for your foot without causing the shoe to become heavy when worn. The rubber sole is strong and provides excellent grip when walking or running. With molded pods within the sole, you will surely have a comfortable step. The pods work as springs for each step you take compressing as you step depressing as you lift your foot, beneficial for a faster walking pace or as a running shoe.
This walking shoe provides a high level of comfort and supports whatever level of activity you are planning to do.
Check Price on Amazon ➞
2. Nike Epic React Flyknit 2 Men's Running Shoe
This shoe is super lightweight, with a light knitted upper, which molds to your foot without feeling heavy to give you a smooth moving experience. This shoe has a molded heel and differing traction pattern at the heel and toe for more grip where you need it most while walking or running, making this an all-round comfortable and supportive shoe.
The bootie includes a low contoured collar to sit below your ankle to enhance your range of movement while you wear the shoe and to enable easy removal of the shoe. This style is lace free which is excellent for relieving pressure elsewhere in your foot, especially your instep, and to avoid discomfort and pressure on the top of your foot when running and is equipped with an internal elastic strap to provide adequate support.
The grip provided by the tread pattern of this shoe is what makes this one of our favorites, you can move easier with the security of the tread pattern.
Check Price on Amazon ➞
3. NIKE Men's Tanjun Comfortable Sneakers
The Tanjun sneakers go back to what Nike does best, they are their latest comfortable shoes with a classic design. Pun intended the translation of their name from Japanese means simple, and that's what this shoe is; simple without sacrificing the quality of the product or the comfort for the wearer. Comprising a foam midsole and rubber sole Nike have created a lightweight, supportive shoe that will suit you for day-long wear in addition to when walking.
The textile upper of the shoe gives a high level of comfort to your foot, however, the simple sole does not provide the level of support of the shoes already discussed above and therefore is not a good choice for walking for exercise.
This is an excellent choice if you need a casual trainer for day to day activities such as shopping to give you more support than a pump but without being so heavy that you can't enjoy your day out.
Check Price on Amazon ➞
4. Nike Men's Air Monarch Iv Cross Trainer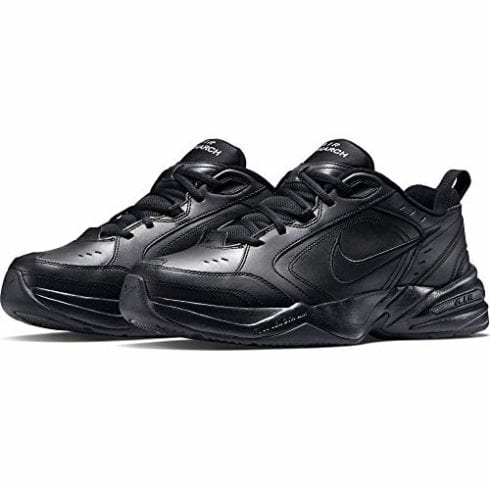 Nike is, with this design, looking to appeal to the long-term customer, with a retro-style and color scheme, Nike is aiming to bring out the nostalgia. A much more clunky design than the shoes we have looked at so far, the Monarch IV nonetheless provides comfort and stability when walking due to the leather upper and the Nike Air cushioning in the sole. The design of the sole provides a good level of traction when walking and also these are comfortable for day-to-day wear but wouldn't suit for strenuous walking activities.
This one hits us right in the nostalgic place, an enduring design that doesn't stray too far from the original while still giving the level of comfort and support we expect from a Nike product.
Check Price on Amazon ➞
5. Nike Womens Free RN Flyknit 2018 Running Athletic
Another shoe utilizing the Phylon midsole discussed in the Revolution 4 review, and with the durability of a knitted upper, the Free RN Flyknit is one we recommend. The knitted design lends itself to make this a very lightweight and comfortable shoe, and there are plenty of design options for this, with a choice of not only the color of the shoe itself but the sole and stitching.
With a more weighted heel to counter the lightness of the upper and midsole, through this design you get a very good grip when walking. The part we'd be remiss not to mention is that due to the knitted design, there isn't any weatherproofing in this design; so although great for walking, be careful of the terrain and weather conditions you will be wearing these shoes in.
This one is extremely comfortable, and the choice of design makes it fun and more chance of you being able to show your own personality through your choices.
Check Price on Amazon ➞
6. Nike Men's Renew Rival Running Shoes
This is probably the weirdest looking shoe in our list today, but don't be put off by the look of this shoe, they are incredibly comfortable. The unusual shape of this shoe is perfect for providing all-round support for your foot. This is especially beneficial if you are walking in the countryside or on an uneven path. The midsole in this shoe is also made of Phylon which helps to provide even more support and cushions your foot to ensure comfort for longer walks.
We really like the shape of this walking shoe and the amount of support that this shoe provides for those longer walks through the woods.
Check Price on Amazon ➞
7. Nike Women's Air Zoom Pegasus 35 Shoes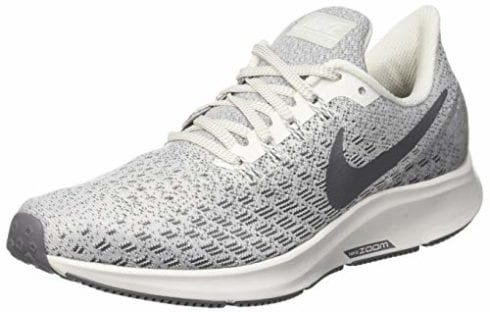 Made of a flexible mesh upper and rubber sole with two Zoom Air units, this shoe is extremely comfortable, the sole providing an excellent level of cushioning and shock absorbency, which will be beneficial for longer walks. The heel pattern provides a solid grip of the surface you are walking on, and the upper has a breathable design to allow more air to circulate while you exercise. The one aspect to be aware of when looking at this model is the sizing; it's a small fit so may not suit those with wider feet, we definitely recommend trying this one on in the store before
This shoe is another lightweight model, we like that the tongue is stitched in place as this means that with the lighter, mesh upper the tongue doesn't slide around causing friction, but at the same time your foot can move well.
Check Price on Amazon ➞
8. Nike Womens Air Max Sequent 3 Running Sneaker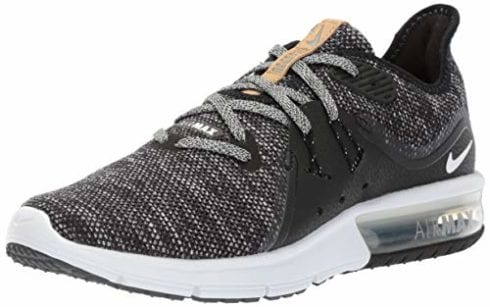 The Air Max Sequent 3 is designed for road running, however, it has a neutral design and comfort level that allows this to seamlessly transfer into an all-day shoe or walking trainer. The upper lining fabric is stretchy, allowing for greater dexterity of movement similar to wearing a sock rather than a shoe.
The sole includes the Air Max pocket, giving greater shock absorbency and cushioning, which is beneficial for walking over uneven terrain. Including the Phylon midsole, this shoe is designed for all-round comfort and support, which would suit any walking and terrain type.
This shoe gave us comfort and support; an excellent design for all terrains and a variety of walking styles would be suited to this shoe, it will also seamlessly transfer into a running shoe if required.
Check Price on Amazon ➞
9. Nike Women's Odyssey React Low-Top Sneakers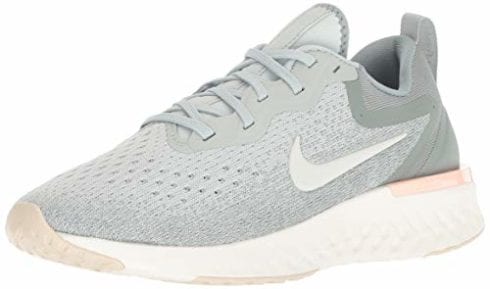 The Nike Odyssey React combines a breathable fabric upper with the foam React sole to create an extremely comfortable yet supportive running shoe. The sole juxtaposes a soft but durable, lightweight, but responsive experience giving you hours of wear without feeling the need to change your shoes. The overall design makes forward motion feel natural and the traction on the surface is fantastic.
Designed with an open-knit fabric at the front, this shoe pushes the heat generated by your feet out through the toe of the shoe to keep your feet cool as you walk and also to circulate air.
The comfort level of this shoe is brilliant, the design allows for extreme comfort all day.
Check Price on Amazon ➞
10. Nike Women's Lunarglide 8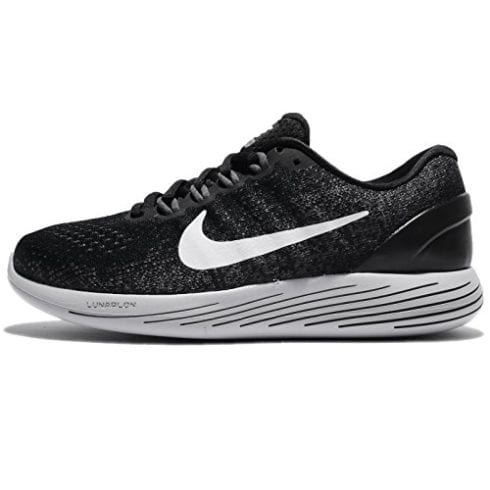 Comprising a flywire/mesh upper and a rubber sole, the Lunarglide 8 is a super lightweight walking shoe, as with so many of the shoes we have recommended the breathable fabric used for the upper allows for flexible movement and durability. The first on our list to use Nike's LunarGlide Lunarlon foam sole gives a smooth, comfortable experience while keeping the shoe light and easy to move in.
This shoe gives a considerable amount of flexibility while keeping the support for mile after mile of exercise, an excellent range of colors too.
Check Price on Amazon ➞
Nike Walking Shoes Buyer's Guide
When considering sportswear, the activity must be the first consideration, what are you going to be doing, and when? If you are planning to walk, you need to consider several other factors before deciding on the footwear you will be purchasing; how long will you be walking for? What will the terrain be like, and what type of weather conditions will you be walking in? We've compiled a list of Nike shoes above that suit a variety of different factors and are for both men and women, with several of the ranges being suitable for both.
Nike also have a vast range of shoes available for children, some of the products we have discussed are also available in children's sizes meaning you can model your child's sportswear choices on your own and make walking a family activity without needing to worry whether or not the chosen footwear is supporting your child in the activities they are completing.
While beginning to choose a new shoe for walking, you need to consider long-term comfort and support. If you are going to be exercising regularly, whether for long or short periods at a time, you need to be using a brand that is reliable and safe; Nike is that brand. They design their shoes around support, comfort, and traction on the surface you will be using them on. All three of these are important when walking for any distance, as if not taken into consideration, you could end up with a number of medical issues that would curtail your future exercising.
The decision over which is the best walking shoe to buy is an important one, and it's imperative that you evaluate the fit. Nike has several shoes that are suited to those of you who need a wider fitting, and several of those we have chosen would be suitable. There is also a range for slimmer fittings, so it is always useful to try the shoes on before purchasing them to make sure they aren't going to rub and cause blisters. Some of the above models will seamlessly move from walking to running, while others will give you full day comfort and come in a range of colors to compliment your style.
When looking at a new item to buy we always look at reviews, there are a lot out there for various brands and styles of walking shoe, so how do you know if the review you're reading is genuine? We always recommend you check out the manufacturer's description of the product – the best way is to go directly to their website – this means that you get the most accurate information regarding the technical specifications of the product you are looking at. There is saturation in the market for certain products, and using a tried and tested brand is beneficial as you know you are getting a product that stands the test of time. Nike has been a leading market brand for decades and upgrades its products regularly to ensure that the best possible materials available are used.
Following your research into the technical specifications, you may want to look at some user or product reviews; again, there are thousands of reviews available, so you need to be careful about what you are looking at. We recommend that you always look at verified purchases to ensure the reviews you are reading are those of people who have actually used the product you are wishing to purchase. They are usually marked on websites as a verified or authenticated purchase, other personal reviews on third party sites can also be seen as confirmed due to reviewers including videos or photos of the products in use.
Finally, we recommend trying on all shoes and wearing them in before going for long walks, you will not know how the shoe will suit for a long walk or a run unless you have worn it for a short period. There's nothing worse than getting to less than halfway through your walk and realizing your shoes are unsuitable, and you have no alternative but to carry on.
Alternatives to Nike Walking Shoes
Instead of a Nike brand walking shoe, there is a range of other shoes and boots available. However, we've found very few that can be worn with such ease. Several of the other available options include a clunky sole, which makes the shoe heavier and the experience of walking to be altogether less relaxing and consume more energy than it needs to. Especially if you are looking for a relaxed walk or a stroll through city streets or a shopping mall where all-weather boots aren't quite the desired look.
There are also specialized shoes made specifically for running, which, if that's your exercise of choice, may suit your purposes more. Generally, specifically made Nike running shoes will not be as comfortable for strolling but could be comfortable for speed walking. We also do not recommend walking shoes if you are going to be completing hikes or walking on hiking trails for prolonged distances as these types of terrain will generally need more ankle and arch support than the shoes we have highlighted above.
The impact of your exercise will also be something to consider as the type of midsole, and sole will be important to cushion your step and maintain comfort levels over the long-term. There is also the firmness of the sole to consider for what will best suit your posture, as bad posture can have a wider detriment than to just your walking.
Related: Nike Basketball shoes.
Consider Yourself
The final thing to consider when purchasing walking shoes is yourself; in addition to the technical aspects of the shoe, Nike offers a huge range of styles, fabrics, shapes, and colors. Your walking shoes don't need only to be practical; they can be a fashion statement also, and the Nike brand has decades of experience of being just that.
Other brands of walking shoes are available, and some will suit different types of walking activities such as hiking, loose surface walking, or rambling. And the weather conditions and climate should always be a consideration, you may need to purchase a different shoe for summer and winter walking as waterproof shoes may not be as comfortable for walking in hot weather due to a thicker sole and less breathable fabric for the upper of the shoe.
Expert Tip
Walking shoes should not be too heavy, or they will impede your movement, speed, and energy expenditure. This is especially important when planning for long walks as you don't want to be worn out within a half-hour because your shoes are too heavy.
Did you know?
The type of tread can make all the difference in the distribution of weight and the pressure across your entire foot when walking.