10 Best Running Shoes For Wide Feet
If running is your sport of choice, you need to make sure you have the best running shoes for your foot shape. Let's be honest not everyone's foot shape is the same and that is what makes buying shoes difficult sometimes, because without the right support while you run you could end up with a persistent injury and an inability to run for a period of time. Buying any type of shoes when you have wide feet can be challenging, as not all materials stretch to accommodate the foot shape you have. However, over recent years, more manufacturers are making products to accommodate those of us who don't have a standard foot size – which we are so grateful for.
So, we've pulled together our top ten running shoes for those with wider feet to help you to find the perfect shoes for a comfortable running experience. All of the shoes we have included here come in a variety of widths to enable you to choose what suits you best.
Related: Running Shoes for Flat Feet.
View the Best Running Shoes For Wide Feet, Below.
1. ASICS Women's Gel-Venture 6 Running-Shoes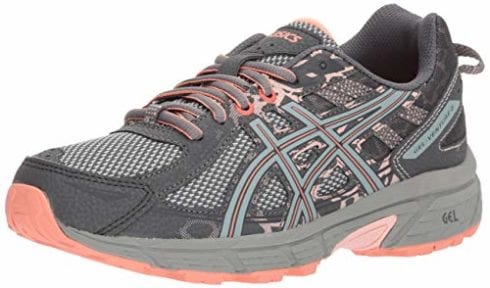 ASICS Gel-Venture 6 is their upgrade to the Gel-Venture 5 and builds upon that popular model, including their AHAR® rubber sole this model has enhanced flexibility and increased durability for an overall smoother running experience. The sole also includes reversed lugs, which enhances the shoe's grip on a variety of surfaces – making this model suitable wear for distance running across different surfaces.
ASICS have included the Rearfoot GEL® cushioning system in the midsole, this provides maximum shock absorption and a smoother run while giving you a spring in your return for a higher energy run. This model also includes a removable, high-quality foam insole so that each wearer can customize their wearing experience. The synthetic mesh upper gives a durable and flexible wearing experience with a well ventilated and breathable run allowing for natural movement of your foot throughout your run.
ASICS has included a huge amount of technology in this shoe to make the running experience as comfortable and natural as possible while ensuring a high level of stability and protection for your foot, enabling long-distance running on a variety of surfaces in this shoe.
Check Price on Amazon ➞
2. Brooks Men's Adrenaline GTS 19
Brooks' Adrenaline GTS 19 is made of a mesh upper, which gives an increased range of movement, stops the fabric from rubbing against your feet and causing blisters and makes the shoe lightweight simultaneously. The shoe includes a 3D Fit Print overlay internally on the sides and heels, which holds your foot in place and provides greater security when running, with cushioning being provided by way of the padded collar and tongue.
The midsole is made of BioMoGo Brooks' technology, which aims to provide further underfoot cushioning, which follows the need of each individual who wears the shoe and is also environmentally friendly. The sole of this shoe provides an excellent grip on the road surface while protecting the underfoot and includes flex grooves, which allow the shoe to move naturally with your foot while you move.
Overall, this shoe is extremely supportive for your entire foot, giving a comfortable running experience while protecting you from blisters and abrasions as much as is possible.
Check Price on Amazon ➞
3. New Balance Women's Cruz V2 Fresh Foam Running Shoe
New Balance's Cruz V2 Fresh Foam has a knitted upper, which provides comfort and support while allowing breathability for your feet. Including the single-piece foam midsole which provides a naturally cushioning and means your feet feel less of the impact even on long runs. The upper of the shoe includes a stretchy lining, which allows for more range of movement when running to increase comfort levels for the wearer with the knitted outer keeping your foot cool and dry.
The lace-up fastening on this design enhances the security of the fit. However, some wearers have found that the overall design does make it harder to get this shoe on initially but does not affect the comfort once worn. We have also noticed this design can be a little narrow, so it is always worth trying it on in the store before buying.
The overall design of the shoe creates a great overall running experience, with comfort, support, and stability for road runs of any length.
Check Price on Amazon ➞
4. ASICS Men's Gel-Kayano 24 Running Shoes
The AHAR® rubber sole provides a high level of traction across the running surface while using the DuraSponge® to give a balanced experience, reducing the pressure on your foot and providing stability while running. This model includes the FlyteFoam® midsole, which uses organic fibers for a more robust and responsive run, while the Rearfoot and Forefoot GEL® Cushioning System helps to absorb the shock of each stride to relieve pressure on your foot and improve the running experience.
This model comes in both a wide and extra-wide fittings, in addition to narrow and standard widths, meaning that it is suitable for all foot shapes. Made of a mesh upper, this shoe wraps around your foot securely while avoiding irritation and allowing good circulation of air around your foot while running.
The midsole in this brand gives a highly responsive experience, which is very beneficial during long-distance running while providing the level of cushioning needed for this type of run.
Check Price on Amazon ➞
5. Brooks Women's Ghost 11
Brooks has designed the sole of the Ghost 11 to ensure that it is long-lasting and will stand the test of time, with a blown rubber toe which gives flexibility, durability and responsive movement beneficial in the toe-off phase of running, while a carbon rubber heel gives resilience when your foot returns to the running surface. Using their BioMoGo DNA, Brooks provides a customized midsole that is both comfortable and responsive to your personal movement style.
The midsole is gel-based, which enables it to quickly mold to the shape of your foot and your running style, giving what you personally need from your running shoe. The engineered mesh used for the upper gives a breathable and lightweight covering, which is soft and smooth, providing you with minimal irritation while you run. An external counter is stitched to the heel of the shoe to secure your foot in place and ensure that your foot does not slip inside the shoe.
We love the gel-based midsole, which molds to the foot when running and provides a comfortable, customized experience on every run.
Check Price on Amazon ➞
6. New Balance Men's 990v4
Comprising a mesh upper and blown rubber outsole, the 990v4 from New Balance is an upgrade to their well-received predecessor, the 990v3, including a lace keeping feature that secures the laces and tongue of the shoe in place for a more comfortable running experience without slippage. The 990v4 includes an added 3M reflective strip, which makes night running safer and visibility better for other road users.
This model also features durable support because of the ENCAP midsole, which gives more cushioning. Demonstrating their continuous improvements in this series New Balance has improved the breathability of the shoe by 30%, which makes the running experience more comfortable overall. This shoe is made in a range of widths, which will enable you to choose the width that most suits your feet.
The 3M Reflectivity keeps us safe when completing night runs or running at dusk, especially helpful in the winter months, where we run more in the dark.
Check Price on Amazon ➞
7. Saucony Women's Cohesion 10 Running Shoe
Saucony uses a unique TriFlex sole composition to ensure that there is a good level of traction without the sole becoming unreliable and worn quickly. The midsole in this model is moderately thick foam with IMEVA for cushioning. The insole is removable to give you the ability to customize your shoe and running experience.
The upper is made of a network of overlays that supports your footwell without restricting movement. The collar and tongue are both padded to ensure that you have the maximum level of comfort without slippage within the shoe. The upper is also aerated for additional comfort and to allow your foot to breathe while running. This shoe also includes reflective details for additional safety when running in the dark.
The TriFlex sole gives excellent traction on the road surface while the reflective detailing gives additional safety features for running at all times of the day and night.
Check Price on Amazon ➞
8. Altra Men's Superior 4 Trail Running Shoe
Made with a wraparound textile upper, the Altra Superior 4 has a light and breathable feel, giving you a dry and smooth running experience while supporting the entire foot. The stitched overlays provide reinforcement for the side of the foot and the heel to keep your foot in place as you run.
This shoe also includes a padded tongue for additional support without slippage. The midsole includes an InnerFlex™ system of grooves that enables natural movement and flexibility of your foot as you run – the combination of upper and midsole combine for a natural movement, which alleviates pressure across your foot as you run. The MaxTrac™ rubber sole protects the midsole from the running surface while providing an excellent grip.
The design of this shoe promotes natural, supportive foot movement throughout the running experience.
Check Price on Amazon ➞
9. New Balance Women's 1500v5 Running Shoe
With a varied tread pattern, the sole of the New Balance 1500v5 enables a better grip on the road surface and on variable surfaces. Designed for competitive running the shoes have been made with support and speed in mind, the sole has been designed with long-distance running in mind, for both the training and running portions of the competition.
The upper has been made especially lightweight and breathable to enable good airflow around your foot inside the shoe. Coming in both a standard and wide fitting, it is worth testing both before you buy. The midsole is comprised of REVlite, which gives a 30% lighter weight to the shoe without compromising the integrity or performance of the shoe.
Created for competitive runners this shoe offers stability, durability, and breathability for distance running at a high-performance level and can be worn regularly for both training and competition level running.
Check Price on Amazon ➞
10. HOKA ONE ONE Mens Clifton 4 Running Shoe
The Clifton 4 comprises a hi-abrasion rubber strategically placed across the sole to ensure that this is durable while improving traction on the running surface. The midsole is made of full-length EVA foam to give a high level of cushioning to the underfoot consistently throughout use.
The engineered mesh used for the upper is breathable and elastic to provide good airflow through the shoe while running. The mesh has been upgraded from previous models to improve durability while maintaining a natural running experience for all users and improving the stability of your foot while wearing.
We appreciated the sole of this shoe the most, the traction is fantastic while the material used ensures durability.
Check Price on Amazon ➞
Running Shoes For Wide Feet Buyer's Guide
When shopping for new running shoes, we always look at the long-term effect of those shoes on our feet – a bad choice of running shoe could cause severe and lasting damage to your feet, which could stop you from running, not to mention the negative impact on your posture and gait. We have found that if your feet are of a non-standard shape, buying running shoes is even more important, as buying a standard fit could exacerbate all of these issues.
When looking at what running shoes to buy, we recommend purchasing a brand that is well-known, tried and tested. We advise you always complete your research and look at what is most important for you in a running shoe; evaluate the distance you are going to be running, the type of surface you will be running on and the length of time and time of day you will be running.
For all of these considerations, you will need to assess the sole of the shoe to review if it is suitable for the type of running that you will be completing. An inadequate sole can apply pressure in areas you do not want the pressure to be exerted, wearing a shoe that is too narrow combined with this type of sole can lead to pain and discomfort both when you are running and day-to-day.
Comfort
The next thing to consider when buying new running shoes is your comfort levels; a lot of comfort is as a result of the midsole, so this has to be a major consideration. The texture, fibers and form of the midsole influence the support for your underfoot and the diffusion of weight and force exerted while running.
Firmness will be a key factor also, as different firmness levels have different impacts on the output of each stride as you run. We also recommend reviewing the makeup of the midsole as some products have a multi-layered midsole, which will provide you with a more evenly spread step, especially for a wider foot, as each layer provides a different type of support across the entire underfoot.
We advise that you look at product reviews also, as it is definitely worthwhile to know how others who have 'road tested' the products have found them in practice. However, the thing we have noticed while researching these products is that most of them have a standard fit in addition to the wider fitting; so make sure that when you read the reviews they are for the wider fitting. Otherwise, they may not be relevant to your needs.
There really is no substitute for a wider fitting running shoe if you have wide feet, and the majority of shoes we have reviewed are all built around the stability of the foot within the shoe, with several having additional stitching to keep your foot in place when you run. For this reason, we feel that there are enough shoes available in the current market without you needing to buy standard width fittings.
Cost
Some of the shoes we have reviewed are at the expensive end of the price range. However, we have found a lot of shoes that we feel are affordable and all are reasonably priced for the technology included and the amount of wear you will get out of the product you buy. We cannot stress enough the importance of buying something suitable and specially designed for the activity that you are going to be undertaking and the specific needs of your body.
We recommend when looking at the price that you shop around, a lot of sites now offer price comparison, or you can order the same product at a lower price if not ordered directly from the manufacturers' website. So don't panic when you see the prices of some of the products available on the market, keep looking until you see the right item for you.
Expert Tip
The same running shoes should be worn from the beginning of your training until the day of any competition or long-distance run that you are completing. This is to ensure that the shoe molds to your foot and doesn't cause blisters or discomfort on the day. A lot of people are concerned that this means the sole will wear out throughout training, but if you buy a shoe with a good enough sole, like those above, in the first instance this shouldn't happen.
Did you know?
You should consider the type of climate and weather conditions you will be running in before deciding which running shoes to buy as you will need to ensure the correct amount of weatherproofing and breathability.