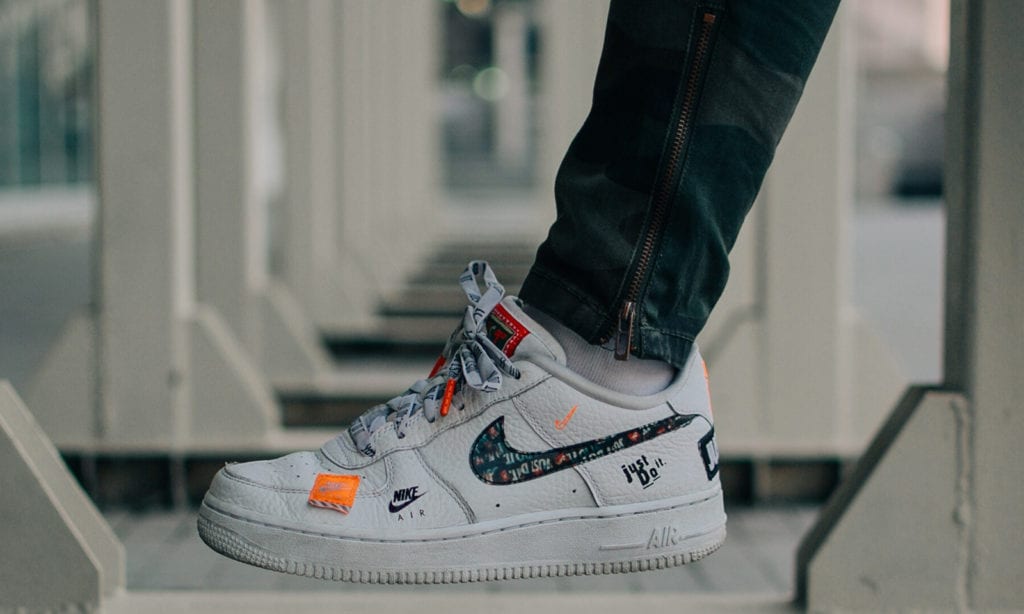 Sneakers are one of the world's most popular types of casual shoe, but they can also be one of the most confusing. There are thousands of different designs on the market, all of which have their own quirks and differences that define their purpose, style, and level of comfort, among other things. Even something as minor as the grip pattern on the sole can be enough to change how it feels while you're wearing it, and there's no guarantee that any two sneaker pairs will be exactly the same.
Sorting out the good designs from the bad would take hours, so we have put together this quick list of ten pairs of sneakers that stand out from other brands on the market, as well as the reasons they might be perfect for you.
Related: Best White Sneakers.
View the Best Sneakers, Below.
1. adidas Women's Cloudfoam Pure
These running sneakers provide extra cushioning around the ankle and heel while still staying breathable and flexible, providing excellent support and heat regulation while you're jogging. However, they're also great as casual footwear, combining a cushioned interior and stretchy exterior to ensure that you're as comfortable as possible regardless of the situation.
As with many sneaker designs, the lacing system is simple to use, but still complex enough to provide a good level of tightness that keeps your shoes attached to your feet really well, rather than slipping off after long periods of use.
These shoes are ideal for people who like to run or jog as a hobby, but still want something that they can use as part of a day-to-day outfit.
Check Price on Amazon ➞
2. Nike Men's Air Force 1 Low Sneaker
These perforated leather-based sneakers are more durable than their fabric-and-mesh counterparts, lasting much longer and resisting water slightly better. The perforated design creates extra ventilation holes for natural foot cooling, and the foam midsole helps you stay comfortable while you're on the move.
The low-collared design keeps your ankles protected and supported without stretching too far up your legs, giving you a better range of movement without feeling like you're exposed to the elements. Finally, the unique grip design on the sole helps you keep your balance on slippery or wet surfaces.
These shoes are padded and easy to wear, working well as casual shoes for people who like to stay comfortable when they're on their feet for long periods of time.
Check Price on Amazon ➞
3. TIOSEBON Women's Walking Shoes
The breathable and cushioned design of these walking sneakers makes them ideal for taking on hot weather since they can deal with sweat and overheating extremely well. The flexible mesh upper area and low-collared design give you a full range of motion without putting the design at risk of breaking easily, and the lack of heavy materials means that these shoes are far more lightweight than some other designs.
When you're not using them outdoors, they're still comfortable and stretch enough to feel extremely comfortable without being restrictive or awkwardly springy.
Footwear often struggles against hot weather, but these shoes are ideal for taking on warm conditions while staying cool, dry, and comfortable – both indoors and outdoors.
Check Price on Amazon ➞
4. Nike Men's Revolution 4 Running Shoe
These men's running sneakers use a mixture of mesh and solid synthetic materials to provide a well-ventilated but structurally-sound pair of footwear. This makes it far easier for them to cool off your feet without being too weak for long-term use, and the strong rubber sole ensures that the bottom of your feet will be kept safe from any dangers underfoot.
The foam midsole provides extra padding without feeling awkward to wear, and the built-in underlays help add more support to each sneaker's general shape without brushing up against your feet or taking up an unnecessary amount of space.
These sneakers are simple yet effective, swapping out most of the usual materials for mesh without losing the strength or padding of a regular pair of running shoes.
Check Price on Amazon ➞
5. Skechers Women's Flex Appeal 2.0
These low-top sneakers are lightweight and flexible, using an unconventional design that mixes fabrics and solid synthetic materials together for aesthetic purposes. However, this doesn't stop them from being comfortable and easy to wear both indoors and outdoors, and you'll be able to use them for all kinds of sporty activities without needing to worry about the design getting in the way.
Thanks to the mesh upper section, ventilation is also far less of an issue, and you'll be able to keep cool and comfortable on hot days. The EVA sole bolsters this by making it much easier to stand around for long periods of time without getting sore feet.
These sneakers use a very straightforward design that's backed up with excellent ventilation and a nice aesthetic look, a combination that's often quite difficult to find.
Check Price on Amazon ➞
6. PUMA Select Men's Suede Classic Plus
These fashionable sneakers are very straightforward and to-the-point, not relying on any gimmicks or special materials to do their job. The flat, flexible sole with x-shaped grips gives you a lot of traction on most surfaces without getting in the way of your natural movements, and the standard lace-up design will be familiar to anybody who's spent a lot of time wearing other casual shoes.
On top of this, the gum rubber sole and suede materials in the upper section are both relatively durable compared to some other sneaker designs, giving you more protection without weighing you down too much.
These sneakers are very basic, but in a good way – they don't have any glaringly obvious downsides or significant flaws and will serve you well in a range of different day-to-day scenarios.
Check Price on Amazon ➞
7. NIKE Women's Tanjun Running Shoes
These women's running sneakers take Nike's standard designs and adapt it for use during outdoor exercise routines, adding more ventilation and using more flexible materials that make it much easier to endure long runs on both smooth and rough terrain.
Despite this, it's also relatively protective and stable, using a rubber sole with multiple different gripping styles that will keep you on your feet for longer, while also being thick enough to stop rocks and other objects from poking through and hurting your feet.
These sneakers are perfect for avid runners, but they're also great at keeping you cool, so they can double as day-to-day footwear during the summer months.
Check Price on Amazon ➞
8. Skechers Men's Fit-delson-Camden Sneaker
These stylish men's sneakers are built using memory foam padding, which is designed to keep your feet safe and comfortable regardless of their shape or instep size. The comfortable synthetic sole adds more protection to the bottom of your feet, while the bungee-style laces mean that the sneaker will stay tight and won't feel like it's coming loose after long periods of wearing them.
Although there isn't any major built-in supports, the shoes don't really need any, since they're designed to easily fit around your feet while still being relatively comfortable and easy to wear in all kinds of weather conditions.
These sneakers combine great visual design with a range of comfortable materials to give you something that looks and feels good, while still retaining the benefits of a good sneaker.
Check Price on Amazon ➞
9. New Balance Women's FuelCore Nergize V1
These sneakers are designed with a REVlite midsole and removable memory foam inset that maximize the amount of protection and comfort they can offer your feet but are still durable and flexible enough to act as great general-purpose casual shoes.
The lightweight materials mean that this extra padding and cushioning don't weigh you down at all, so you can still use them for jogging and other exercises without slowing yourself down. The modern lace-up design will be familiar to anybody who wears sneakers on a regular basis, meaning that they're easy to adjust to when you're wearing them for the first time.
These shoes feel like a more advanced and upgraded version of a standard pair of sneakers, keeping all of the great features they offer while building on them with more durable and comfortable materials.
Check Price on Amazon ➞
10. Reebok Men's Crossfit Nano 8.0 Flexweave Sneaker
The flexweave materials used in these sneakers allows them to provide more protection, durability, breathability, and ventilation compared to standard mesh sneakers, while also increasing their overall flexibility and lowering their total weight.  This, along with the strong sole and reliable grip design, makes them an ideal replacement for almost any kind of sneakers.
Not only that, but the CMEVA midsole helps keep your feet protected from harm, with the rubber outside resisting almost all types of damage and abrasion that you'll encounter on a day-to-day basis.
These sneakers are ideal for use when exercising or going on a run, but they're also perfect as casual footwear, especially in warm weather while you're outdoors.
Check Price on Amazon ➞
Sneakers Buyer's Guide
Sneakers aren't just meant to be generic footwear – they always have a specific purpose, and knowing which ones to buy is a big part of ensuring that you're not wasting your money on shoes that don't actually fill your needs correctly. This is even more important if you're planning to use them in specific conditions or for certain activities since even the smallest change to a sneaker's design or materials can dramatically impact how it performs.
Ventilation
One of the key reasons that many people buy sneakers is the ventilation – they're far more ventilated than almost any other type of conventional shoe, especially thanks to the mesh materials that they often use, which makes them ideal for hot weather or situations where sweat can be a huge problem. However, this also creates an assumption that all sneakers are perfectly designed to take on hot weather and sweat – this isn't always the case. In fact, many sneakers are designed to be waterproof or weather-resistant, which often involves cutting down the ventilation or trying to relegate it to small perforated holes in key areas to stop rainwater from getting in.
Because of this, you can potentially end up buying a pair of sneakers that provide worse breathability than other, more solid shoes, simply because of the materials and design they use. Remember that breathability isn't everything, either – just because a shoe keeps your feet cool doesn't mean that it keeps them safe from harm, and the more holes there are, the easier it is for rainwater and debris to get inside, especially if the majority of your shoe is made of mesh or perforated materials.
As a side note, there are many people who simply don't need this breathability, to begin with. If you're not planning on exercising in them, or simply won't be in a situation where you'll sweat much, there's not much reason to have them other than for warm weather – and even then, you can often just wear cooler shoes.
Durability
Durability is also really important since both you and your sneakers need to be properly protected if you want to get the best possible performance out of them. The more damage they can take, the less chance there is of your feet getting hurt from something, and the longer they'll last you in general. However, not all durability is the same – a strong upper area won't protect you against figure and pain caused by running on uneven surfaces, just as a strong sole won't do anything to stop rainwater from getting in and causing blisters.
While it's always better to damage your shoes if it means that your feet stay safe, that doesn't mean you should just treat them as disposable clothing. The cost of re-buying your shoes will quickly add up if you're constantly destroying them through misuse, even if they're really cheap. It's usually best to spend money on a single pair that will last a long time, rather than repeatedly spending less money on new pairs that keep wearing out.
Remember: not all damage is from walking around. Water, stains, abrasion, tension, stitching issues, and sharp objects can all cause damage to the integrity of your shoe, sometimes without you even noticing until your sneaker has already fallen apart. This might even only wear down certain parts, such as the insole – this would leave the majority of the shoe looking normal, but it would suddenly feel far less comfortable to wear.
Flexibility
Sneakers, just like most other casual shoes of their type, are known for being fairly flexible and easy to move around in. Not all designs are equally flexible, though, and the differences can be something as small as a different material or the design of their supporting parts. Finding a good balance between flexibility and rigidity is key since too much of either can be incredibly uncomfortable and painful in the long run.
This also ties back into durability, since the two are often linked together – just because your shoes  can bend doesn't mean that they were designed to do it consistently, so you might end up accidentally destroying your own shoes with an exercise routine that it can't really keep up with,
On the other end of the spectrum, rigidity can be important for people who use their sneakers for more toned-down purposes, rather than just exercise. The more rigid your footwear is, the easier it'll be to walk around in, and the more solid its design will look. "Loose" materials like mesh can look quite unprofessional, whereas you can often use single-color trainers made of solid materials as comfortable alternatives to regular walking shoes.
Grip
The grip is one of those factors that can come in useful almost anywhere, not just in an active, exercise-heavy lifestyle. A poor grip design can make it much harder for you to navigate certain places, even something as simple as a wet kitchen floor or a sloped, paved area going up a steep hill. This can get even worse if you're wearing your shoes in an industrial area for work purposes since even something as simple as climbing a ladder or getting up metal stairs can be much more dangerous.
As usual, water is the most common threat here, since it turns almost any smooth surface into a slippery nightmare – in winter, ice is even worse, and it's quite common to see people suffer serious injuries by slipping down large hills or struggling to keep their balance near roads. The more gripping power your shoes have, the less likely these problem are, but they can also result in the shoe itself feeling too "sticky" on certain surfaces or types of terrain.
Overall, though, there's no downside to getting the best grip possible – just make sure that it isn't pushing you over your preferred price tag since very few people will need grips that strong unless they're a professional athlete. Very few sneaker designs will lack some kind of grip, so even a cheap pair can provide enough to keep you safe and stable on most types of terrain.
Expert Tip
Although expensive shoes last longer and carry better features, this isn't always the case. After a certain point, you may be paying extra for almost no change to the design – always set a budget and stick to it, just in case.
Did you know?
Your feet swell during the day, especially if you've been standing up a lot. This, combined with the fact that one foot is always slightly larger than the other, means that you should do your shopping late in the day to get the best fit.