10 Best Trail Shoes in 2021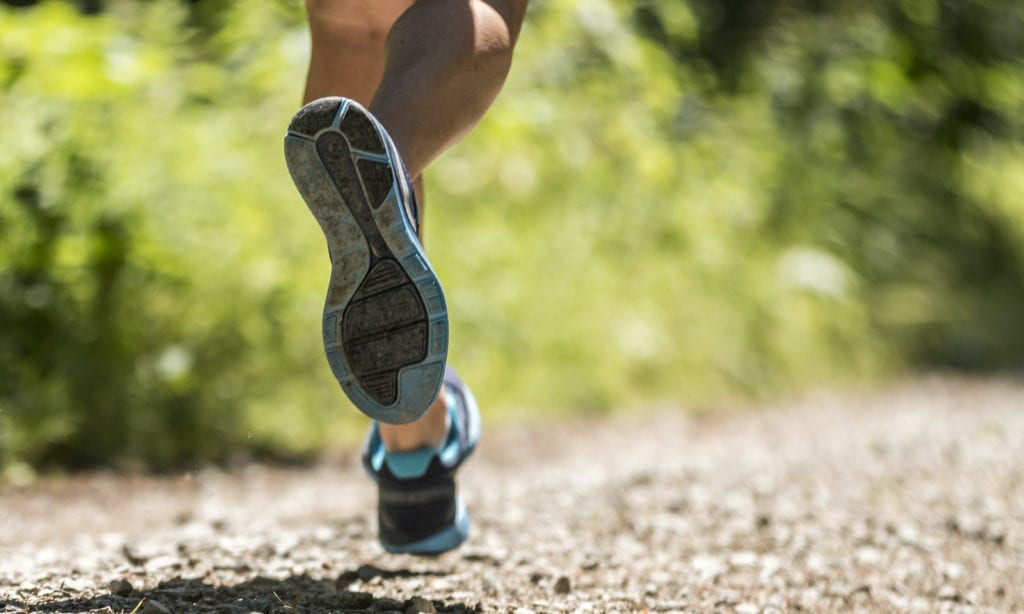 Trail shoes aren't just another name for generic running shoes – they are often designed specifically for walking, jogging and running on natural trails, and have a range of specially-chosen features to compensate for the different kinds of terrain and weather you will face. Not only can they solve the common problems you will face when trying to use normal shoes for tough outdoor tracks, but there are dozens of different designs on the market, so runners of any skill level and style can find something that suits them.
However, a big market leads to a lot of choices, and it is not always that easy to track down the ideal design for your needs. Finding the perfect trail shoes can take a while if you don't narrow down your search.
View the Best Trail Shoes, Below.
1. ALTRA Men's Superior 4 Trail Running Shoe
These rubber-soled trail shoes use a very straightforward design that makes heavy use of breathable materials, helping you stay cool and reducing sweat build-up during long, intense runs. The contoured tongue helps stop dirt, debris, and other irritating items from getting inside your shoe and rubbing against your feet, while the special toe box design improves your stability on rough ground.
While these trail shoes use a standard lace-up design, the laces go through exterior loops rather than underneath the shoe, making it slightly easier to lace them up quickly when you are on the move. A soft, cushioned insole and strong outsole are as useful as you'd expect, offering far more protection and comfort than standard shoes.
If you are taking on a mixture of heavy and light trail conditions, these might be some of the best trail shoes in terms of versatility and reliability. The design also manages to stay comfortable and breathable, too.
Check Price on Amazon ➞
2. HOKA ONE ONE Mens Speedgoat 3 Textile Synthetic Trainers
These trainer-style trail shoes are perfect for running, offering a mixture of breathable, soft textiles, and durable sole materials to help you stay protected and comfortable on long trails. The special Hi-Traction outsole uses a set of multi-directional lugs to help you keep your balance on a wide range of terrain types, as well as reducing the chances of slips or stumbles.
The insole uses extra padding to give your feet comfortable cushioning when you are on the move, as well as a CMEVA midsole that is perfect for shock absorption and improving stability on tough ground. This, combined with the synthetic supportive overlays on the upper section, keeps each shoe safe from falling apart under heavy stress, even when you are running on wet or harsh terrain that can damage a normal shoe.
Protecting your feet is important, and these trail shoes use a three-layered sole to help your feet stay safer for much longer.
Check Price on Amazon ➞
3. Saucony Women's S10483-2 Trail Running Shoe
These high-quality women's trail shoes use a special dynamic upper section that balances breathability, flexibility, and support really well, allowing your feet to breathe and stay comfortable without sacrificing any structural integrity or reliability. The Everun insole is built to provide constant comfort while you are on the move, reducing foot pain and fatigue, while the Pwrfoam midsole and Pwrtrac outsole ensure that you stay safe, supported and protected on difficult ground or rough terrain.
The design of these trail shoes is very similar to regular trainers, making them instantly familiar to most runners. However, the multi-directional lugs on the outsole offer far more grip than usual, allowing for increased stability on nearly any kind of terrain or surface.
Unlike many other trail shoe designs, these shoes are perfect for running even on hard concrete flooring, offering enough traction and protection to help you stay safe and fatigue-free during longer runs.
Check Price on Amazon ➞
4. SALOMON Men's Speedcross 5 Trail Running Shoes
These professional-looking trail shoes are built for running, offering an incredibly high level of grip thanks to the specially-designed large lugs. This also helps you push off and stop better when you are starting a shorter run, all while giving your feet a boosted level of comfort to make difficult ground far less of a problem.
The cradle-style heel section offers more stability mid-stride and helps absorb some shocks from unexpected stumbles or impacts. This works alongside the strong OrthoLite insole and durable outsole to prevent sudden harm or injury on a variety of terrain types, even during bad weather or on rough natural ground.
These trail shoes are perfect for running, as you might expect, but also offer a lot of protection and comfort if you are just walking from place to place. Regardless of how you use them, the durable outer layers and comfortable interiors make them an excellent choice for staying safe.
Check Price on Amazon ➞
5. Brooks Women's Cascadia 14
These grip-focused running shoes offer a great level of traction on a wide variety of surfaces, both dry and wet. The outsole is made using a special design that boosts stability and push-off reliability much higher than a regular running shoe would, while the shoes as a whole have a very lightweight and flexible body for taking on trails with a mixture of terrain.
The interior of each show has a BioMoGo DNA layer midsole that can dynamically adapt to your stride length and speed, helping you stay comfortable with any running style and technique. The upper section is made with GORE-TEX materials that allow for both waterproofing and breathability, making puddles and heavy rain far less of a challenge without leaving your feet desperate for air.
These trail shoes use high-quality materials and a great design to combine stability, comfort, waterproofing, and durability into a single, low-profile trainer-style design.
Check Price on Amazon ➞
6. La Sportiva Bushido II Running Shoe
The professional geometric-style design of these shoes hides an excellent amount of comfort and protection, using a wide range of excellent materials to give the wearer a much greater level of control when they are on the move.  This includes breathable mesh inserts, heat-retaining microfiber, and a sticky outsole for better traction on a variety of surfaces.
It uses a slip-on-style design to give you much greater comfort while avoiding compression and uncomfortable squeezing on your feet. The sole of the shoe is made with a range of multi-directional lugs, helping you keep your balance on slopes at almost any angle, regardless of the terrain you are running on.
The design of these trail shoes isn't the only professional thing about them: they are perfect for tackling different trails and keeping your grip in even the most extreme circumstances, making them some of the best trail shoes for aspiring runners.
Check Price on Amazon ➞
7. Saucony Men's Switchback ISO Trail Running Shoe
These men's trail shoes use a special all-terrain grip made of dozens of two-directional lugs in a variety of different sizes, helping you keep your grip in both wet and dry terrain in a huge range of different situations and locations. The strong contoured midsole and improved dual-density outsole help you absorb impacts while running, and the cushioning used for the midsole and insole ensures that you won't feel as much pain even if you take a slight stumble.
The design of the lower section of each shoe cradles your foot, providing more security and a better fit overall. This has the added benefit of massively increasing traction, as well as support for the shoe's upper section.
These shoes boast plenty of protection and extra stability, as well as an extremely high level of grip and traction in nearly and surface.
Check Price on Amazon ➞
8. Nike Air Zoom Terra Kiger 5 Women's Trail Running Shoe
These rough terrain trail shoes are built with a high-abrasion heel and sole that offer excellent traction without suffering from low durability and strength, as well as special "sticky pods" that allow you to keep your balance on wet surfaces where normal grip doesn't always work. The tongue is padded on the inside to provide better pressure relief, while the front of each shoe uses a tough rock place that makes impacts and bumps much less dangerous to your toes.
Thanks to the lightweight foam used as internal padding, these trail shoes weigh less than usual while still offering great comfort and protection, helping you avoid unnecessary pain without slowing down your running speed in the process.
These trail shoes offer a mixture of useful features without being too heavy, weak, or bulky to use on hard ground, soft ground, wet ground, and dry ground with equal effectiveness.
Check Price on Amazon ➞
9. VJ XTRM OCR Trail Running Shoes
This colorful and slim-bodied shoe is focused on protection and durability before anything else, making use of a special rock place that can protect the bottom of your feet from sharp objects you might encounter during a run – anything from rocks and sticks to misplaced nails and scraps of metal. This is backed up with a strong toe box that prevents impacts from injuring your toes, as well as a Kevlar-polyester-mixture that increases its overall durability by a ridiculous amount.
Thanks to these materials, the shoe can protect you from almost everything your feet will face on a trail run. To help you stay comfortable, the interior is cushioned normally, then cushioned again in the toe area and heel – the weakest points of your feet.
These shoes are incredibly durable and protective, making them a must-have if you are looking for the best trail shoes in terms of protection and safety.
Check Price on Amazon ➞
10. adidas outdoor Women's Terrex CMTK GTX
These comfortable trail shoes are made using lightweight and waterproof materials, making them extremely useful in wetter conditions – even heavy rain. The high level of durability they offer also makes them suitable for dealing with a range of different physical situations and terrain types, regardless of how far you are running or the current weather conditions.
On top of that, the outsole uses large rubber lugs that can handle a range of hard and soft surfaces, giving you far better stability on all of them. The internal design also offers more arch support than a standard shoe, helping you adapt to different surfaces at a faster rate and giving you more control over your movements.
These trail shoes are an excellent choice for dealing with almost any type of terrain and weather, giving you plenty of protection and comfort without feeling too heavy or bulky to use effectively.
Check Price on Amazon ➞
Trail Shoes Buyer's Guide
Buying shoes is always tricky, especially when you are getting them for a very niche activity or purpose. This can make it difficult to track down a pair of the best trail shoes to suit your personal needs, and there are hundreds (if not thousands) of shoe designs that won't even come close to giving you the features you need to run a natural trail properly. However, like all shoe types, it is easy to narrow down your search once you start figuring out which features are actually useful to you, and which ones are worth just ignoring.
Comfort
Keeping your feet comfortable is generally always useful, but it becomes even more important when you are running on natural ground with a varied set of terrain types. The more comfortable you are, the easier it is to handle difficult ground or awkward terrain, and it will reduce the chance of you having to deal with blisters, skin irritation, and other types of soreness or injury.
More padding generally leads to a much better level of comfort and protection, as well as better performance and less fatigue on your feet. There are multiple different kinds of protection, but the best is usually the most straightforward – a comfortable insole and soft shoe lining. These are essential for running for extended periods of time and can be far more useful than you might expect.
There is also the issue of shock absorption. If your feet can't absorb shocks properly, it is much more likely that a stumble, fall, or even a heavy stomp can lead to more fatigue, which can result in a run becoming much harder and more painful. This isn't always a problem on flat ground, but it can make a significant difference on the varied terrain you will be dealing with on natural pathways and running trails.
Durability
Durability and strength are much more important when you are moving on natural ground since no shoe can be perfectly prepared for every single type of damage it will face. It is very easy to overlook something like waterproofing, sharp rock protection, or EVA midsoles, and all of them can have a significant effect on how long your shoes last.
Remember that very few trails are the same all year round, even in extreme climates. You never know when dirt can suddenly be mud, or a stream can be flooded into a deep pool of water, and preparation is important. If your footwear can't handle the conditions, they might start to fall apart, or at least become too uncomfortable to wear consistently.
There are many ways to find shoes with increased durability. The most obvious is looking at the materials they use and the durability-focused features they offer, but you might also want to look for things like rock plates, toe protection, heel padding, and waterproofing vs. water resistance. It is good to have the appropriate footwear for the job, and trail running is no exception.
Stability
Stability is one of the most important parts of running, especially when you are dealing with the grip it can give you on various types of terrain. It is not enough to support your feet – your shoes need to stop you from falling over, keep you safe from slipping, and help you actually complete your run properly. Make sure that they give you enough stability to help you deal with slopes since these are one of the most common hazards in natural trails.
Another big problem can be wet and/or soft ground. Great grip won't help much if you don't have anything completely solid to stand on, so try to find decent multi-directional lugs if possible: these are the best option for varied terrain.
Do I need more than one pair of Trail Shoes?
While there is no reason you have to buy extra pairs of shoes, you might end up needing more features that you don't have access to with a single pair. For example, unless a shoe is using very specific materials, you won't be able to have waterproofing and breathability at the same time, so some runners will own two pairs that they can wear depending on the weather and trail they are tackling that day.
It is entirely possible to end up with a shoe that can deal with the conditions you will normally face in your local area, especially if you are in a place with mostly consistent weather conditions, but it might be worth considering other shoes to cover features and weather types you are normally missing just in case.
Do my Socks Matter?
Socks are almost as important as shoes, so having a good pair will make a significant difference in how your new shoes feel. There is far too much to cover in one go, but there are certain rules that most runners stick to when they are choosing new running gear. For example, avoiding cotton is a good idea since it retains moisture and stops heat from leaving your feet, which can result in far more irritation.
Most runners also recommend tall socks that reach above the height of your shoe heels, since this prevents heel burns and spots from the way the material rubs against your skin. As a side note, they are also far less likely to slip down your legs while you are running. Even if your socks don't feel perfect, having a pair that suits your shoes is incredibly important, and you shouldn't compromise even if you don't run very frequently.
Expert Tip
Running shoes generally feel different when you are walking in them compared to running in them. This can make it hard to try them out in a physical store – familiarise yourself with an existing pair you own so that it is easier to judge a new pair, even if you are only limited to walking around on a commercial carpet.
Did you know?
Some shoe stores offer a service where they will analyze your gait (your running style and pattern) to see what kind of shoes will fit you best. If this service is available, take advantage of it – it can narrow down your search even more and doesn't take very much time.