10 Best Winter Running Shoes in 2021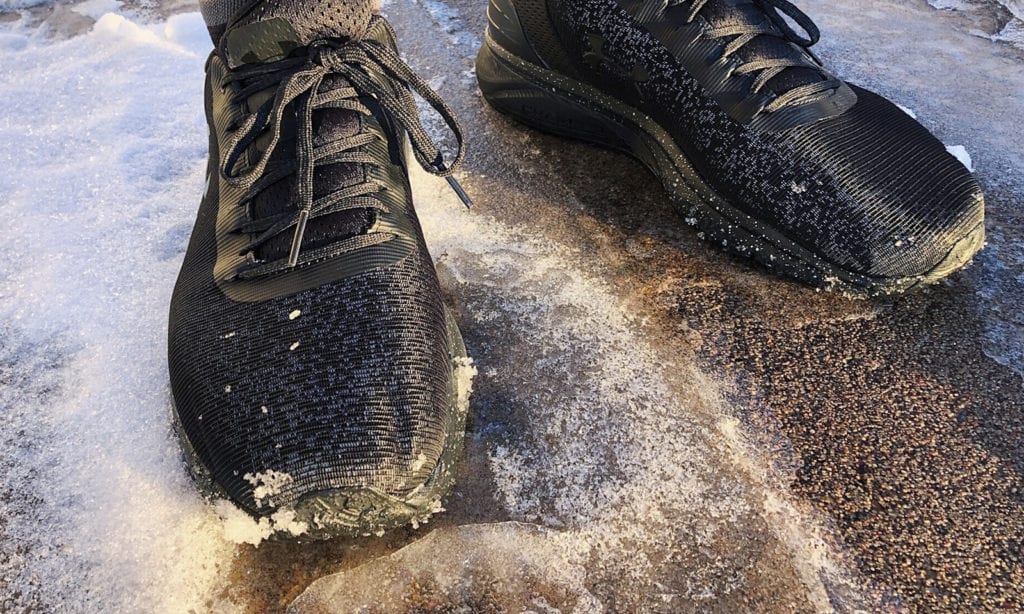 If you love running, don't let the cold weather ruin your stride! You can purchase some amazing winter running shoes that will keep your feet warm and allow you to perform at your best, even if the weather isn't very nice. Many people who are involved in and seek a healthy lifestyle enjoy running or completing some form of exercise. It is important to have a pair of shoes that can help you perform at your best and be supportive to your feet due to the high impact of running or other forms of exercise.
Winter running shoes can be worn at any time of the year, so don't worry, you won't waste your money. It will be a good investment, plus essential for safe running in the winter when snow and ice can be a hazard. It's always better to be prepared and safe instead of having to cancel your planned run.
View the Best Winter Running Shoes, Below.
1. Salomon Men's Speedcross 5 Trail Running Shoe
If you love running over a mixture of terrains, these Salomon Men's Speedcross trail running shoes are for you. They are perfect for the cold season and for any time of the year as you never know what conditions you may be faced with when completing trail courses. One of the best features of these winter running shoes is the optimal traction. The lugs on the sole of this shoe have a great depth to them, which provides a strong grip to any surface, even soft ground, and there is even additional grip on the front of the toe box.
This pair of running shoes have a fantastic upper that molds well to your foot due to the mixture of EndoFit, Quicklace, and SensiFit technology, it ensures your foot won't slip and move around while you run. The sock line is comfortable and allows your feet to breathe, while the midsole is light but designed for trail running.
This is the best winter running shoe if you want to complete a trail when the weather conditions are wet, leaving the ground soft. The traction is perfect, and you will enjoy your run.
Check Price on Amazon ➞
2. HOKA ONE ONE Womens Speedgoat 3
Winter running is a breeze in these Hoka One One Speedgoat 3's. They are ideal for any weather, whether there is snow, ice, or wet conditions, these trail winter running shoes will allow you to perform at your best. The amazing traction on this shoe is what enables it to tackle all sorts of terrain due to the Vibram MegaGrip lugs; even in icy conditions, your shoe won't slip. A great feature on this trail running shoe is that it has a wider toe box and midsole area, unlike many other shoes.
If you prefer a bit more room and if you do have a wider foot, then these are the best shoes for you. There is additional heel cushioning for support and stability, and the upper has a secure feature in the midfoot area with supports either side. The sole is extremely comfortable and will make sure your feet stay happy while you run.
The best winter running shoe if you require a wider fit, although these shoes still have great support to keep your foot from moving around when you run.
Check Price on Amazon ➞
3. Merrell Men's Bare Access Flex 2
It is a fantastic, neutral running shoe that offers many great features to keep you going during long, high-intensity runs or other workouts. These winter running shoes offer maximum breathability due to the lining and mesh upper design features; this is an important feature to keep your feet comfortable, allowing you to be at the top of your game in all conditions. Plus, this shoe has antimicrobial agents to keep odor at bay.
Traction on these shoes are great for running in snow, ice, mud, and wet terrains, although the upper is not entirely waterproof due to the mesh upper. Shock is absorbed no matter what surface you are running on, and the sole is designed to help protect the foot as you run. A lacing system is on the upper, so you can tailor the fit to your liking, while the shoe remains lightweight and is perfect for all types of exercise.
This is a great all-round winter running shoe that provides great traction to all ground conditions.
Check Price on Amazon ➞
4. La Sportiva Women's Bushido II
Wow! These La Sportiva winter running shoes that are perfect for mountain runners have some amazing features and technologies built into this running shoe. If the mountain is full of snow or ice, don't worry; the traction on these shoes is high-performing due to the FriXion XT V-Groove2 soles. They respond well to wet and dry conditions, plus they include a cleaver Impact Brake System designed by La Sportiva that allows most of the lugs to connect with the ground, which is perfect for mountain descents and provides excellent shock absorption.
The positives about these running shoes are endless as they include so many great features - the stability of these shoes that are also enhanced by the snug fit. They are lightweight so you can run for long distances without feeling tired and having your shoe weight you down.
Snow and ice on the mountain is no problem for these lightweight and stable running shoes. The traction is fantastic and helps to keep you going.
Check Price on Amazon ➞
5. ALTRA Men's AL0A4PE5 Lone Peak 4.5
These ALTRA Lone Peak winter running shoes offer amazing traction no matter what terrain you are on, and regardless of the weather conditions, snow and ice are not a problem and won't hold you back from completing your trail run. The shoe is easy to put on with two loopholes to help insert your foot, and the lacing system can be easily adjusted to give you a unique fit to match your running style. The upper mesh area provides airflow to the foot to increase comfort, whilst the foam cushioning system under your foot will reduce impact and keep your feet protected.
Stability is enhanced due to the Foot Shape technology that lets your toes spread for a more comfortable run. There are many other great features on these ALTRA Lone Peak shoes, including the MaxTrac, StoneGuard, and Balanced Cushioning system, all of with add to the durability and performance of these Lone Peak shoes.
These ALTRA Lone Peak winter running shoes won't disappoint any trail runner as they have all the built-in features that are required to keep you protected and comfortable as you run.
Check Price on Amazon ➞
6. Brooks Women's Cascadia 14
Are you expecting to get muddy? Well, these Brooks Cascadia 14's have a unique feature that is not present on many other trail running shoes, as they have a mud-guard that protects the upper from getting clogged up with mud and allows you to wipe them clean easily. Great if you intend on winter runs during snow and ice conditions. They are not waterproof, but they add a form of waterproof assistance preventing water from entering the shoe with the mud-guard. The upper also fits nicely around the foot, providing stability and comfort as you run, plus there is a Pivot Post System that adds extra stability.
Comfort-wise there is a BioMoGo DNA midsole, and you can alter the comfort to your liking by taking out the sock liner if it doesn't work for your style of trail running. The traction on this shoe is perfect for all terrains.
This product by Brooks is one of the best-designed winter shoes that includes a mud-guard to keep these shoes as clean as possible. The addition of a slight Gore-tex waterproof layer to the top of the upper is also welcome.
Check Price on Amazon ➞
7. Saucony Men's Peregrine 8 ICE+ Sneaker
An extreme trail runner's dream, as these winter trail running shoes will easily combat ice and snow for any run that you choose. You won't need to worry as the traction is optimal as the lugs, which are 6mm in depth, will connect with the ground regardless of the conditions, which may earn you extra time out on the trail. The outsole also includes an arctic grip feature to ensure that snow is no issue for you.
The shoe is comfortable, and there is additional cushioning around the heel area to make sure your foot does not slip out of the shoe when you run. If you regularly run on mountain terrains, these are ideal as you never know when snow or ice could form. Why prevent yourself from trail running when you can buy these to keep you going all-year-round.
These winter running shoes are best for terrains that have a lot of snow or ice build-up as they provide traction that will grip to these elements to allow you to enjoy your best winter run.
Check Price on Amazon ➞
8. Nike Men's Air Zoom Pegasus 35 Shield
Need a waterproof shoe for your winter runs? Then look no further than these Nike Air Zoom Pegasus 35 waterproof trail running shoes. They are perfect all-year-round and especially good in the cold season against ice and snow conditions. These waterproof shoes are classed as water-repellent, so they may not be as waterproof as a heavy-duty winter running shoes. They incorporate Nike Air's Zoom cushioning for added comfort and to ensure your feet are protected and stable throughout your run.
Plus, the laces are easy to adjust as they have a toggle that makes it easier to adjust if it is raining. The traction on these winter running shoes are ideal for different terrains but especially great for when the surface is wet, and sometimes there is nothing quite like a run in the rain.
These winter running shoes offer a waterproof upper that makes these great for any runner and one of the best winter running shoe options.
Check Price on Amazon ➞
9. Brooks Ghost 12 GTX
Another pair of Brooks best winter shoes that have made it onto the list, plus these are waterproof. They feature a Gore-Tex layer, which makes these shoes perfect to wear in heavy rainfall as the waterproof upper will keep your feet nice and dry throughout your run or any activity you want to wear them for. Even if you walk or run through the snow, the Gore-Tex will ensure your feet are dry.
Other features include an insole made from foam that can be removed if it isn't to your liking or keep it in to give your feet extra cushioning. The traction on these winter running shoes is great, and the cleaver Segmented Crash Pad reduces impact and allows a fluid run.
This Brooks Ghost shoe is the best winter running shoe if you are running in wet conditions or where snow is melting. The Gore-Tex waterproof layer ensures your feet are dry throughout your workout.
Check Price on Amazon ➞
10. ALTRA Men's King MT 2
These trail running shoes are perfect for all conditions - even in wet environments where snow may be melting, or where muddy puddles are. They offer a snug fit for any wearer and allow you to adjust the fit to your liking with the lace and bar system on the upper. These winter running shoes have a cleaver outsole design that has the Vibram Mega Grip Litebase, which makes the shoe lighter in weight than others by reducing the size of the sole but without compromising the grip.
So if you prefer a lighter shoe, then these are ideal for you. As with the other pair of ALTRA shoes on this list, the Foot Shape technology is incorporated to help with mountain runs when you go from up to downhill.
The best winter shoes that are lightweight on your feet that enables you to perform at your peak. They have a great flexible feel, which helps to prevent tiredness in the feet.
Check Price on Amazon ➞
Winter Running Shoes Buyers Guide and Breakdown
Winter Conditions
You should never let the weather put you off from completing a trail run, even if there is snow, heavy rainfall, or ice. Many of the shoes on this list will tackle those conditions, although not all will work their best if snow is on the ground. The Saucony Men's Peregrine 8 ICE+ shoes are ideal if you need to tackle snow trails.
A trail can be hazardous in the cold season, so it is important to invest in a pair of shoes that can work well as the last thing you want is an injury due to a fall or a slip that could have been prevented from wearing the correct type of shoe.
Running Shoes
There are many great built-in features and technologies in winter running shoes compared to regular shoes or sneakers. If you are exercising or completing a trail, it is paramount that you buy a pair of shoes that will protect your feet from issues such as impact when your foot lands on the ground at force and speed.
Traction
The grip that the shoe has is the most important aspect to consider when buying a shoe specifically for trail runs. This is due to the mixture of terrains that you will encounter as you run along, and during the colder month's conditions become dangerous and more slippery, so the better the traction, the safer you are going to be.
Most of the shoes on this guide have lugs designed onto the outsole, which are great for moving quickly and safely through the softer ground on your trail run. As you run, they penetrate the ground giving you a secure grip and then allow you to lift your foot effortlessly, ready for your next stride.
The outsoles on all of the shoes above will work on both dry and wet ground surfaces, with some soles being thicker than others. If you are looking for the thinnest outsole that still provides fantastic traction for a trail, then the ALTRA Men's King MT 2's are an ideal purchase. They have a Vibram Mega Grip Litebase that allows the shoe to be lightweight.
Comfort features
A range of comfort features can be added to a shoe for trail expeditions and runs. Having the right level of cushioning is crucial to ensure the impact is reduced and your feet are protected. A range of technologies can be found in these shoes, including a Balance Cushioning system that helps to keep the foot in the right position as you move along. This is helpful when you are on bumpy ground. Another good comfort feature that is on some of these shoes is the removable sock liner.
This is so you can amend the shoes to your liking as some people don't like too much cushioning when they run. If the shoe has increased breathability, this will help with the overall comfort you feel when you wear them. Mesh uppers help as they allow airflow into the shoes to keep feet cool, plus some shoes have antimicrobial agents to prevent odors from building up inside.
Stability
A stable foot is key to prevent any unwanted injuries as you go around a trail. Sprained ankles due to going over uneven surfaces can put you out of the game for a while, so stability is necessary. Some products on this list have added stability features such as additional straps across the top of the upper to ensure a tight grip.
When choosing, make sure the stability is perfect for the type of runs you will complete. For mountain runs, you will need maximum stability features.
Range of fits to the Upper
The upper of each shoe is different. Some will provide a snug fit while others will be slightly wider, allowing more movement in the toe area as you run up and down different terrains as your feet are put into different positions as you ascend and descend.
If you want a close fit, then the Salomon Men's Speedcross 5's will mold to your foot to ensure it won't slip and move around; this can also help with preventing blisters from forming. For a wider fit, the HOKA ONE ONE Women's Speedgoat 3's have a wider midsole and toe area, although they don't compromise on stability and comfort when you run a trail.
Lacing
Laces can be fiddly and annoying on many shoes, although the great news is that every shoe that features on this guide, the laces are tucked away neatly, and some even have an easier adjustable lacing structure than others. Having the laces tucked away is imperative on a trail shoe as your shoe will feel more impact than other types of surface runs.
The reason laces are still incorporated onto the shoes is so you can make them as tight as you like or loosen them up depending on the shape and size of your feet, meaning everyone is comfortable. The Nike Men's Air Zoom Pegasus 35's have a toggle within the lace structure that allows quick and straightforward adjusting that is also great even in wet conditions due to the water-repellent design.
What are the Best Winter Shoes?
It's hard to say as there are so many great winter running shoes on this list. If your trail suffers from regular snowstorms, it is good to choose a Gore-Tex waterproof shoe like the Brooks Ghost 12's. The ALTRA Men's Lone Peak shoes have many great features, including a comfortable toe box area and great breathability.
One of the best women's shoes is the La Sportiva, which is ideal for mountain runs and incorporates a special brake system that ensures your foot won't slip and can handle a range of weather conditions, including snow, ice, and rain.
Are there Other Brands that make the Best Winter Running Sneakers?
Yes, the Inov-8 brand makes great winter running shoes and hiking shoes. The Inov-8 brand was established in Great Britain and has some amazing features, just like many of the shoes on this list. They also manufacture their shoes in a huge range of bright and energetic colors, just like the image they want to portray when you wear a pair of their Inov-8.
Expert Tip
If you intend to run in extremely wet conditions for a prolonged period, you must choose winter running shoes with a Gore-Tex waterproof layer to keep your feet dry.
Did you know?
Even though Gore-Tex is a waterproof material, it still lets your feet breathe so you can rest assured that your feet will be kept dry and free from moisture inside the shoe.