How to clean white leather shoes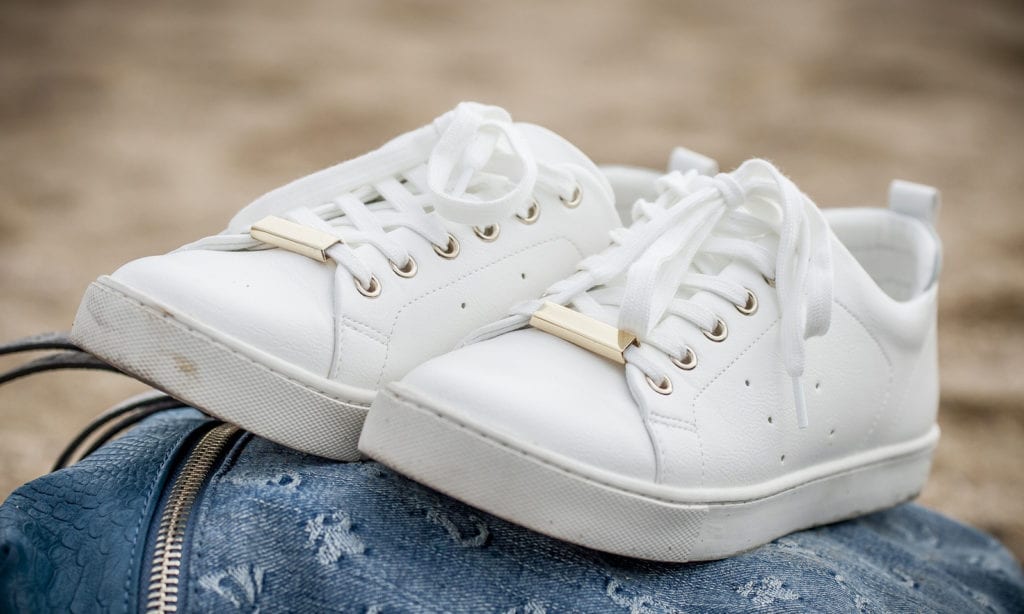 White leather shoes can be such a great addition to any outfit. Many people can wear white leather sneakers, and they are particularly popular during the summer season. However, it can be so hard to keep white leather shoes clean as their plain, bright coloring makes it so obvious when there is a stain.
If you want to keep looking good throughout the summer months, then you need to learn how to clean your white leather shoes effectively. Leather shoes can be difficult to clean because this is a delicate material that needs special care.
We are going to share some of the best cleaning tips out there to make your old white shoes look like a brand new pair, all without paying the hefty price!
What You Need
To clean white leather, you need to be delicate and careful to prevent any damage to your shoes. Some simple methods can be used to clean white leather and to get your shoes looking like new once more.
It is possible that you already have everything you need in the kitchen or bathroom cabinets, such as:
Toothbrush
A magic eraser
Soft microfiber cloth
Dye-free soap
Toothpaste, if required
White vinegar, if necessary
Olive oil, if necessary
How To Clean White Leather Shoes
The first step is to gather your equipment and get ready to clean your white shoes by hand. You should not put white leather shoes or any other kind of dirty leather shoes in the washing machine, as this can damage the shoes permanently.
However, the following cleaning method is just as easy as putting the shoe in the washing machine and is better for the leather shoe overall.
Before following our steps below, ensure you have removed the shoelaces from your sneakers. As you are working to clean the shoes, the laces can soak in warm water and soap to clean. This is something that should be done with all kinds of shoes, whether they are canvas, leather, or suede.
Laces can be cleaned by hand, or you can put them into your standard wash load. Make sure to separate the laces by using a mesh laundry bag. This mesh bag will prevent the laces from becoming tangled in the machine.
The following steps will help you clean the rest of the shoe:
Step 1) Remove Stains
Your shoes likely have debris on them and stains from mud, grass, and dirt. The first step to getting the shoe clean is to tackle these stains, but gently.
To remove any excess dirt and start removing stains, use the toothbrush to gently brush at the dirt. A shoe brush can also be used for this step, but a toothbrush works just as well, is cheaper, and you are more likely to have a spare one at home.
Do not rub too hard on the shoes, as this can damage the shoe. If you find that you have scuff marks or other tough stains, use the magic eraser to remove these or apply toothpaste.
If you are going to apply toothpaste to scuffs and marks, gently apply a layer to the stained area with your finger. Use the toothbrush again to scrub away the stains before wiping it away with a damp cloth.
Step 2) Clean The Surface
Once you have tackled the dirt and stains on your sneakers, you can now start to work with the wider surface area.
Again, you will need the toothbrush for this step, so make sure it is clean. Wet the toothbrush and apply a couple of drops of the dye-free cleaning solution. You can use a gentle soap, laundry detergent, or even a natural mix of white vinegar and olive oil to clean leather kicks.
If you are going to be using a natural cleaning solution on leather or canvas shoes, mix it into a spray bottle, so it is easy to apply to the surface of the shoe. Spray the cleaner of your choice onto the shoe, including the upper, sides, and even the soles, to ensure the entire shoe is being cleaned.
If a shoe is heavily stained or discolored, leave the cleaning solution on the surface for a few minutes.
Using the toothbrush, scrub in small circular motions to rub soap across the shoe and soles.
Step 3) Wipe The Shoes
Now that the cleaning solution has had time to sit on and you have been able to brush the stains off, it is time to wipe down the shoes.
Run a cloth under warm water and ring it out well to get rid of any excess water. Using this damp cloth, gently wipe over the shoe to remove any stain or excess cleaning solution that might still be on the shoe.
If you are working with the vinegar solution, you should be able to see any scuffs or dirt stain being removed when you wipe the damp cloth over the shoe.
Step 4) Allow To Dry
Leather shoes need to be left to air dry, and you should never put them in the dryer. Suede and leather can become damaged in the dryer, which is why you need to allow your white shoes to dry naturally after they have been cleaned.
This is why the cleaning methods we have provided do not get the shoe completely wet, only damp, as this will make it easier for them to dry naturally. It is normal for your shoes to be a little damp after this process, and you can use a dry microfiber cloth to remove any of the excess water and speed up the drying process.
Additional Shoe Care Tips
If you wear white shoes often, you will notice that no matter how hard you try, they always end up grubby by the end of the day.
As well as taking time to clean your pair of white shoes regularly, there are some other ways you can keep them looking bright and fresh.
After allowing the white shoes to air dry, you can maintain their appearance with a gentle polish. Using a dry soft cloth or towel, rub the surface of the shoe in circular motions to polish.
This will make the shoes look like they have just come fresh out of the box!
Final Notes
White shoes are such a versatile item to have in your wardrobe, but keeping them clean can put many people off from wearing them.
With just a little care and attention, you can make your old white shoes look brand new once more, and it does not have to cost a lot at all.
References