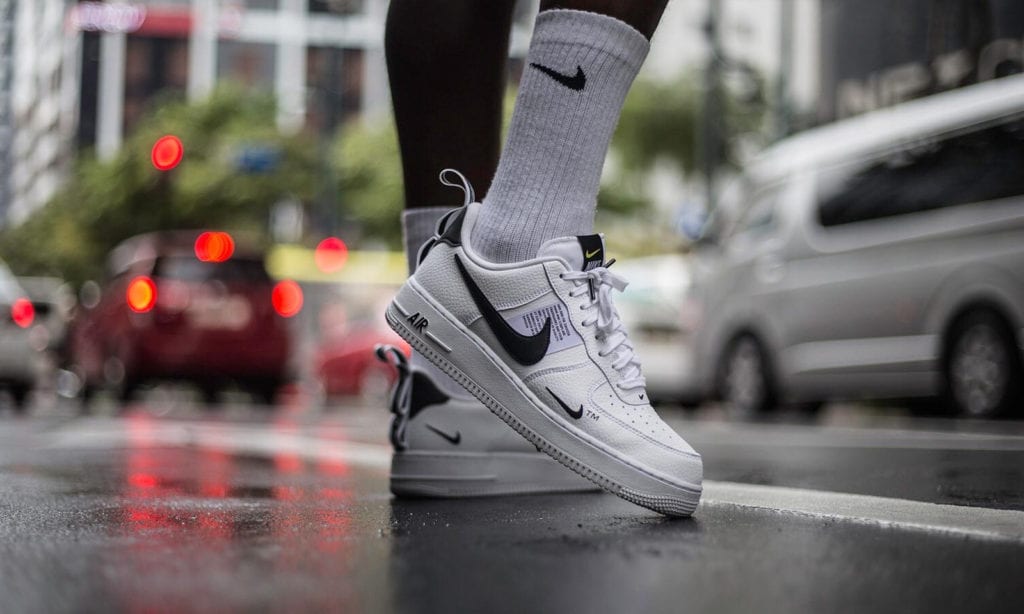 The key to being able to draw feet and shoes is focusing on the real-life details. Each shoe, whether it is a sneaker or high heel, has slightly different details that make them instantly recognizable, and this is what you want to focus on in your art. When you focus on the details, you will find it easy to complete any drawing.
In this guide, we are going to provide a step-by-step tutorial on how to draw two kinds of shoes. The skills in our tutorial will help you learn to draw all kinds of shoes and feet whenever the need next arises.
How To Draw A Shoe: Sneaker Tutorial
One of the most common kinds of shoes you will find when drawing is sneakers. These are common shoes, and they can be worn by a variety of characters or subjects, making them the best place to start when it comes to learning how to draw shoes.
There are some great details you can include in a sketch of a foot or shoe that can show character, style, and personality. But you need to learn how to draw the subject first.
A great place to start is to find an image or a real-life shoe that you want to copy. You will find having a subject in close view will make things easier, as you always have a reference point when drawing.
Keep reading to see our step-by-step tutorial for how to draw a foot wearing a sneaker from the side.
Step 1: Draw A Rectangle
This shape is going to be your guide for the rest of the sketch and will allow you to draw the foot. You will find it easier to draw details from this starting point.
The rectangle might not look like it, but this is going to be an outline for all the shoes you are going to learn how to draw.
Step 2: Draw a straight line for the sole
At the bottom of the rectangle drawing, sketch a straight, long line.
This will be used as an outline for the sole of the shoe and you can later sketch details to make it a sneaker, a pair of boots, or even a high heel.
Step 3: Draw the outline of the shoe
Now that you have the base layer of your shoe sketch, it is time to draw a long curved line over the top of the rectangle. Ensure that the curved line has peaks, almost like a mountain, as this is what will form the tongue, toe box, and back of the shoe. There are various examples of this step you can find on Pinterest if you are struggling.
Do not be afraid to be as simple as necessary with the outline at this point, as you can add in design details later.
The main purpose of sketching an outline and using linework is to simply get the outline of the shoe you want to draw. Later on, we can draw in colors and other shapes to make it appear more realistic.
Step 4: Fill in the outline
Now you should be able to find the outline of a shoe within these shapes, and this step is where you start sketching out the design, so it is recognizable as a sneaker. This is a time where you can still be rough with your linework, as any mistakes you can erase away.
Draw a curved line from the sole to the toe giving the foot a realistic appearance. It is not super important at this stage to worry too much about getting your designs perfect, as we need to create a shape that you can work with first. With this, you will find it easier to see where the rest needs to go.
For beginners, you will find the best way to complete your sketch is by adding things bit by bit. Any mistakes you can erase, but this is a great time to try to add curved lines and shading.
Step 5: Draw the finishing touches
When drawing a sneaker, this is where you can start to draw the final pieces of the foot and shoe, such as the laces and coloring. This is a fun part of drawing where you can transform your sketch to make it look like the real thing.
Whether you are working with boots, a high heel shoe, or sneakers, the last part of all drawing tutorials is for the details. You can work with coloring, draw laces and even add texture, such as leather, to get a great-looking final product.
How To Draw High Heels
Now that you have some of the basics when it comes to drawing shoes and are developing your overall drawing skills, you can apply these to any other style of footwear – including high heel shoes drawing.
As with sneakers, you can easily come up with ideas when you find a subject to look at. Before trying to draw, find an image of a high-heeled shoe online (Pinterest has lots of good examples for artists) and keep this in your eye line when drawing.
We are going to use the images you find as a close guide which will make the process of drawing easier.
Step 1: Draw A Triangle
As with our other tutorial, you will find that a drawing of high heels begins with very basic shapes and outlines. This shoe requires you to draw a triangle as the outline.
This shape will also help you draw the foot and shoe in the right position to make the drawing look more realistic.
Step 2: Draw A Basic Outline
Again, step 2 of shoes drawing lines to create the outline of the shoes. For high heel shoes, keep the outline angular even around the toe and sole.
When drawing, you will find it vital to keep your reference image of the shoes in your view, as it can help you sketch out the shape of the feet and shoe. The purpose of this step is to simply start drawing lines and drawing the overall shape of the feet and shoes.
Step 3: Draw Curved Lines
Now that you really find the basic outline of shoes, you can now draw some of the finer details. In this step, you can work to clear up some of the rough lines you sketched previously and work out where shading needs to go. You will find it useful to keep your reference image of the boots or shoe on hand when drawing.
This part of our drawing tutorial is where you can start drawing dimensions to the foot. In step 3, we are finalizing the sketch of our shoe, using the view you have of a photo or real-life shoe to complete the look, and this can apply to all different kinds of shoes.
The next steps following on will be all about adding texture and color to complete the drawing.
Step 4: Drawing Finishing Touches
You should be around the point now where you can see a clear drawing of the feet and/or a shoe, so now you can add the finishing touches such as color. In this step, you can add more depth to the drawing using color and think about how you want the shoes to look.
This is the step where you can draw texture – are you working with leather shoes? How do the feet look inside the shoe? What color are they going to be?
As always, make sure you have a clear view of your subject image as this will show you what to do, whether you are working with a high heel shoe, boots or sneakers. You can see where things need to go and draw accordingly.
Final Notes
Shoes complete an outfit, and they are a very important part of characters. Drawing shoes may seem like a complicated process, but we have provided a very simple process that anyone can follow.
Drawing can be easy if you follow some very simple steps. These tutorials have shown you how to draw feet and a shoe from the side, which is standard practice when designing characters.
All drawings begin with a standard shape, and the more you practice, the better you will get at drawing shoes, whether that is on paper or using computers.