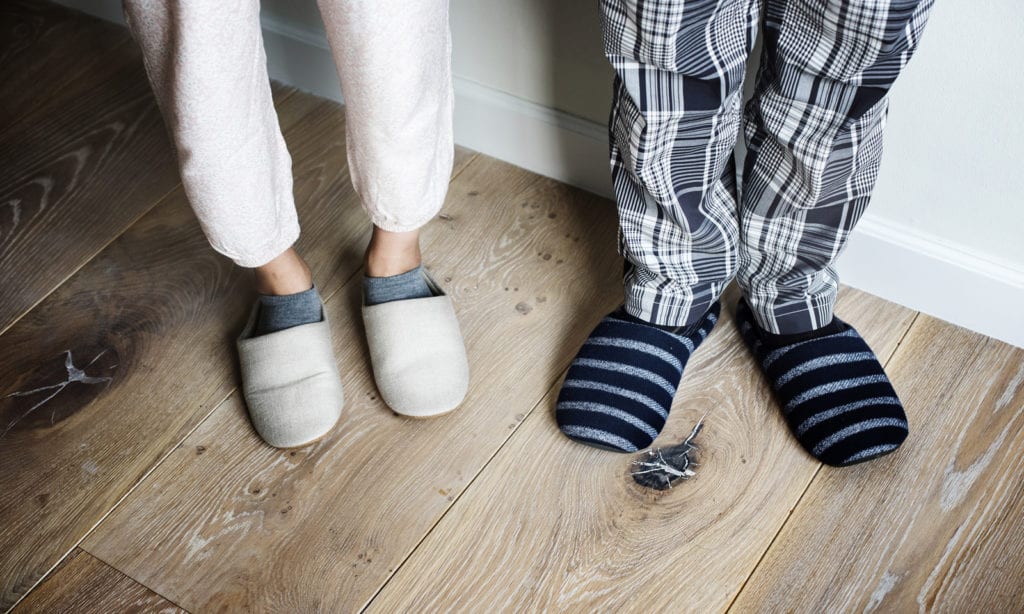 Slippers, the thing we look forward to putting on as soon as we get home and the last thing we want to take off before we leave. We love their comfort, their cozy feel, and usually the heat they provide our feet with, too. But with such a considerable variety of different styles to choose from, it's hard to make a fast decision to ensure that we are getting exactly what we want.
Usually, the decision is somewhat made for us depending on what we do when we are wearing our slippers – Do you run around a lot? Do you go outside in your slippers? Do you need to wash them frequently? All of these factors and many more will influence your choice in slippers. What type of slippers will you choose next?
To make the process of choosing your new slippers easier, we have compiled a list of our favorite top ten for you to peruse:
View the Best Slippers, Below.
1. RockDove Two-Tone Memory Foam Slipper
A clog style slipper is the RockDove which are easy to take on and off in a hands-free manner with the foot slipping easily in and out as required. Made from waffle knit, they ensure that your feet are able to breathe, reduce sweat, and remain odor free. They have memory foam soles which mold to your foot, increasing comfort and giving feet the well-deserved rest they need after a long day.
Their rubber soles protect you if you need to go outside wearing your slippers with their grip preventing slips and falls, even on wet surfaces. Easy to wear and easy to wash – simply put these slippers into the washing machine whenever you decide, and they will come out looking like new.
The RockDove Two-Tone Memory Foam Slipper are so user-friendly that you won't know how you have lived without them for so long!
Check Price on Amazon ➞
2. UGG Men's Ascot Slipper
For a stylish, shoe-like approach to slippers, why not take a look at the UGG Men's Ascot Slipper? Available in a range of neutral colors, they are made from leather and have got a warm, cozy and comfortable interior made out of sheepskin which is so enticing you will never want to take them off.
Easy to slip in to and walk around in, these slippers do not have a heel and do not prevent you from feeling what is going on around you. With a sole created out of leather suede, they will last for impressive periods of time when worn around the home, though will not appreciate rough or sharp surfaces hugely. Available in all sizes up to a UK 17, there is a UGG slipper size and color to suit everyone.
The UGG Men's Ascot Slipper look good, are really warm and always stay on your feet so aren't a tripping hazard.
Check Price on Amazon ➞
3. Isotoner Women's Satin Ballerina Slipper
If you fancy a more luxurious approach to slippers, then why not try the Isotoner Satin Ballerina Slipper? Ideally suited to the female wearer searching for a little luxury, they are made from satin which stretches to suit every shape of foot perfectly. With a cotton blend internal sock to keep your foot comfortable and firmly in place and a suede sole to ensure you move around your home safely, these are ideally suited for indoor use.
They move with your feet while remaining stylish, classy, and comfortable all at the same time. With their low profile sole, you do not need to worry about marking any of your floorings either.
The Isotoner Women's Satin Ballerina Slipper are so easy to wear and will not cause damage to any type of surface no matter what kind of flooring you choose to walk on.
Check Price on Amazon ➞
4. ULTRAIDEAS Women's Cozy Memory Foam Slippers
The simple yet elegant design of the ULTERAIDEAS slippers is excellent for fast slip-on use. They've been created from microfiber emulating a wool-like feeling and are ideally suited for use indoors. They are very soft, comfortable, and reliable. With soles made of rubber, these women's slippers are long-lasting, have a good amount of gripping ability and have anti-skid abilities making them safe for you to wear on any type of surface around your home.
Walk around silently, seamlessly and comfortably wearing these slippers thanks to their high-density memory foam insole which molds perfectly to the shape of your foot. Available in multiple styles, colors, and a wide array of sizes, there is always a pair of ULTRAIDEAS slippers to suit you.
These ULTRAIDEAS Women's Cozy Memory Foam Slippers are so easy to slip on and off, they are suitable for any type of flooring and fit to the shape of your foot perfectly.
Check Price on Amazon ➞
5. Sanuk Men's Chiba Slip-On
The shabby chic look is very popular right now, and the same applies when it comes to slippers. If this appeals to you, then why not purchase the Sanuk slippers with their frayed edges and heavy-duty appearance? Created out of canvas, textile, and a gum rubber sole, they are impressively durable. A high-quality slipper, they're specially molded to support your feet.
They also have an EVA footbed which can be removed so that you are able to wash it at your convenience to remove any odor and this is also a footbed with an inbuilt antimicrobial additive within to reduce the bacteria causing the odor. Slip these slippers on easily and move around without hassle, knowing that with a flat heel, there is nothing to trip over.
The Sanuk Men's Chiba Slip-On are so functional and the antimicrobial additives are very effective at reducing the odor produced by the average pair of slippers.
Check Price on Amazon ➞
6. UGG Women's Ansley Moccasin
The stylish, sophisticated, and shoe like approach to the UGG moccasin is very aesthetically pleasing while also being very effective when it comes to warmth. These women's slippers are available in a wide range of eye-catching and more nude colors and have a gum rubber sole which is ideally suited for indoor use and enabling good grip.
These slippers have been made from suede and are water resistant on their exterior, so there's no need to worry about the odd splash here and there marking them. They have a complex treadlite specially designed by UGG which cushions your feet as you walk and keep you comfortable always. These slippers have no heel and have increased traction, so you are never at risk of falling or slipping.
These UGG Women's Ansley Moccasin are both good to look at and are very effective at both keeping your feet warm and cushioning your movements with their treadlite cushions.
Check Price on Amazon ➞
7. SOREL Men's Falcon Ridge Slipper
The Sorrell slipper is ideally suited to being used indoors, and they are made from a wool blend to create a faux fur lining for the internal slipper. They have a moccasin looking toe and an open back, which means that they are super easy to slide on and off whenever you please.
They are hard wearing, durable and flat so there is nothing to trip on. With their removable EVA insole, this can be taken out of the slippers and washed to remove any unwanted stains and odors, helping you to keep your slippers looking clean and smelling fresh. The gum rubber sole helps you to grip on to any surfaces without slipping and enables you to create the friction levels you require.
The SOREL Men's Falcon Ridge Slipper are so sturdy, durable and hard wearing that they will last such a long time even when worn large amounts.
Check Price on Amazon ➞
8. Acorn Women's Spa Thong Flip Flop
When slippers in a thonged flip flop style are what you are after, then you won't find better than these. Created out of polyester and leather, they feel impressively silky soft underfoot making it a pleasure to wear them after a long day on the go. They are very easy to look after as they can be washed with as much regularity as you desire and their heel-less approach means that no added pressure is applied to the balls of your feet.
Slip these slippers on easily and gain maximum comfort immediately thanks to their Acorn contoured footbed which shapes to your foot and reduces pressure and pains while enhancing fit, comfort, and ease of wear. Available in a range of colors, your feet will soon feel as good as your new slippers look!
These Acorn Women's Spa Thong Flip Flop look so simple, but they actually achieve so much.
Check Price on Amazon ➞
9. Haflinger Wool Hard Sole Slipper
The more frequent wearers of slippers will know that regulating temperature is a difficult thing to get right, but this is now an issue of the past. These Haflinger slippers are able to self-regulate themselves when it comes to temperature with impressive precision. These clog style slippers are made out of boiled wool and are really easy to wear. Simply slide your foot into them and off you trot.
These are unisex slippers so are suitable for anyone to wear and as they are available in a wide range of colors and sizes, they will look good on either gender, too. They have a split toe seam and can be worn both inside and outside thanks to their waterproof sole, so you never have to worry about damaging them.
The Haflinger Wool Hard Sole Slipper are ideal for anyone to wear, can be worn in any location and have the incredible ability to self-regulate temperature.
Check Price on Amazon ➞
10. ONCAI Fluffy Faux Fur Slipper Boots
The cozy, cute, and comfortable approach to the ONCAI women's slippers will never let you down. They are woolen knitted and are soft to the touch, which also makes them really comfortable for you to wear for extended periods of time. They're breathable due to the velvet/yarn combination so the decrease the amount of sweat production by the feet and diminish any odor.
With a non-slip and waterproof sole made out of rubber, they are durable in their wear and long-lasting. These women's slippers also have a midsole created from memory foam within them, which also has an anti-shock protective layer to make walking as comfortable as possible. These slippers will not scratch any floors and enable you to move around silently. They are lightweight, well made, and look as good as they feel.
These ONCAI Fluffy Faux Fur Slipper Boots are cute, cozy and comfortable while also being durable, well made, and safe.
Check Price on Amazon ➞
Slippers Buyer's Guide
Indoor or Outdoor
Knowing the location of where you will wear your slippers the most is an important factor when it comes to getting the most out of your new slippers. We don't mean you have to be hugely specific, but it does help to know whether they will be worn only indoors or whether there will be some occasions when being able to wear your slippers externally would be an added advantage.
If you are only going to wear your slippers within your home, then it is not imperative that you have more durable or rubber soles for example, so you could look for slippers with suede leather or satin soles. These will be fine to wear around your home as you will not be treading on stones, rocks or other unidentifiable or sharp objects. If you will be wearing your slippers outside, then you want to look for a more hard wearing sole.
This may include gum rubber or in some cases may be synthetic, but either way, you don't want to rip or damage the bottom of your slippers, rendering them permanently useless. Look for slippers which can protect you and your feet, thicker or harder soles. There are some slippers that have waterproof soles and are ideal if you do not live in the driest of places, have a pond or pool nearby.
Related: Best Slippers for Women.

Durability
You want to be able to find a pair of slippers that will last you, and preferably last you for a couple of years. Slippers are not disposable objects, so you need to find a pair that fit in with your lifestyle and are durable enough to cope with it. An excellent example of this would be satin slippers for people who put their slippers on to do nothing but sit down, read or watch TV, but these would be the wrong soled slippers for someone who walked around a lot.
Not only would that not be durable, they generally do not have any anti-slip ability either so could be dangerous on shiny, wooden, or wet floors.
You might be interested in; Slippers for Men Review.
Washable
We all live busy lives, and this is not looking like it is going to alter any time soon. Just as any other part of our bodies, our feet sweat and therefore our slippers can become somewhat odorous. For some people with certain types of slippers or feet which are prone to sweating more or enhanced odor, this is when the ease of washing really matters.
If you fit into either of these later brackets, then you want to make sure that either the entirety of your new slippers are machine washable or the inner soles of your slippers can be placed safely within the washing machine. EVA footbeds are perfect examples of this. You do not want to have to throw away your wonderful new slippers after just a week's wear.
Another thing to look out for is the added bonus of your new slippers having antimicrobial additives hidden within the inner soles to prevent the bacteria from building up and helping to decrease the smell. These are very effective, especially for specific types of people such as people who spend vast amounts of time in their slippers, athletes, and anyone who frequently put their slippers on when they have wet feet.
Style
Just as with anything we purchase, we want to be happy not only with the function but with the aesthetics, too. Due to this, there are so many different styles on the market for you to choose from to ensure that you get the style of slippers that you are happiest wearing and that suit your personality, lifestyle and home perfectly.
New slippers can range from thonged flip flops right through to the woolen booties with a little bit of everything in between. There are male, female and unisex slippers, available in colors, sizes, styles and with comfort enhancers to suit you and your feet ideally.

Comfort
At the end of a long day, we all look forward to getting our uncomfortable clothes and footwear off and changing into our more comfortable loungewear. So many people dream about their slippers when their high heels are making their feet throb with pain. The slipper world is enhancing the comfort and support of its slippers all the time.
There are arch supports, stress relieving qualities, extra padded, contoured soles, and so many more added qualities to really enhance the feeling you've been dreaming off all day at work. So take advantage of the additional features on offer and find slippers which are as comfortable as they are aesthetically pleasing.
Slippers used to be objects designed only to look cute and keep your toes warm, but now they are so much more! They can eradicate foot pain, help you to walk more freely, enhance your posture – what's not to love when it's all achieved through a comfortable method!
Expert Tip
Look for slippers that are suitable for wear in the area you will wear them most. There is no gain to wearing indoor slippers outside – they will just get ruined.
Did you know?
That there is such a thing as self-regulating temperature slippers which prevent you from having to take your beloved slippers off whenever your feet get a little too warm?