10 Best Flip Flops in 2021
Flip-flops are comfortable, practical and the perfect lounge shoe to keep your feet cozy and cushioned when out and about in hotter temperatures. There are so many options out there that it is important to get the best fit and style for your shoe. However, it is far too easy to go cheap and buy the completely wrong flip-flop for your foot that is going to leave you in pain and uncomfortable.
Read on to find out how you might go about finding the perfect flip-flop for your foot. Below are ten of the best flip-flops around reviewed to give you a better idea of what is out there on the flip flop market:
Related: Best Flip Flops for Women.
View the Best Flip Flops, Below.
1. Clarks Women's Breeze Sea Flip-Flop

Clarks have been making shoes for so long that you are reassured that this flip-flop will come with quality guaranteed, and that is backed up further by the glowing reviews that come with thousands of happy customers having previously purchased this shoe. The flip-flop itself is sandal style made from synthetic material with a strong and padded synthetic sole that provides cushioning and support for the foot.
It has a fully adjustable strap with substantial closing and fastening features so that you won't have to worry about it slipping off or feeling flimsy on your foot. Once on, it will stay on until taken off, which is not always the case for flip-flops! The price is average for such an above average flip-flop offering on the market.
This is a sandal style flip-flop that is very practical and sturdy as well. It comes in so many different colors that you will never not find what you are looking for.
Check Price on Amazon ➞
CHECK PRICE ON ZAPPOS ➞
2. OOFOS Unisex Ooriginal Thong Flip Flop
OOFOS Unisex Oorginal thong flip-flop is a one of a kind, kind of flip-flop. It is made with the company's own foam technology and boasts to be extremely comfortable, more so than the average flip-flop. Their foam is semi-shock absorbent and therefore protects the feet by cushioning the blow of walking on harder surfaces.
It has a strong and supportive base that offers extra support to the ankle and heel so that while wearing you will not become tired on your feet. OOFOS have even ensured that the flip-flop comes in a variety of colors to truly cater to the unisex nature of the product. This is a great option for you if you have feet that need a bit of extra care and attention.
This is a great, classic and durable flip-flop which comes with the added bonus of being machine washable, which is a rarer quality to find in a flip-flop style shoe.
Check Price on Amazon ➞
CHECK PRICE ON ZAPPOS ➞
3. NDB Men's Classical Comfortable II Flip-Flop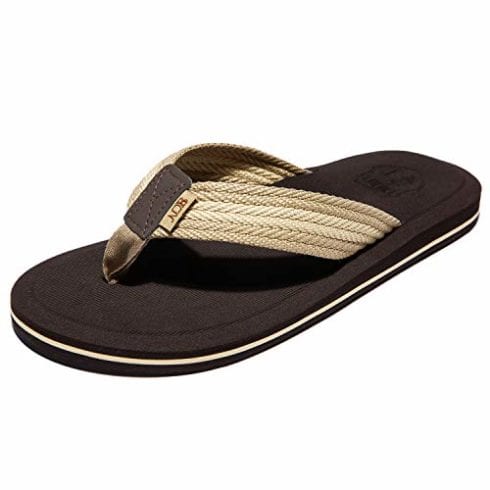 NBD Men's Classical Comfortable II flip-flop is a cheap flip-flop that is made in a sophisticated way to suit your individual foot shape and size and provide comfort on a daily wearing basis. It comes in a good choice of colors and patterns, and the quality is consistent across the board. The flip-flop is made from synthetic fabric and foam inserts to provide comfort and durability.
The strap is padded so that the toes do not suffer from irritation and the sole is wide enough so that it fits the majority of foot shapes and sizes. The sole is slip resistant which means you have extra protection while wearing it out and about.
This is a good, cheap flip-flop that comes with a money back guarantee if you don't like the product or if something goes wrong with it.
Check Price on Amazon ➞
CHECK PRICE ON ZAPPOS ➞
4. Sanuk Women's Yoga Sling 2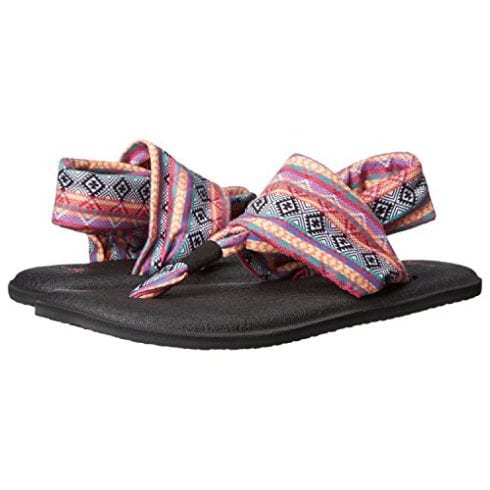 This flip-flop is built for comfort and really does deliver that comfort all day long. It has a unique design that focuses on supporting the toes despite the lack of shoe around it. It has nice, stretchy fabric to offer some extra cushioning and ultimately eliminate and avoid blistering of the foot. It comes in a mixture of different colors that you can choose from and a mid-range price despite it being a top range product. It has been made with a soft base that cushions the foot as you walk and wear it, making it just that little bit extra luxurious.
This flip-flop is machine washable, which gives it a big tick in our box as not many flip-flops out there offer this feature.
Check Price on Amazon ➞
CHECK PRICE ON ZAPPOS ➞
5. Reef Fanning Mens Bottle Opener Flip Flop

Reef Fanning Men's Bottle Opener flip-flop does actually come with a bottle opener inside the flip-flop itself. The bottle opener is tucked away inside the sole of the shoe and does not cause any discomfort to the wearer as it is extremely subtle and well cushioned and therefore not able to penetrate through to the foot itself.
Alongside that fun quirk, the flip-flop itself offers strong support for your ankle and heel and is made to be shock absorbent so that you are extra protected while walking around or playing around. It is even padded inside, and the outside has extra grip and traction for extra safety and protection while walking around.
This flip-flop is fun, but it is also extremely well made and is a solid choice for every day wear as it protects your feet and keeps them comfortable as well.
Check Price on Amazon ➞
CHECK PRICE ON ZAPPOS ➞
6. Fantiny Women's Spa Thong Flip Flops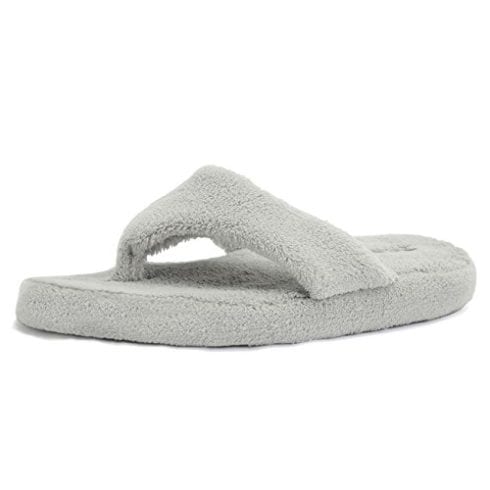 Fanity Women's Spa Thong flip-flops are a solidly designed flip-flop that are made with absolute comfort in mind. They are made with memory foam and sponge as well so that your feet feel very comfortable and cushioned. They are the perfect flip-flop for feet that need a bit of extra care, love and attention and your feet will not be disappointed while wearing them.
Don't be put off by all of the foam, as the flip-flop itself is very durable and even waterproof. These flip-flops are specially designed to keep the feet dry and odor resistant, which is an added bonus if you are going to be wearing them in a warmer climate where your feet may become tired and sweaty.
They are machine washable, as long as you follow the manufacturer's guidelines and instructions. If you don't, you may end up causing damage to the integrity of the flip-flop's design.
Check Price on Amazon ➞
CHECK PRICE ON ZAPPOS ➞
7. NIKE Women's Ultra Celso Thong Flip-Flop

Nike has been making shoes for several decades; they know what they're doing, and they know how to ensure you get the best shoe that is the most comfortable fit for your foot. This flip-flop is no exception to that assumption. It is fairly priced, comes in a variety of different colors and patterns and is made from a synthetic material with a strong rubber sole.
The strap of the flip-flop is made with soft materials that are extra cushioned in order to avoid the rubbing of the toe area, which is a common complaint amongst flip-flop wearers. There is also extra cushioning on the inside of the flip-flop where the foot sits so that you feel like you are walking on clouds all day long.
Nike has really taken your foot and all of its needs into consideration when they designed this product. It is lightweight yet sturdy enough to offer ample support and is cushioned and padded in all of the right places, so you don't finish the day with blisters and bruises.
Check Price on Amazon ➞
CHECK PRICE ON ZAPPOS ➞
8. FITORY Men's Flip-Flops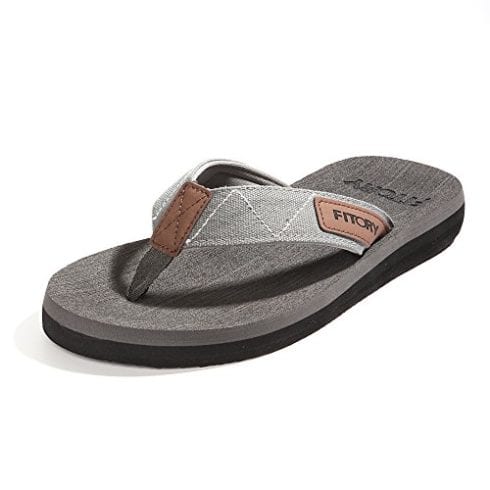 FITORY Men's flip-flops are made by a top brand of shoe makers that really know their stuff when it comes to sandals and flip-flops. They are definitely comfortable as they are made with extra cushioned soles and insoles while maintaining that classic, lightweight flip-flop demeanor, and style. They have a very strong strap that offers an abundance of support for your feet, and they maintain a classy style that is more like a sandal than a flip-flop as it looks a bit more sturdy and more durable and thicker. These flip-flops are also equipped with extra grip to make them anti-skid which only adds to their overall reliability as a piece of footwear.
This is a classic looking flip-flop with all the support a work shoe would provide for your foot. They keep you comfortable and offer extra protection with their anti-slip soles.
Check Price on Amazon ➞
CHECK PRICE ON ZAPPOS ➞
9. Old Navy Women Beach Flip Flop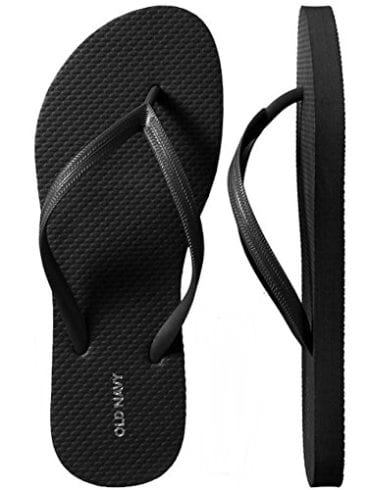 Old Navy Women Beach flip-flop is a shoe that is built with a good solid synthetic sole that is engrained with extra traction and grip so that you have additional support and stability while walking around. The flip-flop itself is designed in a classic flip-flop style, with a flat base and a strap to sit around the toes.
It is still comfortable, despite being very basic and simple in its design and offers support for the foot as well as being firm. There is no risk of your foot, toe, heel or ankle becoming injured while wearing this flip-flop as it is not made to be flimsy and unreliable.
Old Navy Women beach flip-flop comes in a wide variety of colors. It is comfortable and simple, therefore truly encompassing the classic flip-flop design while maintaining a supportive shoe to travel around in.
Check Price on Amazon ➞
CHECK PRICE ON ZAPPOS ➞
10. Havaianas Men's Top Sandal Flip Flop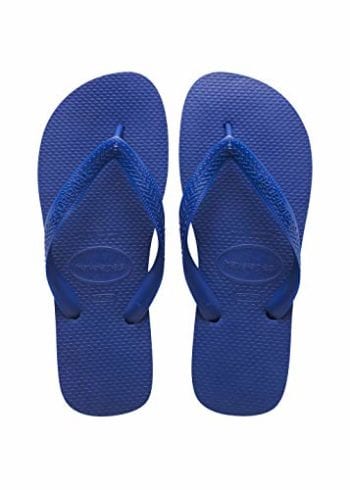 Havaianas Men's Top Sandal flip-flop is a comfortable shoe designed for men's leisure wear. They are designed with a comfortable, foamy base that provides a cloud-like base for your foot as you wear them; making them extremely comfortable. However, they are simultaneously supportive despite weighing only 7oz. They come in a variety of different colors and sizes, catering for small men to tall men. They are very flexible which means that no matter what shape your foot is, be it wide or narrow, these flip-flops will be a great fit and contour to your foot during use.
This flip-flop comes at a great price and is highly desirable with a multitude of different colors to choose from there is bound to be an option that suits your individual style preference.
Check Price on Amazon ➞
CHECK PRICE ON ZAPPOS ➞
Flip Flops Buyer's Guide
What are you looking for when it comes to buying a flip-flop? Are you looking for men's flip flops or women's? There are many different reasons why a person may purchase a pair of flip-flops, and of course, it goes without saying that these reasons will more than likely be unique to each person. However, there are a few common factors that remain relevant to anyone before making a flip-flop purchase. Read on below for a better idea of what to look for when making your flip-flop purchase. Remember, all flip-flops (like shoes) are made differently, and therefore you need to find the one that suits your foot!

Where are you Wearing your Flip-Flops?
1. At the beach- This is the most common answer and the most common place to find flip-flop wearers. If it is the case that your flip-flop purchase is owing to an impending beach trip, you are probably looking for something that is cushioned to protect your heels and toes from the heat of the sand and something that is waterproof to make sure you are not walking around with soaked feet which can become irritated easily. Lots of flip-flops are designed with beachwear in mind, and therefore you will not struggle to find a style that suits you.
2. At home- If your purchase is just for a bit of extra comfort while walking around the house, you may not need something quite as sturdy as external wear flip-flops. Slippers aren't for everyone, and flip-flops are a great, and comfortable alternative. One added bonus is that you can wear them outside as well without them becoming too soiled or damaged, so the transition is easy.
Size
As with any shoe purchase, the size of your foot should be at the top of your list of important factors when it comes to the end decision. If the fit isn't right, the shoe isn't right, and flip-flops are no exception to this. There may be a need to try on a variety of different styles in order to get the right fit for your foot. The best place to do this is probably in a shoe store with an expert adviser there to help you make the right decision.
General factors that indicate a poorly fitting flip-flop are:
Your foot slides around.
Your toes hang out of the flip-flop.
The strap feels uncomfortable.
Your feet poke out.
The Material of the Flip-Flop
The material that the flip-flop is made from is an important factor. This is because the material that the flip-flop is made from will dictate;
How comfortable it is
How it fits
How supportive it is.
Common Materials
1.Rubber: A flip-flop made out of rubber will be durable, anti-skidding, cushioned and durable. It is one of the most popular choices for flip-flop design, and it has proven effective and long-lasting and comfortable over the many decades that the flip-flop has existed for.
2. Foam: Foam is the most common material used for the base of the flip-flop, aka the inside part where the foot rests. Foam is extremely comfortable, though not massively durable so it often needs to be reinforced with other materials around it. Memory foam is also quite a common choice for the inside of the flip-flop. Some flip-flop makers even go as far as to make the entire shoe from foam, though as mentioned above this doesn't make them entirely durable.
3.Plastic: Plastic flip-flops have the advantage of being very long lasting and much more affordable than other flip-flops made from different materials. Plastic is often combined with a soft foam to create a basic and simple, yet effective flip-flop which can be worn in most circumstances but more commonly on the beach for lighter activity. Plastic is not always the comfiest choice and can lead to food irritation.
4.Leather: Leather is quite a good choice of material when it comes to choosing a flip-flop. This is because leather is generally regarded as the most comfortable and the material that will cause the least irritation to your feet while wearing it. It is breathable, mainly waterproof and only gets softer and more comfortable with prolonged wearing. It is definitely the material that will last the longest in the best possible way.
How to Clean Flip-Flops?
There are several different ways that you can clean flip-flops, and it depends entirely on the guidelines from the company who made them and the type of material that the flip-flop is made from. Some flip-flops will be fully machine washable, but it is worth checking out which setting to wash them on in order to avoid ruining the shoe entirely. Other flip-flops will be machine washable but with restrictions in place such as they require to be placed in a wash bag etc.
Other types of flip-flops will not be suitable for putting into a machine washer. They will need some care and attention by hand, should you find that the need arises to clean them. Often, a splash of water and vinegar will remove the majority of stains from the majority of materials. There is also the option of buying a foot odor control spray if foot odor is one of your concerns that you are trying to avoid!

How Should Flip-Flops Fit?
Flip-flops should be a nice, comfortable fit on your foot. Your toes should have space to widen and splay as the day goes on and they naturally expand. Your heel should be comfortably protected and should not be poking out over the edges of the shoe. The strap should be loose enough that it is not piercing the skin, but tight enough so that the flip-flop itself is not struggling to stay on your foot.
Those who suffer from conditions such as plantar fasciitis should consider these flip flops.
How to Fix Flip-Flops?
Mainly owing to their simplicity, small wear and tear on flip-flops is quite easy to fix. The majority of cheaper flip-flops will be fixable with fabric glue and string. There are many instructional videos available online. For example;
Did you Know?
The design and origin of the flip-flop can be traced as far back as the Stone Age. Of course, much different material was used back then, mainly leaves and animal fur.
Expert Tip
Purchasing a flip-flop with a slight heel can offer ten times more support than buying a flip-flop that is entirely flat. This is worth keeping in mind as it can make a big difference to your foot's overall comfort.