10 Best Children's Shoes for Wide Feet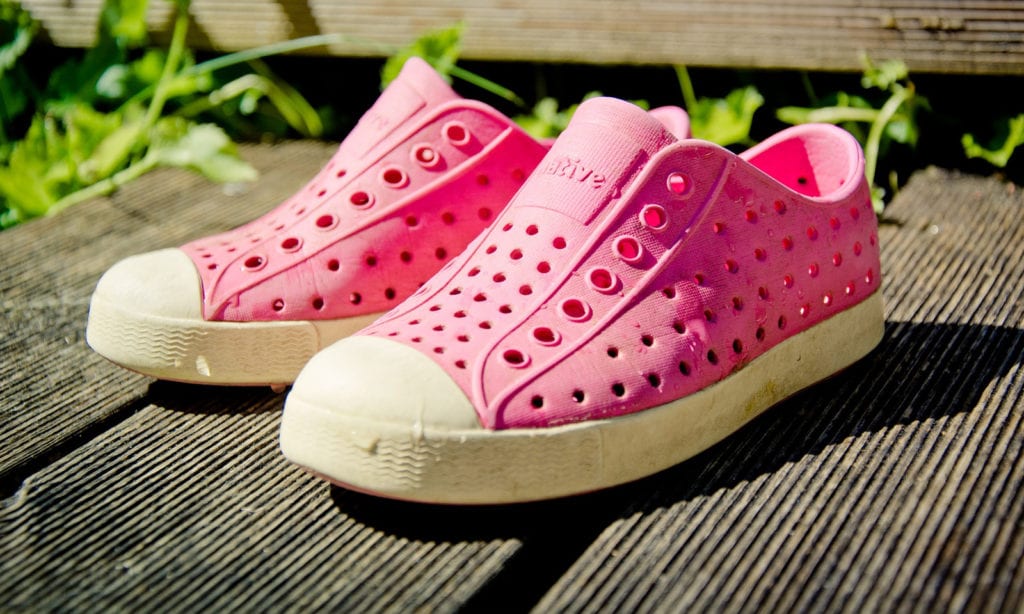 If your child has wide feet, then to provide them with comfort, you'll need to choose shoes designed with this extra width in mind. Fortunately, there are lots of shoes to choose from that offer this extra width inside them. You can purchase everything from dress shoes to sneakers that will fit your little one. It's key to consider comfort, durability and looks when purchasing footwear for children. You also want to make sure to get the best price, too, as we all know how quick children's feet grow.
To ensure that you purchase the very best footwear for your child, then check out this list of ten pairs of wide width shoes for kids, as well as the buyer's guide that follows it.
View the Best Children's Shoes for Wide Feet, Below.
1. Native Jefferson Kids Shoes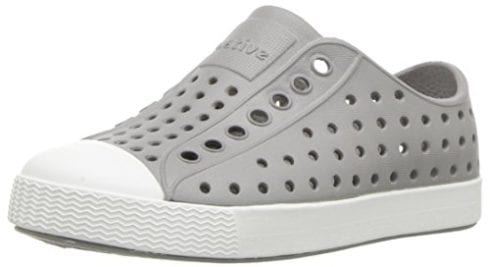 For kids with wide feet, these shoes from Native Shoes are an excellent choice. They feature a slip-on design, so there's no need to worry about laces or Velcro, meaning that your child can simply put them out without any help at all. Both the sole and the toe cap are made from a hard-wearing rubber, making them durable and a safe long-term choice. They're available in three different sizes that will suit children of all ages.
Another great feature of these kids' shoes is the odor-resistant design. Even if your child spends all day playing in them, there's no need to worry about them becoming smelly. Cleaning them is a breeze too. And if they happen to get wet, then you won't need to wait long for them to dry, as they also feature a quick-drying design. The price is very reasonable too.
They're affordable and comfortable shoes for children with wide feet that are made to last. For the price, they're a bargain, and also a safe investment.
Check Price on Amazon ➞
2. Hush Puppies Gavin Uniform Dress Shoe
These wide, leather dress shoes by Hush Puppies are ideal as a school shoe or a smart shoe to be worn by children for formal occasions. As you'd expect from Hush Puppies, these wide width shoes are made from high-grade materials. For example, the footbed is made from memory foam, and this ensures that your child's feet remain comfortable, even when inside the shoes for a long period.
Taking them off and putting them on is easy, too, as these shoes have a hook and loop closure, so no laces. To ensure that your child's feet remain cool and free from odor, then these shoes have got mesh linings inside that have received an anti-microbial treatment. The sole is made from rubber that's non-mark. They come in three size categories: Toddler, Little Kid, and Big Kid.
They're Hush Puppies, and that means that they're high-quality shoes. For kids with wide feet, then these shoes are an excellent choice.
Check Price on Amazon ➞
3. Crocs Kids' Classic Clog
These Crocs shoes are ideal for kids with wide feet. They're water shoes, so your child is free to explore outdoors while wearing them without you needing to worry about them getting ruined. As with all Crocs, they can be cleaned quickly and easily. They come in 39 different colors, and there's sure to be one that you and your child loves. You can buy them for children of all sizes, with an option for big kids, little kids, and toddlers.
They're simple to slide on and off, and they have a heel strap to keep them securely on when worn. Typically for Crocs, they're made from all synthetic materials, which means that no animal products are used for them, making them a good option for vegan families. Crocs are one of the world's most popular brands for kids' shoes, and these shoes are a great example of why.
Crocs are always a safe choice for parents who want their children to have comfortable, easy-to-clean shoes that don't come with a high price tag.
Check Price on Amazon ➞
4. New Balance Kid's 680 V6 Running Shoe
If your little one loves nothing more than playing sports or running, then these wide running shoes from New Balance are a superb purchase. They're built with typical New Balance quality, and they are made from a combination of high-grade materials. The rubber sole is built to last, so you don't need to worry about it being worn away, even if your child loves to play outdoors on tarmac or asphalt.
Each sneakers' upper is made from a combination of leather and mesh, which makes these wide shoes breathable and comfortable, even when worn for a long exercising session in the heat. There are 19 colors to chose from, and these shoes are unisex, so both boys and girls can wear them. You can choose a big kid size, a little kid size, a toddler size, or an infant size.
These New Balance shoes are the best choice for active, sporty kids who want a comfortable, breathable, wide shoe that will last a long time thanks to the durable, hard-wearing materials that it is made from.
Check Price on Amazon ➞
5. Converse Kids' Chuck Taylor Low Top Sneaker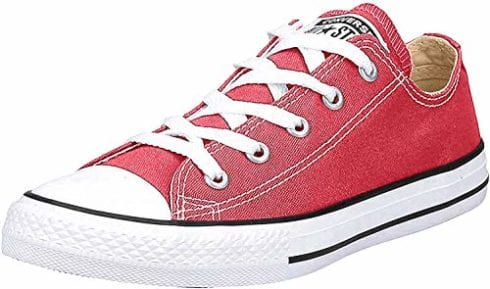 Converse kicks are very popular with skaters and skateboarders, so if your child is a budding Tony Hawk, then these wide width shoes are an excellent option. But your child doesn't need to have the skater look to appreciate these low-top sneakers. They're comfortable, and they feature a thick, rubber sole that's a common attribute of Converse sneakers. The laces are long and easy to tie for smaller children, making them a good pair of trainers to learn this skill too.
You can purchase them in four different sizes, which will cover children aged from 0 all the way to 12. There are 8 different colors to choose from, including red, black, and white. Children with wide feet will love how much room they have inside these wide width shoes.
They're wide width Converse sneakers. That means they look great, feel comfortable, and are made to last.
Check Price on Amazon ➞
6. Stride Rite Claire Mary Jane
As a parent, it's likely that you'll already be familiar with Stride Rite and the excellent shoes that the company manufactures. For more than 100 years, Stride Rite has been producing shoes that little kids and big kids have loved, and this pair is certain to become your child's new favorite shoe once they have been worn once or twice. Why? Because of the profound comfort that they offer, especially for little girls with wider feet.
They're made from 100% leather, which makes them breathable, and also enhances their looks. To further improve the comfort, these shoes feature a memory foam sole. And your child can easily put them on her feet herself as they have a simple to use, adjustable strap closure. The rubber sole is also designed to be mark-free.
These wide width, Stride Rite shoes are very comfortable for little girls to wear thanks to the memory foam inner sole and padded collar, but they're also smart enough for school because of the leather exterior.
Check Price on Amazon ➞
7. Stride Rite Kids' SRT Wes Casual Sneaker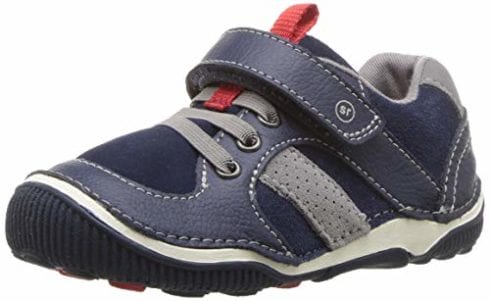 These casual sneakers are another example of the quality that highly-rated Stride Rite offers. Comfort is the best feature of these trainers. And one reason your kid can be assured comfort when wearing these shoes is the wide range of sizes they come in. Stride Rite sells a wide size for children, but it sells an extra-wide size too. So, no matter how wide or long your children's feet are, then you'll be certain to find the perfect fit.
Like with the last pair of Stride Rite shoes on the list, this pair has memory foam footbeds, which means your child's feet will be comfortable even when wearing them for a long time. They also have a hard-wearing rubber sole and a leather top that comes in two different colors.
This footwear is one of the best choices for children with wide feet because they come in such a huge range of sizes with many wide and extra-wide options to choose from.
Check Price on Amazon ➞
8. K-Swiss Kids' Classic VN Sneaker
These K-Swiss sneakers also come in many wide sizes for children. They look great too. There are 7 different color schemes to choose from, each featuring the famous K-Swiss stripes and logo. They're constructed from a combination of leather and synthetic materials, which makes them breathable shoes.
But they're also durable too, which is thanks to the hard-wearing rubber, molded out-soles. They're lace-ups, so your child will have to be comfortable tying the laces, or you can do it for them too, of course. Each shoe also has a die-cut EVA liner inside them, and this helps to enhance the comfort and breathability of them.
You know what you get when it comes to K-Swiss shoes. And what you get is great looks, a comfortable fit, and durable construction. And that's certainly what you get with this pair.
Check Price on Amazon ➞
9. Saucony Kids' Cohesion 12 LTT Sneaker
These colorful sneakers are designed for active, sporty kids who can't get enough to run or play. One example of a feature of these shoes that makes them perfect for active children is the inner-lining that's designed to overcome odors or sweat, so they shouldn't smell, even if your child spends all day playing in them in the heat. There's ample cushioning inside the shoes that provide children with a lot of comfort.
To ensure that your child's feet are kept secure and snug inside the footwear, then they have a lace-up closure. These shoes come in a wide range of sizes, including sizes specifically for wide feet. They also have a durable rubber outsole that's designed to be non-marking.
They're perfect for sporty and active kids thanks to their comfortable, cushioned design and the secure fit they offer, even for kids whose feet are wider than most.
Check Price on Amazon ➞
10. Sperry Kids Baby Boy's Tuck Jr
Coming in either salt wash khaki or grey and tan, these kids' shoes are a cute, casual shoe that can also be worn for more formal occasions. Whichever option is chosen, the upper is breathable due to the canvas material that it is made from. The sole is made from rubber, which makes it hard-wearing and durable.
Despite having laces, these shoes are not lace-ups, and your child can simply slip them on and off. The footbed is made from memory foam, and its width is enough for kids who have wide feet. At only 4 ounces, these shoes are also lightweight, which makes them comfy even when worn for a long time.
There is a lot to like about these shoes, but the best feature has to be the way that they look. They're ideal for lots of different occasions.
Check Price on Amazon ➞
Guide to Buying Children's Shoes for Wide Feet
There are some key features that you must keep an eye out for when purchasing footwear for children. Here they are:
Comfort
There are many features that can ensure your child's feet are comfortable while inside their new shoes. A memory foam footbed is one such feature. Another is a breathable lining inside each shoe. Making sure that you get the right size of shoes will also ensure that your child is comfortable. But remember how quick their feet grow, so order a size up, as this will ensure that the shoes remain comfortable for more than a couple of months.
A quality rubber sole will help to deal with the impact, making the shoes more comfortable in the long run. It's important to choose the right shoes for the type of activities that your child will do in them. If your child is exercising or running around a lot, then a sneaker might be a good option, but for school, then a dress shoe will be a smarter choice.
Durability
The better materials that are used to construct the shoe then the more durable it will be. A high-grade rubber sole is certainly a good choice. When it comes to the top of the shoe, then you'll either want it to be made from leather or, alternatively, a quality synthetic material. The shoes must be put together properly too. And one way of finding this out is by reading reviews from respected sources.
Closure
There are three main closures to choose from. A Velcro closure. A lace-up closure. Or a slip-on closure. Each has its own benefits. And the one you will get will depend on your child's age and how comfortable they are with each closure type. Laces will usually offer the snuggest and most secure fit, but your child will either need to be able to tie the laces herself or you'll need to do this for her. A child can get used to tying laces quite quickly if they need to do it regularly.
If your child is starting to get more and more curious about tying laces, then it could be a good choice to get some trainers or shoes that have a lace-up closure so that they can get used to tying them while enjoying a new set of footwear. The other two types of closures are usually secure. And Velcro can offer the same snug fit as laces can too.
What kids' Shoes Come in Wide?
Lots of kids' shoes come in wide and extra-wide sizes. It's important to check when purchasing online what sizes are available. Often, there will be a dropdown menu on websites such as Amazon, which will then show you all the available sizes for that specific set of footwear. All the shoes on our list will fit children with feet that have a width that's more than the average.
What Shoe Brands Have Wide Sizes?
Most of the top shoe brands offer their kids shoes in wide and extra-wide sizes. Converse, K-Swiss, Hush Puppies, and Stride Rite are just some of the brands that offer wider sizes. You'll find examples of shoes by each brand on our list.
Conclusion
If you find your child's feet being squashed when inside regular shoes, then it's a good idea to try them in shoes that are a little wider. There are some excellent shoes available that come in wider sizes so that your child can have the comfort they deserve.
Always ensure that you pick footwear that's durable so that your money is invested more wisely. You also want to make sure that both you and your child like the looks of the footwear. The last thing you want is for your little one to refuse to put on their new shoes because they don't like how they look.
But comfort is always the main feature to consider when it comes to footwear. Ensure that you pick a pair of shoes that are breathable, snug, and made from materials that are kind to your child's feet. A memory foam footbed is a perfect example of one such material.
Also, remember how quickly your child's feet grow, and purchase footwear a size bigger, as your child will then grow into them. As long as you pick shoes that tick all these boxes, then you can be certain to have invested your money wisely.
Expert Tip
Kids' feet grow quickly. It can be a good idea to buy shoes that are a size or two bigger. But you don't need to get extra-wide shoes unless the width of your child's feet falls into the extra-wide shoes category as it's more likely that your child's feet will gain length rather than width. They might gain width but not at the same rate as length.
Did you know?
Converse trainers are famous for their Chuck Taylor range. But did you know that Chuck Taylor was a basketball player who was once married to the famous actress Ruth Adler who was in Bringing Up Baby?