10 Best Toddler Shoes in 2021
Before your little one actually took their first steps, buying shoes for them was easy. If a shoe looked cute, had some form of animal ears or was a sweet color, then it was suitable. However, once your toddler starts taking their first steps, shoes are now an important purchase. Your child needs something sturdy and comfortable, while still remaining stylish. Shoes can no longer be bought just because they look cute.
Instead, they need to be able to support your little one and help keep them upright. These additional demands, of course, come with a bigger price tag. Finding the best shoes for your toddler can be expensive if you don't know what you're looking for.
We've checked out the best toddler clothing brands to find the ten sweetest and safest shoes for your little one that are certain to meet all your needs.
Related: Best Shoes for Babies.
View the Best Toddler Shoes, Below.
1. Saucony Kids' Baby Jazz H&l-K Sneaker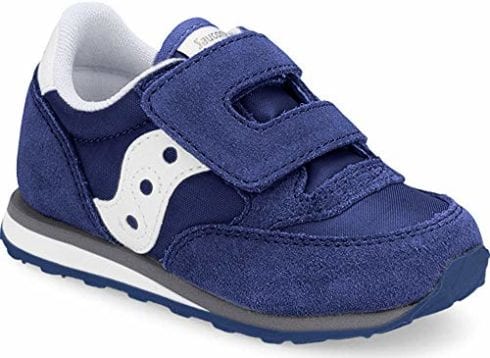 These adorable Jazz H&l-K Sneakers are made from Nylon and suede, making them durable and long-lasting. They have a solid rubber sole that can aid your little ones' toddling process and help keep them upright. Having a thick sole also ensures your toddler's feet are safe, no matter where they are. These sneakers are incredibly comfortable with their plush suede upper and soft textile lining. They are also very easy to put on with the comfort closure straps.
There are Loads of colors available to choose from to suit your toddler's budding fashion sense. You could even match your sneakers with your child for some adorable photos. Saucony is one of the most popular fashion brands, and your little one can be ahead of the game with these sneakers. They are super comfortable to wear and will make walking feel that bit easier.
These sneakers are adorable, highly-fashionable and super comfortable for your toddlers growing feet and abilities.
Check Price on Amazon ➞
CHECK PRICE ON ZAPPOS ➞
2. adidas Samba Classic Leather Soccer Shoe
These sports sneakers are best suited to older toddlers, who may have more of a grasp of their land legs. The rubber sole is comfortable and durable which will help them run and play with ease. The combination of textile and synthetic materials makes this sneaker a high-quality fashion piece that will keep your toddler bang-on-trend. The toddler size is aimed at young children, aged between 4-8 years. This means the shoes will last your toddler longer than some other models, making these sneakers great value for parents.
The Samba Classic Leather Soccer Shoe is very comfortable for little feet, and your kid will actually enjoy wearing them. Even those little ones who have trouble wearing shoes will be pleasantly surprised with these sneakers. They are true to size, even on wider and growing feet, and can withstand hours of playtime. These Leather Sneakers are adorable and very high-quality making them a great purchase for your growing toddler.
These high-quality sneakers are very stylish, as well as remaining comfortable and durable enough to keep up with your growing toddler.
Check Price on Amazon ➞
CHECK PRICE ON ZAPPOS ➞
3. COODO Toddler Kid's Sneakers
These kid's sneakers come in a range of colors and designs to suit every toddler, no matter their gender. They are specially designed for running and walking, which makes them suitable for toddlers who grow in confidence every day. They are flexible and durable to withstand hours of play. The rubber sole will support their growing feet and help keep them upright during play. Your kids will love the cute designs, making these sneakers a popular shoe for parents and toddlers alike. They are super comfortable to wear even after hours of running, jumping or skipping around the playground.
The mesh and rubber materials are non-toxic so your kids will be safe and secure in these sneakers. They can be easily worn with the hook and loop closure. A simple hook and loop closure is certainly a favorite among parents, who know that their kids won't wait to get going. These sneakers can be quickly put on without hassle ensuring there is no delay in playtime.
These cute sneakers are available in a great range of patterns, to suit every child, and are super comfortable even in long-term wear.
Check Price on Amazon ➞
4. Native Unisex Kid's Jefferson Slip-On Sneaker
These sneakers are a waterproof, slip-on shoe that can be totally adjusted to your toddler's style. There is a great, wide range of colors and the shoes can be bought in child and adult sizes too. They are made from 100% Ethylene Vinyl Acetate with a rubber sole. These materials are washable, odor-resistant and very comfortable to wear. The sole is traction resistant which will help keep your toddler upright, as well as allowing them to run and jump as much as they please safely. The Jefferson Slip-On Sneaker is incredibly comfortable due to the EVA footbed which molds to toddlers' growing feet with wear.
The more your kid wears these shoes, the more comfortable they will become. The materials are PETA-approved Vegan which makes these shoes a guilt-free and safe option for so many children. The Slip-On Sneakers typically run slightly larger than other sneakers available, which ensures that they can withstand the rapid growth of your toddler. They are a great value staple for your toddlers wardrobe.
These slip-on sneakers are super easy to wear, comfortable and will actually mold to your toddlers growing feet.
Check Price on Amazon ➞
CHECK PRICE ON ZAPPOS ➞
5. ikiki Squeaky Shoes for Toddlers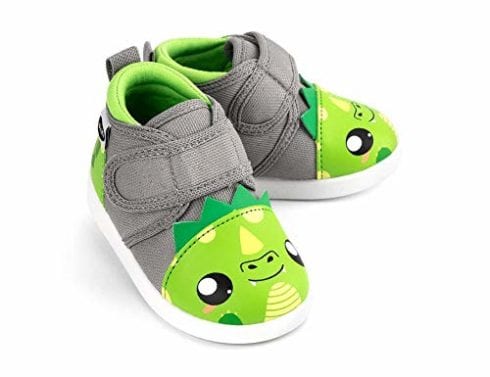 If you have a confident and stylish toddler, these shoes are certainly something you need to add to their growing wardrobe. They are very comfortable and easy to wear, as they are high top shoes with velcro straps. they are a fun pair of shoes to have and will encourage your little one to walk heel-to-toe thanks to the built-in squeaker which you can turn on or off if the noise is getting too much.
The shoes are lightweight and have Ankle support so prevents tippy-toe walking so making them suitable for playtime, preschool or learning to walk in. The thick, non-slip rubber sole is abrasion resistant and will help keep your toddlers' balance. They have a cool little pattern on the base which just adds to the cuteness and style of the shoe.
No matter what gender your toddler is or what they're into, there is going to be a cool pair of shoes to have. There is a great range of bright colors so you can choose your kids' favorite to get them excited about wearing shoes and walking on their own. The ikiki Squeaky Shoes are made from a water-resistant synthetic that is easily wiped clean and works to keep feet warm and dry.
These ikiki Squeaky Shoes are super cute and stylish while working to help keep your toddler upright and balanced – even in the rain.
Check Price on Amazon ➞
6. Converse Kids' Chuck Taylor All Star Canvas Low Top Sneaker
Converse All Stars are an iconic brand that offers timeless designs for big and little kids alike. Once your toddler needs real shoes, a lot of parents want to turn to a brand they trust, and Converse is one of the most popular brands for a reason. Their fabric sneakers are super cute, fashionable and very comfortable to wear. The thick rubber sole has abrasion-resistant markings to help keep your toddler steady and upright, even if they want to pick up the pace.
The canvas construction is breathable and comfortable for growing feet. These trendy sneakers have been designed for day-long play and are certain to make your pre-schooler one of the coolest kids in class! There is a great range of colors and materials available, including blue, red, black and even denim variations. No matter what outfit you've got planned for your toddler, there is going to be a Converse sneaker to suit them.
Converse All-Stars are perhaps one of the best-known sneaker brands, and now your toddler can get involved with their timeless style.
Check Price on Amazon ➞
CHECK PRICE ON ZAPPOS ➞
7. Femizee Bailey Button Snow Boots
The Bailey Button Snow Boots are adorable and incredibly comfortable. They are suitable for the winter seasons and will keep little toes warm and cozy, even in the toughest of conditions. They are made from synthetic fabrics with a thick rubber sole. They not only keep feet warm, but they work to keep toddlers upright and stable when they're learning how to maneuver their feet. The synthetic leather is very comfortable as it is breathable and flexible, making these boots great for long-term wear.
They are perhaps best suited to little girls, as there is a range of pink shades available. However, the black and brown shades are unisex and can work to keep all toddlers warm and cozy during the winter months. The Baily Button Snow Boots gets their name due to the faux-fur lining and giant button appliqued on the front. This makes the boots comfortable and bang-on-trend, so these boots are great for your little fashionistas.
These adorable winter booties are super trendy, flexible and comfortable for growing feet which are learning to be stable.
Check Price on Amazon ➞
CHECK PRICE ON ZAPPOS ➞
8. Stride Rite Made 2 Play Artin Sneaker
Stride Rite is a leading brand in children's' clothing and has been manufacturing high-quality, durable pieces since 1919. These sturdy, durable sneakers are made to withstand playtime no matter whether it's in the mud, sandpit or in the playground. Stride Rite understands how toddlers have a natural affinity for anything messy, and so their sneakers are designed to be easily cleaned and can endure a lot of action. These sneakers have a memory foam footbed that will mold to your toddlers' growing feet.
They will feel secure and supported, no matter whether they're walking, running or jumping. The effortless hook and loop closure mean these shoes are very easy to put on and take off, giving you more time to play and less worrying about getting ready. The Made 2 Play sneakers are designed with a breathable, anti-microbial lining that keeps shoes odor-free all day, no matter how long they've been worn. They are tough and durable, which makes them a great investment for your little one's wardrobe.
These sneakers have been specially manufactured for active toddlers, which is why they are durable and super easy to wear.
Check Price on Amazon ➞
CHECK PRICE ON ZAPPOS ➞
9. New Balance Kids' 680V5 Running Shoe
New Balance is a leading athletic brand that has been providing high-quality sneakers to adults for over a century. Now kids can get involved with their quality, support and style. These Kids' Running Shoes are made from breathable mesh and rubber. This combination is flexible and comfortable so can be worn during all kinds of play. The sneakers have a great abrasion-resistant sole that will help keep kids steady and upright, even when running around the playground. There is a great color range available, and many match the adult versions so you and your toddler can match!
These are a uni-sex sneaker with colors such as pink, turquoise, and red available. The midsole has been manufactured in EVA which is super comfortable and can mold to your child's feet over time. These sneakers are designed to be as comfortable and as durable as possible, which makes them great value. The New Balance Running Shoe has been designed to fit and support toddler's feet during movement.
New Balance is a brand that has been loved for centuries for their high-quality and durable sneakers, and now your kids can get involved too.
Check Price on Amazon ➞
CHECK PRICE ON ZAPPOS ➞
10. PUMA Kids' Cabana Racer Velcro Sneaker
These running shoes capture the timeless and well-known sneaker style that will never go out of fashion. They are incredibly supportive of growing feet that are always active, due to the rubber sole. This sole has great grip and is abrasion resistant to keep little ones steady and upright, even when running or jumping. Puma Runners is a great modern style that relies on new technology to support toddlers' movement. They are durable and feature a heel clip that not only looks great but contributes to the stability of the shoe.
These sneakers are great for active toddlers as they have velcro fastening that can be quickly and easily put on. Simply strap them up, and you're ready to go! There is a great range of fashionable colors available, making these sneakers unisex and bang-on-trend. You can choose from a classic like black, white, and grey as well as bright shades like pink and blue. The sneakers can be customized to match your toddlers' style.
These sneakers are super fashionable and are really supportive of active, growing toddlers.
Check Price on Amazon ➞
CHECK PRICE ON ZAPPOS ➞
Buyer Guide To Toddlers Shoes
When your child begins taking their first steps, you are likely to be too overjoyed to worry about what that actually means. Although this milestone is something all new parents look forward to, it can lead to a whole new set of concerns and necessary purchases. As a new parent, you need to be prepared to constantly open your wallet, and shopping for toddlers' shoes can be a considerable spend if you don't know what to look for.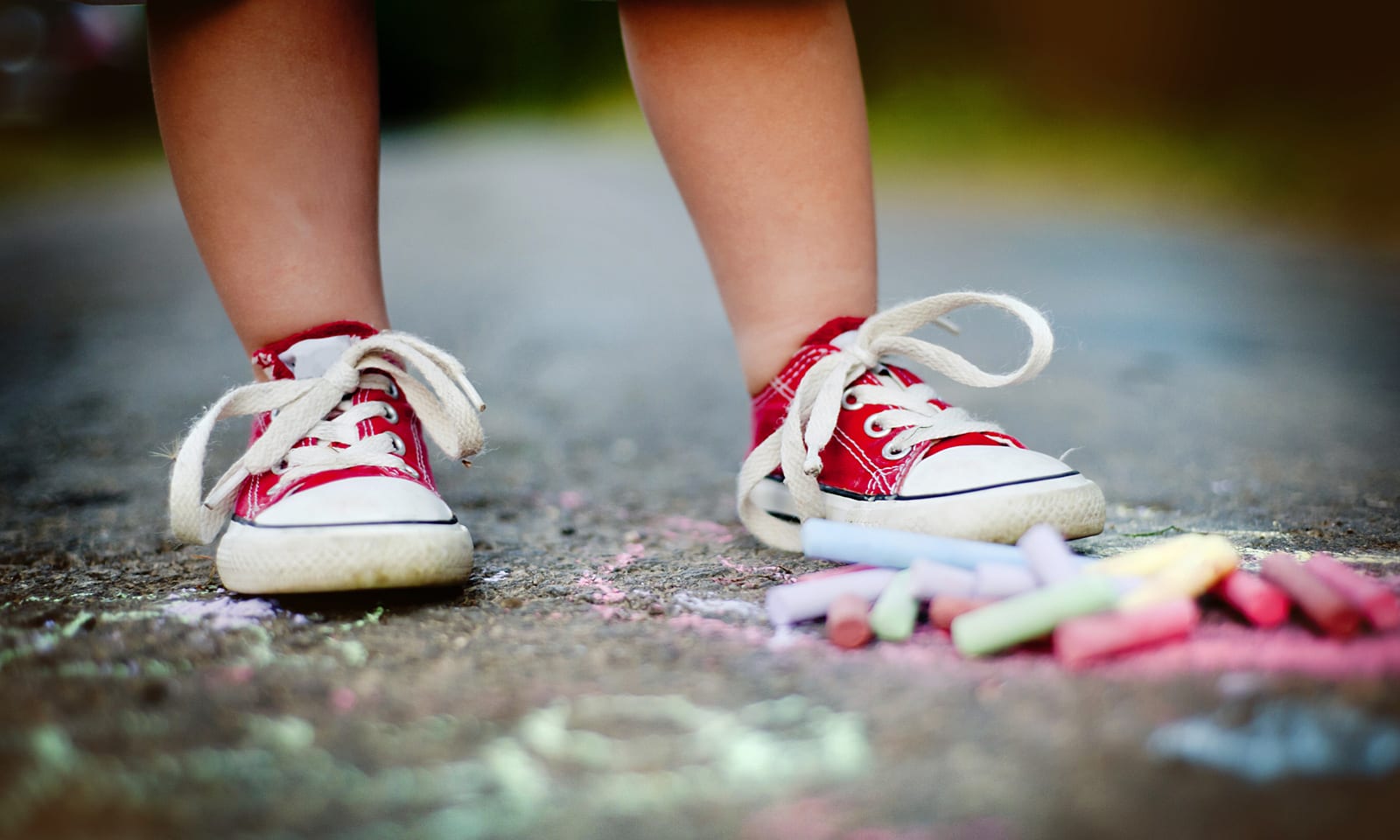 When looking into the best shoes for your toddler, you should make sure that:
They are Flexible
Toddlers shoes should bend in your hand as this will allow their feet to move naturally. In the early stages of walking, your child is still learning how their body works, and you want to find shoes that support this and make it easy for them. Avoid plastic and cheap sneakers that will crumble under pressure.
They are Durable
When shopping for toddlers' shoes, keep your eye out for materials such as rubber or tough textiles. Although you want the shoes to be flexible enough to aid movement, you also want them to last. Thick rubber soles, like those on the Adidas Kids' Baseline CMF Inf Sneaker, and tough sneakers that are designed for running, like the Stride Rite Made 2 Play Artin Sneaker, are great value options.
They Feature Breathable Materials
Although sweating is something we worry more about for our teenagers, your toddlers still perspire and need to be protected. When looking into the best shoes for them, you should choose materials like mesh, like the New Balance Kids' 680V5 Running Shoe, or canvas like the Converse Kids' Chuck Taylor All Star Canvas Low Top Sneaker, to let their skin breathe and prevent sweat build-up.
Toddler Shoes FAQs
The cost of your toddler's shoes is not the only concern parents have within this area. Once your kid starts walking, there is a lot of things that you need to learn and take care of.
Here are some of the most frequently asked questions regarding toddlers' shoes:
How long Should Toddlers wear soft soled Shoes?
Your kid can wear soft-soled shoes from whatever early age you choose, but they should only be worn up to 24 months. You may think that your kid needs hard shoes from the moment they start walking, but this is actually not the case – although it won't necessarily do them any harm if you do so. Hard soled shoes should be worn when your toddler starts walking heel to toe, as they will support this movement.
When Should Toddlers wear Shoes?
This normally depends on when your child starts to walk. Typically, most children learn to walk anywhere from 8 months to 18 months. In the initial stages of walking, hard-soled shoes (such as real sneakers or boots) are not essential as your child does not walk properly yet. Usually, children walk flat-footed at first, and the support of a real shoe is not needed yet.

How to Measure Toddlers feet for Shoes?
When buying shoes for your toddler, you need to make sure that you are getting them a size that fits them now rather than one that will last. This will keep them secure and upright, without the threat of falling over. A lot of shoe stores will measure your kid's feet for you at no cost, but you can do it at home. As kids grow incredibly quickly at this age, you need to make sure you are measuring their feet every couple of months to ensure that your kids' shoes still fit.
Expert Tip
Toddlers' shoes need to be flexible in order to support their developing movement, so try bending their shoes in your hand to test them.
Did You Know?
Toddlers initially walk flat-footed and only need the support from hard-soled shoes when they learn to walk heel to toe.