10 Best Calf Compression Sleeves in 2021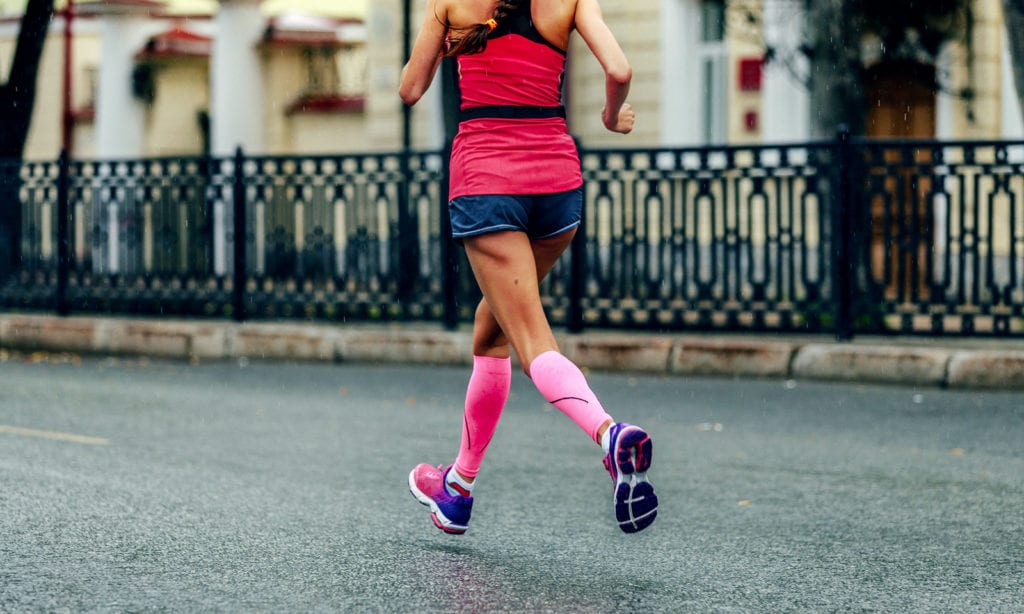 Calf compression sleeves are perfect for a variety of different sports and exercises. They are designed to improve blood circulation, protect muscles from physical force and keep you feeling comfortable during long periods of exercise, especially activities that involve your feet and lower legs.
Most of these sleeves can also be used to prevent small injuries, and can even be used to heal shin splints, an injury that many runners need to deal with on a regular basis. You can get compression equipment for most parts of your body, but calf compression sleeves are arguably the most important.
Below are ten of the best calf compression sleeve options we could find, along with the reasons they are worth buying if you get the chance.
View the Best Calf Compression Sleeve, Below.
1. Rymora Calf Compression Sleeves
This pain-relieving compression sleeve uses a combination of strong, stretchy and breathable materials to provide as much comfort and support as possible. Regardless of your exact problem, it is meant to help you heal faster and keep you moving: just wearing them can naturally deal with cramps, bad circulation, and swelling.
On top of that, they can deal with fatigue slightly faster than regular socks, speeding up your recovery after a hard and difficult run. Like regular running socks, they're washable and don't slip easily, so they are perfect for using with other running gear.
These calf compression sleeves are simple, versatile and can be worn for almost any sport, making them a great addition to your normal line-up of sport or exercise gear.
Check Price on Amazon ➞
2. Zensah Compression Leg Sleeves for Running
The Zensah compression leg sleeves are athlete-level tools that can help prevent all kinds of cramps, muscle tears, and other exercise-related injuries. The compression offered by each sleeve helps improve blood flow, letting your muscles recover from injuries and pains faster. In terms of materials, they are not only comfortable but can wick away moisture to keep your legs dry and sweat-free and use special anti-odor technology to remove bad smells caused by strenuous exercise. The targeted support offered by its v-shaped ribbing is able to prevent shin splints or heal existing cases faster.
These compression sleeves are reliable and effective, getting rid of pain, sweat, and bad smells without feeling uncomfortable to wear. They are also great for speeding up your recovery if you get injured.
Check Price on Amazon ➞
3. SB SOX Compression Calf Sleeves
These multi-purpose calf sleeve socks offer 20-30mmHg compression in a range of sizes, making them suitable for almost anybody. The improved blood circulation helps repair damaged muscles and lowers the rate of lactic acid build-up, making it easier to keep going during tough workouts.
The design has been created to stay comfortable and strong without pushing on your muscles too much, and the breathable fabrics used in its construction ensure that your legs are able to breathe properly. Not only that, this calf compression sleeve is anti-odor and anti-static, as well as moisture-wicking for extra comfort.
These calf sleeves are perfect for intense workouts, combining a professional exterior with a breathable, comfortable and protective inner design. The anti-moisture, static and odor parts also make it much easier to wear in bad weather conditions.
Check Price on Amazon ➞
4. BLITZU Calf Compression Sleeve
These BLITZU compression sleeves take inspiration from kinesiology taping, helping it repair shin splints and other common injuries much faster than usual. It can also make your muscles stabilize faster if you suffer minor injuries, and the added comfort makes them far easier to wear for long periods of time.
Since they have a universal design, you can use them for almost any sport with no issues, ranging from running and walking to weightlifting and basketball. In addition, the instant relief they can offer makes it easy to avoid pain from swelling feet, fatigue, or other issues that can crop up at any time.
These calf compression sleeves are fast-acting and easy to use, allowing you to quickly and easily heal both minor and major issues and types of pain you can get from long-term exercise.
Check Price on Amazon ➞
5. Doc Miller Premium Calf Compression Sleeve
These compression sleeves are built using a KP tape substitute, meaning that they offer proper support without being rigid or uncomfortable. The added stretchiness lets them suit a range of different leg shapes, and the comfortable materials mean that you won't constantly feel like your muscles are being squeezed.
They are designed to avoid slipping and provide a great amount of comfort, muscle support, and circulation-boosting, working well as part of almost any exercise routine or type. On top of that, they can help you recover faster and help you deal with sore muscles caused by a particularly tough workout.
These sleeves are perfect for a vast range of exercises, especially ones that push your muscles hard. The non-slip design helps more than you'd expect, keeping them on your legs even in bad weather conditions.
Check Price on Amazon ➞
6. NEWZILL Compression Calf Sleeves
The design of these calf compression sleeves is meant to feel natural on your legs, offering reliable support and comfort in a variety of muscle-related areas. They're perfect for running, hiking, sports, yoga and a host of other exercises and can keep you comfortable regardless of the situation. However, they're most useful when you're dealing with muscle pains, since they can speed up recovery times and get rid of sore joints much faster than normal. Alongside that, they squeeze your legs to improve circulation and keep you feeling energized.
These compression calf sleeves are ideal for almost anybody who needs more protection, better support, or a faster rate of muscle recovery. Their size means that they can easily fit with almost any kind of exercise gear, too.
Check Price on Amazon ➞
7. Physix Gear Sport Compression Calf Sleeves
The Physix Gear Sport compression sleeves are designed to help you push further, preventing a huge range of pains and medical problems (even things like blood clots) and enabling you to work your muscles much harder. The breathable materials keep the air flowing and provide natural cooling, while the durable parts mean that they won't wear down or collapse after a single tough workout. In fact, they are even designed to avoid damaging your skin, and won't dig into your knee or keep sweat trapped inside.
These calf compression sleeves are versatile, professional and easy to wear, making them ideal for almost anyone who wants a mixture of protection, pain relief, and durability. The stylish design is a nice addition, too.
Check Price on Amazon ➞
8. Crucial Compression Sleeve for Men & Women
These specially-made compression sleeves have a unisex design that acts as a lightweight and breathable way of keeping your muscles safe, healed and ready to exercise. The Power Support technology used in the design brings more heat and oxygen to your calf muscles, reducing the chance of lactic acid pain or cramps, and the double-stitched seams increase their durability without adding any extra bulk. The extravascular support prevents fatigue, pain and blood clots, even on the most strenuous and difficult exercise routines.
These sleeves are stylish, but they really shine when you're going up against a tough workout plan. The extra support lets you push yourself much further without putting your body in too much risk, and can help you heal up faster if you're suffering sudden pains.
Check Price on Amazon ➞
9. Thirty 48 Graduated Calf Compression Sleeves
These simple compression socks provide a huge boost to blood flow and help you avoid injuries like shin splints without feeling uncomfortable or awkward on your legs. The graduated compression makes it much easier to ignore and endure the pains that would be caused by tougher workouts, and they make your recovery times faster so that you can get back to exercising sooner. Not only that, but they're perfect for keeping your muscles strong, fast and supported through a range of different motions, making them great for almost any exercise.
These sleeves are very simple, providing no-frills support and performance-boosting that won't get in the way of your other gear. The nonspecific design makes them perfect for basically any activity, too.
Check Price on Amazon ➞
10. 2XU Compression Calf Guards
These compression calf sleeves are designed for better performance and protection, giving your muscles the extra strength they need to keep going during a really tough workout routine. The graduated compression provides better circulation, while the muscle containment technology reduces the amount of damage and vibrations going back into your muscles, making it far easier to avoid small injuries and pains. Not only that, but these calf compression sleeves are designed with moisture management in mind, keeping your feet dry and comfortable in wet weather or while you're sweating.
These sleeves are convenient, comfortable and perfect for general use with all kinds of exercise routines, making them ideal for anybody who wants a single pair that can work for multiple workouts. The extra moisture-wicking materials add some bad-weather reliability, too.
Check Price on Amazon ➞
Calf Compression Sleeve Buyer's Guide
Buying exercise gear isn't easy if you've never done it before, and compression sleeves can seem complicated when you first hear about them. Even if you've used them before, that doesn't mean you know what to look for, or what's most important when you're trying to choose between multiple pairs.
Everybody has a different body shape, different physical limits and different types of clothes that they're comfortable wearing, so you'll want to try and choose some that are perfect for you. But what's most important when it comes to actually make the final choice?
Size
Like with exercise socks, size is important. The better your sleeves fit, the more comfortable they'll be, and the less likely they are to slip or break if you have them on during a full workout. That's not all, though – compression sleeves are meant to compress your muscles and certain areas of your calf, as the name suggests. This can lead to problems if they don't fit properly, and might even lead to unexpected injuries.
First of all, if a sleeve is too loose, it won't stick on your legs properly. Not only could it slip, but it won't provide the same benefits, and it might even rub against your skin in a way that causes friction burns or sudden pains. Depending on where it's rubbing, it might even hit a sensitive spot on the back of your leg. If it slips, it can bunch up around your ankle and make moving hard, especially if you're doing something that doesn't really give you a chance to stop and pull them up. It'd be just as annoying as regular socks slipping, except further up your leg.
On the other hand, if it's too tight, things can get even worse. Since compression sleeves literally push your muscles and veins to increase performance and blood flow, a push that's too tight might lead to cramps, sores, circulation problems, or even serious medical injuries. Cutting off the blood flow to any part of your body is already a bad idea, half of both your legs is extremely risky. Even if you're fine afterward, with no long-term effects, you'll still have to stop moving around to recover.
Plus, there's also the issue of getting them on in the first place. The tighter something is, the harder it can be to get on – once it's on, you need to get it back off later on, and it's entirely possible that a tight compression sleeve could get stuck when you're trying to get it past your heel.
Support
One of the main reasons to wear a compression sock is for the extra support. Not only can a decent pair protect you from scratches and bumps caused by plants and debris, but many of them can help improve your performance by adding a little more spring to each step. This won't be much, but it can be enough to push you further than normal, especially if you're running or doing another exercise that's focused on the movement of your legs.
The more support you have, the easier it'll be to stay upright and consistent when you're on the move. If you're dealing with rough ground (either because you're running on an off-road trail, or because you're doing some kind of obstacle course), a little extra support can make a huge difference if you want to keep your balance and avoid falling or stumbling.
Pain Prevention
Another major reason that many people choose to wear these sleeves and socks is the pain relief. There's no denying that they're extremely useful for preventing (or healing) short-term muscle pains in your legs, even if you only put them on after your exercise routine or workout. There are multiple ways that they can help you avoid feeling sore, but not all of them will apply at once.
The first is lactic acid – the pain that builds up when your muscles start to break down after being over-worked. For many exercises, lactic acid is a sign that you've done something right and pushed yourself to a new limit, but it also means that your muscles are literally broken and need to knit back together. This is a completely normal process, but it can hurt, especially if you need to use those muscles later in the day for other reasons. A decent compression sleeve can help reduce the amount of lactic acid that builds up and sticks around.
There are also vibrations. Running, jumping, walking around, or even just shifting your position and posture can send vibrations into your muscles. This isn't a problem in short bursts, but longer exercises might require you to deal with dozens (or even hundreds) of vibrations per minute, depending on what you're doing. This is most notable with sprinting, jogging and running, where you're constantly slamming your feet back on the ground. With a compression sock, you can dampen these vibrations and prevent the muscle fatigue it might cause.
The Materials
A standard, no-frills compression sleeve can work well for most people, but it doesn't offer any advanced features or uses. Depending on the materials used, you might find yourself overheating, feeling itchy, or struggling to deal with sweat and rainwater. However, it's not hard to track down sleeves that can deal with these problems.
Water (including sweat from your own body) is an exercise lover's biggest annoyance. Wet clothes get heavier, feel bulkier and are generally less comfortable – they might even throw off your balance or make it harder to move fluidly. Compression sleeves are no exception, and they're in a prime position to affect your running speed and style if they get soggy. A moisture-wicking material can help with this, getting rid of the water and keeping you dry without feeling like you're wearing a rainproof coat on your legs.
There's also breathability. Your skin needs to breathe, especially if you're subjecting it to a lot of sweat. Keeping part of your leg inside a compression sleeve for a long period of time can lead to sore areas, parts of your skin where it's left marks, or even cause rashes and other skin problems. A decent breathable material can fix this and has the added benefit of keeping you cool in hot weather now that the cold air can circulate through.
It's not a very common problem, but sun protection can matter, too. You can't really put sun cream underneath your exercise gear (and if you can, it's not going to be comfortable), but some compression sleeves are thin enough to let sunlight through. We're all aware of the dangers of prolonged exposure to bright sunlight, so sunnier seasons and climates can be an issue. In these situations, you can try to find thicker compression sleeves – some will even point out that they have a sun protection level relevant to SPF, the same measurement used by most sun creams.
Expert Tip
Graduated compression is a specific type of design. The compression is highest at your foot, and lowest at the top of your calf, making it easy for the body to circulate deoxygenated blood against gravity.
Did you know?
Compression sleeves aren't just useful for exercise. They're also used in hospitals or by injured people to help their leg injuries heal, and they can even help with injuries that aren't caused by muscle exertion or heavy exercise.