10 Best Fuzzy Socks in 2021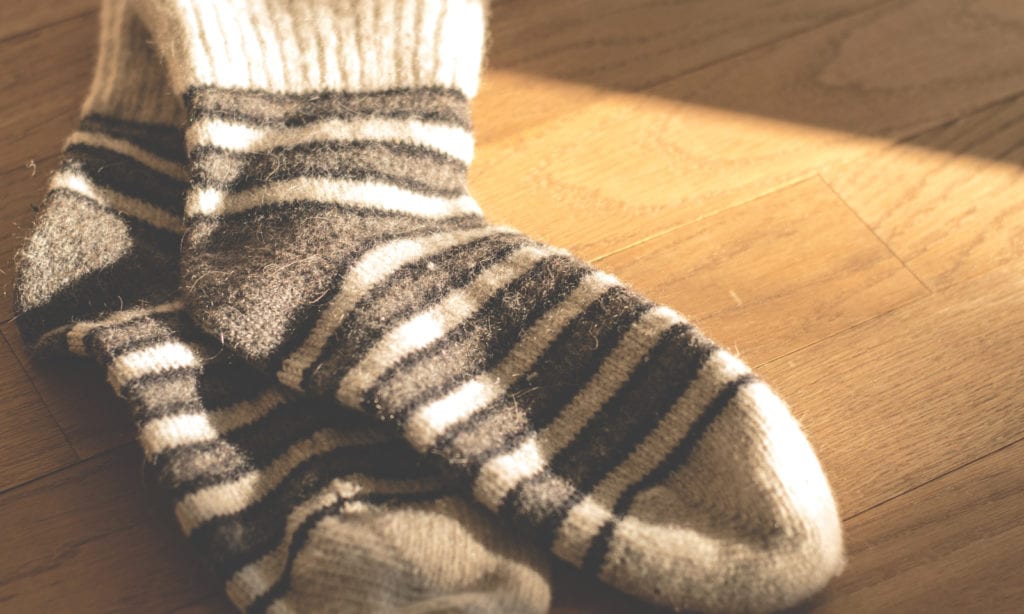 With the winter nights drawing in and temperatures dropping, we can't be blamed for wanting some warmth and comfort during the long dark hours of winter evenings. However you choose to unwind at home, our favorite is a nice warm beverage, a good book, and some relaxing music, but could just as easily be a nice glass of wine and a winter movie, you will always be looking to keep yourself warm.
Which is why we have compiled a list of one of the staples of winter comfort – fuzzy socks. No matter what your favorite way to unwind in winter is, it can always be made better with fuzzy socks adding additional comfort and warmth. A further use for fuzzy socks is inside your winter boots in the snow, a great way to add extra warmth when spending time outside.
Below we have a list of the best fuzzy socks for this winter season, we recommend if you haven't bought your winter socks yet that you make a start on this soon to avoid discomfort for longer.
View the Best Fuzzy Socks, Below.
1. YSense 5 Pairs Womens Knit Warm Casual Socks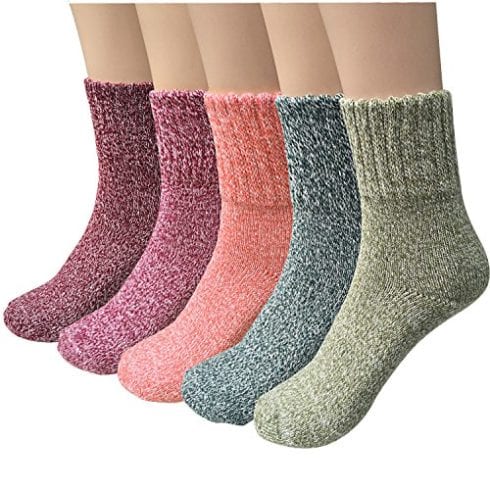 These comfortable woolen socks are made of a durable fabric that is soft and will keep your feet warm and comfortable during the cold winter days. Coming in a pack of 5 and made to fit US size 5-9 these socks are great for a girls' night in, they will stretch to comfortably fit your foot size and will be great paired with a cozy winter drink and festive movie.
Although all sets come in a pack of 5, there are a variety of cute or sophisticated designs to suit all tastes. With no additional elements to the socks, they are suitable to wear inside your winter boots of any color and will keep your feet comfortable and warm.
These socks have a thermal design so they can be used for all sorts of outdoor activities in extreme weather conditions and due to the soft fabric will not cause chafing if worn inside boots all day. YSense socks can be washed at a normal temperature, and are machine washable, but we recommend you hand wash these beautiful socks to keep that lovely soft texture long-term.
We love the variety of this brand of socks, all socks come in packs of 5 and there is a wide range of colors and patterns to choose from, giving you the ability to express your personality and tastes through your comfortable woolen socks.
Check Price on Amazon ➞
2. Zmart Fuzzy Cute Animals Slipper Socks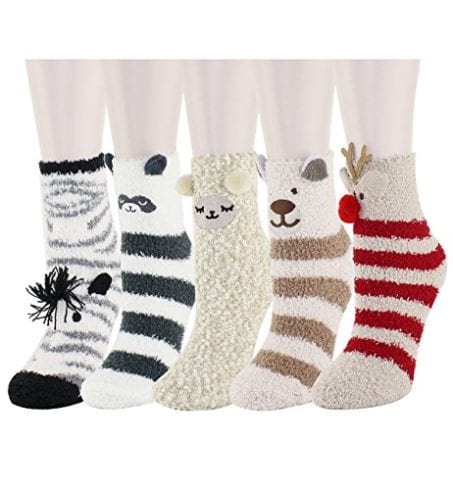 The super-cute animal design of these slipper socks make our hearts melt, Zmart have six different packs varying from 4 to 5 pairs per pack, in different designs and sizing is great with all socks being suitable for women's shoe size 5-10 with a one size fits most approach. These socks are comprised of 80% polyester, 15% nylon, and 5% spandex giving an excellent level of comfort and warmth, the fabric is also very breathable and doesn't itch.
Due to the makeup of these socks, they will be comfortable to sleep in also, giving added comfort and warmth in those cold winter nights, and eliminating discomfort during the night while you sleep, helping restfulness. There is soft elastic in the cuff of these socks, meaning no digging into your calf or irritation with prolonged wear.
We wouldn't advise wearing these socks inside your outdoor boots, although the 3D additions help toward making these fuzzy socks cuter than other brands, they could also make for very uncomfortable wearing while in your boots. When washing these socks, we recommend a hand wash with cool water and no tumble-drying as high temperatures can cause the fabric to shrink over time.
These socks are great for a girls night in, because of various designs in each pack you can get together with female friends or family members and settle down for a comfortable night with your favorite people.
Check Price on Amazon ➞
3. SDBING Fuzzy Fleece-lined Slipper Socks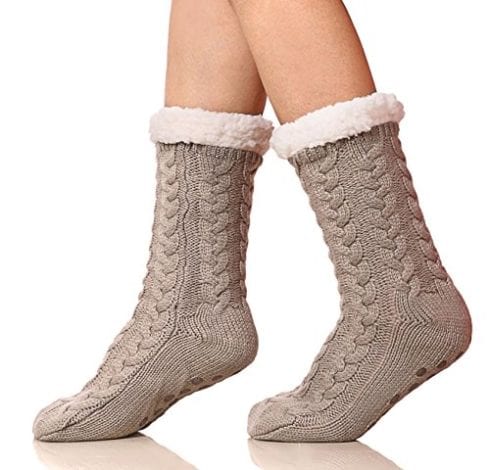 These beautiful twist design slipper socks boast a soft fleecy lining that is both warm and stretchy, allowing you to stay warm and comfortable in style. They also have silicon dots along the sole of the sock which will keep you from sliding on tiled and varnished surfaces, making them suitable for elderly women and those not as steady on their feet. These socks are suitable for US women's sizes 6 to 10, and the excellent elasticity makes them suitable for most foot shapes in these sizes.
Although there is only one pair of socks per pack in this design, there are 11 colors to choose from, so each member of your friends or family can choose to be unique, or you can choose to match. We suggest, again, that you handwash these beautiful socks to keep that fluffy lining at its best and do not apply heat in the form of tumble drying or ironing. The range of colors allows you to match these shoes to your favorite PJs, but due to the silicon dots on the soles, they may not be comfortable inside indoor shoes.
We love the fleecy lining in this sock, it is so soft and comfortable and deodorizing making for lovely long-term wear, with an elasticity that will keep your feet comfortable and remove the risk of chafing.
Check Price on Amazon ➞
4. Azue Microfiber Fuzzy Home Socks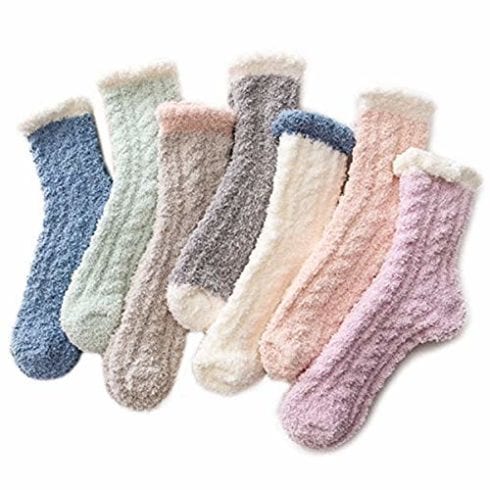 These microfiber socks are extremely soft, keeping your feet cozy and warm for all-day wear, with a variety of designs and colors you can choose dependant on if you would like a home sock for daytime wear or a sleeping sock. All designs are optimal for day/night long wear and are optimized during creation for a soft, warm, and durable fabric.
Due to the design of these socks, they are perfect for home use and for use inside your winter boots, the thickness of the fabric providing great comfort levels in your heavy boots and protecting your feet from chafing and blisters. These socks are designed for the one size fits most and will fit US women's sizes 6 to 10. With a range of designs and colors, you can share these socks with family and friends for a cozy matching winter night in or a fun outdoor activity.
The stitching of these socks has been designed to create thickness in the fabric that will keep your feet warmer and also provide durability that makes them suitable for both indoor use and comfort when wearing heavy boots.
Check Price on Amazon ➞
5. Dosoni Women Girl Fuzzy Slipper Socks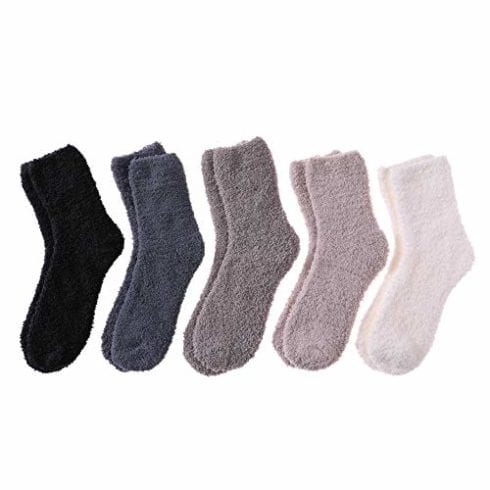 The Dosoni socks come in a variety of cute designs with 5 pairs in each pack, ranging from animal designs to patterns or solid color, you can choose what best suits your personality. These socks are lightweight yet durable, making them suitable for use both in your home and keeping your feet warm inside of your heavy winter boots.
The microfiber fabric used for these socks is optimized for maximum comfort for your feet, keeping them warm, comfortable and sweat-free. The fabric does not have a hard elastic cuff and so is excellent for day-long wear and can be worn comfortably while sleeping. Due to the soft and fluffy fabric of these socks, we recommend you wash these socks by hand in water not exceeding 30°C and leave to dry naturally.
We love the cute designs of these socks, they are fun and colorful and a great way to show your fun side.
Check Price on Amazon ➞
6. Loritta Womens Wool Crew Socks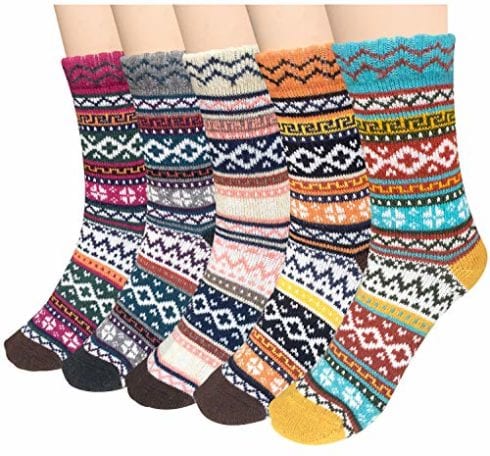 The Loritta woolen socks come in a variety of funky designs and vintage patterns in a thick fabric that is soft, breathable and fights against odors. Each design comes in a pack of 5, which can be shared with family or friends for a trendy and cozy matching night in. These socks will fit US women's sizes 5 to 9 and due to their elasticity, are great for all foot shapes.
The comfort and durability of these socks are perfect as an indoor sock to keep your feet warm on long winter nights but will double as an excellent boot sock, protecting your feet inside heavy winter boots. The materials used make these socks comfortable for longer wear, without a restrictive elastic cuff digging into your calf or seams irritating and restricting your toes.
We love the designs on these socks, the variety of colors and vintage prints are a fantastic way of demonstrating your personality.
Check Price on Amazon ➞
7. BambooMN Fuzzy Winter Home Socks
These super cute fuzzy socks come in packs of 6 pairs and have a variety of animal designs on the socks meaning you and your friends and family can divide them based on your favorite animals, or you can keep them all to yourself and have a different animal each day of the week. These cute socks are non-slip and comfortable for long-term wear during the cold days and winter evenings.
These socks will fit US women sizes 4 to 10, so are suitable for most women, and can be worn both in the home and inside your winter boots outdoors. The fluffy fabric of these socks keeps your feet cozy and warm for hours and due to the design are comfortable to wear while sleeping too. We recommend you machine wash this fabric at a low temperature and you can tumble dry them on a low setting also.
We love the design of these cute socks, with each pack having a variety of animal designs included your feet will be warm and look cute at the same time.
Check Price on Amazon ➞
8. Toes Home Indoor Plush Slipper Socks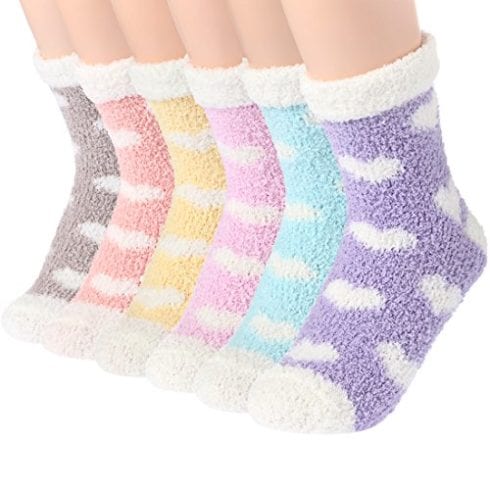 These beautiful soft slipper socks are an excellent addition to your winter wardrobe, with a microfiber fabric that keeps you warm in addition to providing comfort, which is so soft that you can wear them all day without irritation. The softness of these socks means they are great for wearing in the house, sleeping in and also inside your winter boots, with a soft cuff to avoid it pinching your calf or causing irritation.
These socks are available in a variety of designs and the amount of pairs per pack depends upon the design you choose. Although these socks can be machine washed on low heat, we recommend you hand wash them to keep the socks in the best condition and allow them to drip dry for the longevity of comfort. These socks will fit US women sizes 6 to 10.
We love how soft these socks are, the fabric is super comfortable and excellent to sit in all-day with your favorite book.
Check Price on Amazon ➞
9. Tipi Toe Anti-Skid Soft Fuzzy Crew Socks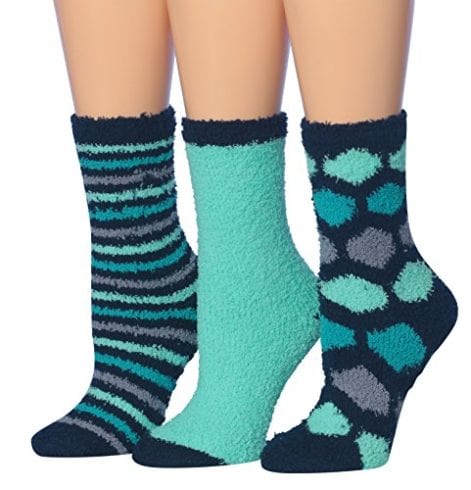 The cute and funky designs of the Tipi Toe socks make them very appealing, with three pairs per pack and 22 packs to choose from you can show your personality perfectly with these comfortable and warm socks. Suitable to be worn at home and through the night to help you get a restful sleep they have silicone grips on the sole of the socks to reduce the risk of you slipping on polished or smooth flooring.
These socks will fit US women's shoe size 6 to 9 and are comfortable for all foot shapes, the silicone grips on this brand of sock are soft enough that they will not cause discomfort if worn inside your winter shoes or boots.
We liked the non-slip aspect of these socks, they are great on your smooth surface flooring and unlike some silicone sole grips, these socks are not uncomfortable to wear inside shoes and do not dig into your feet against the hard surface of your shoes.
Check Price on Amazon ➞
10. Zando Women Super Soft Plush Slipper Socks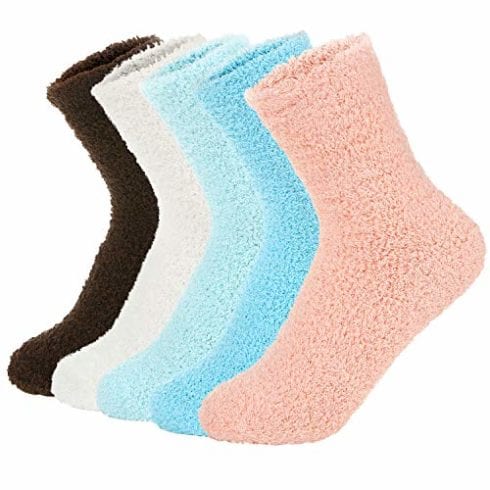 Zando offers 21 different designs of super soft fuzzy socks in a variety of numbers per pack and all offer the same soft wool and cotton blend for comfortable wear while giving your feet breathing space so you can wear them all day or night. One size will fit most and the socks are designed to be loose without slipping down to ensure that they do not dig into your calf or feet while allowing you the ability to slip them on and off easily.
These socks have a moderate thickness of fabric, which will keep you warm and cozy without becoming stifling if you fall asleep in them and enabling you to wear them inside your winter boots without them being too bulky. The length of the sock is suitable for outdoor wear. Also, sitting just above your ankle, you could choose to have them showing above your boots as a fashion statement or slouched down to be hidden.
We like the length and design of these socks, with a different cuff and toe color, you can use them as a fashion statement accessory above your winter boots.
Check Price on Amazon ➞
Fuzzy Socks Buyer's Guide
When choosing which fuzzy socks to buy you need to consider what you are looking for, are you solely looking for an indoor sock, do you want something to go inside your winter boots, and do you want to be able to sleep in them? The answer to these questions is where we recommend you begin when starting to look at which fuzzy socks you are going to buy.
Material
 Next, you should look at what material you want your socks to be, you should consider any materials which cause you skin irritation or allergic reactions and always read all of the fabric information before you purchase pairs of socks to avoid discomfort.
All of the fabrics used to make fuzzy socks will be warm for your feet but some may become too warm depending on what they are made of, so we always recommend you try your socks during the day at home first to see how hot your feet become before wearing them to sleep in or inside your winter boots to avoid your feet overheating.
Keeping Warm
 Keeping your feet warm in winter is more than just about comfort, it is good for your health – with warm feet in cold weather resulting in improved circulation. The right socks worn overnight can help you to sleep deeper and give you a more pleasant and restful slumber by stabilizing your body rhythms.
Best Foot Forward
You also need to consider the type of floor you will be walking across in your fuzzy socks. If you have all polished or hardwood floors, you may need to consider a non-slip sole. Similarly, if you are buying these socks as a gift for someone who is elderly or infirm and in hospital, fuzzy socks with a non-slip sole will save them for having to wear slippers additionally when moving around their room or ward.
Alternatively, if you are planning to wear your new fuzzy socks inside your winter shoes or boots, you may want to have socks without the non-slip grips as depending on the thickness of these grips, they could become uncomfortable over a full day against the hard soles of your shoes.
Expert Tip
To keep the fabric of your fuzzy socks as soft as the day you bought them, always gently hand wash in cool water and allow to drip dry.
Did You Know?
If your new fuzzy socks are molting onto your floor, running them through the tumble drier will stop this– just ensure the fabric can be tumble dried before doing so.