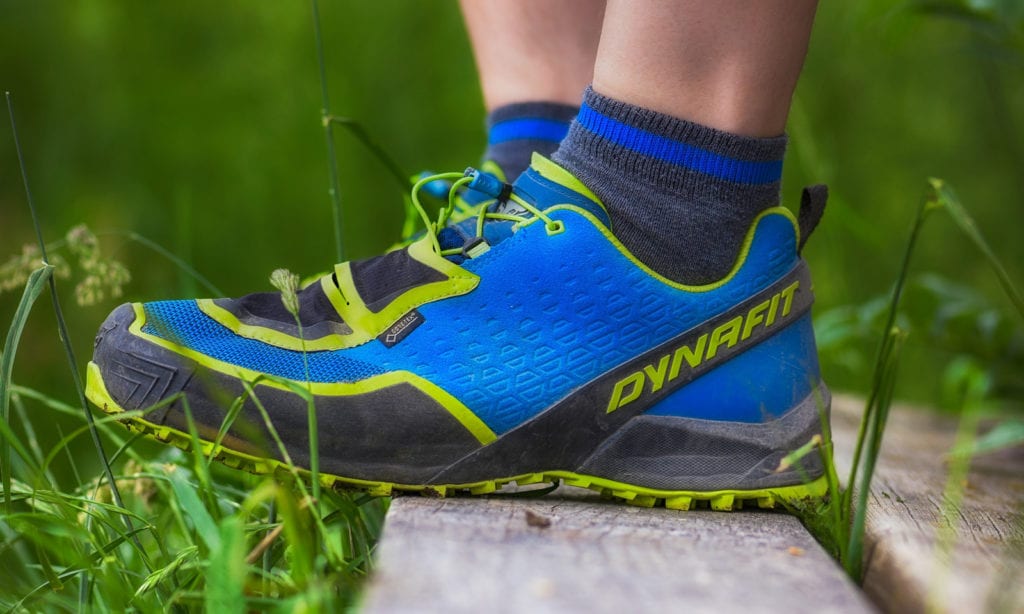 Athletic socks can make a great deal of difference, and can even be the element that makes or breaks a race. The right athletic socks will help you with your performance. To give you a head start, we've compiled the ten best athletic socks available in the market.
Whether you're a runner, gym bunny, or a general lover of sneakers, the athletic socks you wear make all the difference to your comfort.  Take a look at our favorites:
Related: Best Socks for Running.
View the Best Athletic Socks, Below.
1. Balega Hidden Comfort No-Show Running Socks
Out of sight and out of mind, the Balega hidden athletic socks never appear over the top of your sneakers and are available in a wide range of colors if you are interested in jazzing up your training gear. Suitable for men and women alike, these athletic socks are cushioned to provide you with the maximum level of comfort possible as you train or race.
Innovatively created to remove sweat and make sure it is taken away from the skin, the Drynamix technology combined with the mesh microfiber keep your feet dry and well aired. With no seams, there is no risk of irritation, rubbing or blisters, and the reinforced toes and heels stop them from wearing out. Never worry about these athletic socks slipping thanks to their high heel tab, ultra deep heel pocket, and elastane makeup.
The Balega Hidden Comfort No-Show Running Socks become invisible, never slide down your foot, and reduce sweating effectively.
Check Price on Amazon ➞
2. NIKE Performance Cushion Crew Socks
Available in black with a white Nike tick or white with a black Nike tick, the Nike athletic socks are crew style unisex socks. Created out of a good combination of cotton, nylon, spandex, and polyester, the well-known brand of Nike athletic socks are durable, hard wearing, and will last you for an impressive amount of time. This is because they have been enhanced for your ease through the use of a reinforced heel and toe area – the most likely of places for wear to be visible.
The cuffs of the Nike athletic socks are ribbed, hold well to the calf and have been designed not to fall down. These athletic socks have the added bonus of having an arch support fitted within them to ensure you have the best fit, support, and comfort, no matter what activity you are undertaking.
The NIKE Performance Cushion Crew Socks fit well, stay in place, and are really supportive.
Check Price on Amazon ➞
3. ASICS Unisex Cushion Low Cut
Choose from Black, Grey Heather or White, and take great pleasure in wearing the ASICS ankle style athletic socks. Created through the combination of polyester and spandex, they are incredibly soft to the touch, though work hard to ensure that your feet are kept dry. This is possible because of their moisture management system, which unites with the knit-in mesh to ensure that your feet are well ventilated always.
Purchase these athletic socks in packs of three and never be without them so that you can always rely on the cushioned sole for enhanced comfort. The irritation free athletic socks from ASICS have a single tab ankle fit designed to prevent rubbing, skin irritation and slipping, and their design is completed with the Y heel gore fit and seamless construction, so blisters will never occur.
The ASICS Unisex Cushion Low Cut athletic socks can be relied on for comfort, blister protection, and breathability through their impressive design.
Check Price on Amazon ➞
4. Gold Toe Cotton Crew Athletic Socks
Just as you may suspect, the Gold Toe Ankle athletic socks really do have gold toes which create enhanced durability of this style of athletic sock thanks to the reinforced toes. Made by combining cotton, polyester, nylon, and spandex, they're American made athletic socks and are super easy to wash in your machine.
They have AquaFX moisture control technology within them to ensure that your feet are always dry and sweat free, as well as making sure that comfort can always be relied upon when wearing these athletic socks from Gold Toe. These stretchy athletic socks have cushioned feet to promote comfort, endurance, and decrease friction, which is also aided by the seamless toes. These socks are stretchy, soft and available for you to purchase in packs of six, either in white, black, or a combination.
The Gold Toe Cotton Crew Athletic Socks are striking, soft, well cushioned, effective at sweat reduction and incredibly hard wearing.
Check Price on Amazon ➞
5. Physix Gear Compression Socks
The striking, unmissable and medically enhancing Physix Gear athletic socks can be worn by men and women either for training, racing or even if you are suffering from circulation, shin splints or stamina. These athletic socks can help with a multitude of medical issues, even flying and pregnancy. From foot to knee in length, these athletic socks are designed with compression in mind so that you can always push your legs to another level.
Within their makeup, they contain the most up to date arch to calf compression technology to target the muscles within this area, helping to increase the blood supply, circulation, and oxygenated blood. This means that you can train harder, go further for longer, or recover from injury faster than ever before.
The Physix Gear Compression Socks are medically so capable of assisting with so many issues without any intervention, from racing to recovery.
Check Price on Amazon ➞
6. Rockay Accelerate Anti-Blister Running Socks
If pattern, softness, and compression are qualities of the most importance to you, then take a look at the Rockay athletic socks. Always in two-tone colors, these specifically designed running socks are made from organic merino wool and are the perfect athletic socks for any runners who are prone to skin irritation, blistering or foot odor caused by sweat.
They fit tight to the foot through the use of elastic, ensuring that no extraneous substance can enter your socks when running and cause discomfort. They are breathable athletic socks, removing sweat constantly no matter what you are using them for and your feet will always remain dry when they are used. Rely on these socks for thorough durability as they have been tested to the max to make sure that you never need to replace them.
The Rockay Accelerate Anti-Blister Running Socks have been so thoroughly tested you can rely on them without needing replacements.
Check Price on Amazon ➞
7. Under Armour Women's Essential No-Show Liner Socks
Under Armour athletic socks give you all the protection you can imagine, as well as being absent from the eye. In packs of six, various color combinations and ideal for women participating in all sorts of different sporting activities, these athletic socks are created from polyester and spandex combined.
This ensures that they are capable of removing sweat, speeding up the process of evaporation and they have an added bonus of being able to prevent bacteria from forming within the sock so that no odor occurs – this is the ArmourBlock technology. Enjoy and participate in your chosen activities for longer when wearing these athletic socks as they have a dynamic arch within they help reduce and often eradicate fatigue felt in the feet. These socks are soft on your skin, seamless and will never cause blisters.
The Under Armour Women's Essential No-Show Liner Socks help you to enjoy sports without getting sore, tired, or blistered feet.
Check Price on Amazon ➞
8. adidas Men's Athletic Cushioned Crew Socks
An option for men's athletic socks are the Adidas crew socks. Heather grey in their overall appearance with a black logo, they have been made from a durable combination of nylon, polyester, and spandex to ensure that they last. They have pull on closure as well as compression arch fitted within them to enhance the fit, comfort, and security of these athletic socks even when they are worn for long periods of time.
With a cushioned foot, they enable you to undertake your chosen activity more frequently or for longer durations. They also have a specially designed climalite moisture-wicking contained within them to ensure that sweat is eradicated, feet are kept as dry as possible, and odor is kept to a minimum. Buy these athletic socks in packs of six and never be left without your trusty friends.
The Adidas Men's Athletic Cushioned Crew Socks have climalite moisture-wicking, inbuilt compression arch, and comfort.
Check Price on Amazon ➞
9. Saucony Comfort Fit No-Show Socks
They might be classed as no show, but you're going to take every opportunity to show off the Saucony athletic socks. They are vibrant, colourful, and full of character. Ideally suited for men, these athletic socks are made from polyester, rubber, and spandex combined. With their run dry moisture management system and ultra-wicking fibers, feet are kept dry even when they are working hard.
The clever addition of air mesh venting enables air to flow inside your sneakers, circulate your feet, keeping your feet cooler and eradicating odor. Specialist engineering has created a targeted arch compression to keep your feet strong, sturdy, and safe as you train. These athletic socks do not slip, so once you've put them on, you can forget all about them. Their cushioned soles increase comfort but do not mean that your sneakers are tight or uncomfortable as you exercise.
The Saucony Comfort Fit No-Show Socks keep feet dry, ventilated and comfortable.
Check Price on Amazon ➞
10. Thirty48 Ultralight Athletic Running Socks
The eye-catching, two-tone, unisex athletic socks brought to you by Thirty48 are ideally suited for runners. Fitting perfectly just like a second layer of skin, they are stretchy, seamless, and striking, too. Created from nylon, wick poly, lycra spandex and cotton, these athletic socks won't rub, cause friction or blisters, nor will they hinder the movement of the foot. They keep the foot well ventilated and are incredibly comfortable to wear.
Use the heel tab to put these athletic socks on or take them off really easily, though relying on the fact that they will not fall down when you are exercising. Designed through the use of the Anatomically Correct Fit method, these are very precisely made to suit, fit, and support the foot in every possible way.
The Thirty48 Ultralight Athletic Running Socks have been specifically designed to fit the foot like a second layer of skin and have impressive ventilation capabilities always.
Check Price on Amazon ➞
Athletic Socks Buyer's Guide and Breakdown
When purchasing new athletic socks, you need to think about certain factors that relate to your style, foot and activity.  Taking all of this into consideration, the following points will enable you to make a more educated decision when it comes to your next purchase of athletic socks.
Sizing
Generally, athletic sock sizes are defined by letters as opposed to sizes, like S for small, instead of stating that it may be suitable for a woman with size 5 feet.  Make sure that you have found a sizing guide before purchasing the wrong size athletic socks.  Athletic socks which are too small will prevent the foot from being able to move correctly, too big and you will definitely get blisters.
There are usually two different sizes stated for each letter size of sock, and it is not always made clear as to what this means. These two different sizes are the sizes of feet catered for as a specific sock size, and the sizes of feet catered for if you were to compare it to your shoe size.

Moisture Wicking
This enables sweat to be removed as you exercise, ensuring that your feet remain dry.  Sweat causes fungus and bacteria to be formed, which can infest your feet.  This is where common complaints such as athlete's foot come from, and they can be difficult to eradicate if you are a frequent wearer of sneakers without wicking.
Ventilation
Ventilation mesh assists with the reduction of sweat and reduces the risk of athlete's foot because the environmental conditions for bacterial growth are not then at their optimum. Ventilation allows the wearer to be able to run longer distances or train for more extended periods of time because the air flowing around the feet keeps your feet cooler, and is ultimately more comfortable.
Odor Reduction
The right athletic socks can completely eradicate the smell of your sneakers through their use of moisture wicking, ventilation, and by being washed after every use.

Arches
To avoid foot pain and increase support as you exercise, look for athletic socks which have in-built arches. This type of feature will not only enhance your comfort, but enable you to exercise harder and for longer.
There are different athletic socks for different activities. Runners should look for seamless socks which help avoid blisters. Those practicing yoga or other floor or matt-based exercise, should consider socks with grips on the soles.
Did You Know?
Merino wool cannot absorb odor, so if you're prone to excessive sweating, bad foot odor or throw out lots of socks or sneakers, merino made athletic socks are fabulous.