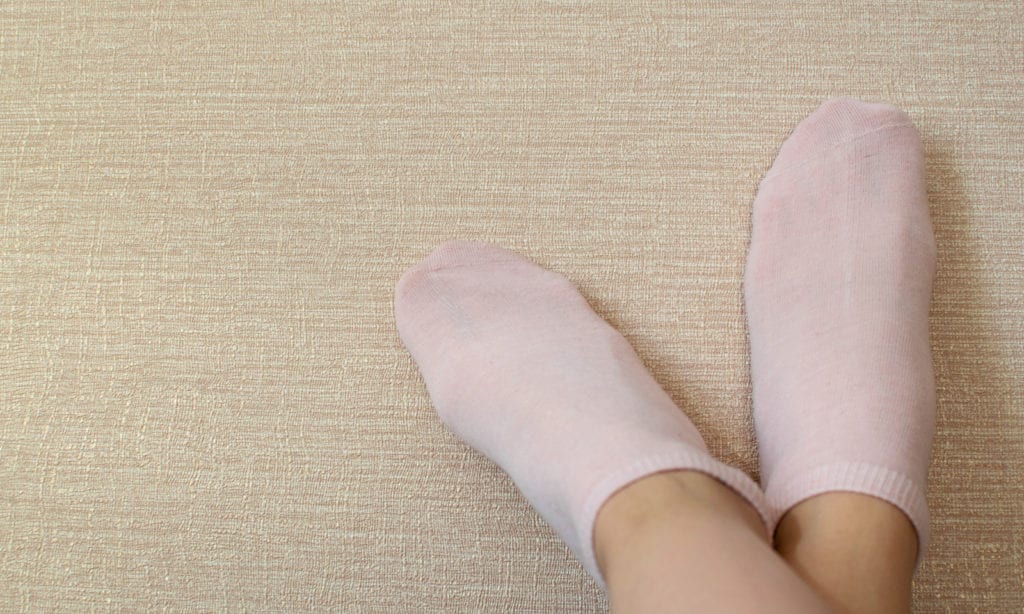 No show socks are a great piece of clothing for people who love wearing low-cut shoes, protecting your feet without forcing you to wear full-sized socks that stretch too far above the neck of your footwear. However, they are also a lot harder to find, so tracking down a pair that fits your exact needs will usually take more effort than going to the nearest clothing store – and even if you can, you'll still need to know precisely what you need, since wearing the wrong sock can be more painful than simply not wearing one at all.
Doing your research ahead of time saves a lot of stress, money, and discomfort later down the line. Below are ten of the best no show socks we could find, as well as the reasons that they might be right for you.
Related: Running Socks.
View the Best No Show Socks, Below.
1. Balega No-Show Running Socks
These no-show running socks are designed to provide extra cushioning, improving your performance and letting you run for longer without feeling pain or fatigue. The Drynamix materials used across its microfiber mesh surface mean that it will wick away moisture, both from the air as well as your own sweat, while still offering an excellent level of ventilation.
The seamless toe box, as well as the reinforced design of this no-show sock, in general, means that it won't wear out easily, and the Elastane neck helps keep it properly positioned on your foot without it slipping or folding inwards during a long run.
Unlike a lot of no-show socks, these are perfect for all kinds of exercise, especially ones that involve a lot of movement such as running or jogging.
Check Price on Amazon ➞
2. SHEEC SoleHugger Secret Sock
The durable nylon used in these no show socks helps keep them together in situations where other socks would quickly start to tear or fall apart, which is boosted by the lack of seams and weak points in its design. The cotton sole ensures that it's still comfortable, regardless of which surface you're using it on, and the silicone patch across the sole stops it from sliding around too much in larger shoes.
Thanks to the very low-cut design, these no show socks be completely invisible in any type of standard footwear, and you won't even be able to see them properly in slippers or sandals.
These tiny, sole-based women's no show socks are ideal for shoes that expose a lot of skin, and won't be visible unless you're essentially completely barefoot.
Check Price on Amazon ➞
3. Smartwool Women's Hide and Seek
These wool and nylon socks provide a lot of comfort on the bottom half of your feet but leave enough skin exposed to suit most casual and professional shoes that you'll likely wear on a daily basis. The ultra-light cushioning built into the bottom of each sock helps keep your feet safe and secure while still allowing you to reach your best performance, whether you're out for a run or just walking to work.
The heel section has an internal pad that helps grip your feet, keeping each sock in the right position and stopping it from slipping down over time.
Despite their simple design, these no show socks balance the amount of exposed and covered skin well, keeping you comfortable without showing off any of the sock's material.
Check Price on Amazon ➞
4. Nike Everyday Cushion No Show Socks
These sweat-wicking no show socks are designed or maximum comfort in as many situations as possible, using a fabric that's specially designed to keep your feet free from both natural water and your own sweat. The shape of this no show sock allows it to absorb extra force from sudden impacts, which can range from long exercise routines to merely walking around the house.
A high-friction yarn that's been woven into the footbed of each sock prevents slipping and ensures that your no show socks will stay where they're supposed to, while also stopping them from sliding further up your feet and making themselves visible.
These no show socks are simple, effective and can easily be hidden in most normal shoes, making them an excellent option for day-to-day use in your regular routines.
Check Price on Amazon ➞
5. Adidas Women's Superlite Super Socks
These lightweight and stretchy socks provide an excellent level of comfort and versatility without altering the way your feet feel too much, using a mixture of polyester and spandex that's both long-lasting and comfortable. The moisture-wicking CimaLite fabrics keep your feet dry in both hot and cold weather, staying tight enough to be comfortable without constricting your feet or limiting your range of moment.
The bright, colored patterns on the front, along with the wildly different materials compared to regular socks, ensure that you'll easily be able to tell the difference, making it much easier to grab them in a hurry.
The epitome of simplicity, these socks don't use any complicated gimmicks or strange materials to do their job and provide a simple and comfortable way of protecting your feet.
Check Price on Amazon ➞
6. Thirty48 Men No Show Socks
The Coolplus fibers used in these no show socks make them not only moisture-wicking but extremely breathable, letting them keep you cool and regulate your sweat in almost any weather conditions, even extreme humidity. The silicone padding on the heel adds an extra level of grip strength to prevent your no show socks from slipping, and the materials used to create its main body are incredibly durable – they won't stretch or tear easily, but are still flexible enough to suit most foot shapes.
Thanks to the contrasting colors on the cuffs, they can double as stylish footwear around the house without looking bland or out-of-place.
These no show socks are another simple and effective pair, adding breathability and moisture-wicking to a very straightforward and comfortable design.
Check Price on Amazon ➞
7. Under Armour Women's Essential Socks
These no show socks offer a helpful boost to your foot's arch support, reducing foot fatigue and muscle pain in a variety of different situations without forcing you to find shoes with support areas of its own. The seamless toes increase each sock's durability and massively reduce the chances of it rubbing against your skin, and the ArmourDry materials used in its design speed up the time it takes for water and sweat to evaporate, stopping it from building up and irritating your feet while you're on the move. On top of this, the ArmourBlock system contains odors from sweat and breaks down the resulting bacteria.
Although simple on the outside, these socks contain a range of different materials that get rid of smells, sweat and fatigue quickly and easily.
Check Price on Amazon ➞
8. Saucony Mesh Ventilating Performance Socks
The moisture management provided by these socks ensures that you'll have dry feet as often as possible, even if you're taking a walk in wet weather – the mesh ventilation ensures that there's always a way for fresh air to reach your feet without exposing too much of it to rain or water, and the built-in moisture-wicking materials deal with leftover sweat or vapor.
The design also uses a targeted arch compression system to keep you stable and safe while the socks support your feet, helping you stand at a comfortable angle that doesn't put your muscles at any risk.
These well-ventilated socks are great for a variety of different weather conditions, but can really shine in hot weather where sweat is a constant problem.
Check Price on Amazon ➞
9. Vans Super No Show Socks
These simple no show socks do their job well, without relying on any complicated or expensive extras. Explicitly designed for slip-on shoes, they offer an excellent level of ventilation and air flow to keep your feet breathing, which comes in especially useful in formal footwear that often lacks open holes – however, they can be used in almost any kind of shoe without any issues, including things like slippers.
The low-cut designs help you protect everything below your ankles while still making it look like you're just wearing regular socks, adding more comfort and support to that area and leaving the rest of your foot looking completely uncovered.
These no show socks do their job best when paired with slip-on shoes, but they're versatile, comfortable and reliable enough to work well with any other kind of footwear, or just on their own.
Check Price on Amazon ➞
10. Hanes Men's Active X-Temp No Show Socks
These anti-odor no show socks use a specially created set of materials that are designed to attach the bacteria created by your sweat and skin, helping to eliminate any lingering smells and keeping your feet feeling fresh much longer than regular socks. Thanks to the added cooling technology, you'll be able to stay cool in hot weather while still being protected from the cold – these two features make for a great anti-sweat tool when used together.
Below that is the half-cushioned bottom area, which keeps you comfortable as long as you're wearing these no show socks without throwing you off your balance or forcing you to walk in a certain way.
The small size of these no show socks betrays how strong they are in terms of odor removal, foot cooling and cushioning, all of which make for an amazing under-layer to any shoe.
Check Price on Amazon ➞
No Show Socks Buyer's Guide
Like all socks, no show designs have some features that are far more important than others. However, your priorities will be slightly different, since most of your socks will be more focused around padding and grip rather than protection and durability. There can be some exceptions, but you still need to focus on the important aspects first.
Materials
The wrong materials make a great design into a terrible sock, just as good materials can turn an awful idea into something really comfortable and useful. While your preference is always significant, the fact that more of your skin is exposed means that you need to choose materials carefully – there's far more opportunities for the socks to rub against your feet, and this can range from a mild annoyance to an incredibly painful problem depending on what they're made of.
Like with other socks, the material changes a lot: water resistance, ventilation, comfort, padding, grip, flexibility, durability, and cost are all affected by what a sock is made from, and more expensive materials don't always mean a better-quality end product. However, as a general rule, extremely cheap materials will almost always be inferior to the socks around them, since they'll lack a lot of the durability and cushioning needed to be a functional sock.
You might be interested in: Athletic Socks.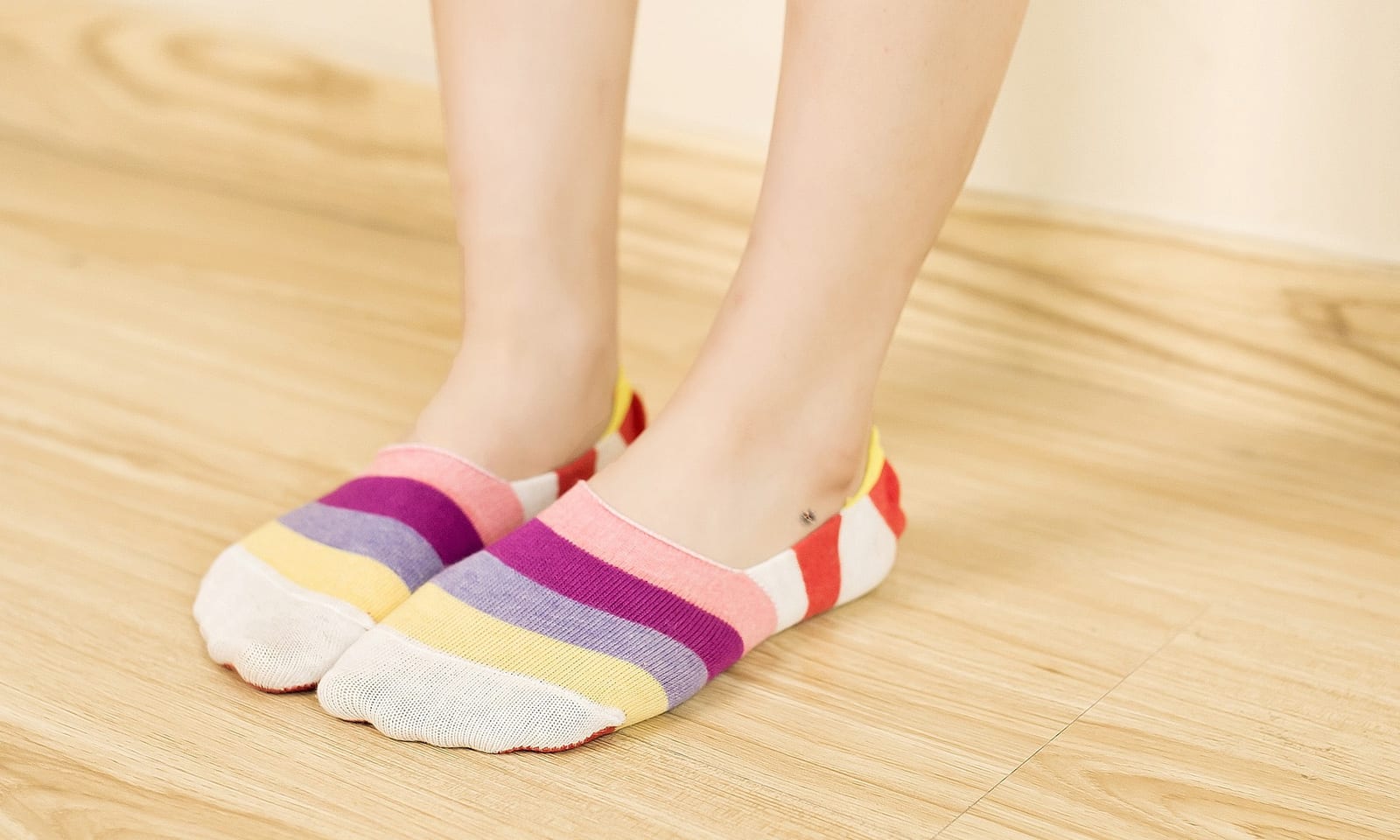 Some materials will also have qualities that others lack – for example, mesh-style materials will be incredibly well-ventilated, but will often also be really bad at resisting water due to the holes in the design. On the other hand, nylon might struggle in terms of durability unless it's backed up by (or mixed with) something stronger.
Grip
A secure grip makes your no show socks not only more comfortable but also safer and less irritating to wear. Without grip pads or some way of staying on one spot on your feet, you can easily end up having to deal with them slipping off your feet or out of your shoes while you're on the move – this can actually put you in danger if you're in the middle of difficult exercise routines that rely on balance and coordination, and there's not always an easy way to fix them aside from employing DIY techniques and gluing on your own grip pads.
Support
Foot support is more common in shoes than socks, but it can still make a difference to a lot of people. Without enough support, it's easy to find yourself fatigued after long walks, and not all shoes are equipped with enough support to prevent this kind of fatigue properly. You can remedy this by having support in your socks instead, but no show designs are often too small to have conventional types of support – you'll need to rely on things like heel padding and arch support instead, which can be challenging to track down on the cheaper end of the market.
Of course, you can always add an insole to your shoe instead, but this requires an entirely different set of criteria (and, potentially, DIY skills) to do properly, and it's often seen as a waste of time unless it's absolutely necessary. Still, if you find your feet getting tired quickly, you might want to consider looking into socks with proper arch and foot support just in case.
What are No Show Socks?
No show socks are meant to be a more fashionable alternative to regular socks when you're wearing low-cut shoes, exposing more of your skin without actually losing any of the comfort or protection of a full sock. No show socks are not always made in the exact same way – unlike conventional socks, no show designs often need to use different methods of supporting themselves and holding their shape, since the lack of a neck means that they won't wrap around your feet in the same way.
However, all no show socks share one thing in common – they expose more of the foot and hide themselves away below the top of your shoe, making it seem like you aren't wearing anything underneath while still providing protection, comfort, moisture and temperature management or foot support.
Into snowsports? Check out these socks for Skiing.
How do I keep no Show Socks From Slipping?
The best no show socks should have their own way to stay on your feet properly, but that's unfortunately not always the case. If your no show sock doesn't have any gripping pads or elastic sections to hold it up, it's possible to DIY one – since your socks won't be visible anyway, the aesthetics of it don't matter as much. In many cases, you'll be able to get hold of small silicone pads or other soft-but-grippy materials and simply glue them into place, although this could also lead to some unwanted bumps if done wrong.
While it might be tempting to try and hold them up with an elastic band, this can damage your skin – and, in most cases, your no show socks will be slipping off due to the size of your foot rather than the way they're attached. Unless you're confident in your DIY skills, it may be best to look into getting a differently-sized set of no show socks instead.

How do I make no Show Socks?
Making your own no show socks is easy, and you don't even necessarily have to use an existing pair of socks to create them. Anything thin and foot-shaped, from old socks to spare pantyhose legs, can be cut down to a size where they will fit under your shoe and still provide their usual amount of protection.
Unfortunately cutting through any major seams can make it much harder for them to stay on your feet – in that case, you can try gluing on your own grip pads as mentioned above. Be sure to do them on both the inside and outside, since your socks aren't a connected layer to your shoes and can easily slip out if they aren't appropriately attached.
If you are lucky enough to have socks that are already padded, or simply made of a grippy material, you should be able to trim down the cuff of the sock and use it that way. It takes far less time, but obviously limits which types of materials you can actually use if you want to avoid DIY fixes.
You might be interested in; Dress Socks.
Expert Tip
Not all shoes are supposed to be used with no show socks – tighter shoes might rub against your skin at the top or sides of your feet, especially if they use a material like rubber.
Did you know?
Not wearing socks can lead to an increased chance of conditions like athlete's foot – even cheap no show socks are enough to prevent athlete's foot under most circumstances. You may also wish to use an athlete's foot cream if you are showing symptoms.