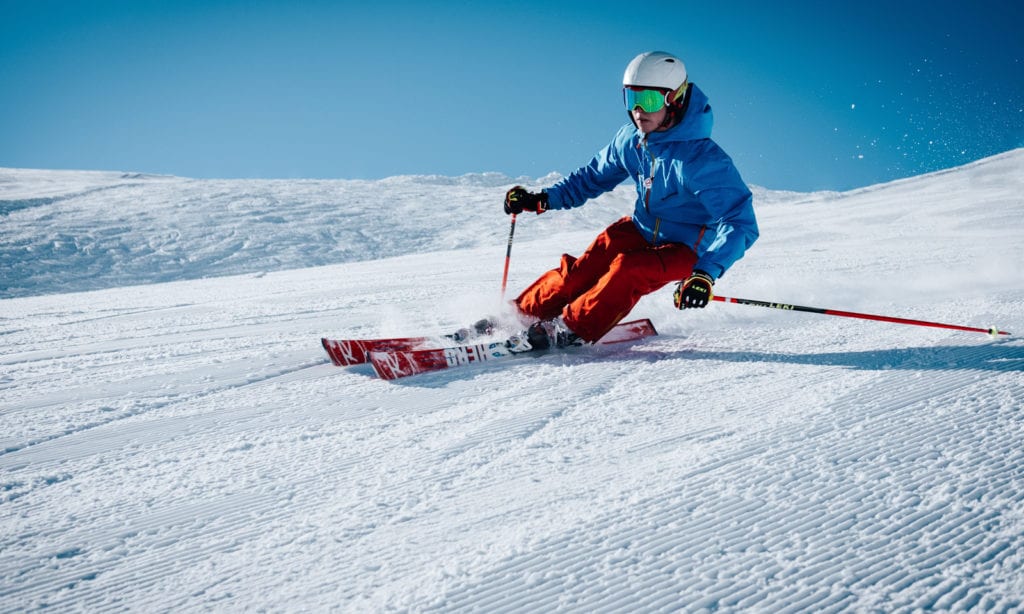 Despite the name, ski socks are useful for more than just skiing – they are often more substantial, warmer and less susceptible to weather damage than regular socks, and ski socks can even sometimes come with their own unique features that make them more useful in a range of different situations. Unfortunately, having these features also makes them less interchangeable and opens up a lot of situations where you'll be stuck trying to decide which pair to buy – two pairs of regular socks may be nearly identical, but you never know what one set of ski socks will have in relation to another unless you take the time to compare them yourself.
Below are ten pairs of the best ski socks we could track down, along with any unique features they have or design choices that make them stand out from the other socks in your wardrobe.
You might also like: Athletic Socks Review.
View the Best Ski Socks, Below.
1. Smartwool PhD Ski Light Pattern Socks
The Indestructawool technology used in these ski socks makes them incredibly durable without leaving any seams, weak point, or easily-torn areas in the design. The body-mapped design of these ski socks allows them to easily suit your feet without feeling stretched in certain areas, especially if your legs are slightly longer or wider than the average person.
On top of this, the seamless toe area eliminates the common problem of your toes eventually ripping holes in the lining, meaning that a single pair can provide long-lasting protection and heat retention underneath any kind of outfit, even if you're simply walking around in regular clothes.
These ski socks are simple and durable, taking a long time to wear out while still being comfortable enough to wear under any kind of footwear or sporting gear.
Check Price on Amazon ➞
2. Darn Tough Vermont Padded Cushion Skiing Socks
These padded skimsocks have been designed to provide a greater level of padding without making it harder to move around, using a performance fit that helps conform to your body shape in a comfortable and natural way. Despite being mostly wool, the high durability of these ski socks allows you to use them in a massive range of situations, even in bad weather or low-temperature environments.
If that wasn't enough, they are machine washable and use enough nylon to prevent stains from easily leaking through, meaning that they are easy to clean and will prevent water from reaching your skin as easily in wet weather.
These ski socks are incredibly durable and can withstand a lot of weather damage, making them ideal for situations where you need as much protection and insulation as possible.
Check Price on Amazon ➞
3. Eurosocks Junior Ski Supreme Socks
These children's ski socks are meant to be both comfortable and thick, using a mixture of padding, moisture-wicking materials, and heat insulation to keep your child's feet safe from any kind of bad weather. The Microsupreme technology provides some extra durability and moisture management, making it easier to deal with waterlogged shoes or deep puddles, and also has the added side effect of leading to fewer blisters from wet feet.
The ankle and arch of the shoe use some extra supports that are built into the lining of the ski socks, giving your child an extra level of comfort and helping their feet develop further.
The Microsupreme technology used in these ski socks makes them ideal for dealing with wet environments, but they can also help with sweat in warmer days, keeping your child's feet completely dry.
Check Price on Amazon ➞
4. Pure Athlete High Performance Wool Ski Socks
These ski socks are designed to retain as much heat as possible while still being practical, using a mixture of polypropylene and merino wool to keep out cold air and moisture while helping you regulate your own body heat and sweat. The elastic at the very top of each ski sock helps it stay up while you're on the move, so you won't need to deal with the hassle of constantly pulling the sock back up your leg – this also makes it move less, resulting in fewer friction burns or irritating rubs on your lower legs. This, along with its elastic arch support, makes these ski socks surprisingly practical in almost any situation.
These ski socks are primarily meant to keep you warm and manage your body heat, but the elastic supports woven into the design mean that they can be useful even in normal weather conditions.
Check Price on Amazon ➞
5. Wigwam Men's Snow Sirocco Performance Ski Socks
These knee-high ski socks use a wide variety of materials to create something protective, durable, and reliable without weighing you down or feeling uncomfortable. They are fully-cushioned, against both physical impacts and cold weather, with the reinforced shins and hidden toe seams keeping you comfortable throughout all kinds of physical activities in a range of different weather conditions and environments.
Thanks to its thin design, each ski sock can easily fit underneath most normal footwear, so you won't need to worry about buying something bigger just for them – since they are knee socks, they will even help protect your lower legs from water or snow that gets underneath baggier pants.
The length and protective power of these socks make them ideal for situations where you need better protection from the elements underneath regular clothing.
Check Price on Amazon ➞
6. Under Armour Team Over The Calf Socks
The cushioned footbed used in these socks provides a surprising amount of support and comfort, especially since they are still thin enough to be used like any other kind of conventional sock. The dynamic arch support built into its shape keeps your feet in the proper position at all times, whether you are standing still or sprinting from place to place.
Each socks' ventilated and moisture-wicking materials get rid of sweat and water vapor while still keeping you cool and dry, and the anti-odor technology means that you won't need to worry about your feet smelling terrible after strenuous exercise, especially if you have been wearing shoes.
Support and comfort are two incredibly useful traits, and these socks do both really well while also adding some extra features into the design.
Check Price on Amazon ➞
7. WEIERYA Skiing Winter Performance Socks
These cotton-based ski socks help keep your feet warm in even the coldest weather conditions, focusing on moisture removal and heat retention before anything else. The breathable design means that you will still be able to cool off properly if you are sweating, and the moisture-wicking materials used throughout this ski sock design get rid of water and perspiration in a natural, unobtrusive way.
Despite this, they're only slightly thicker than regular socks and have a consistent layer of padding to them, so the extra physical and weather protection they provide doesn't feel too bulky for regular footwear or clothing.
The thermal regulation and moisture wicking provided by these ski socks make them ideal for taking on poor weather conditions, either for sport or just during your daily routine.
Check Price on Amazon ➞
8. Eurosocks Ski Zone Snow Skiing Socks
These ski socks have been designed to provide excellent support in areas that it matters most, using an ankle brace and elastic arch band to ensure that your feet are being properly protected from cold and wet weather. The dynamic thickness in its materials gives you plenty of cushioning and padding without making your footwear feel tighter, and the friction absorption stops larger boots from rubbing against your legs to create painful burns or scratches.
Micro-supreme technology turns a normal-looking pair of socks into something that helps wick away moisture and dries your feet, especially in bad weather or wet environments.
These are easily among the best ski socks in terms of safety, offering plenty of support while managing friction, moisture, and even the physical stress on your feet.
Check Price on Amazon ➞
9. Minus33 Merino Wool Ski and Snowboard Sock
These high-quality ski socks are mainly made of soft Merino Wool, which provides natural-feeling comfort and padding as well as a surprising amount of weather resistance. They are thick enough to keep your feet warm and dry while still fitting into most normal ski boots, meaning that they should also easily fit into most casual shoes with ease – on top of this, they are reasonably stretchy and can take a lot of damage before showing any tears or rips, meaning that they will easily stretch to fit a slightly larger or longer leg than average. Thanks to the seamless toe area, there's also a much smaller chance of your toes poking holes into them with frequent use.
These ski socks make an excellent underlayer for most types of weather-resistant footwear, and they are ideal for climates with a lot of moisture, cold air, or both.
Check Price on Amazon ➞
10. Icebreaker Merino Ski Over The Calf Socks
The reinforced heel and toe areas on these ski socks give you plenty of extra support and protection when you're on the move, something that many other designs forget to include – not only is durability less of a concern, but you won't need to worry about your socks ripping or breaking in a way that lets cold water and air get on your skin, making them much more reliable in extremely cold or wet locations.
The staggered toe seam is meant to help prevent rubbing and chafing at the front of your foot, and the overall design uses Merino Wool to help regulate heat and moisture in a natural way.
Despite their many features, these ski socks can easily be used as casual clothing, making them incredibly useful in wet or cold weather conditions.
Check Price on Amazon ➞
Buyer's Guide
It might seem like buying ski socks is as simple as choosing the right size, but ski socks are much more complex than they first appear, and selecting a good pair is key if you want to ensure that you have the best support, heat retention and comfort possible while you are out in the cold, even if you're only wearing them as casual socks.
The Design and Fit
While it might seem obvious at first, the design of your ski socks makes a big difference in terms of how you use them. Not all of them are designed to fit under regular shoes or clothes, and some are even explicitly supposed to be worn with a specific type of ski shoe or boot. Others might be more general, but could be missing some features that you might see as essential qualities, while some will be more or less regular socks with some extra materials mixed in.
If you're using ski socks for actual skiing, this is less of a concern, but you should still make sure you know if they will fit in with your other skiing gear. A sock that's too thick might not fit into thinner ski shoes and boots, whereas one that's too thin might not protect you from adverse weather adequately. If the ski socks fit too tight, they could even cause rubbing on your skin, which can be a significant problem during serious skiing sessions where you won't be able to stop moving easily.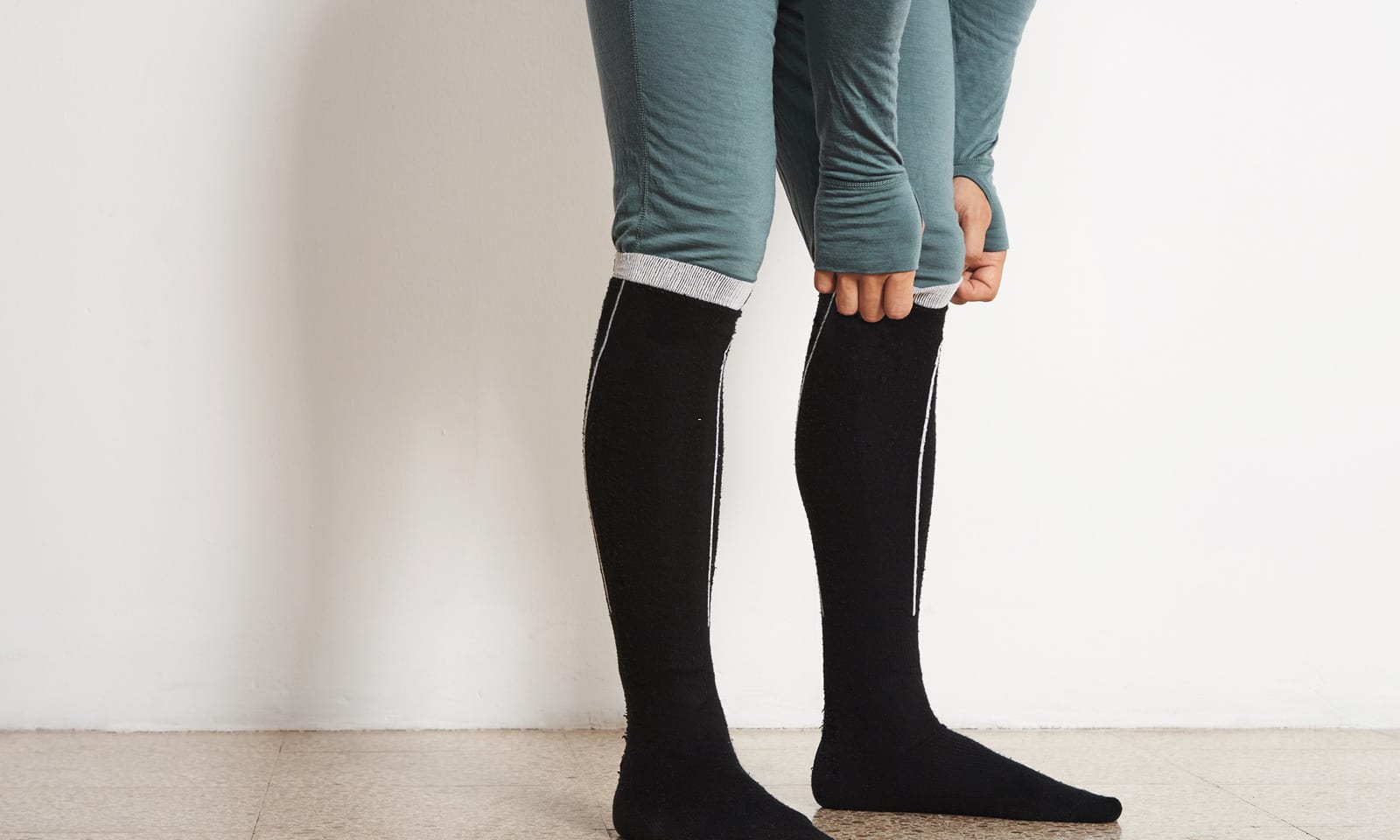 Toes are also an important thing to consider – having too much material at the end can be uncomfortable, as can having too little space to move your toes properly, and there's always a chance that the material might tear if it's not been properly designed to fit your toes. This can be hard to repair, especially if the toes are meant to be reinforced and don't use a single standard material.
The Materials
Although most materials are interchangeable on a surface level, they can still offer different things and work in slightly different ways. For example, wool socks are some of the most comfortable and warm ski socks available, but the wool itself won't add much support or structure. Most synthetic materials, like nylon and polyester, are similar, but exchange some comfort for more support and an extra level of thermal control and regulation.
Other ski socks still might lose both the heat insulation and support for a high level of water resistance, or might act as a padded under-layer for boots rather than a standalone protective sock.
In most cases, however, a ski sock will use a blend of different materials together, with one being the 'main' material and the others being used in places where its main attributes are most useful.  The one you choose will be entirely up to the features you need most since there are very few cases where a standard pair of ski socks will be able to cover every requirement perfectly.
Related: Work Socks Review.
Sock Type
There are two main types of ski sock: tube socks and ergonomic socks. Tube socks are the 'basic' style, having no designated right foot and left foot style and acting as an elongated version of a standard sock – they're often cheaper and easier to wear, but will usually come with less padding in exchange for more direct comfort from the primary materials themselves. Ergonomic ski socks are the opposite, having all kinds of useful features that help the ski socks fit your foot's anatomy while still being durable, but they can be more expensive and aren't as 'universal,' especially between genders are foot sizes.
When you need to choose one of the two, you should focus on deciding how much you'll use them – if you only want a pair of socks for a very temporary situation, tube socks are often the best choice, but ergonomic pairs are better for constant use and actual skiing. There are no hard rules between the two, however – sometimes a tube sock will be less comfortable than an ergonomic sock, and sometimes an ergonomic sock will offer less protection than a tube sock.

Regardless of which type you buy, children's sizes will be very different from adult's sizes. However, ergonomic socks are designed around gender-specific foot anatomy, so a man's sock will feel different to a woman's sock and won't offer the same kind of support, even if they look the same from the outside. Sizes will also be much more important, since a sock that's too baggy or tight won't fit properly and might actually feel more uncomfortable than a sock without the extra padding.
What are Ski Socks Made Of?
Ski socks are supposed to be comfortable while still retaining heat, but there's still a variety of different materials that can do this well. In most cases, an average ski sock will be made of synthetic materials like nylon, as well as semi-natural ones like merino wool.
You will often find that a single material will be chosen for the majority of the socks' body, with the rest being used in smaller amounts to act as padding or supports in key areas – elastic is a common sight around the tops of some of these ski socks, since they prevent them from slipping down your legs.
The exact materials a design uses can vary massively, especially if the manufacturer has their own special padding materials that they use, but they should all serve the same general purpose.
Expert Tip
While you might think that wearing regular socks under ski socks keeps you warmer, it will actually cause much more discomfort and won't add that much heat.
Did you know?
Men's and women's ski socks are designed for their specific anatomical differences, so they may not be as interchangeable as regular socks, especially ones with built-in foot support.