10 Best Bouldering Shoes in 2021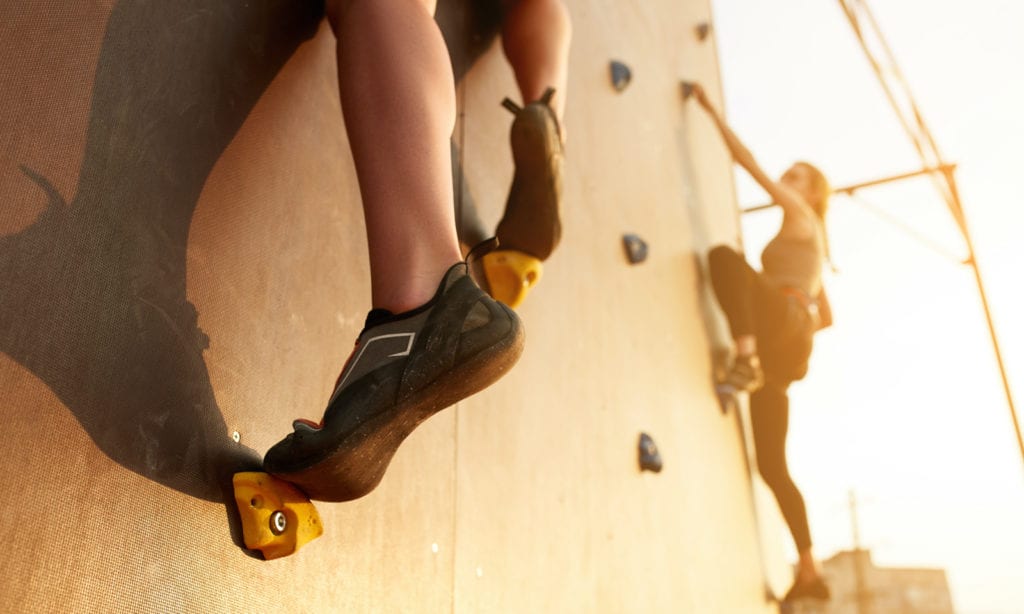 Bouldering shoes are generally agreed to be the best kinds of climbing shoes you can get when you are dealing with difficult surfaces, both with and without other equipment. Not only are they supposed to be the best at minimum-equipment climbing sessions, but they are also usually much more protective and are designed to handle a lot of situations that your average climbing shoe will struggle with. That being said, it is not always easy to find the best bouldering footwear, even if you have a general understanding of what you ideally want to look for.
View the Best Bouldering Shoes, Below.
1. La Sportiva Men's TarantuLace Rock Climbing Shoe
These climbing shoes use a quick-pull lacing system that is designed to be as quick and easy to adjust as possible, allowing you to get a snug fit without having to handle a difficult and time-consuming set of laces. This also doubles as a convenient way to tighten or loosen the shoe during a climb, making falls or slips less likely compared to a regular closure. On the bottom is a durable compound rubber outsole that provides great grip and durability on most surfaces, contained in a very flexible design for handling angles and slopes. The inside helps reduce moisture thanks to the specially-designed tongue materials, too.
Unlike a lot of climbing shoes, this pair isn't aimed at any particular skill level, and they work well for almost all climbing styles or situations.
Check Price on Amazon ➞
2. Evolv Shaman Climbing Shoe
These microfiber-based climbing shoes have been designed to offer the best possible fit in a range of situations, using a curved sole and a specially-designed rubber toe area that is meant to allow for the toe hooking climbing technique. Not only that, but the strap-based closure makes it easy to tighten or loosen your shoes on the fly, and you have three independent straps for maximum customization relative to your foot size and shape. Thanks to the simple materials used, you get plenty of flexibility and comfort out of the design, making awkward surfaces easier to scale compared to regular rigid shoes.
This is another pair of bouldering shoes that offer excellent versatility, with a specific focus on the toe hook maneuver.
Check Price on Amazon ➞
3. Evolv Elektra Women's Climbing Shoe
These simple climbing shoes use a range of synthetic materials to offer excellent breathability and flexibility while still staying comfortable, with a key focus on the fact that the materials are able to bend and flex to help with different climbing styles. The two-strap hook-and-loop closure gives you more control over the exact fit, and the hoops at the rear make it easy to pull the shoe on without needing to struggle against it. Thanks to the asymmetrical design and comfortable inner lining, difficult climbs become much more bearable, helping to reduce foot fatigue and pain so that you are much less likely to fall or need to take breaks.
This pair of climbing shoes is excellent for handling all kinds of awkward surfaces, letting you use a range of techniques without restricting your foot movements.
Check Price on Amazon ➞
4. Climb X Rave Strap Climbing Shoe
These shoes offer a unique type of padding around the heel and collar that is meant to dramatically boost comfort, keeping you safe and protected while also reducing the chance of small stones, debris, sand, or dust getting inside and irritating your skin while you are trying to climb. Other than that, the design is very straightforward, using two easy-to-handle laces, a patch of breathable mesh, and some perforated sides to keep your feet cool and fit you tightly. The toe box style front section wraps around the side of the foot to reinforce the design, and they are not made for any specific climbing or bouldering style.
The padded heel cup and improved airflow of this bouldering shoe design make them perfect for staying comfortable regardless of the climbing conditions or difficulty.
Check Price on Amazon ➞
5. Evolv Skyhawk Women's limbing Shoe
These multi-layered climbing shoes are built with an anti-microbial mesh that allows for full odor elimination and a better level of breathability compared to other shoe designs, all contained within a range of high-quality synthetic materials. Its construction and shape are meant to make it accessible to climbers of all skill levels, ranging from complete novices to advanced professionals, and the design is as well-rounded as possible to make this even easier. Adjusting the fit is done with a simple lace system that uses fabric holders instead of eyelets, making it much easier to re-tie them at a moment's notice.
These shoes are simple but effective, acting as a great all-round option for bouldering at any skill or danger level.
Check Price on Amazon ➞
6. Black Diamond Momentum Lace Climbing Shoes
These sporty-looking climbing shoes are made with strong synthetic materials that are designed to handle a range of different climbing situations, using a medium flex midsole to provide extra comfort and stability without affecting the shoe's design too much. The NeoFriction rubber used for multiple parts of the shoe, including the toe box, is capable of resisting more damage than regular rubber over longer periods of time. Unlike many climbing shoe designs, they have a standard lace-up system that you'd see on normal exercise gear, giving you more control over the exact way they fit and feel on your feet.
These shoes take a lot of design elements (including the rubber) from regular running footwear, using laces and materials to provide a comfortable, responsive, and flexible fit.
Check Price on Amazon ➞
7. Five Ten Men's Rogue VCS Climbing Shoe
These men's shoes boast a reinforced arch design that is meant to improve your climbing performance while also keeping the shoe design much more stable. The 'stealth rubber' used in the sole is both durable and flexible, helping you grip onto surfaces at odd angles, and you can also use the slingshot heel design to make sure grips far easier than they would normally be. The closure is a two-strap system, with a single Velcro strap at the top of the upper section and another in the middle: you also get a pull ring to help fit each shoe into your feet without having to force it.
The performance boost offered by these shoes makes them ideal rock climbing shoes for people who are serious about improving and getting better at climbing steep terrain.
Check Price on Amazon ➞
8. Mad Rock Drifter Climbing Shoe
The leather upper on these high-performance climbing shoes are meant to be more protective than synthetic versions, using the natural strength of the leather to make them more aggressive shoes for difficult climbing jobs. Underneath is the durable rubber sole that can handle a variety of different climbing conditions, as well as an inner lining that is comfortable and flexible enough to help with almost any climb. The two straps used as a closure system makes it easy to tighten or loosen each shoe at any time, and they are both incredibly lightweight compared to other shoes of their type and design.
As rock climbing shoes, this pair is perfect for people who put performance above all else and won't want extra features to get in their way.
Check Price on Amazon ➞
9. BUTORA Unisex Acro Rock/Indoor Climbing Shoes
These rock climbing shoes are focused almost entirely on sole performance, using sticky rubber, and a strong ABS injected midsole to provide both excellent grip and a massive durability boost with very few downsides. A high-tension heel design offers slightly more power and is meant to make each movement easier, while the sticky toe patch helps with toe hooking and other difficult climbing techniques slightly easier. The triple-fork closure system uses a single Velcro strap that is easy to adjust at any time, and you can very easily adjust the fit at will or quickly slip them on using the heel hooks.
This is another pair of rock climbing shoes that provide plenty of upsides and very few limits, with the sticky rubber being incredibly useful for all climbing styles.
Check Price on Amazon ➞
10. Scarpa Men's Instinct VS Climbing Shoe
These professional-looking climbing shoes make use of a durable rubber sole and incredibly flexible microfiber materials (specifically Vibram XS Edge) to provide maximum protection and support around the edges of each shoe. The design has a single Velcro strap that is placed across a reinforced front, giving you a very simple adjustment method that is always linked directly to the structure of each shoe. Not only that, but the active randing and custom insole helps to spread weight and comfort around the rubber bottom of the shoe, making every climbing technique much easier and less tiring. On top of that, there is a custom Flexan midsole that allows for easier bending on slopes and at angles.
These maybe some of the best bouldering shoes on offer if you are looking for a professional and reliable option to boost your performance.
Check Price on Amazon ➞
Bouldering Shoes Buyer's Guide
Finding the best bouldering shoes available to you isn't going to be as simple as just searching "best bouldering shoes" and choosing whatever comes up first. There's a lot of different features that can alter your climbing performance, safety, comfort, and overall levels of satisfaction, so choosing a bouldering shoe that actually suits your needs is extremely important if you want to be sure that you will get the best results possible. Here are some ways to narrow down your search, as well as features that you might have forgotten to look for or take into consideration during any shoe searches you've already done.
Flexibility
Flexibility isn't just a matter of being more or less comfortable depending on the shape of your foot: when it comes to climbing, having a flexible pair of footwear can be one of the most important things you can do to prepare for any climb since flexibility plays a significant role in both your performance and your overall safety while climbing.
First of all, think about the kind of movements that are involved in rock climbing. Rock is a tough surface that is rarely perfectly flat, and you will often have to move across ledges or climb areas that haven't been prepared in advance, especially if you are doing a completely natural rock climb session in an area that hasn't been carved out or checked to make a proper path. Because of this, being able to move consistently and reach other ledges can be one of the biggest factors in whether or not you can actually successfully climb from one point to another.
If some shoes don't let you stretch your feet at an angle that allows you continue your climb, then you might be forced to go back down, especially if you are using shoes that have a heavy and rigid design to them. One of the other issues with low flexibility is that certain techniques just won't work. Toe hooking and heel hooking, where you use your toes or heels to pull yourself onto a ledge or stop yourself from falling during a challenging climb, is much harder to pull off if your shoes aren't designed with those areas being properly defined.
Toe hooking relies on your (usually rubber) toe box area being able to angle itself slightly so that it can grab onto a surface: a shoe made of rigid synthetic leather will make it nearly impossible to do this consistently, and it might even result in injuries if you fail to pull off a proper toe hook and end up falling. Flexibility makes a difference in other areas of your performance, too. Low flexibility can make rock climbing more uncomfortable since you have to treat each foot as if it is a single 'block' instead of a moving, adjustable body part.
This is fine on flat rock where there is not as much need to move at angles, but exceptionally few rock surfaces will be completely flat, so the wrong kind of shoe can make a harsh slope or uneven ledge incredibly painful to navigate. At worse, it might even irritate your skin or cause bruises and cuts, which can make it hard to finish your climb without causing even more harm to yourself in the process.
Finally, there is the issue of comfort. In most cases, a flexible shoe is a comfortable shoe, since the fit will be more adaptable, and you won't be forced into a snug fit that is too tight for your preferences. If shoes are made with materials that can stretch, you will have more 'wiggle room' and won't be dealing with as much compression, which avoids a lot of skin issues or general pains that it can cause.
Ideally, you want all-day comfort that won't become a problem if you decide to take a slightly harder or steeper route, but most people will settle for something that at least feels comfortable and doesn't harm their skin.
Outsoles
The outsoles of your shoes are perhaps the most important part, and they can also be one of the most problematic things to deal with if you buy the wrong pair. An outsole is the part of your shoe that will be touching the rock and acting as your gripping surface, with most of its focus being on minimal comfort and maximum performance. The comfort is handled by the insoles and midsoles, but they are not quite as vital as the outsole is.
A good outsole will be made of rubber (sometimes varieties of rubber, or versions that contain leather, synthetic materials, or sticky coatings) or something similar, and will generally have a grip pattern on the bottom that is supposed to help it hold onto surfaces. Each brand has its own type of outsole: Five Ten and Evolv Shaman shoes might be similar in certain ways, but their sole designs are going to be different.
As you break down the brands even further, the differences will become even more apparent: La Sportiva Solution shoes are going to be different to La Sportiva Miura VS shoes even though they are by the same company, meaning that many parts – including the outsole – will have changed.
One of the biggest things to focus on when picking an outsole is to look at the kind of features and design elements it uses. Some people will prefer a flat sole that is mostly rigid, but a lot of bouldering shoes are designed to be curved most of the time to make scaling uneven surfaces easier.
They might also have a design meant specifically for toe or heel hooking or use rubber padding on the heel cup to make it more defined. These are all small changes that massively impact the way a shoe is meant to be used, so you must understand what you need compared to what you will actually be getting from your purchase.
Closure
The closure of a shoe is, in general terms, the way that it is closed up. This can be a single method, such as Velcro straps, or a combination of different methods that can either be used together or separately. Most of the time, there isn't really a reason to prefer one closure method over another unless you have a personal bias towards one, but that isn't always actually the case.
A single Velcro strap is often considered the most basic way that a shoe can close: it is only one strap, there is no way of sealing it in place, and Velcro is very easy to undo and re-stick at any time. However, it can also be much weaker than other methods, since the hook-and-loop method is prone to being accidentally opened if you are not careful. Multiple Velcro straps can alleviate this problem, but all of the downsides of Velcro still remain.
To prevent this, some people prefer laces instead: they are harder to seal quickly since they need to be tied, but tying them properly makes them almost impossible to undo accidentally, and they can offer a much more personalized fit that can be easily adjusted by just re-tying the laces again. Unfortunately, they also have downsides, mainly that they can be tricky to tie up again if they come undone during a climb.
There are other ways to tie shoes, such as buckles, combinations of laces and Velcro, or even just slip-on designs that are meant to be tightened around the ankles, but all of them have their own benefits and drawbacks. Really, though, you want to focus on what you find personally comfortable.
Velcro might be slightly less tight than laces, but if you prefer using Velcro, then there is really no reason to not use it over something else. The same can be said for laces: if you like the secure feeling of tight laces, then it is often worth overlooking the fact that they can take a while to tie.
A Downturned Shape
The shape of your shoes changes a lot. A downturned shape is often the better option when you need to climb a surface since it helps with gripping and makes it easier to reach ledges. This can be seen on a lot of major brands: La Sportiva Solution, Scarpa Instinct VS, Mad Rock, and dozens of shoes that use the Vibram XS Edge compound. But why is it so important, and what makes it better?
As an example, let's use the La Sportiva Men's TarantuLace mentioned above. La Sportiva has used this shape to create a bouldering shoe that is able to grip onto ledges, but the shape isn't too extreme. This means that you can use this La Sportiva shoe for climbing without having to worry about your performance suffering on flat ground, in turn meaning that the La Sportiva Men's TarantuLace can work well for multiple climb types.
If the La Sportiva Men's TarantuLace was too downturned, it would be much harder to use on normal surfaces and might actually be painful to wear if you are not actively climbing, but if the La Sportiva Men's TarantuLace wasn't downturned enough then you would struggle to hook over ledges or deal with surfaces that curved outwards.
This same idea isn't just used by La Sportiva: the Scarpa Instinct VS line also uses it, but the downturn is more defined. On the other hand, Mad Rock usually has a less noticeable downturn than many of the other brands.
This means that La Sportiva is biased towards awkward angles, Mad Rock is more of a general option, and Scarpa Instinct VS is somewhere in the middle. Evolv Shaman, another bouldering shoe line, have a much smoother curve that is definitely not meant to be worn on flat ground but works really well on curved rock.
Edging Support
Vibram XS Edge comes up in shoe reviews a lot, but it is not always easy to find out what it does in a shoe. In short, Vibram XS Edge is an edge support compound (a bit like rubber) that is added to existing shoe designs and can fit into most roles, adding more durability and precision while also making it easier to handle awkward ground.
It is not always easy to tell if Vibram XS had been added to a shoe, or what difference it will make, but it is generally worth having if you can find it. It appears on many La Sportiva products and can also appear on Mad Rock, Five Ten, and Evolv Shaman shoes, among hundreds of other brands.
Edging support is something that can fit into most climbing styles really well since it is just a way to fit more reinforcement materials onto a shoe without altering its performance. It also won't usually alter how the bouldering shoe will fit on your feet, making it very subtle.
Vibram XS is a product that's had all rights reserved, so it is not usually going to appear on brands that can't afford it, but the "all rights reserved" notice hasn't stopped it from turning up on dozens of the best bouldering shoe brands.
Do you need Special Shoes for Indoor Rock Climbing?
Indoor climbs don't require anything too special, and your usual bouldering shoes will work. The only difference might be that certain features, such as weather resistance (seen on brands like Five Ten), might not be as important, and you can often go for a slightly looser fit since your climbs aren't as life-or-death as they normally would be.
Picking the best bouldering shoes for indoor climbs is the same as picking the best bouldering shoes for use outdoors: treat it like the same activity, since all of the same good and bad features apply. The same brands, such as Five Ten mentioned earlier, can also be used both indoors and out since they are still being used for bouldering.
How Do I Choose Bouldering Shoes?
If there is one metric that matters most, go for the fit. The fit defines how your shoes feel, how each shoe holds to your feet, how useful they will be as bouldering shoes, and how each other feature will work. A bad fit means that your bouldering shoes aren't going to be that useful for bouldering, and a really bad fit might even lead to your bouldering shoes hurting your feet directly.
The best shoes for bouldering are going to be the ones that fit well, regardless of any other features. Once you know that the fit is fine, you should look for other features like a particular brand name (i.e., Five Ten) or a key design element you want (i.e., rubber soles).
Conclusion
If none of the bouldering shoes on this list have been the best shoe option for you, that doesn't mean you need to give up. The best bouldering and climbing shoes are different for each person, so you can still find brand new bouldering shoes that might be perfect for your needs, even if they are not the best option by other people's standards. Always look for bouldering shoes that suit your preferences, no matter how niche they might be: after all, the only person who will be wearing your bouldering shoes is you, so having a pair that you know you can feel comfortable in will make a huge difference.
If you want, feel free to use the bouldering shoes on this list as a starting point for your search: just because they aren't the bouldering shoes you might want doesn't mean that they are not going to help you find other shoe designs that you might end up using.