10 Best Intermediate Climbing Shoes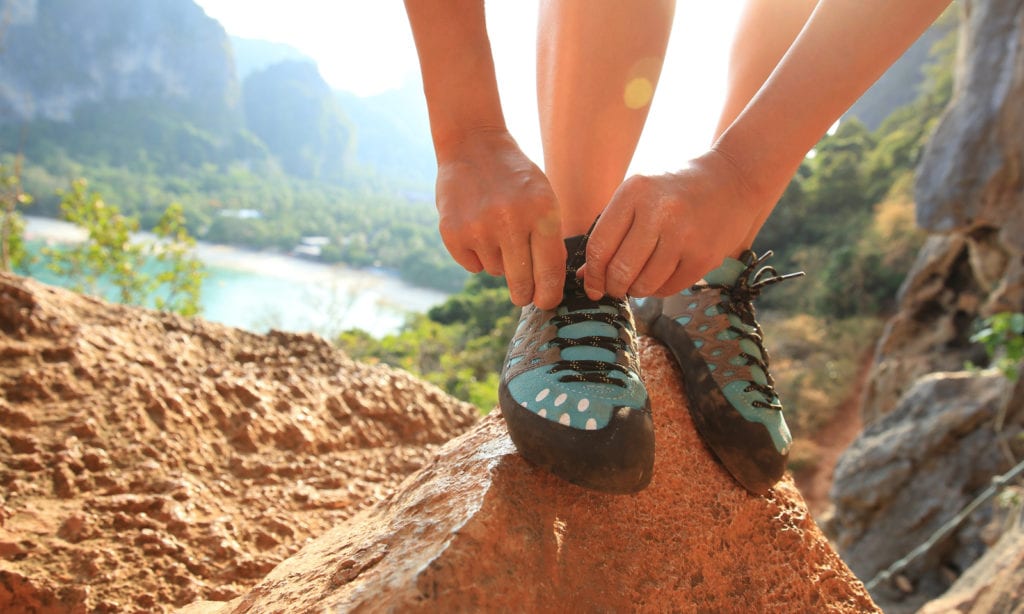 For climbers, the gear that you choose is critical. No matter if you're a beginner, intermediate, or advanced climber, you will need to pick the right gear for your skill level, as well as for the type of climbing you enjoy. If you are an intermediate climber, then you'll want to ensure that you purchase the best footwear for your skill level. Intermediate climbing shoes come in a wide range of styles, prices, and fits. The very best of them will be secure, snug, but comfortable when you wear them. They will be built to last from high-grade materials, whether that's with leather uppers or a Vibram XS Edge rubber sole. The toe box should be well-suited to your needs. And some climbers will need their footwear to have a heel hook too.
Consider this list of ten of the best shoes for climbing that are currently on the market, as well as the buying guide that follows it. After reading it, then you'll be in the perfect position to choose the vest best climbing footwear for your needs.
View the Best Intermediate Climbing Shoes, Below.
1. La Sportiva Men's TarantuLace Climbing Shoe
La Sportiva is one of the best manufacturers when it comes to intermediate climbing shoes. This pair is an excellent example of the quality that La Sportiva is capable of. They feature a quick-lacing system so that you always have a secure yet comfortable fit when wearing them. They're composed of hight-grade materials, with the upper made from unlined leather and the soles made from FriXxion RS rubber that's 5mm thick.
The midsole is pliable and flexible as it is constructed from 1.8mm thick LaspoFlex. As always, with La Sportiva, the price is reasonable, while the shoes are built to last, making this pair a safe, long-term investment that will provide you with excellent value-for-money. There are three color schemes to choose from as well, so that climbers can pick a pair of shoes that suit their style.
These La Sportiva climbing shoes are up there with the best of them. They're comfortable, built to last, and are available for a very reasonable price—a safe choice for intermediate climbers.
Check Price on Amazon ➞
CHECK PRICE ON ZAPPOS ➞
2. La Sportiva Katana Lace Climbing Shoe
This is another high-performance pair of climbing shoes from La Sportiva. If you're a climber who is at the intermediate level, and you want your new shoes to be versatile, so you can experiment with climbing everything from crags to boulders, then this set of shoes might be ideal for you. They're built for better weight dispersion thanks to the Vibram XS Edge that's built into them. To allow wearers to have more control during climbing, they also include a medium-sized toe box that's asymmetrical in shape.
This again helps with edging, something that's essential for mid-level climbers. These shoes for climbing offer as much comfort as they do support, which is down to the leather uppers, 1.1mm LaspoFlex midsoles, and Frixion soles. They're designed to last a long time, and that means that the price tag is well worth it, as these shoes could still be used once you've improved your skills and have become an advanced climber.
These are superb climbing shoes that are built to last. And the quality that they deliver means that you can use them for years of climbing and can grow as a climber while wearing them.
Check Price on Amazon ➞
CHECK PRICE ON ZAPPOS ➞
3. Five Ten Women's Anasazi LV Climbing Shoe
Five Ten is often referred to as 'The Brand of the Brave'. Why? Because it produces shoes that adventurous climbers love. And these climbing shoes are certainly easy to love. They're 100% synthetic, which has the result of making them breathable, lightweight, and durable. The soles are made from a high-grade rubber built to withstand a lot of wear and tear, even on rugged rock faces. Comfort is offered by the textile midsoles, as well as the Cordura uppers.
These climbing shoes have a low profile that allows your ankles to be unencumbered when you're wearing them. They offer a very secure fit, though, which is down to the two hook-and-loop straps closure system. Five Ten Anasazi climbing shoes are always a quality product, so you'll also be ensured long-term wearability if you choose these intermediate climbing shoes.
They're made by one of the best climbing footwear manufacturers in the world, which makes them a reliable, durable climbing shoe for women.
Check Price on Amazon ➞
CHECK PRICE ON ZAPPOS ➞
4. La Sportiva Men's TC Pro Climbing Shoe
These are professional-quality, rock climbing shoes that feature a Vibram XS grip that's 4mm thick. As any climber will tell you, the Vibram XS Edge is the best rubber outsole component on the market and one that ensures that climbers get the best purchase on even the smallest edges. This is especially important for crack climbing, which is what these shoes are well-suited too.
Another feature that makes them a good choice for crack climbing is the mid-height cut, as it keeps your ankle covered and protected. These shoes for climbing are also highly intuitive and pliable, thanks to the Power Performance Platform that's built into them, which is complemented by the 1.1mm LaspoFlex midsole. The Airmesh tongue delivers breathability.
If you're at the top end of the intermediate level, then these are an excellent choice as they'll continue to satisfy you once you've become an advanced climber.
Check Price on Amazon ➞
CHECK PRICE ON ZAPPOS ➞
5. Scarpa Men's Vapor V Climbing Shoe
SCARPA is an Italian company that's been in business since 1938. Ever since it was founded, it's developed an excellent reputation for quality footwear used for mountaineering, trail-running, hiking, and sport climbing. These shoes for climbing are an excellent example of what SCARPA does best: producing performance footwear that looks good, feels comfortable, and aids climbing. They have an exceptional Vibram XS rubber sole that's well-suited to edging.
The uppers on each shoe are made from both suede and Lorica micro-suede, which are both flexible while also contributing to a secure fit. Men with wide feet might also want to consider these shoes for climbing, as will be a comfortable option. If one were to choose the best feature of these intermediate climbing shoes, then the heel hook has to be.
It's a comfortable shoe for climbing that includes a superb heel hook and an excellent rubber sole. For intermediate climbers, these shoes are a superb choice.
Check Price on Amazon ➞
CHECK PRICE ON ZAPPOS ➞
6. Five Ten Hiangle Men's Climbing Shoes
This another excellent pair of climbing shoes from the performance-driven brand, Five Ten. Male climbers will like the stiff toe box that these shoes for climbing offer. It works very well with the Stealth C4 rubber outsole that's part of these shoes and is 4.2mm thick. To ensure a comfortable fit, these shoes have got an unlined leather upper, which offers a lot of give. In fact, Five Ten promise that you'll get a half-size stretch when wearing them.
These shoes are stiff and are aggressive in the toe area. If you like your shoes to be snug, then these might be your best option. They've got pull-tabs sewn into the shoe, and this is something to consider if you've had discomfort when wearing a pair of climbing shoes that have had the same thing. Rather than two velcro straps, as you often find on similar shoes, this pair has a single one.
The best feature of these climbing shoes has to be the aggressive toes. If you're an intermediate climber who loves shoes with stiff toes, this is easily the best intermediate climbing footwear for you.
Check Price on Amazon ➞
CHECK PRICE ON ZAPPOS ➞
7. La Sportiva Men's Miura Climbing Shoe
La Sportiva has once again delivered with these wonderful climbing shoes for men. Instead of a velcro closure, they feature a fast lacing system, which keeps your feet snug and secure while inside them. They're a versatile shoe that can be used for a wide range of climbing pursuits. The Vibram XS Edge rubber soles ensure the best edging performance, and you can also comfortably smear or hook while wearing this footwear. A soft leather upper heightens the comfort that these shoes provide.
If you're known for getting sweaty feet during a long climb, then these shoes could be the best for you, as they have a Dentex lining that offers moisture-wicking. The fit offered by these climbing shoes cannot be argued with either. Comfort is guaranteed while wearing them. So is performance.
These versatile climbing shoes offer quality in all the important areas, which is why they're some of the best intermediate climbing footwear around. A reliable, sturdy, and comfortable choice.
Check Price on Amazon ➞
CHECK PRICE ON ZAPPOS ➞
8. Climb X Rave Strap Climbing Shoe
These climbing shoes are designed for sport climbing inside gyms rather than outdoor multi-pitch rock climbing. As a result, they're affordably priced and also very lightweight. Padding is one of the best features of these climbing shoes. They've got a padded collar and a padded heel, which can be a good feature for heavier or larger climbers. Durability is ensured due to the double-stitch construction that they have.
The mid-sole is made from a high-grade PU, which also adds to this climbing footwear's durable nature. It's important to note that this footwear runs slightly smaller than standard trainers, so you want to ensure that you select one size up from your regular kicks. As they have leather uppers, then they shouldn't be considered by strict vegans.
They're perfect for climbing at the gym, include ample padding and leather uppers, all for an affordable price tag. When it comes to value-for-money, then these performance shoes are hard to beat.
Check Price on Amazon ➞
CHECK PRICE ON ZAPPOS ➞
9. Mad Rock Remora Climbing Shoe
These are performance shoes for intermediate climbers who are looking for versatility in their climbing footwear. They're equally as adept at a multi-pitch climb as they are for bouldering or crack climbing. Sports climbers will even find a use for them while at the gym too. They're made from synthetic materials - so no leather at all - and they offer a secure fit. They don't have any laces or velcro straps and instead have a slipper closure. The rubber sole is a Science Friction 3.0, while the rand is a Science Friction R2.
This piece of Mad Rock footwear includes lots of Synflex materials. And the rubber sole is based on the suction capabilities of the Remora fish. This means that you're guaranteed a lot of grip against a rock face. They're also downturned slightly, which is a feature that many intermediate to advanced climbers love.
If you're seeking footwear that performs well for a wide variety of climbs, you'll like them a lot. They're built for performance, and performance is exactly what they deliver.
Check Price on Amazon ➞
CHECK PRICE ON ZAPPOS ➞
10. BUTORA Unisex Acro Climbing Shoes
The standout feature of this piece of climbing footwear from BUTORA has to be the sticky rubber outsoles. For sport climbing, this type of rubber sole is perfect, just as it is for bouldering too or even for a multi-pitch climb. They've got high-quality toe hooks and heel hooks.
Another great feature of this footwear is the triple-fork enclosure system that's integrated into them. It ensures a tight, snug fit while also being easy to unlock so that you can remove the footwear swiftly and put it back on just as quickly. If you're the sort of climber who likes your footwear to offer a lot of sensitivity, then this product could be the best choice for you, as that's exactly what you get from the sticky rubber toe patch.
This footwear has won awards for its quality, and it's easy to see why. The triple-fork enclosure system, as well as the large toe patch, make this footwear sensitive and versatile.
Check Price on Amazon ➞
CHECK PRICE ON ZAPPOS ➞
Buyer's Guide to Buying Climbing Shoes
Whenever you climb, you want to ensure that you've got the right shoes on your feet. Consider this buying guide that will tell you what features to look out for when investing in your new footwear.
Closure
There are three main options when it comes to closures. You can either go for a strap closure, which will usually feature velcro to keep the strap closed securely. The second choice is a laced system. Some manufacturers will use a fast lace system that tends to work very well and can ensure that your feet always stay securely and snugly inside the footwear.
The third option in terms of a closure resembles a slipper. There will be elastic built into the shoe so that it stays tight around the foot. The biggest benefit to the slipper type footwear is that they don't have any bulky laces or straps. This means that the profile is kept extremely low so that your feet can fit inside the smallest of gaps or cracks.
Upper Materials
Again, there are three main materials to choose from when you're looking at the upper on a shoe to use while you climb. Leather is commonly used. You'll find both lined and unlined leather. Unlined leather is much more stretchy than lined leather. But leather won't be an option if you're a vegan, so manufacturers offer synthetic uppers.
Outsole
Rubber is standard for an outsole. The thicker the sole, the more support that you will get from it, but this comes at the cost of control. Soles will range from 3mm to 5.5mm in thickness.
What is the Difference Between an Aggressive shoe, a Neutral shoe, and a Moderate Shoe?
Each of these types of climbing footwear offers its own advantages and disadvantages. Aggressive shoes will usually be downturned. This makes for a less comfortable fit, but it also allows for better purchase when doing a sports climb or for some bouldering climbs. They can't be worn for a long period, though. This isn't true of a neutral shoe, which is the most comfortable available for climbers. Because of that comfort, then a neutral shoe tends to be the choice of novices who have yet to acquaint themselves with more complicated climbs.
Also, climbers who do long climbs, such as multi-pitch climbs, will choose a neutral shoe. Moderate footwear falls somewhere in the middle of the previous two types of footwear. They're an all-around performer that offers the best of both worlds and the worst of both worlds, as they're not as comfy as neutral footwear, not can they offer the same performance as aggressive footwear.
How Tight Should Climbing Footwear Be?
Your footwear should never cause you pain. Climbing footwear should be tight, though. And the tighter the fit, the better.
Can I Buy a Climbing Shoe for Wide or Narrow Feet?
Yes. This is possible. It's best to check the sizing of any climbing footwear before purchasing it. But it's certainly possible to find footwear that will comfortably fit people with either wide or narrow feet.
Conclusion
Any intermediate climber needs to choose the right shoes. If you select the wrong pair, then you don't just run the risk of causing yourself foot pain, but you also could end up finding yourself not climbing to your full potential. You may even cause an accident. Whether you go for a neutral, moderate, or aggressive shoe is down to your needs. Whichever you choose, then the footwear must be made from high-grade materials. For non-vegans, then a leather upper is an excellent choice, while a synthetic material can also offer quality.
Breathability and durability should be just as important as grip, so choosing a high-grade rubber sole is a must. A Vibram XS sole is an excellent option, as it will help with edging. Always ensure that your footwear fits well. But you should also make sure that it isn't too tight. As long as you pick shoes that tick all these boxes, you're certain to have made a good choice to enjoy every climb you make while wearing them in the future.
Expert Tip by Elisa Lewittes
Intermediate climber shoes should be sturdier than their beginner counterparts without sacrificing comfort. These options tend to be less stiff than advanced climbers' footwear. At the intermediate stage, look for climbing shoes that have a sturdy construction with a slightly downturned silhouette and a securely snug toe fit. You will want to size down at least one full size from your street size for most options. A tighter fit, along with a secure heel hook, is essential to safeguard your movements.
Did You Know?
The current record for the quickest climb of a 15m wall was set in 2017 by an Iranian climber named Reza Alipour. He managed to climb the 15m wall in a remarkable 5.48 seconds. That's fast!